Bacon wrapped plantain- Plantain with a touch of heat, wrapped with bacon and sprinkled with spice. Easy, yet delicious appetizer, snack and/or breakfast.
I find it hard to believe that there are still people who haven't tried Plantains. I LOVE plantains! They are a staple in my kitchen; eat them with just about anything- beef, fish, chicken, stews and soups. Even use plantain chips to replace crackers, when making dips and salads.
Can't resist plantains on a restaurant menu, especially when it involves something new. And I have a long list of, to make plantain recipes
And this here, has been removed from the list of to make, its now appears quite frequently on the menu. Especially when I have guests over.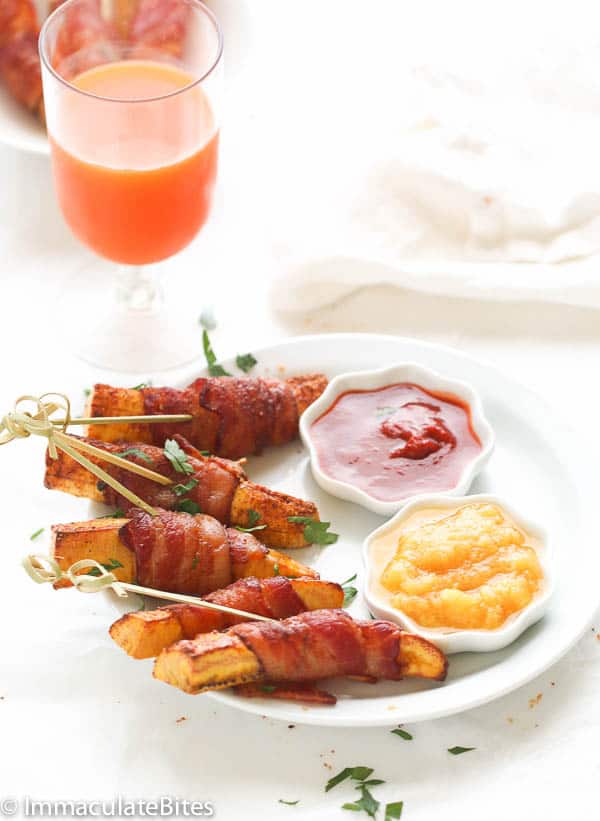 They are pure indulgence and Simply Irresistible; the sweet and smoky flavors of the plantains and bacon create quite an explosion in your mouth. You'll NEVER have leftovers. AND if you make it for breakfast with eggs and serve with avocado , you will be craving  for this ALL DAY!!!
This is a MUST make for your holiday entertaining and game nights too! Never mind the guest make this for YOU! Look at that crispy bacon, dipped in sauce, yes that is Scotch bonnet sauce. Delish with these plantains.
Ready to get started?
Before you jump right on to this here are a few tips that would help you make this
With picking out plantains it is best to get plantains that are ripe, yellow with few black spots and firm, Not overly ripe (Dark skin) because it would end up mushy. Unripe plantains are best when fried not suitable for this recipes.
You can roast the plantains on a cookie rack on top of a cookie sheet or just roast on the cookie sheet. I prefer the former it lets the bacon fat drip down.
I usually use various spice mix to spice the plantains, whatever I have on hand (jerk spice, berbere spice, Cajun spice). It really amps up the overall dish.
If you prefer use siracha, Caribbean hot sauce, or African peppers sauce to add some heat and flavor to the plantains.
Enjoy!!
Bacon wrapped plantain
Ingredients
Plantains(2-3)
Seasoning (Jerk, berbere, Cajun)
Bacon (about 4 per plantain)
Hot sauce (optional)
Instructions
Preheat Oven to 400 Degrees F
Using a sharp knife cut both ends off the plantain. This will make it easy to grab the skin of the plantains.
Slit a shallow line down the long seam of the plantain; peel only as deep as the peel.
Remove plantain peel by pulling it back. Cut in half cross way, then cut in half-length ways strips. About 8 strips per plantain.
Take a half slice of bacon and wrap it around the middle of each strip, you may add a drop of hot sauce, depending on preference, tuck the ends underneath or use a tooth pick Lay the wrapped plantain on a baking sheet with the bacon seam-side down.Sprinkle with favorite spice mix if desired. Repeat with all the plantains
Line a baking pan with foil; top with a wire rack. Arrange plantains out in a single layer. While the plantains are baking oil will slowly drip to the bottom of the baking pan.
Bake plantains until cooked through and bacon skin is crispy, about 20 minutes-plantains, depending on size of plantain and bacon preference
Remove and serve with your favorite hot sauce or as breakfast