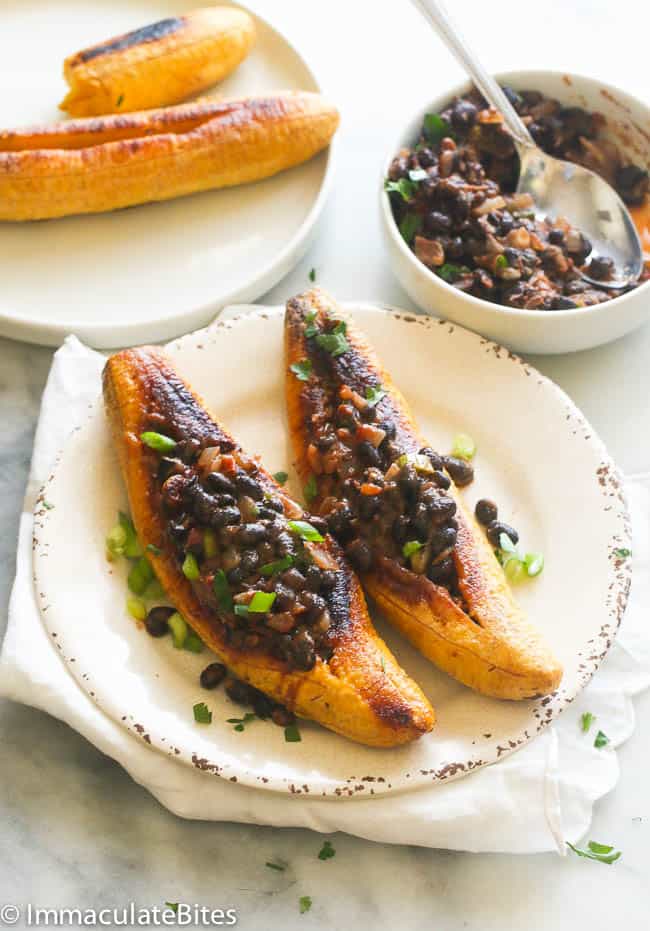 This is a healthy, delicious way to enjoy plantains without a boatload of calories. If you have never tried whole fried plantains before you will never know the difference. The savory , spicy bean filling complements the sweet plantains. I would describe this as an incredible deliciousness that is hard to pass. My friends, this is a  keeper!!!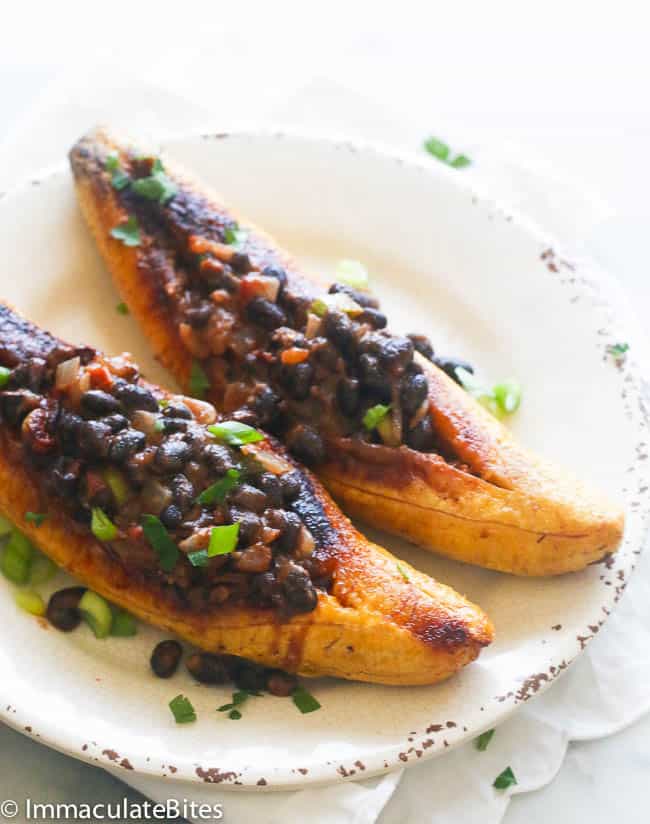 I know you have heard me say this already but I am still going to say it again. I love plantains they have always been a comfort food to me- my all time favorite starchy side order- boiled, mashed, grilled, bake and fried – Give it to me. I can eat plantains everyday and you would never hear a single complain from me.
Here is an easy recipe that is simply delicious and can be made during a weeknight. To cut back on time use canned beans or any frozen beans you have on hand (I usually boil about 2 -3 pounds of beans during the weekend and freeze) To be used during the weekday.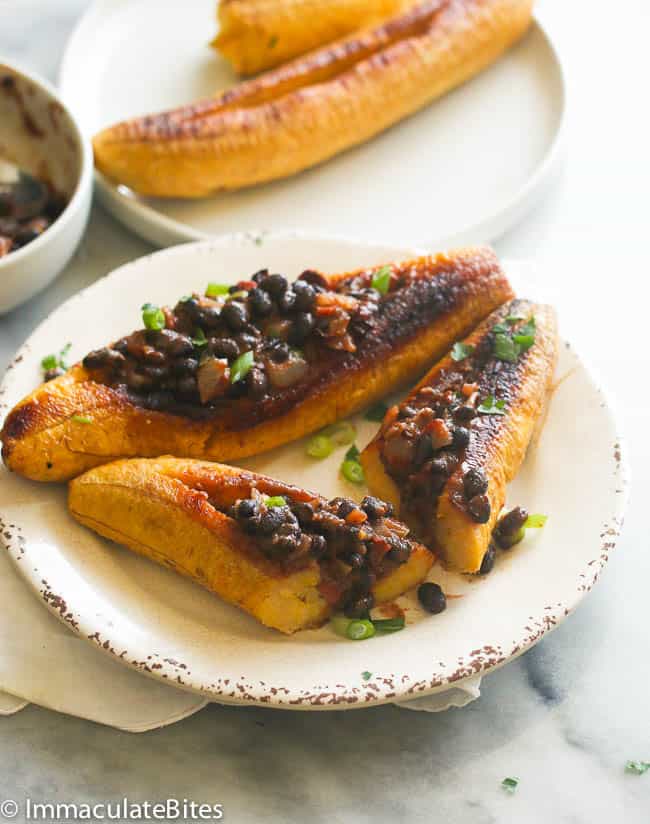 Here is the deal with plantains, sometimes to get the right plantains can be really tricky, -it is always good to go for appearance as well as the feel. Recently, hubby bought some plantains that looked really dark but were somehow tough.  They have to feel like really ripen bananas – you may buy the yellow ones and let them ripen before baking. It will make a really big difference.
Enjoy!

Baked Stuffed Plantains(Vegan)
Ingredients
2-3 ripe plantains
2 -3 tablespoon canola oil
1 can black beans
½ small onion chopped
2 green onions chopped(white parts only)
1 teaspoon minced garlic
2 medium tomatoes chopped
1 tablespoon smoked paprika
2-tablespoon parsley
¼ cup chopped green pepper
Cooking spray
Salt and pepper as needed
Instructions
Preheat the oven to 400°F. Line baking sheets with foil and coat with cooking spray or oil
Using a sharp knife cut both ends off the plantain. This will make it easy to grab the skin of the plantains. Slit a shallow line down the long seam of the plantain; peel only as deep as the peel. Remove plantain peel by pulling back.
Place plantains on tray and lightly spray, bake for a about 15, turn and bake on the other side for another 15 minutes or until golden brown and tender.
While the plantains are baking, add 2 tablespoon of oil to a saucepan, followed by onions, green onion , garlic and tomatoes. Let it simmer for about 5-7 minutes, stirring frequently to prevent burning, add about 2 tablespoons or more of water if needed.
Then, add beans and continue cooking for about 5-7 or more minutes.
Finally add green pepper and parsley, adjust for seasoning
Remove baked plantains from oven cool for a couple of minutes; make a horizontal slit in the plantains, stuff with equal amounts of beans mixture.
Serve warm