Black Eyed Peas Fritters-  Spicy ,Crispy and crunchy, irresistibly Fritters  made with fresh black eyed peas , onions, hot pepper and salt .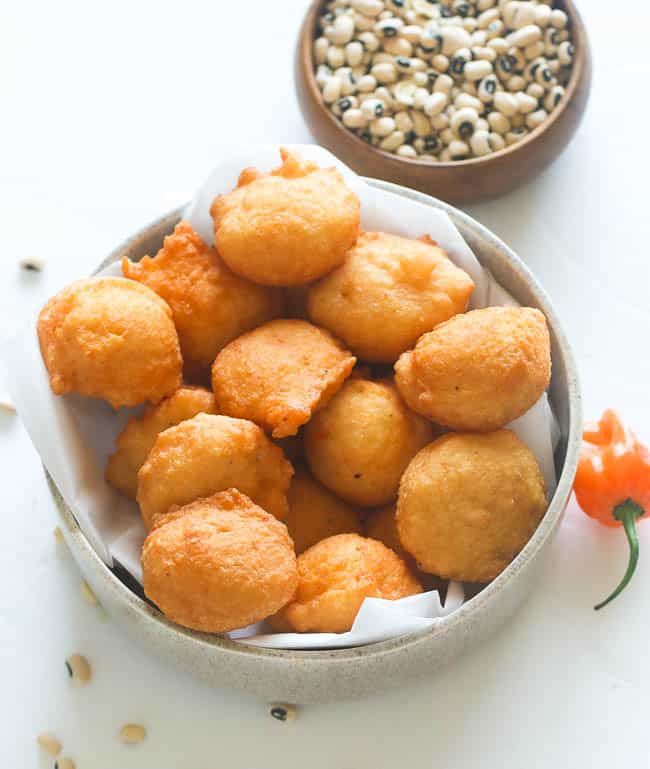 What name you call these light, crispy, Black-eyed peas fritters, that is so hard to resist, depends on what part of the world you live. In Nigeria and Cameroon; they're called akara, accra or kosai, In Sierra Leone and Ghana ;akla or koosé.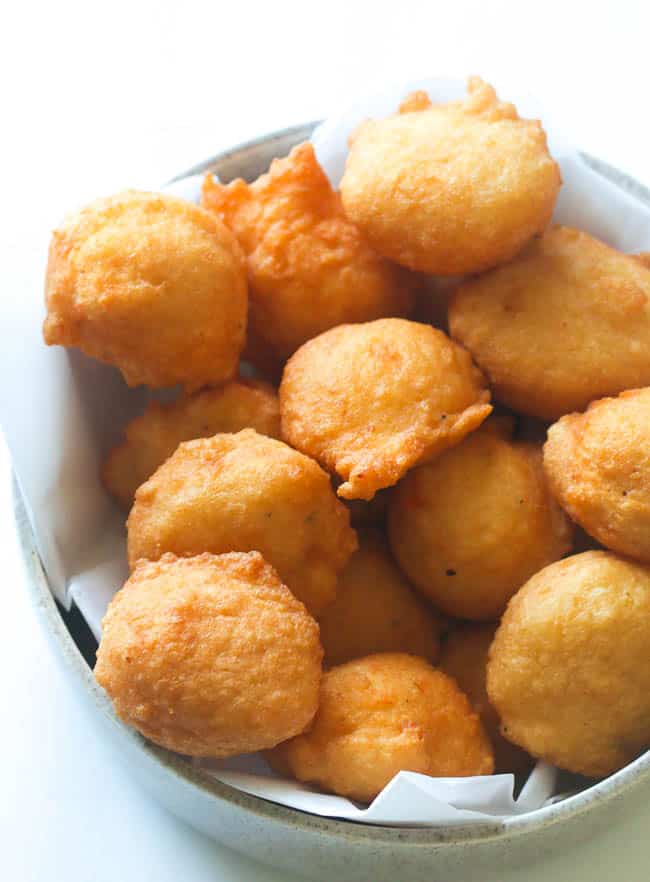 Transported to Brazil you have…. Acarajé  big and large, split in the middle and filled with fried shrimps, tomatoes and hot pepper sauce or some sort of spicy mixture.
In some parts of West Africa, like Nigeria it is often  eaten at breakfast . Served  with Custard  or Pap . While Countries like Cameroon enjoy it as a snack .
They are for the most part, sold by women in market places and around street corners and are a delight with every crunchy bite.
Yes !  they are just not black eyed peas fritters without the crunch.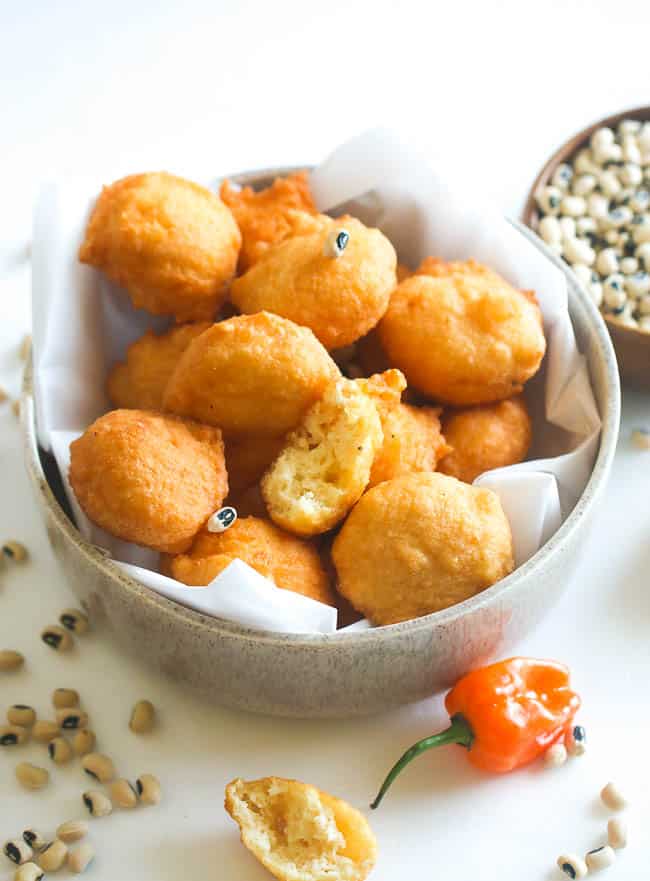 There are Tip and Tricks  to making THE perfect Crunchy Akara
Although store- bought peeled black eyed peas works  for this recipe . I prefer using  shelled( black eyed peas with skin on ). It delivers  that perfect crunchy bite.  It might be tedious but SO worthy it.
One key essential step is whipping the batter just like you would a cake , in fast circles to get as much air in the mixture as possible  making it light and airy.  Usually takes about 4-5 minutes.   You can't  omit this step.  And in between frying you have to continue beating the batter before frying the next batch.
Here , I used eggs to add more flavor and texture to it- 1-2 Large  eggs  does it.  Just substitute with water (about 1/4 cup of water ) if want to make this completely vegan.
let it cook an extra 1-2 minutes  for a more golden brown exterior  and an even better crunch.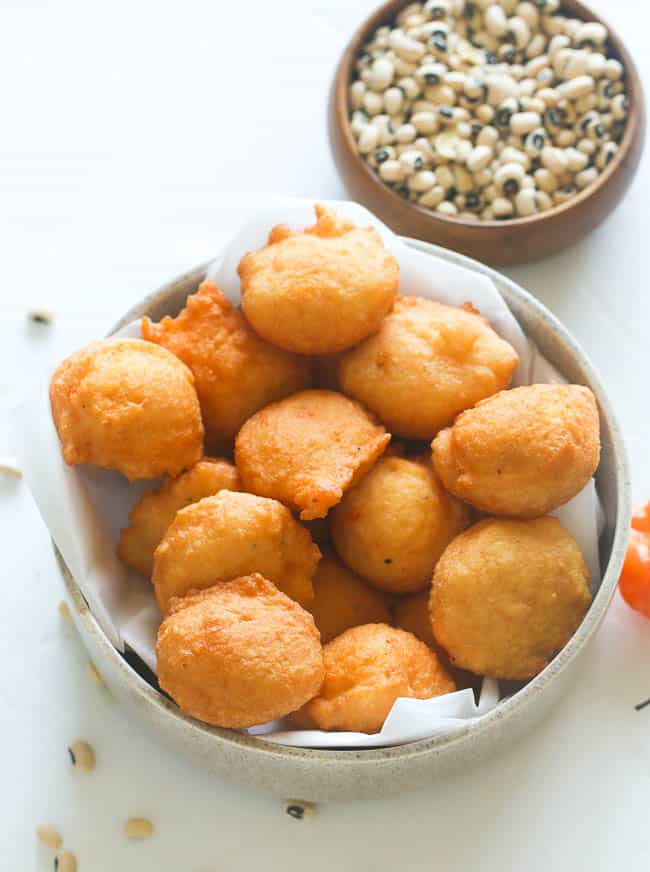 If you want a traditional african recipe for fritters then go with the basic ingredients .
However,  you can fuse  the African recipe with the Brazilian one, by adding shrimp to the to the mixture to  produce a neat and crisp outside and a fluffy inside – with a surprise shrimp awaiting . Another alternative for those who want something different.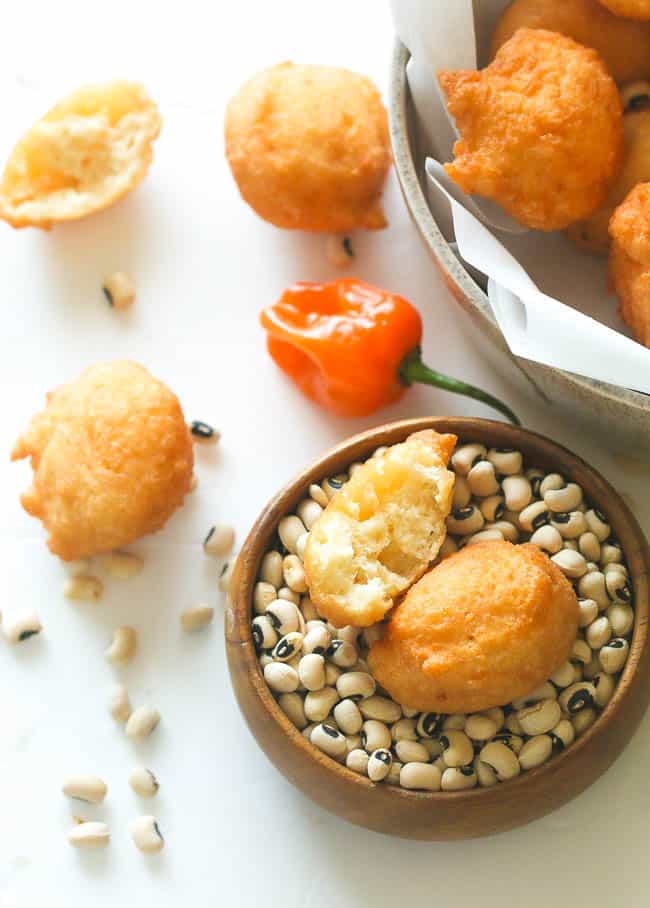 In other to make this less grueling ,you can peel your beans ahead of time and freeze them till the day of cooking.
Enjoy!!!!
Black-eyed peas fritters(Akara)
Ingredients
2 cups black-eyed peas
½ Medium Onion
1-2 Hot Pepper (Scotch Bonnet or habenero Pepper)
Salt to taste( about 1¾ teaspoons or more adjust to taste )
2 Large eggs (optional) see tips
optional spices ½ teaspoon chicken bouillon powder, ¼ teaspoon smoked paprika)
Oil for deep frying
Instructions
Instructions
Soak them for about 15 minutes, pulse in the blender or food processor to break the peas (about 5- 10 times or about 10 to 15 seconds) you should do this in small quantities. In a large bowl soak the beans with warm water for about 2 hours or up to 24hours, cover with water until tender.
Rub the peas between your hands to take the skin off. The skins will float to the top. Pour off the skins, into a colander; you may have to do this process several times. Most of the skin will come off the peas; Sort through the remaining peas to remove all the skin. You can do this ahead of time and freeze it, to save time
In a food processor, puree onions, black-eyed peas and habanero pepper with no or very little water until completely smooth. You might have to do this in two batches. It is important to note that ,using water will cause the mixture to be very light and will not hold together.
In a medium bowl mix together, blended black eyed peas , salt,and eggs.
Heat up a large skillet or cast iron with oil up to ½ inch- medium-high heat (375) until hot but not smoking.
Gently place batter by spoonfuls in hot oil and fry until golden brown, about 4-5 minutes turning once. Fry in batches and do not over crowd pan - it may lead to soggy akara. Remove from hot oil with a slotted spoon, drain well, and serve.,