Cheese Cake Factory Cajun Jambalaya Pasta – Quick and Easy  with chicken, shrimp and Sausage, vegetables, infused with spices and aromatics . An incredibly flavorful meal in no time .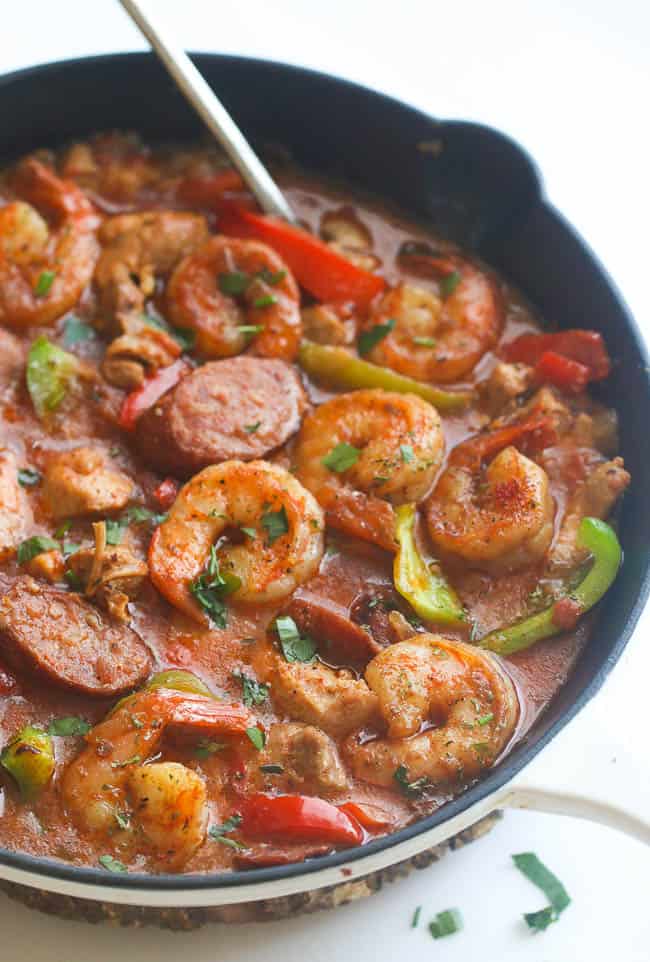 If you love the bold flavors of rice jambalaya then this recipe is for you!  This Cajun pasta  jambalaya is loaded with creole spice, garlic, onions, thyme, sweet peppers, sausage, shrimp, chicken and serve over fettuccine.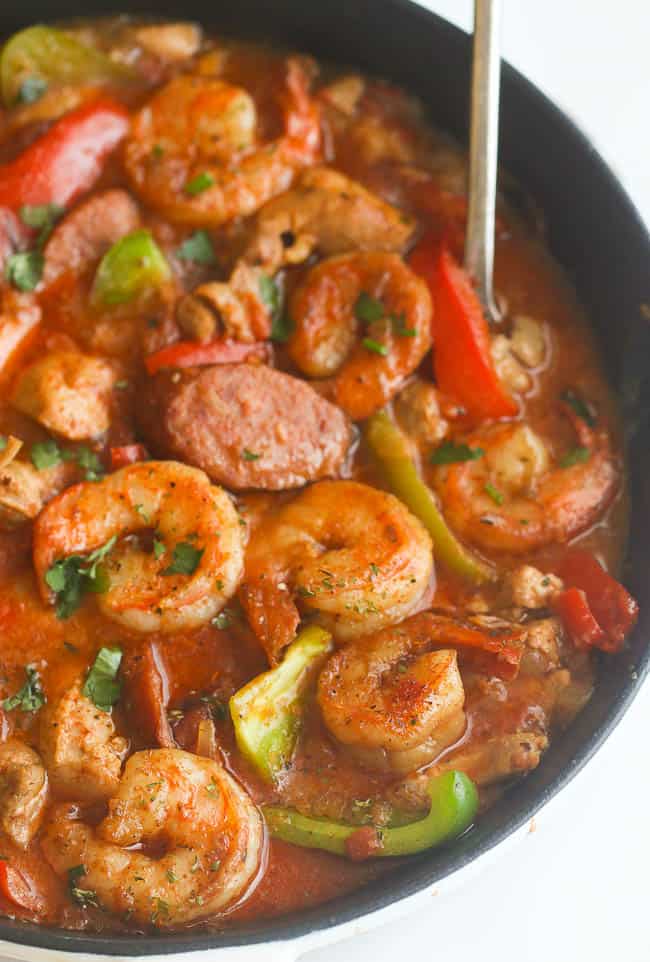 Save your self a trip to cheesecake factory, make this at home and thank me later.
So I first tried this Cajun Jambalaya  dish at cheese Cake factory and I kinda  like it. However, I knew it needed  some more  spice. Then as fate would have it, I came across this recipe, on their website, and ran with it – to suit my taste buds.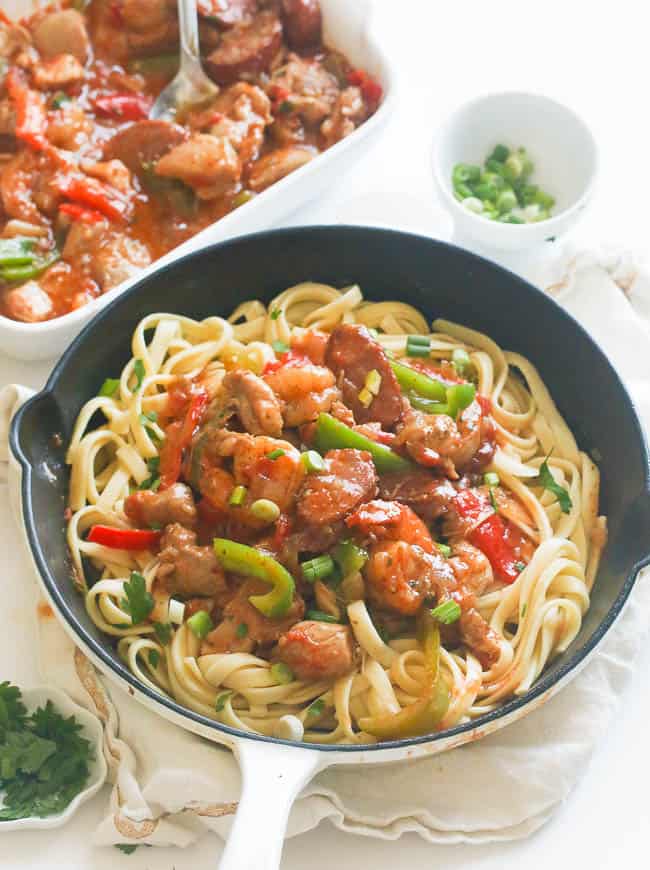 Oh my word , I have   got to say this is the most  delicious jambalaya pasta I have tasted- well, to be fair I have only eaten rice jambalaya with the exception of this one.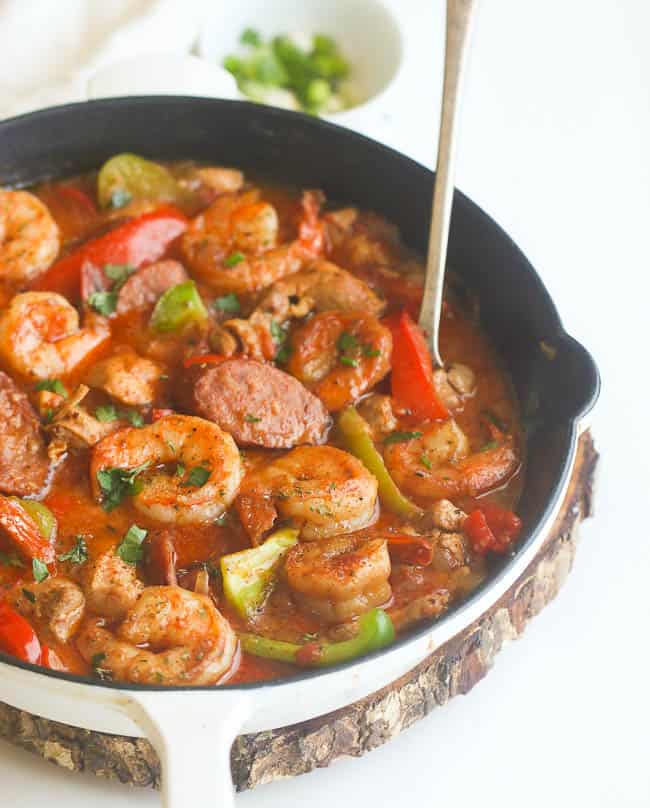 I do prefer this dish to rice jambalaya- it is heavily spiced , tastier, easier to make and quicker.
After a chopping and slicing the vegetables –it is on the table in less than 30 minutes. Your family would be stuffing themselves with jambalaya goodness.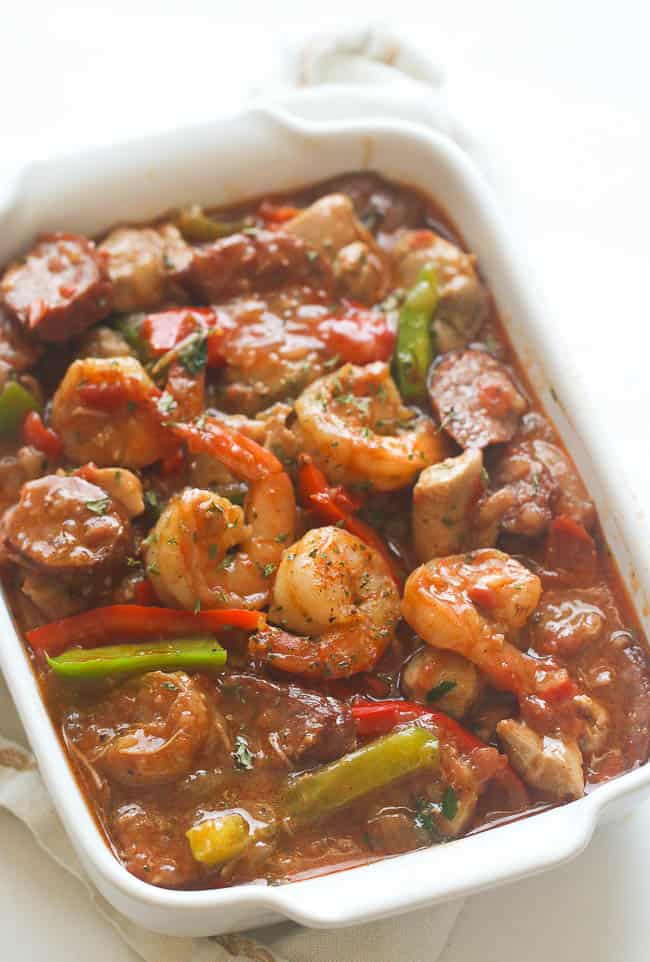 You can omit the sausage, and just use chicken and shrimp. Before begin making the sauce  start by boiling the fettuccine.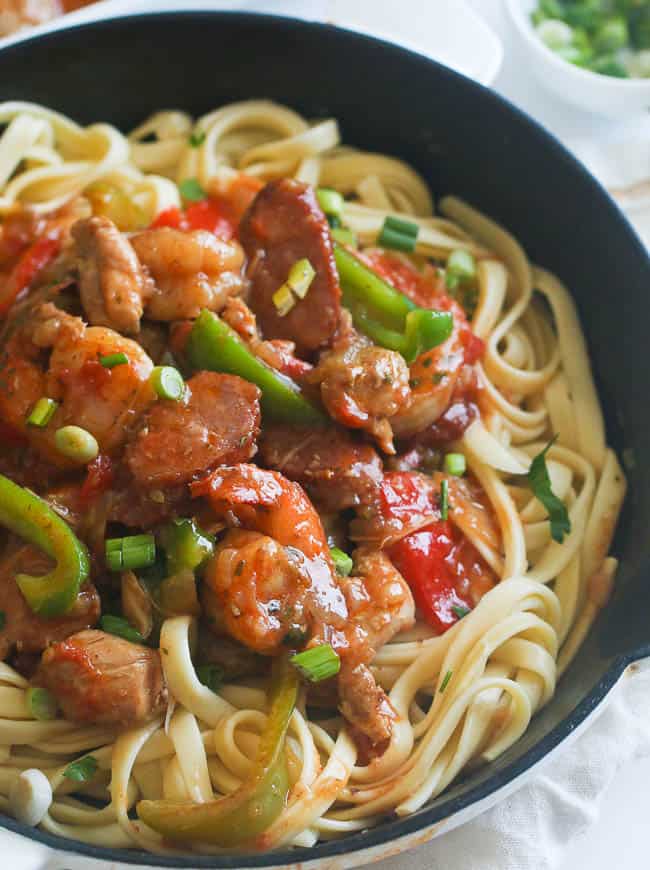 So it will be ready, the same time as the sauce.
Cajun Jambalaya
Ingredients
½ pound fettuccine pasta(b
1 pound boneless, skinless chicken thighs or breast
½ pound medium shrimp, peeled and deveined
½ pound smoked kielbasa sausage, sliced 1-inch thick
2 Tablespoons olive oil or canola oil
½ pound smoked kielbasa sausage, sliced 1-inch thick, then each slice cut into fourths
1 medium onion sliced
2 teaspoon minced garlic
2-3 medium tomatoes, diced
1 tablespoon cornstarch
½ teaspoon thyme
1 teaspoon smoked paprika
1 tablespoon creole spice
1 teaspoon Worchester sauce
1 medium red or green bell pepper sliced
1½ – 2 cups chicken broth
2 tablespoon chopped parsley
Instructions
Lightly season the chicken and shrimp with creole spice. Heat oil over medium heat in a heavy bottomed Dutch.
Sauté for about 3 -5 minutes shrimp set aside.
Then add chicken and sausage sauté until browned on both sides and remove. Set aside
Add onions, tomatoes, garlic, and cornstarch. Stir for about a minute. Then add thyme, paprika, creole spice, followed by bell peppers, chicken broth, sausage, chicken and Worchester sauce
Bring it to a boil then simmer for about 7-10 minutes.
Toss in shrimp adjust for salt and thickness. Serve over pasta or fettuccine