Caribbean Cole Slaw-A Mayo-Free  Coleslaw – Light, Fruity , Sweet and Refreshingly  Good!  Makes the perfect no-cook side dish. Add your favorite protein and make it a meal!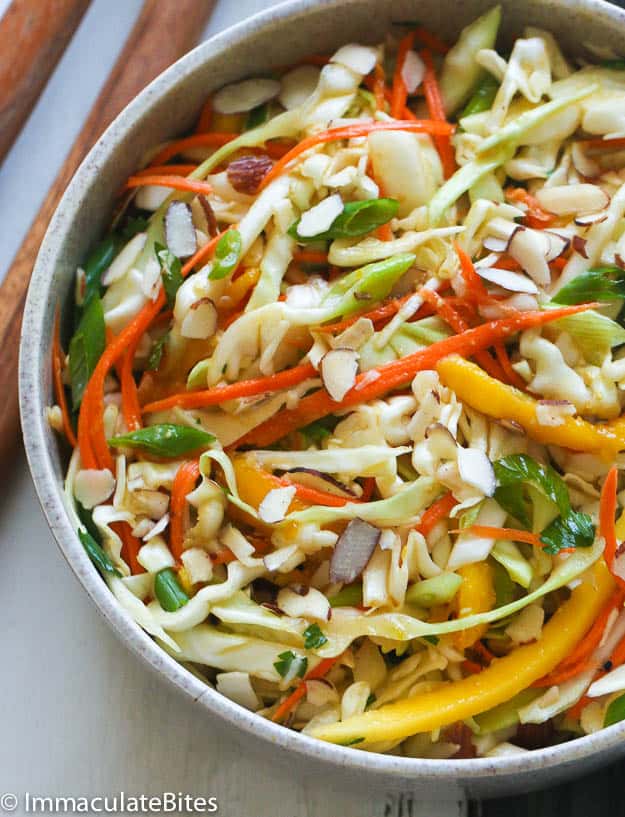 Am giving you an option to switch things up this summer with your coleslaw. And it's going to be sweet, nutty, a little bit of spice and a whole lot of tropical vibe to it.
How's this for your coleslaw?
You'll certainly appreciate it in the next couple of weeks when it gets really hot. Now the weather is playing tricks on me.
Ok, so I thought it was going to be super hot today. Yes, I don't know where the thought came from. But I ended up with partly rainy and dark skies- June Gloom. I never really noticed the gloominess of June till today.
And taking these pictures was not business as usual. I had to do the waiting, moving around game. Together with repositioning of food props.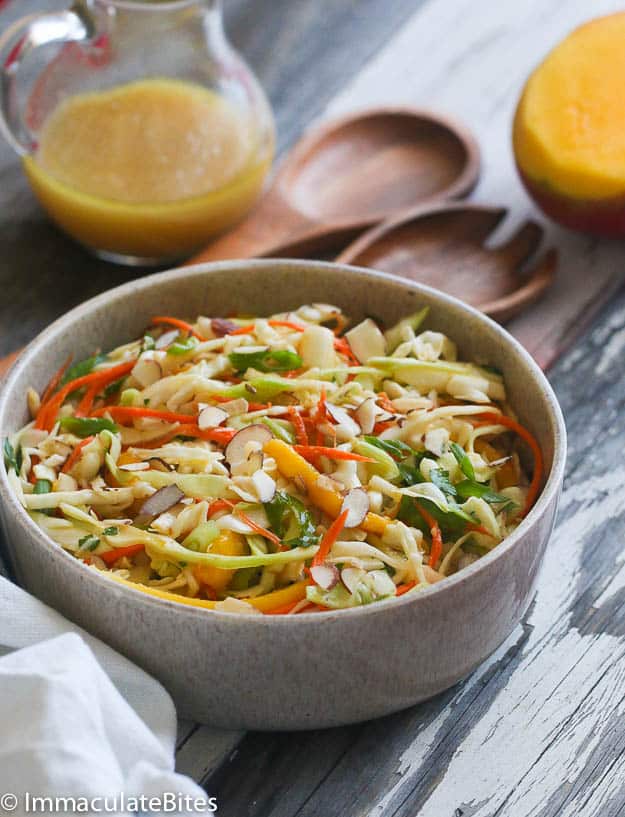 Ah! The Joys of Food Photography.
This Caribbean Coleslaw is crisp and refreshing with some mangos Jalapenos and Caribbean sauce thrown in the mix. And for my sweet peeps -honey. A perfect balance of tangy and sweet. It was hard to stop eating it.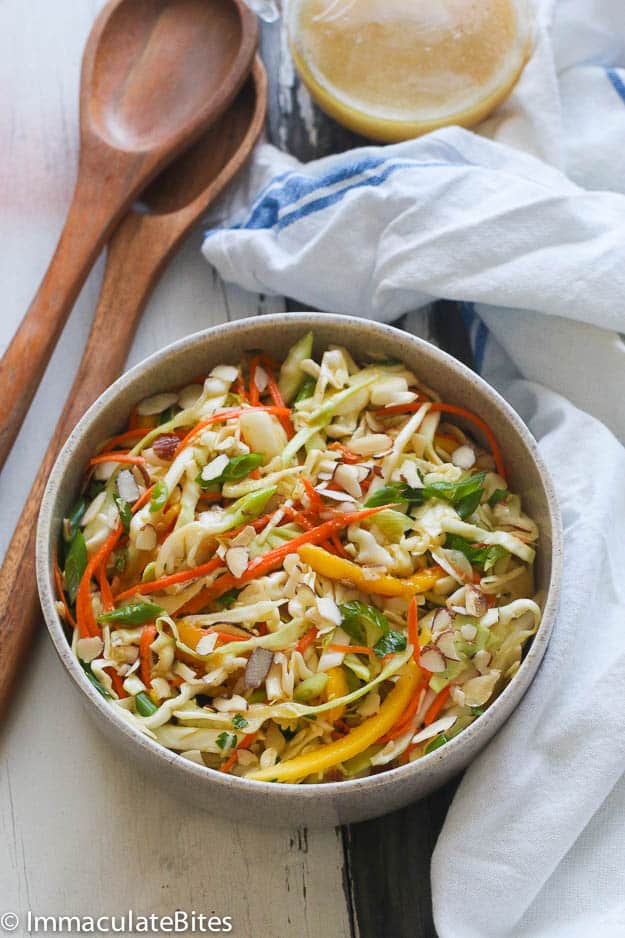 You are not going to miss the mayonnaise-laden kind. I promise. And you can eat as much as you want without a care in the world. Easy on your waistline compared to the restaurant variety.
This is a great side to have when you fire up your grill and it pairs so well with this Grill Jerk Chicken here. Adjust ingredients with more or less ingredients to suit taste buds.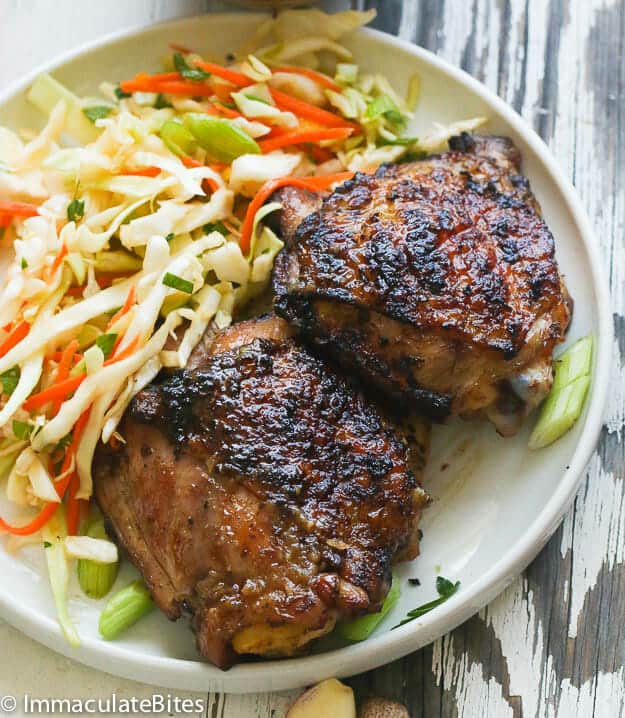 Enjoy!
Caribbean Cole Slaw
Ingredients
1-2 tablespoons Dijon mustard, or to taste
2-4 Tablespoons (Combination Honey and/or Brown Sugar)
½ Jalapenos pepper minced about 1 Tablespoons or more adjust to taste
2 tablespoons, red wine vinegar, or freshly squeezed lemon juice
1 teaspoon minced garlic
1 teaspoon Caribbean hot sauce(adjust to taste)
2 Tablespoons extra-virgin olive oil
6 cups cored and shredded Napa, Savoy, green and/or red cabbage
1 Large Ripe Mango, peeled , sliced or Julienne
2-3 diced scallion, more or less
White pepper to taste
¼ cup minced parsley leaves
½ cup nuts(almonds, sun flower seeds ) more or less nut
Salt to taste
Instructions
Dressing
Combine all the dressing ingredients in a jar or bowl; the hot sauce, mustard, white pepper, garlic, vinegar, lemon, Jalapeños pepper, and olive oil : Shake like crazy -to emulsify for about 2 minutes. Set aside. Be sure to shake it before each use.
Arrange Cabbage, Coleslaw, Carrots, scallons, mago in a bowl.
Add dressing to salad and toss to coat right before serving.Sprinkle with parsley and almonds
You may chill at this point. Serve when ready