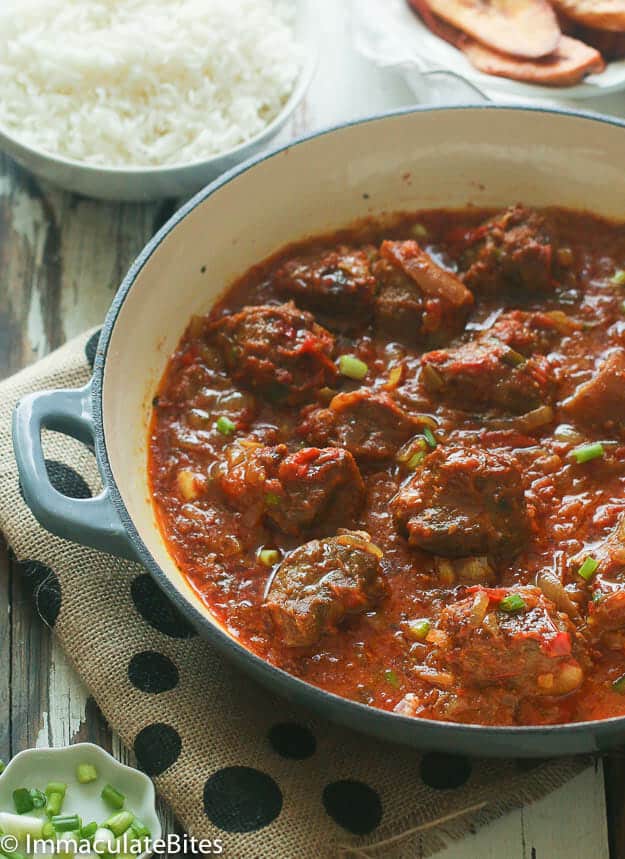 Ok, I know that goat meat can be off putting and you may have some reservations about eat it  but don't be so quick to dismiss it  yet.
Goat  is  one of those meats  that is a must have in parties, birth celebrations, weddings and huge gatherings in the Carribean ,latin America  and  throughout Africa. In fact, did you know  it is the most popular  meat throughout the world and as an added bonus, it is great for your diet because it  is lean and have less saturated fat , calories and cholesterol.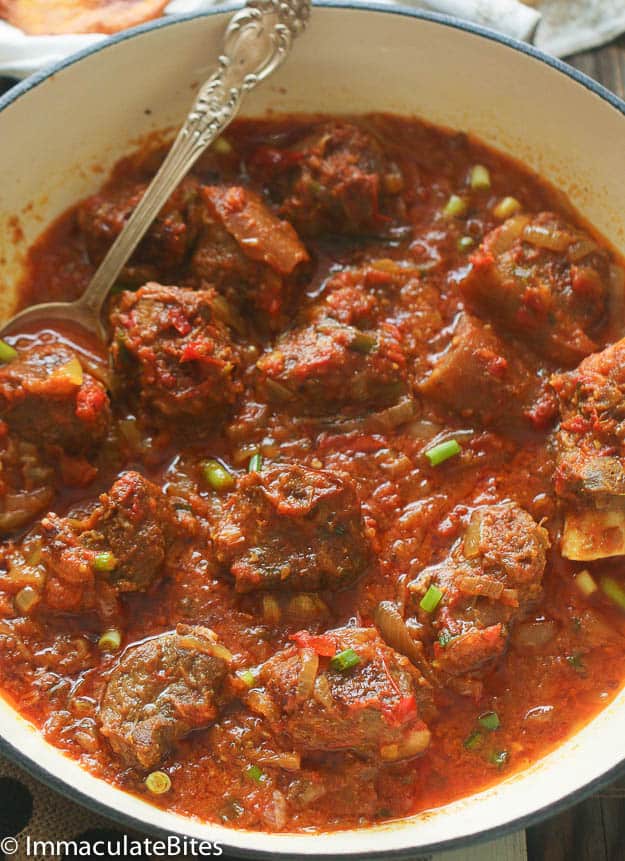 There are so many ways to prepare goat meat , however, slow and long is the best way to bring out its full flavor and make it tender. Be careful when shopping for goat meat the older the goat the gamier it will taste .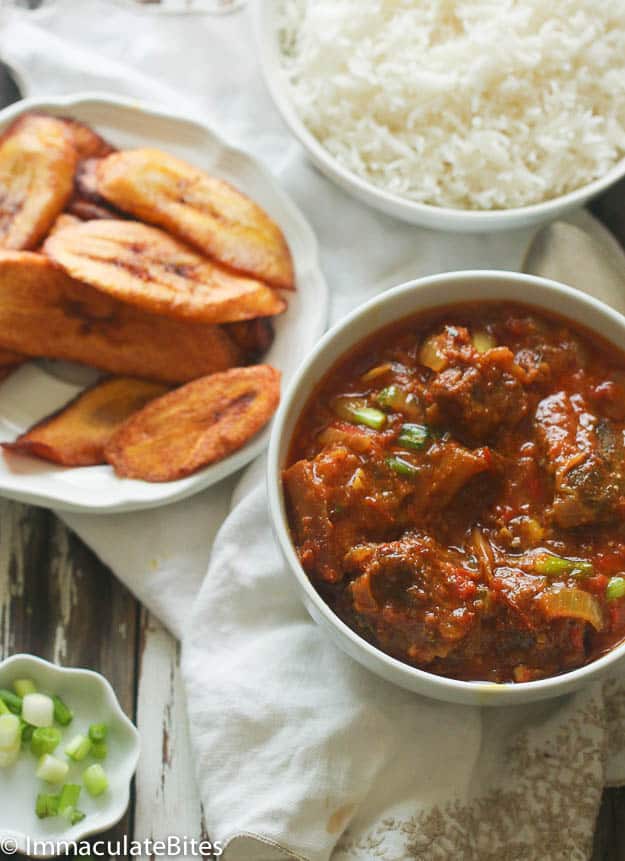 Some people also attribute the gamey taste to the gender of the goat , female less gamey while male have a strong gamey taste. It is preferable to get organic goat meat because it is lean and full of flavor -in my humble opinion.  If you are wondering what goat meat tastes like , I would say it is taste just like lamb shanks or beef brisket. So feel free to replace goat meat with lamb shanks  or beef brisket.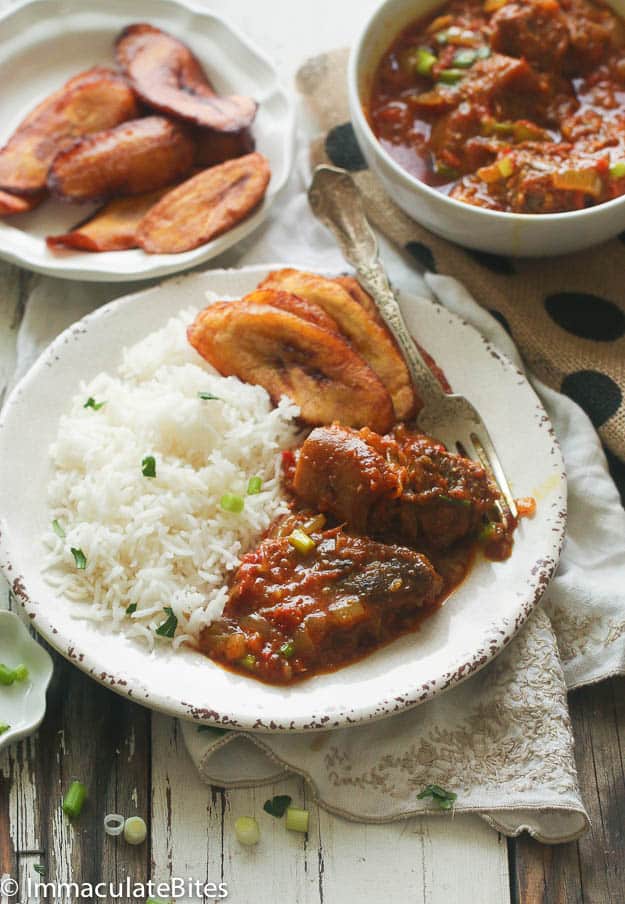 Here is an amazing recipe for goat stew  that is  , intriguing  and spicy without being overly hot  . A stew widely consumed in the Carribean and Africa. The goat meat is slowly cooked for about 1-2 hours( you can cut the cooking time in half by using a pressure cooker, it is a must have for some one who likes cooking  tough cuts of meat) then, fried with curry, onions, garlic, ginger  and other spices , the earthiness of the goat meat blends in with the curry. You may adjust the sauce by adding more stock or water .
Looking for another great tasting goat . Then check out this Jamaican Curry Goat here
Enjoy with rice ,fried plantains or any side order of your choice.

Curried Goat Stew
Ingredients
2 ½-3 pounds goat meat (cut in small pieces)
½ cup cooking oil
1 teaspoons minced garlic
1 teaspoon minced ginger
1 medium onion sliced
4 Roma tomatoes diced
3 – 4 teaspoons curry powder
1-teaspoon white pepper
1 teaspoon smoked paprika
1 teaspoon chopped fresh thyme
2-tablespoon parsley
2 green onions sliced
1 scotch bonnet pepper (adjust to suit taste buds or replace with any hot pepper)
1 tablespoon Bouillon Maggie (optional)
Instructions
Boil goat meat with salt, pepper and some chopped onions in a medium pot until tender. It will take approximately 60 -90 minutes or more, depending on how you like your goat cooked. I sometimes use the pressure cooker to shorten the process. Reserve the stock for later use.
Add ¼ cup oil to the pot/pan and brown the goat for about 5-10 minutes.
Then, add the chopped onions, ginger, and garlic to perfume the oil and meat, continue frying the meat for1- 2 minutes, be careful not to let the garlic burn
Next add tomato diced tomatoes, curry, white pepper, smoked paprika, hot pepper and fresh thyme. Stir the pot frequently to prevent the sauce from sticking to the pot
Add salt and bouillon according to preference with about 2 cups of stock. Bring to a boil and let it simmer to blend all the flavors. Approximately 30-40 minutes. Stir occasionally adding water as needed
Finally add green onions. Adjust seasonings, sauce consistency with water/stock and salt.
Serve warm with desired side dish.