Homemade Chinese chicken salad with a lighter and healthier  touch. Crispy crunchy  serve  with a lip smackingly delicious Almond dressing.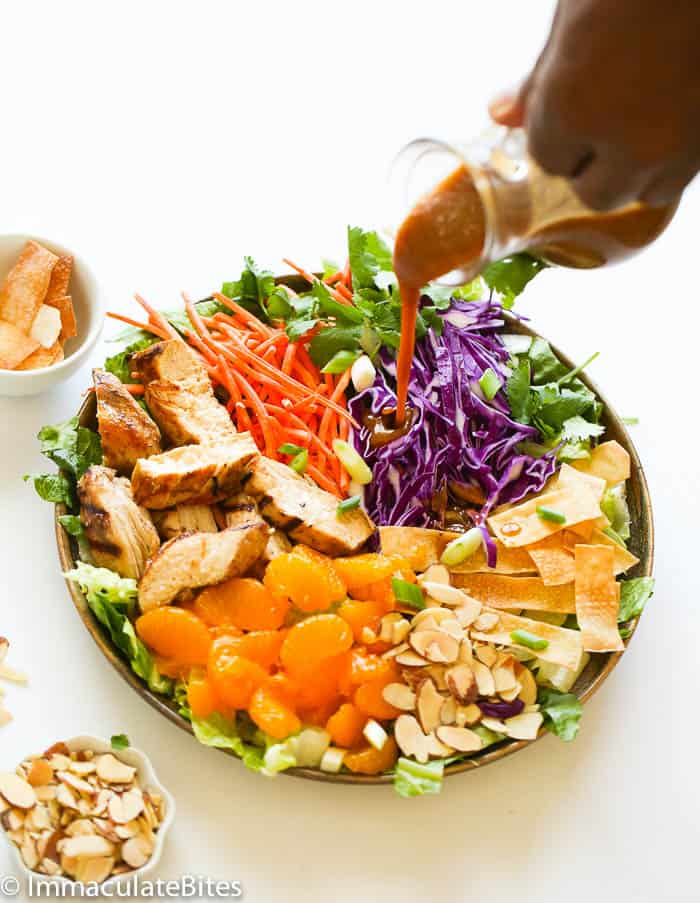 The following recipe, is my  lightened up version of  Chinese chicken salad served at a restaurant I used to work at . A very simple and popular dish – a big seller for the restaurant and one I enjoyed frequently. At the time , I wasn't aware of  its nutritional content – thank goodness!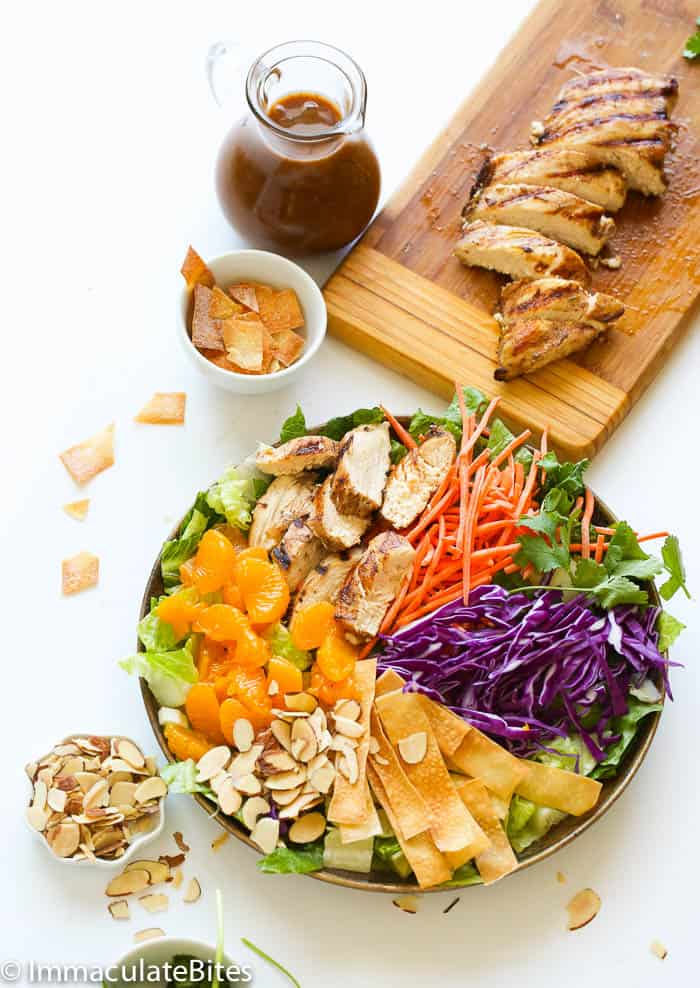 I  over indulged on it, after all it is a salad and they are suppose to be healthy right?  Wrong!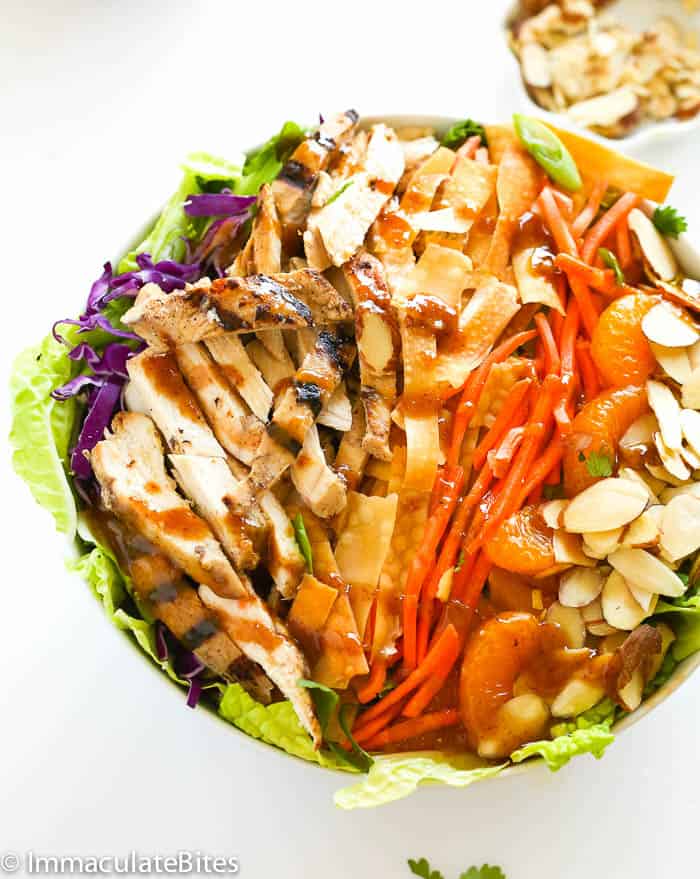 Being more aware about how many calories are in a tablespoon of oil, I tend to be more cautious about how I utilize my calories, especially with everyday meals or meals I consider healthy.
Don't get me wrong, I enjoy plenty of meals with  high calorie content  food as you can see here. Would never give it up.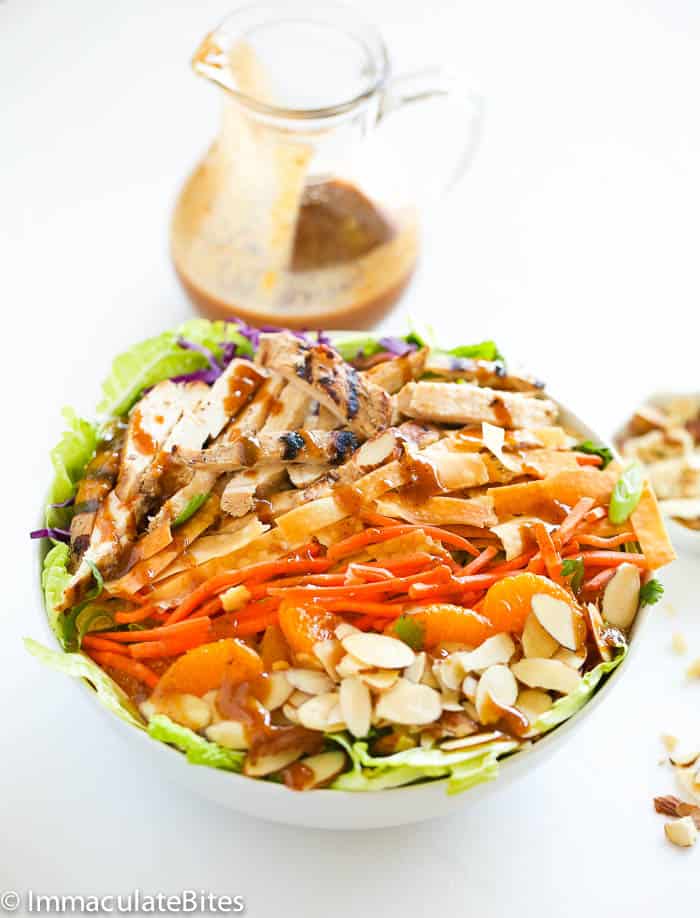 I made several changes to this Chinese  chicken  salad to make it nutritious ; reduce the oil in the dressing , baked the wontons instead of frying them and used  pan roasted chicken breast with very little oil ( shredded roasted whole  chicken works too).
For the dressing, I only used 3 tablespoons of oil and replaced part of it with  almond butter for added flavor. I replaced the sugar with honey and for some heat siraracha .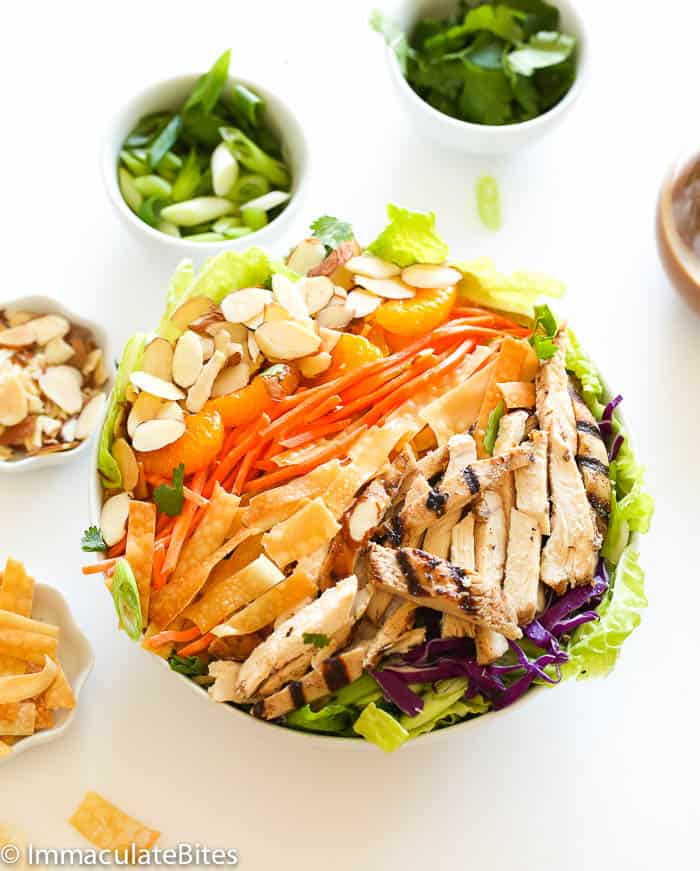 This salad , has become my everyday meal when am trying to shred a few pounds , I can load up on it with less  guilt  because I know exactly what is in the salad.
.Enjoy it!

Healthy Chinese Chicken Salad
Ingredients
1½ of shredded or chopped chicken breast(about 2 medium chicken breast)
8 wontons (1½ cup wonton strips)
6 cups chopped salad(napa cabbage or romaine lettuce)
2 cups shredded carrot
2 cups sprouts
1 cup mandarin
2 scallions (white and green parts), sliced diagonally
2 tablespoon white sesame seeds, toasted
For the dressing:
2 Tablespoon dark sesame oil
1 Tablespoon canola oil
¼cup apple cider vinegar
1 tablespoon soy sauce
2-3 tablespoons honey
½ teaspoon minced garlic
½ teaspoon peeled, grated fresh ginger
2 tablespoons almond butter
½ teaspoons salt
1 teaspoon siraracha
Instructions
Preheat oven to 400 degrees. Line baking sheet with parchment paper, or foil sprayed with non-stick cooking spray. Cut wonton wrappers into strips and lay on baking sheet.
Bake for approximately 8-12 minutes depending on your oven until wontons are crispy and lightly golden brown. You may have to wash them very closely. Remove from the oven, let cool
If using fresh chicken breast think about pounding it with a meat mallet, then sprinkle with salt and pepper.
Lightly spray a nonstick fry pan, Preheat skillet over medium –high heat until hot. Place chicken in the skillet and cook for about 5- 6 minutes on each side until juice runs clear. You may have to turn the chicken more than once to make sure the chicken is brown on both sides. Set aside and let it cool. Slice chicken into strips or just shred it. Set aside
In a large bowl, combine Napa cabbage, carrots, scallions, bean sprouts, Mandarin orange, sliced chicken, parsley and wonton strips. Sprinkle with sesame seeds
Combine all the dressing ingredients in a jar and shake like crazy -to emulsify for about 2 minutes. Set aside. Be sure to shake it before each use.
Add dressing to salad and toss to coat right before serving Serve and enjoy