Jamaican chicken and pumpkin soup is an excellent fall recipe. It encompasses that autumn feel and crosses those elements with flavors from the island. The combination is a mouthwatering fusion worthy of being repeated again and again. And will keep you warm during the winter months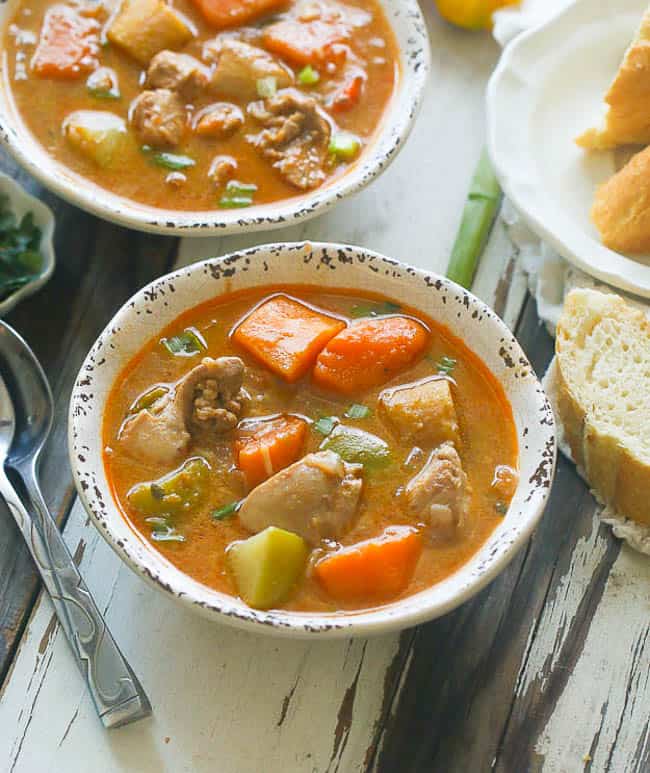 This soup has chicken and pumpkin in it, of course, as the backbone of the show. However, the list does not end there. Plantains are added to lend their potato like flavor as well as carrots to round out the main ingredients making it a hearty chicken soup.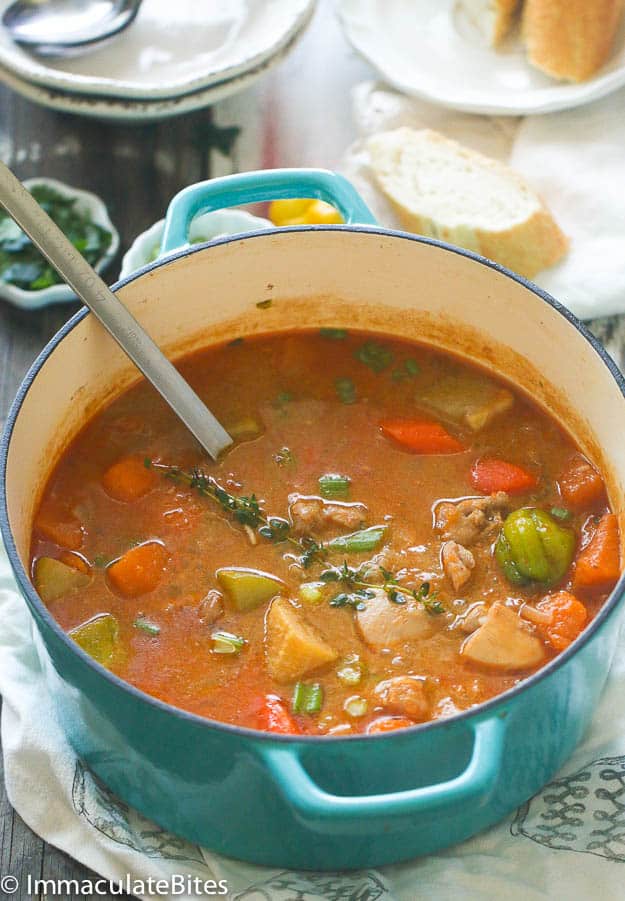 Guess what? The natural flavors of these vegetables meld beautifully and thicken's the soup.
Getting the flavors right is easy, so put your focus on texture. Tender chicken is really simple while avoiding serious mushy vegetables is more challenging.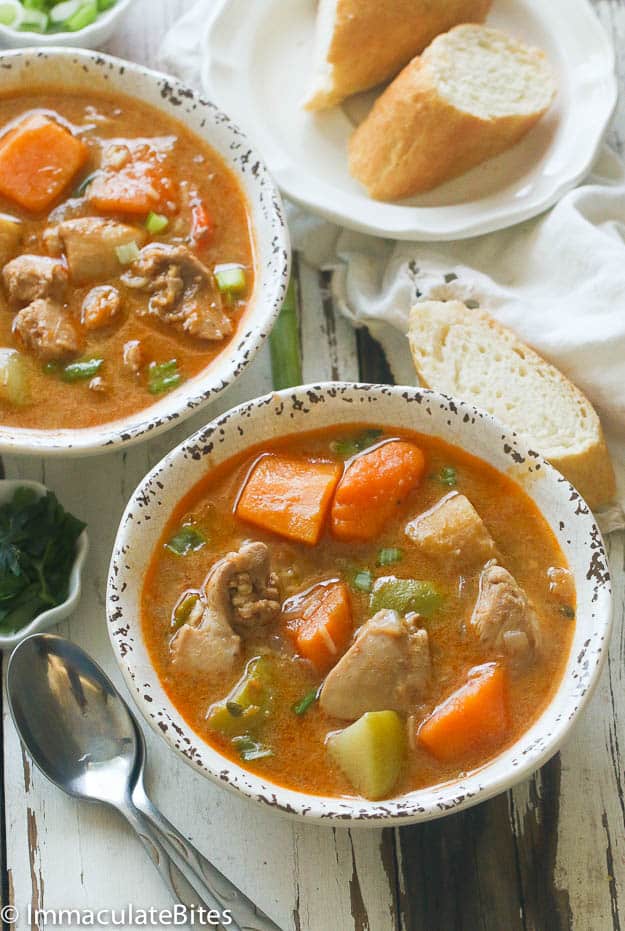 The way to prevent the mush is checking them every so often during cook time. Adjust to suit your preference.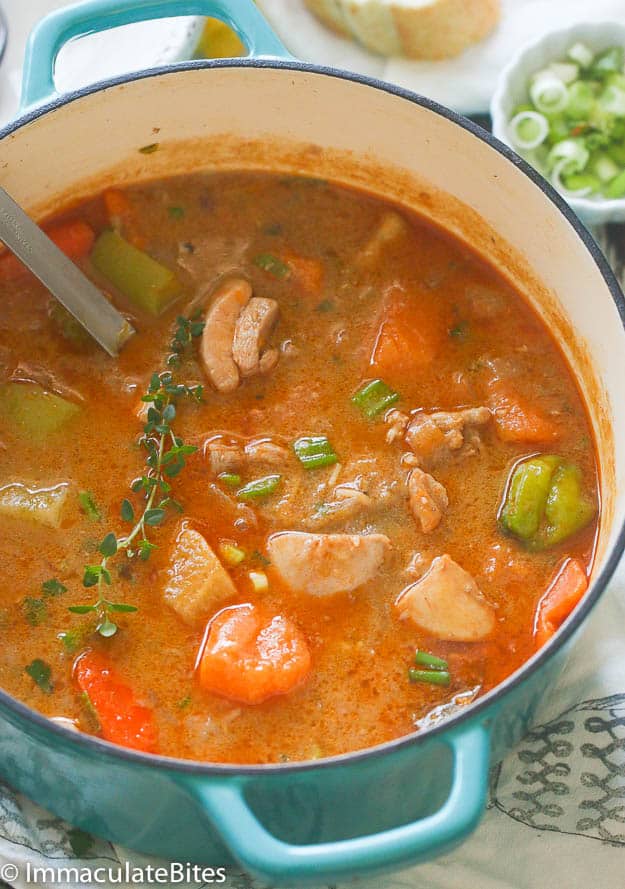 Speaking of thickeners , here I used Grace flavored soup mix. A mix used throughout the Caribbeans to enhance soups and stews. It packs a punch of flavor. However, you can make this soup without it and still get good results.
Ok, this soup isn't truly Jamaican without the bold flavors of garlic, green onions all spice and scotch bonnet peppers. The garlic is pungent and sweet, the green onions are sharp, the all spice works so well with the pumpkin resulting in that signature element of warmth and scotch bonnets bring the heat.
OH YES! Bring it on!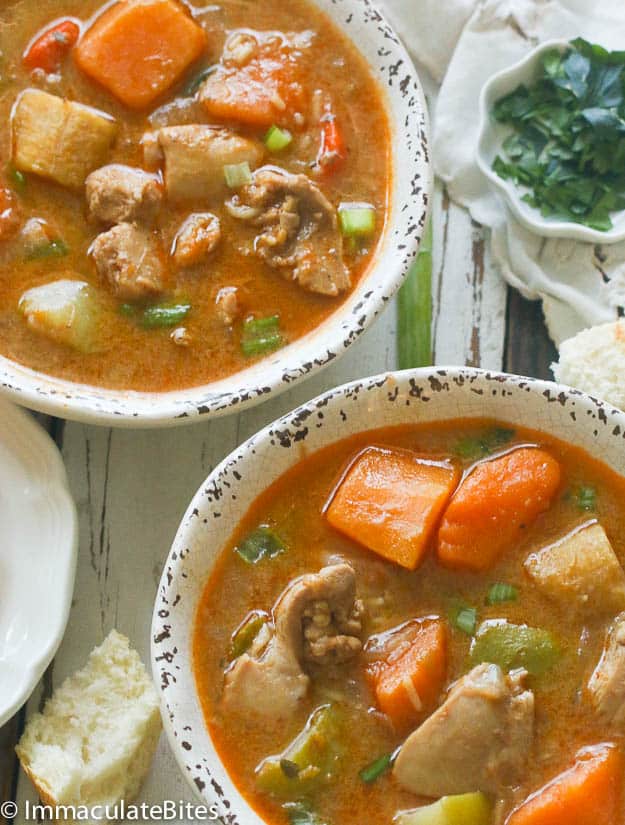 You start by sautéing the aromatics with the chicken just for a few minutes to give it some added flavor then follow with the remaining ingredients and a short time later, this classic soup is ready!
Traditionally, Jamaican chicken and pumpkin soup is served on Saturdays and it's made with dumplings. I ditched the dumplings here. You can add dumplings if you like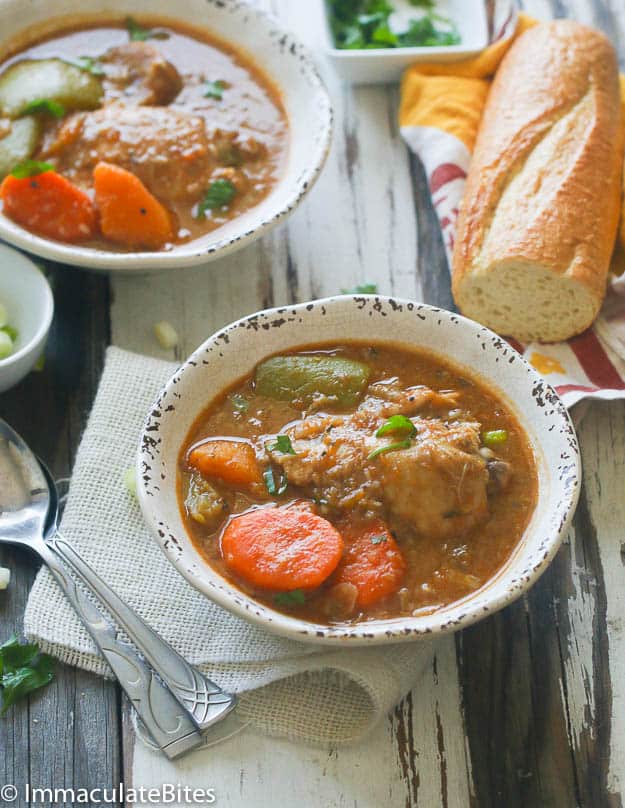 OH, you don't have to wait the weekend to make this  recipe here. It 's SOOO Easy to make . AND  can be made in advance, but you may need to add a little more chicken broth before serving because it thickens up as it sits.
Either way, the flavors and textures are simply delicious and it is sure to become a cold-weather favorite
So why not make a large pot and invite a few people over.
Enjoy!!!
Notes
You can also use bone in chicken thighs and or chicken parts.
Adjust vegetables to suit preference , some people like to throw fresh corn on the cob . Be sure to cut it in chunks .
Cayote also known as Christophenes  or Cho-cho is a green pear-shaped tropical fruit that resembles cucumber in flavor widely enjoyed throughout the Caribbean  Islands and Mexico- it's  available in most supermarkets . Or you can substitute with yellow squash or  zucchini.
Sub plantains with potatoes
Jamaican Chicken and pumpkin soup
Ingredients
3 pounds or more chicken thighs cut in chunks
1 medium onion diced
2 teaspoons minced garlic
2 Teaspoons Fresh thyme
1 Scotch bonnet pepper
1 teaspoon smoked paprika
1 bay leaf
5 cups broth/water or more
2-3 Green Onions diced
1 teaspoon all spice
1 Coyote cut in large chunks
1 plantain cut in chunks
2-3 cups butter squash (cut in large chunks)
1-2 carrots cut in large chunks
2-3 Tablespoons parsley (optional)
1 flavored packet cock soup
Salt and pepper to taste
Instructions
Heat up a pot or Dutch oven with oil , then add onions, green onions, garlic, thyme, all spice, Bay leaf; scotch bonnet pepper or hot sauce to the skillet. Stir for about 3 minutes to get the aromatics going. Then add chicken, salt and pepper. Then stir for about a minute.
Followed by water or broth to the pot.
Then throw vegetables: plantains, squash, coyote plantains, carrots and cock bouillon, salt according to preference
Cover and cook on for about 30 minutes.
Remove and serve with bread