Jamaican Corn Meal Porridge- Tired of the same oatmeal for breakfast? Mix it up and try this warming cornmeal porridge instead! Infused with Caribbean spices and coconut milk for a complete warm and comforting breakfast.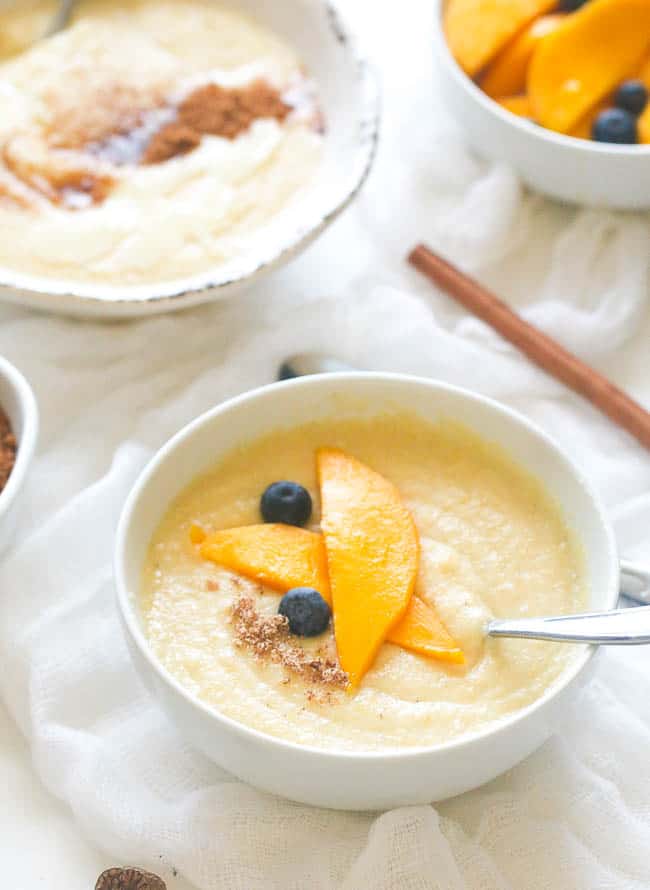 Tell me is there a better way to kick start the day than with a warm, hearty breakfast. If you wake up wanting something a bit sweet to combat early morning cravings then you are in luck. This Jamaican cornmeal porridge will do just that.
What I like about it is that it's so filling and very energizing making it ideal for a pick me up in the a.m. breakfast.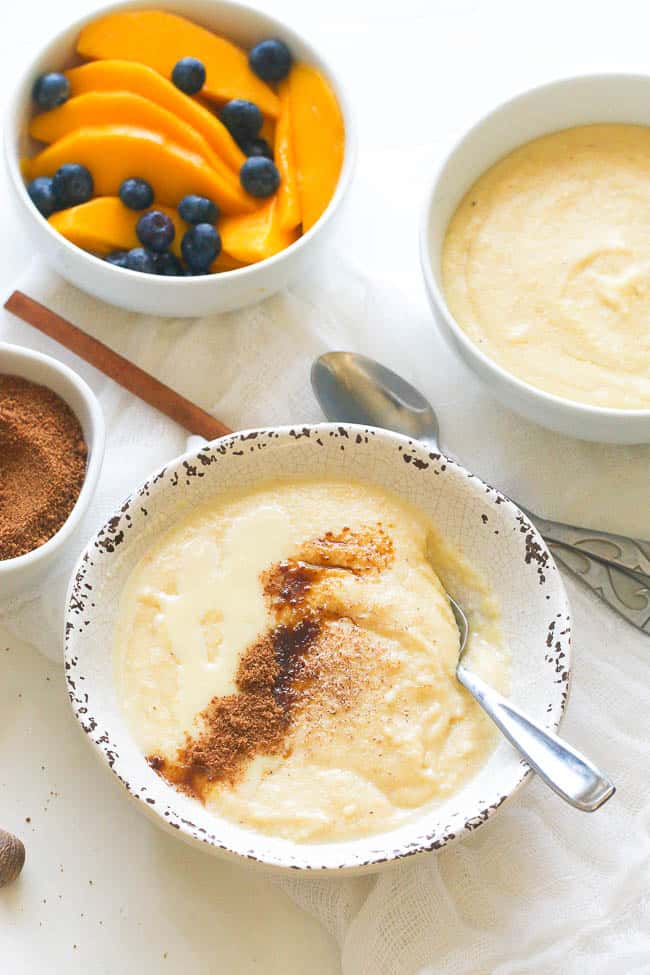 We have been blessed with some much-needed rain here in Southern California. When it rains all I want to do is cozy up with a bowl of this cornmeal porridge and watch as the rainfall in crazy chaotic drops- slowly savoring one spoon at a time. Secretly wanting it to go on for days on end. But every good thing must come to an end.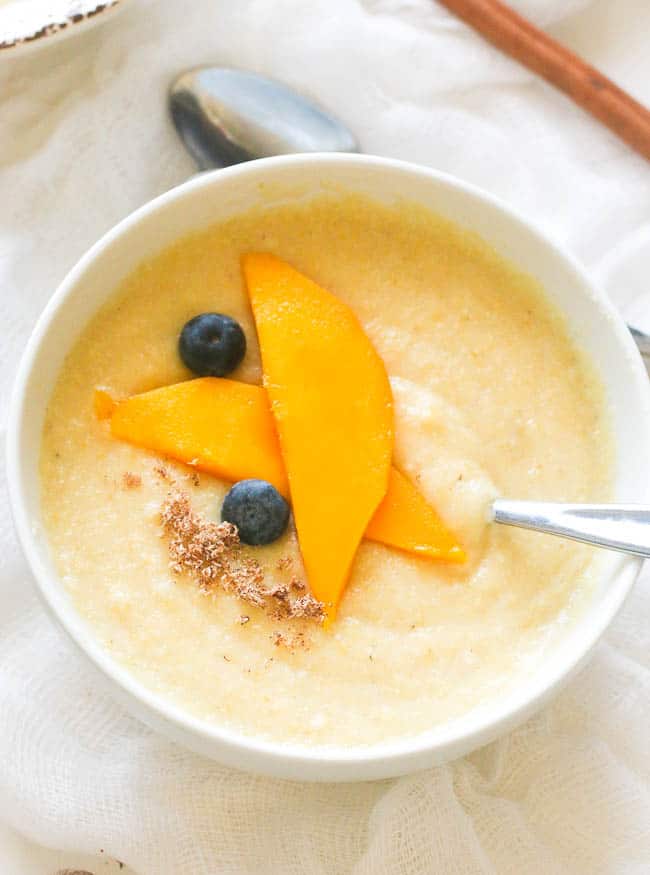 This Traditional Jamaican cornmeal porridge, is also known as "Cog" and "Pop"- a  Caribbean breakfast dish that dates back more than a century.
It's made with yellow cornmeal, infused with earthy spices like cinnamon and nutmeg. Most often condensed and/or coconut milk is added for a rich and sweet taste. If you want a vegan then use coconut condensed milk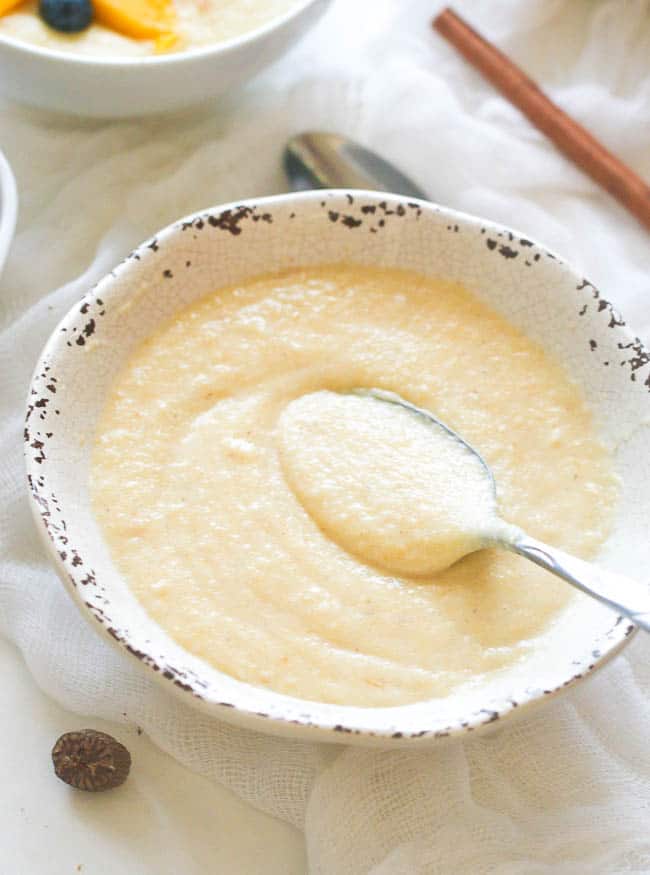 What does it taste like? An incredible cross between traditional porridge and grits. You have sweetness along with warmth from the cinnamon , nutmeg  as well as the sweet "corny" flavor of the cornmeal itself.
A hot cereal with depth and texture that is not too heavy on the stomach. Taste great on it's own but when combined with fruits and nuts it's heavenly. My favorite is mango and blueberries.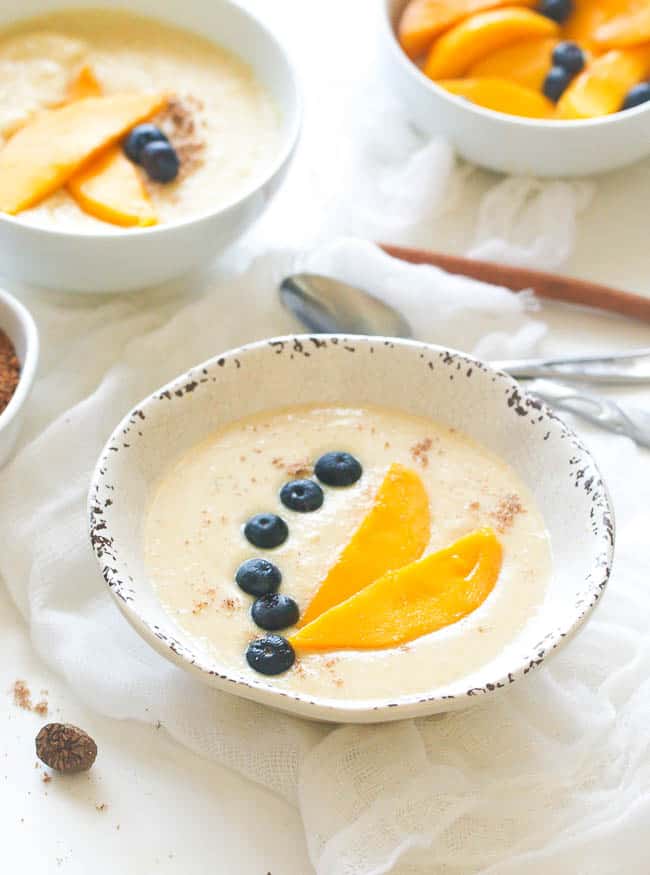 You can't go wrong with sliced banana, mango, slivered almonds and/or walnuts. Lastly, you can serve this for brunch, lunch, dinner or an indulgent snack.
Enjoy!!!
NOTES
Be sure to stir the porridge  frequently during cooking to avoid any lumps in your porridge.
Adjust flavorings and milk to taste. However, nutmeg and vanilla are essential  in making  Jamaican Porridge.
Jamaican Corn Meal Porridge
Ingredients
2 cups water
2-3 cups coconut milk (drinkable carton variety)
½ cinnamon stick
½ teaspoon salt (adjust to taste)
1 cup yellow cornmeal
1 teaspoon vanilla extract
½ teaspoon nutmeg (adjust to taste)
Sweeteners (condensed milk, coconut sugar, brown sugar
½ cup sweetened condensed milk)
Instructions
Add about 2 cups water and 2 cups coconut milk to a heavy large saucepan. Throw in ½ stick cinnamon stick. Bring to a boil.
Gradually whisk in the cornmeal, until you have add the whole thing in the pot, a little bit at a time and keep stirring with a wooden spoon to prevent any lumps.
Reduce the heat to low and cook until the mixture thickens about 15 minutes.
Add flavoring vanilla extract, nutmeg and sweetened condensed milk.
Adjust consistency with coconut and/or water if desired.
Turn off the heat. Serve piping hot with extra nutmeg, sweeteners an