Jamaican Pigeon Peas and Rice-  Coconut rice is cooked with plump pigeon peas, sweet corn and traditional Jamaican spices in creamy coconut milk.  Simple Delicious.
Yes, Coconut milk. What would I do without it? My pantry is overflowing…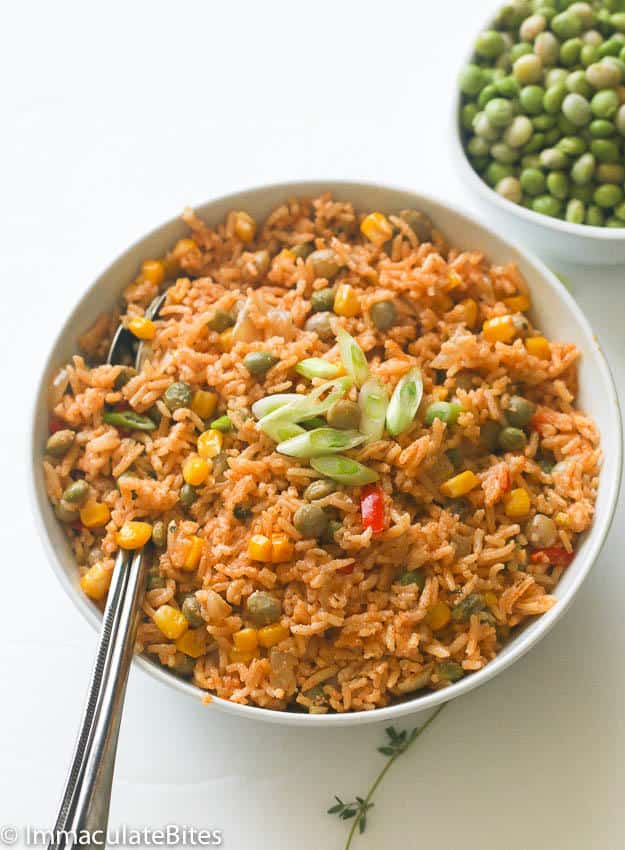 So I made this Jamaican Rice and Pigeon peas to go with Jamaican curry shrimp right here. They are simple delicious and can be eaten with or without protein. And a great option in place of rice and beans.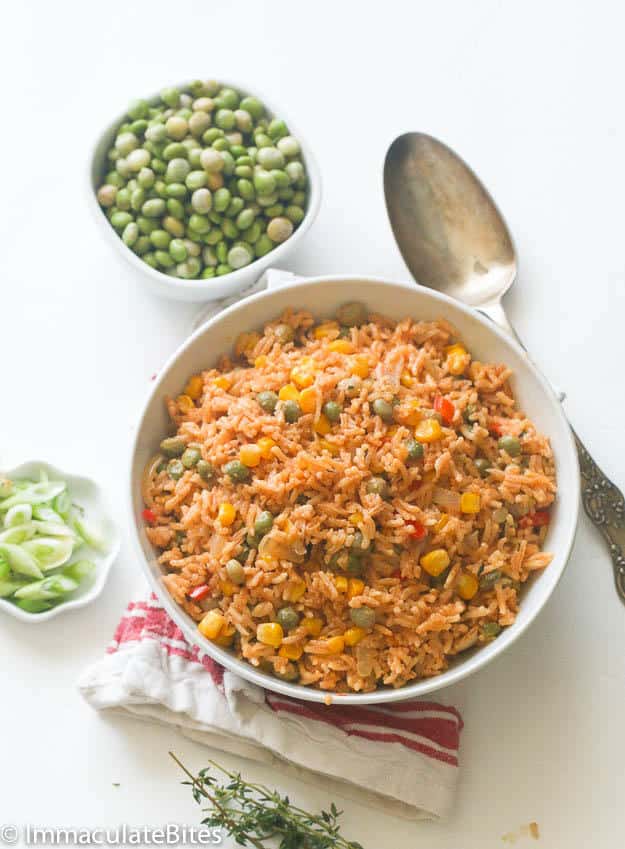 Pigeon peas—cute and round, also known as gungo peas or gandules. They're a staple in African Latin and Caribbean cooking. They are sold canned, dried or fresh. Depending on your location and neighborhood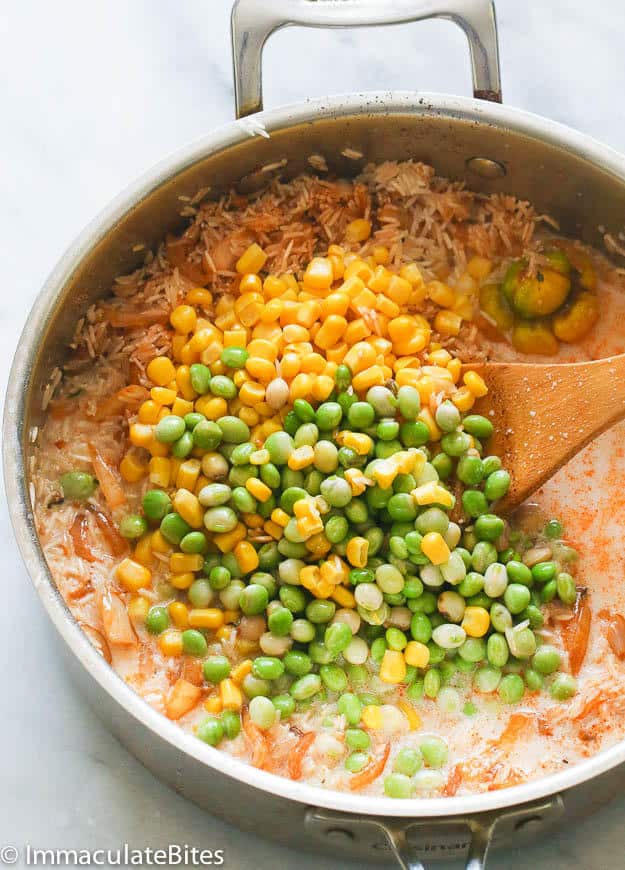 Most people refer to the green pigeon peas as immature while the mature ones have a deep brown color and meatier. Just like red beans. And they can be used interchangeable here.
What makes this this dish have it's rich brown –reddish color? If you know me by now you should be able to make a good guess.
≈
Yes, smoked paprika another of my pantry staple. Seriously I put it in EVERYTHING and always go overboard with it. I just love the slightly smoky taste and color contrast it adds. Not traditional in any way. If my grandmother were alive she would probably have disinherited me for this. May her soul rest in peace.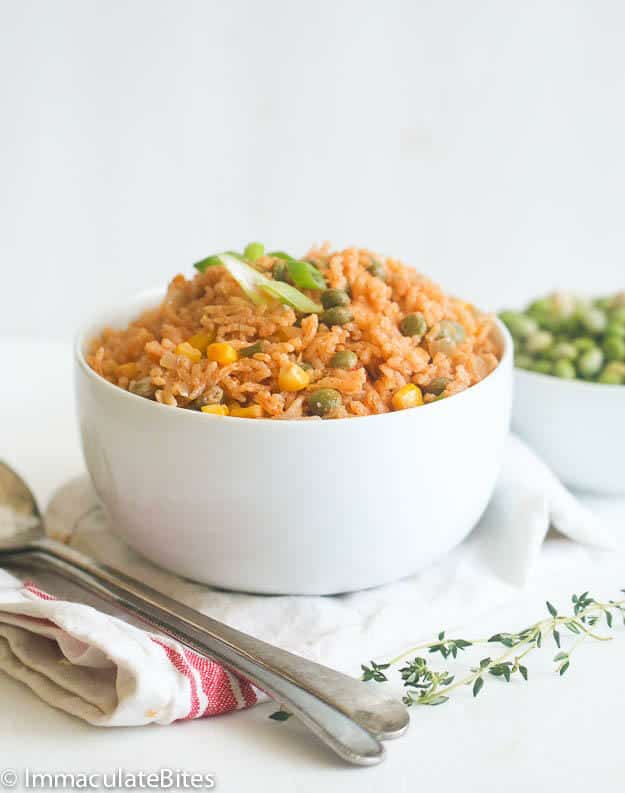 In this recipe, you can use any variety or just sub with red beans if getting them is a hassle. You would most likely find the Pigeon peas at Latin markets frozen. canned or dried. Some Major Super markets now carry them. Check your local Wal-Mart.
You can easily double the recipe. And look no further for what to serve this with. Love it  curry or stew. Check out this Curry shrimp here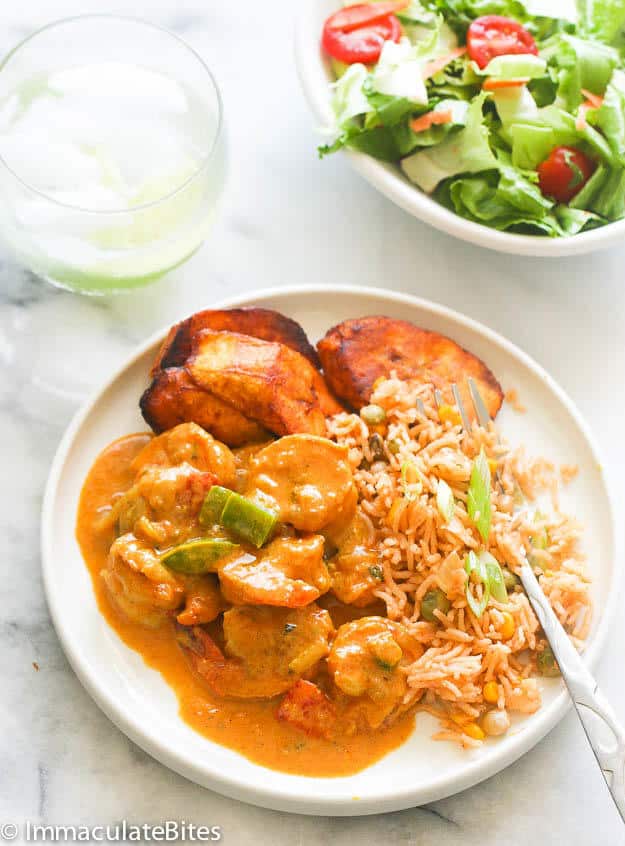 Enjoy!!!
Jamaican Pigeon Peas Corn and Rice
Ingredients
3 Tablespoons or more cooking oil
½ medium onion chopped
2 green onions
½ bell pepper (optional)
1-teaspoon fresh thyme
1-teaspoon garlic
1 teaspoon smoked paprika
1 whole scotch bonnet pepper
1-cup basmati rice
1-teaspoon creole salt
1-cup fresh corn
1-cup pigeon peas
1-cup coconut milk
2 cups water
1 or more teaspoon bouillon powder (optional)
Salt and pepper to taste
Instructions
Wash rice until water runs clear. Drain water.
Heat a saucepan with oil. Then add onions, green onions, bell pepper, garlic, smoked paprika, thyme, scotch bonnet pepper, sauté for about 2 minute.
Stir in rice, to the pan, followed by pigeon peas and corn. Sauté for about a minute.
Pour in coconut milk, bouillon powder, creole spice, with about 2 cups of water, bring to a boil reduce heat, cover with a lid and simmer until rice is cooked, about 18 minutes or more. Stir occasionally from the sides to prevent burns, add more water if needed.
Adjust for salt and pepper.