Jamaican stew peas- This Cozy Jamaican stew  is made using red beans, meat and is cooked  an aromatic  coconut milk broth with Jamaican spices and spinners . A hearty Island  stew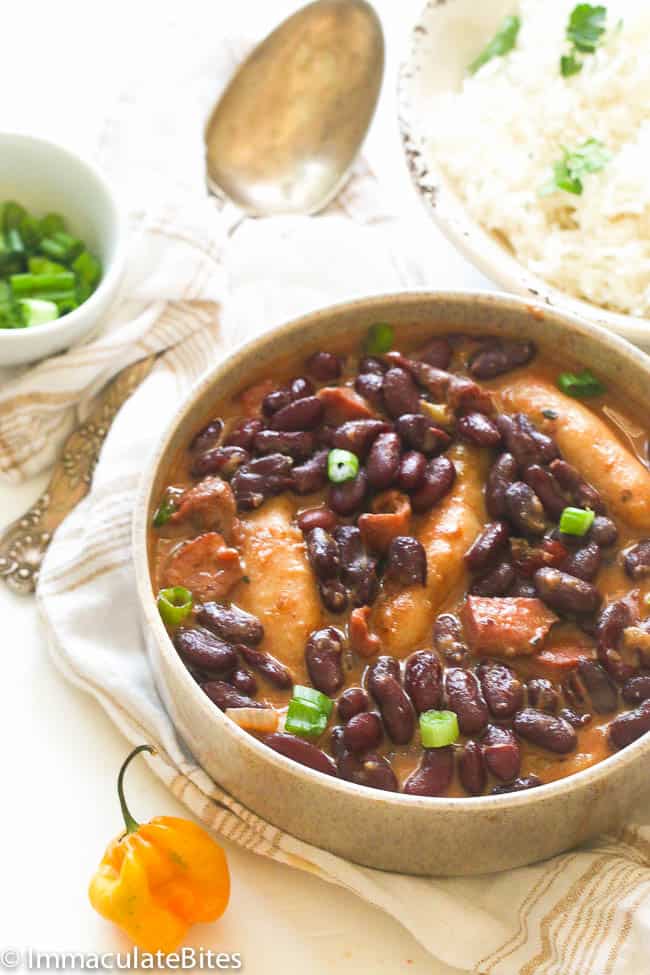 Despite the name, this stew does not contain peas at all. It actually has kidney beans, which are called red peas in Jamaica. You can start by cooking them from scratch, which would take you some time or just go with canned beans.
One recurring ingredient in Jamaican stew peas is salted pigtail often available in Latin and Caribbean Markets. Yes, I must admit it does adds some fatty goodness and distinct flavor to the stew peas.
However, I switched it out in place of smoked turkey  -it's readily available  in most American Supermarket, adds another layer of flavor with it's smoky beef note and it's healthier.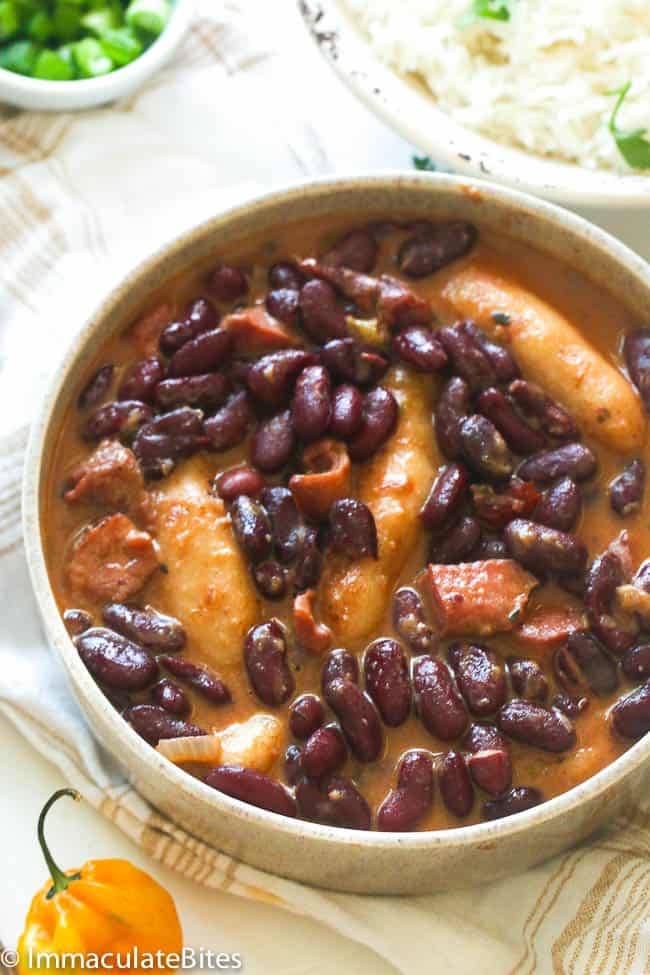 Ok Folks! If tradition is what you are after and you want that truly authentic flavor -then by all means GO FOR IT!
Am sticking with smoked turkey.
Oh, Another great substitute would be ham hocks, and/or oxtail.  Or  just use  beef.  Whatever works for you.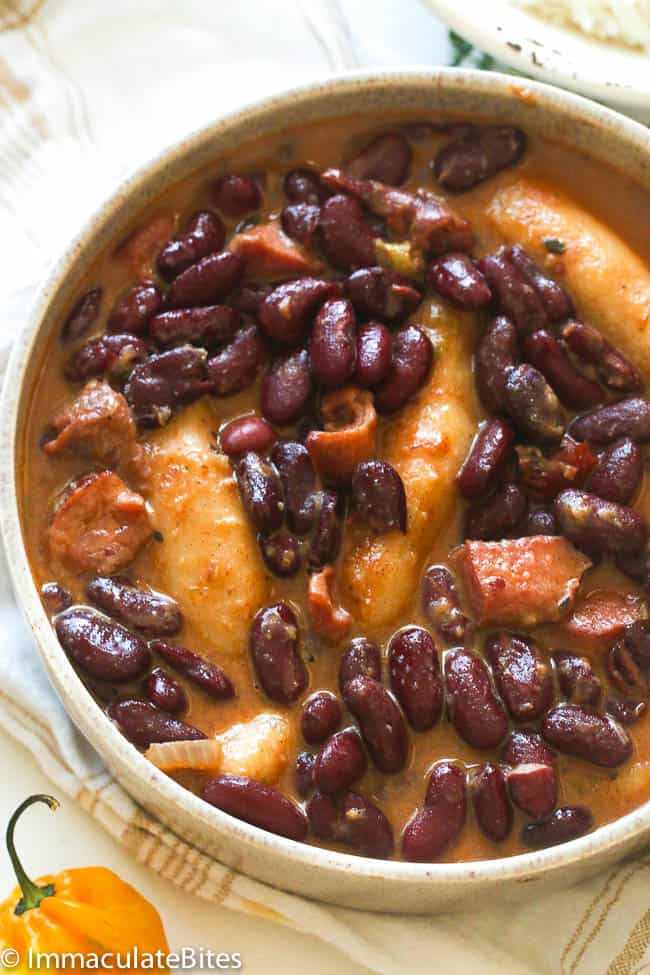 Spinners are a great addition to stew peas- you just can't make stew peas without them.
What are spinners? Tasty little Jamaican dumplings -helps thickens the stew and makes it more substantial.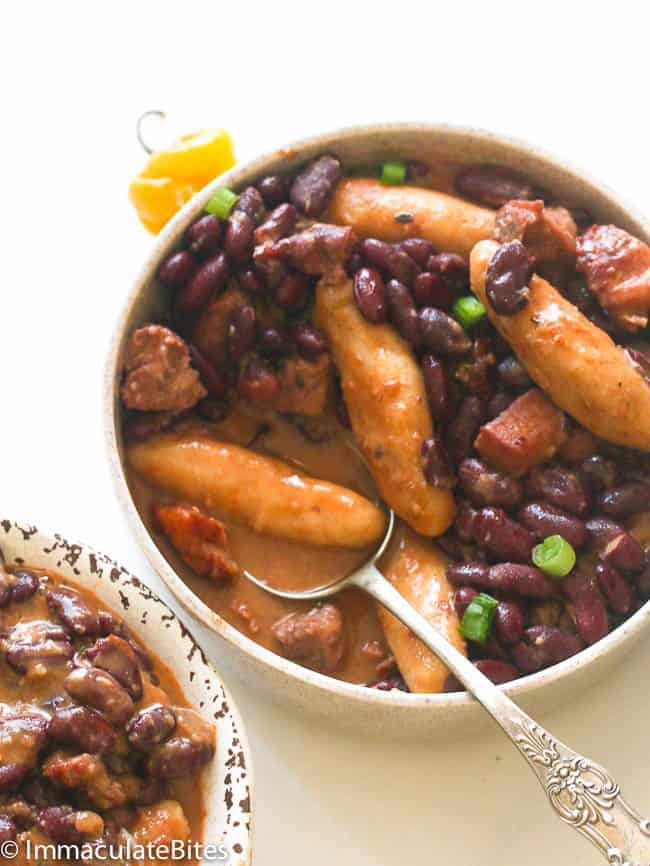 This stew begins with browning the beef and turkey to add some flavor, then followed by an aromatic base of onions, thyme, allspice, and garlic… Their natural sugars caramelize and kick start all that shines about the stew.
The red peas follow and are joined by the coconut milk and other additions.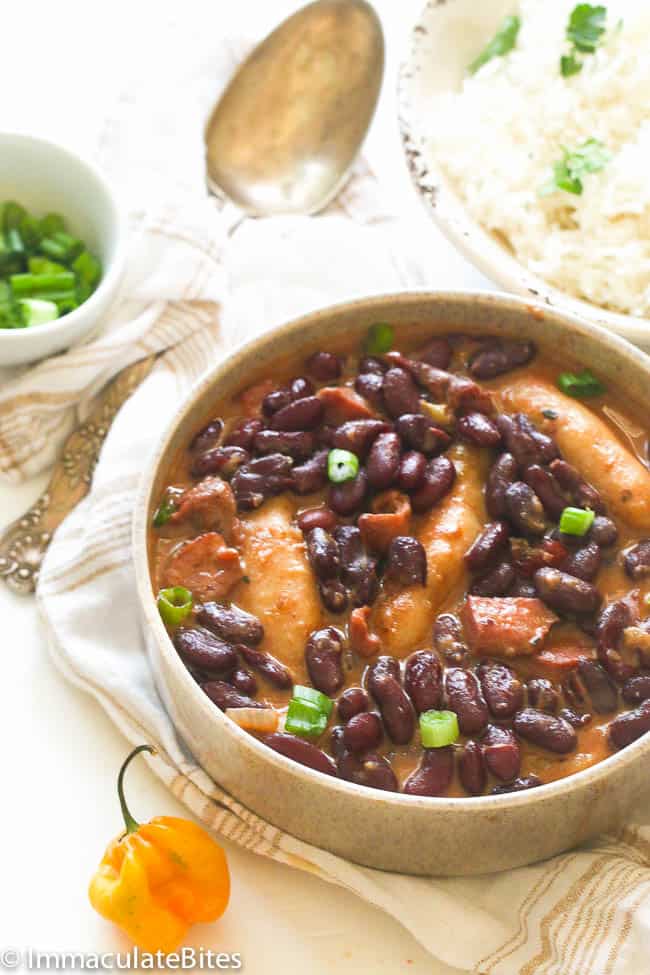 As for the spinners, they are so easy to make. The long, gently tapered dumplings are a combination of flour, salt, and water. This mixture is formed into dough then rolled into dumplings. Once dropped in the simmering broth, they cook and you have dense dumplings that hold up to the bulk of the stew.
Once everything is combined, the stew simmers until all the ingredients meld beautifully together.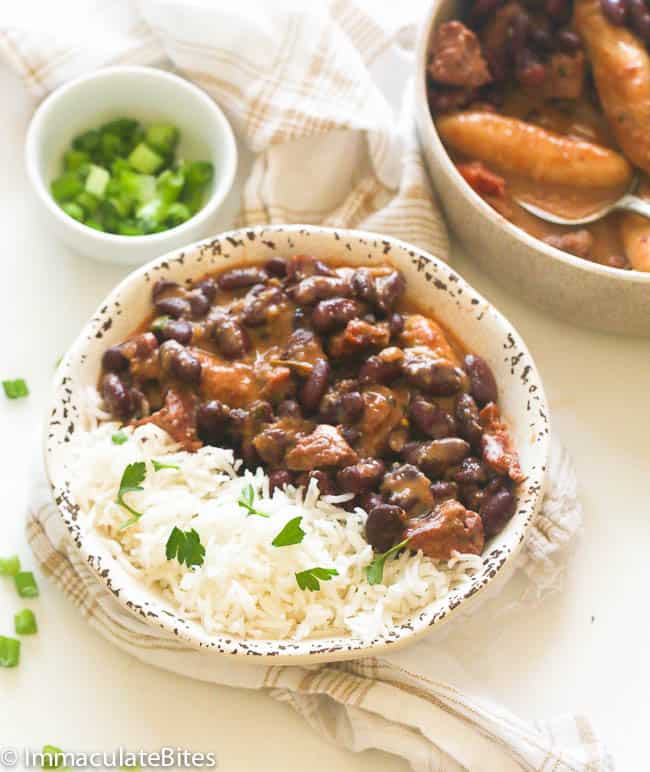 To put it simply, Jamaican stew peas with spinners is the epitome of comfort food. The stew is outstanding and the spinners make it all the more tempting.
Enjoy!!!!
NOTES!
It's best to use the  "Fresh" coconut milk for this recipe .  If using the canned variety use  about 1/2 and 1/2 – 1 cup coconut canned coconut milk and 1 cup water to equate 2 cups coconut milk.
Jamaican Red Stewed Peas
Ingredients
2-tablespoon canola oil or more
1-1/2 pound meat (smoked turkey, beef, oxtails, pig's tail)
½ onion diced
2-3 green onions (Scallions)
1 scotch bonnet pepper
2-3 teaspoon minced garlic
2 teaspoons allspice
2 teaspoons fresh thyme
1½ teaspoon smoked paprika
1 large bay leaf
4 cups cooked kidney beans or 2-3 15oz. cans rinse and drained
2 cups coconut milk
3 cups broth or more (chicken or vegetarian)
Salt and white pepper, to taste
Jamaican dumplings (Spinners)
1 Cup flour
4 Tablespoons coconut milk/water or enough to form a soft dough.
¾-1 teaspoons garlic salt or salt
Instructions
Season stew beef with salt and pepper to thoroughly cover all sides
Heat the oil an oven safe Dutch oven pan over medium heat. Add stew beef and turkey sauté, about 2 -3 minutes per side, until beef slightly browns up.
Add onions, green onions, garlic, thyme, bay leaf, paprika, and allspice and sauté for about 3-5 minutes.
Pour in coconut milk, broth, and beans and bring to a boil and let it cook for about 40 minutes or more depending on your choice of protein. If using a tough cut of meat is preferable to cook first before adding the beans.
While the stew is simmering make the spinners by combining water, flour and garlic salt in a medium bowl-knead dough for about 30 seconds to 1 minute to form soft dough.
Divide dough into 10-14 equal pieces.
Shape dough by rolling with your hands, as if you are making a log- somewhat like a sausage. Repeat the process until finish. Set aside
About 15 minutes or more before stew is ready, gently drop dumplings into the pot – you may have to add more water or coconut milk if needed
Let it cook until tender- about 15-20 minutes.
Adjust seasonings salt and pepper
Serve piping hot