Marinated Pork Chop with Rosemary and garlic –  Made with an easy, yet tasty garlic and rosemary rub, healthy and a perfect pairing!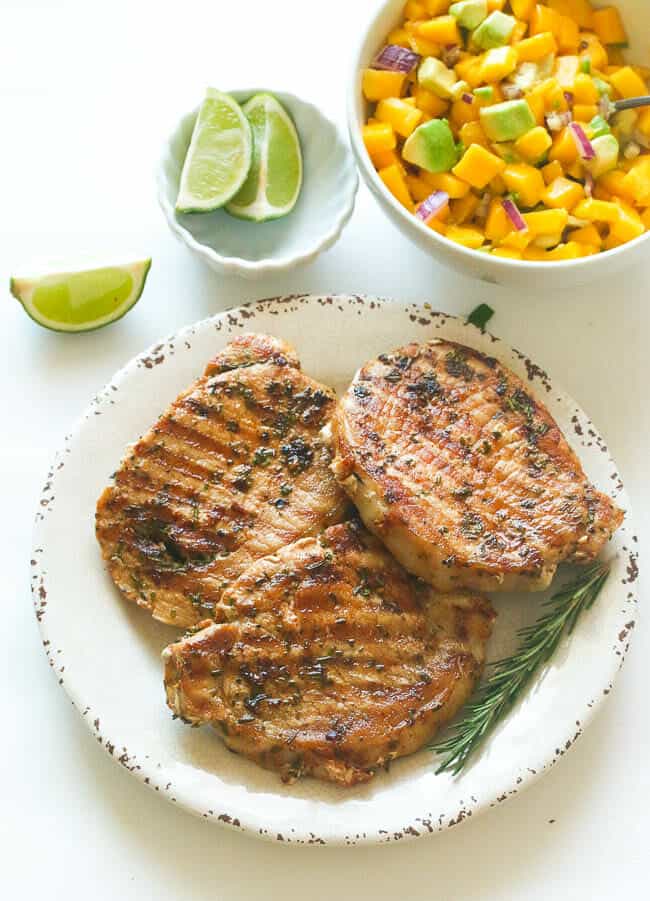 Most people often associate pork with pork shoulder, bacon, and sausage. It never falls under the category of lean meat. And this is so far from the truth. Truth be told, I was one of those people until I did some research.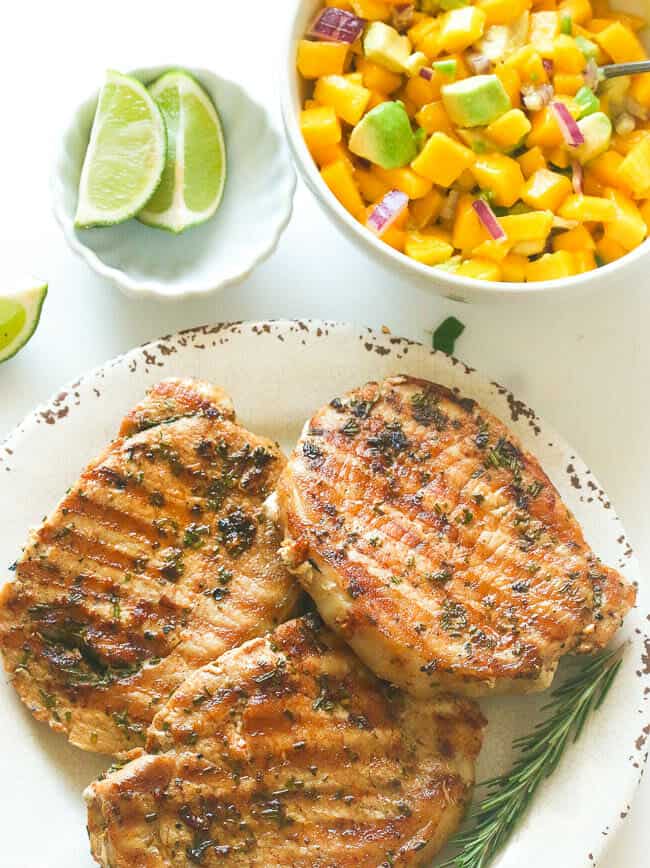 I love pork! Greasy, Fatty, Lean – Give it to me. You see, I hate giving up pork entirely when am cutting back on calories. So I use the leaner cuts of pork and I don't feel deprived. In fact, they are quite juicy and tender and in my humble opinion better tasting than chicken breast.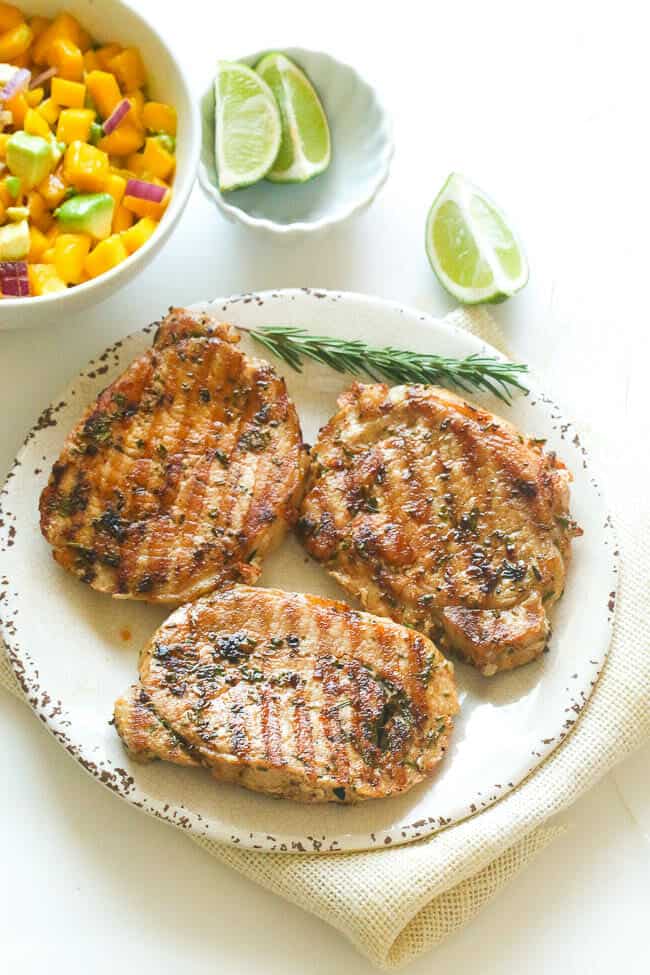 The trick is to cook it to the proper degree of doneness. Let it rest for 10 minutes (or a few more) before slicing to allow the juices to distribute throughout the meat. When this is done the lean pork is Absolutely Amazing cut of meat.
With a weeknight pork I  always trying to keep it Sweet and Simple and it never disappoints. This is made out of one of my favorite spice mixture – garlic, rosemary , white pepper , and smoked paprika.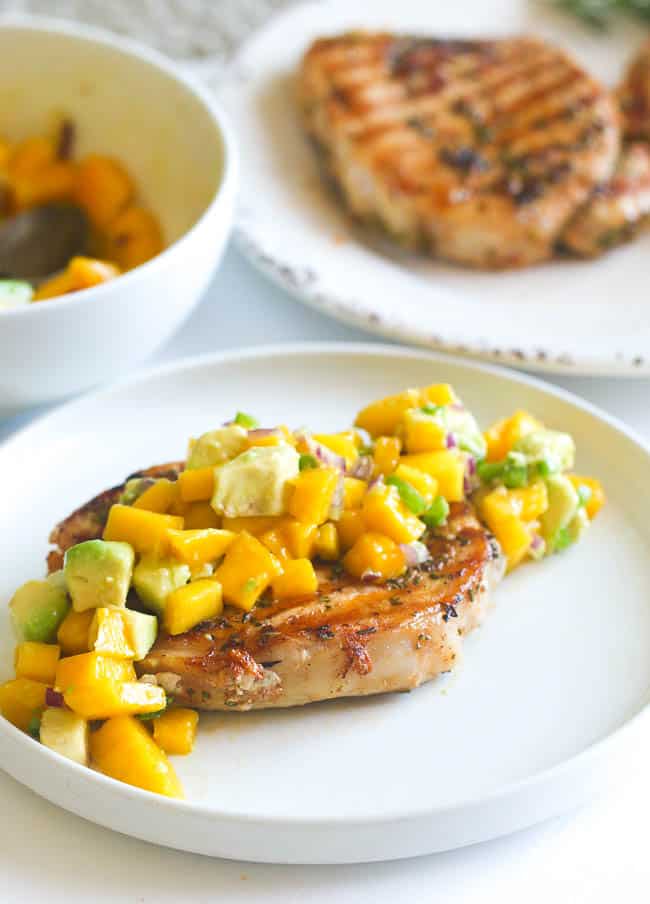 Now don't even think of skipping out on the mango salsa- you will regret it!  The first time, I tried this combo I was moaning throughout.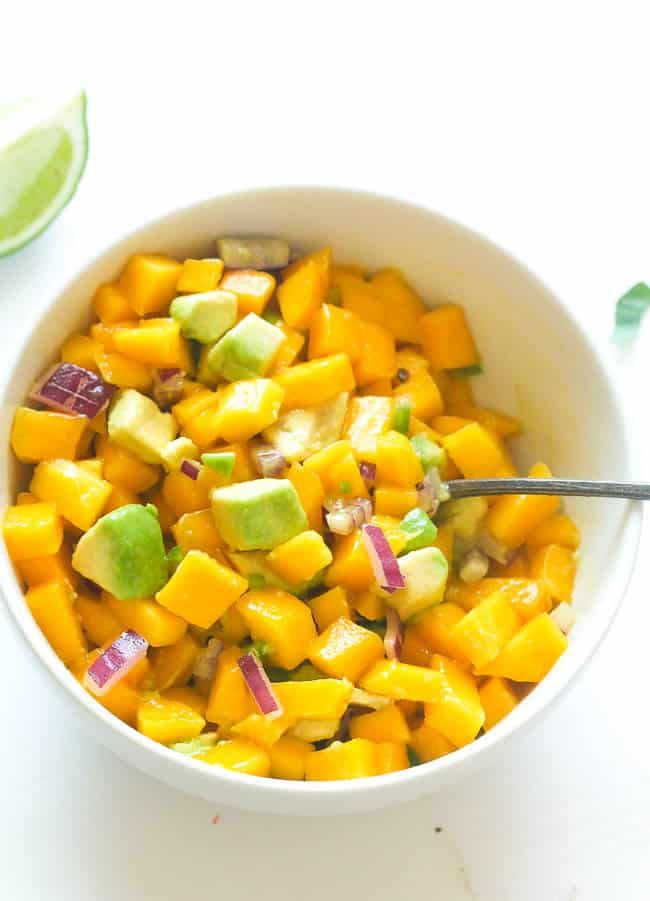 The spicy sweetness from the salsa complements the pork! Do make it!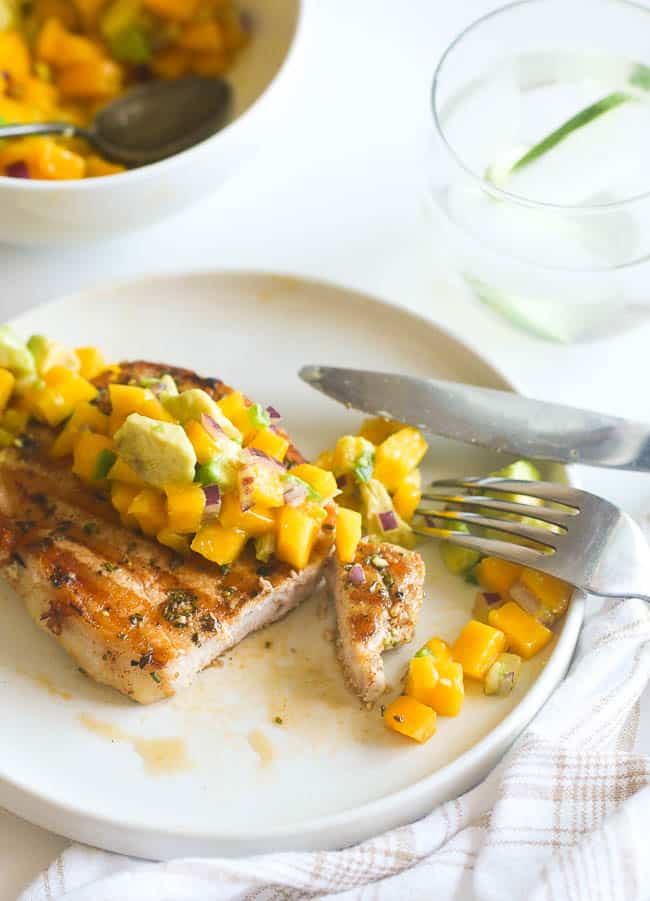 Ok, don't you just love the bright combination of colors of this mango salsa on the pork! 
Enjoy!!!
Originally published in April  2014, updated with fresh new photos

Pan Grilled Pork Loin With Mango Salsa
Ingredients
1 -1/2 pounds Pork Loin (about 3)
1-2 Tablespoons minced fresh rosemary
1½ teaspoon minced garlic
1 smoked tablespoon paprika
½- I teaspoon cayenne pepper (optional)
½ -tablespoon soy sauce (optional)
½ teaspoon white pepper
1- 2 tablespoons canola, olive or any cooking oil
Salt and pepper to taste
Mango Avocado Salsa
1 large mango, peeled and diced
¼ cup diced red onion
1 medium avocado, diced
½ jalapeno, seeded and diced
2-tablespoon fresh limejuice
1 Tablespoon olive oil
Salt and fresh pepper to taste
Instructions
In a food processor or finely chop rosemary and pestle, blend rosemary, garlic, paprika, cayenne and soy sauce.
Lightly salt pork , then marinate the pork with the garlic rosemary mixture.
You may refrigerate until ready to cook. Taste best when marinated for at least 30 minutes or more .
Heat up a cast iron or grill pan until hot. Cook pork loin, flipping once, until browned and cooked to desired doneness or grill the steaks on high heat for about 3- 5 minutes on each side, depending on the size -internal temperature reads 145 degrees F
Mango salsa
In a medium bowl, combine the mango, jalapenos, avocado, onions, lime juice, olive oil, salt, and pepper