African Meatballs in Tomato Sauce- Soft and Tender Meatballs cooked in a spicy tomato Sauce.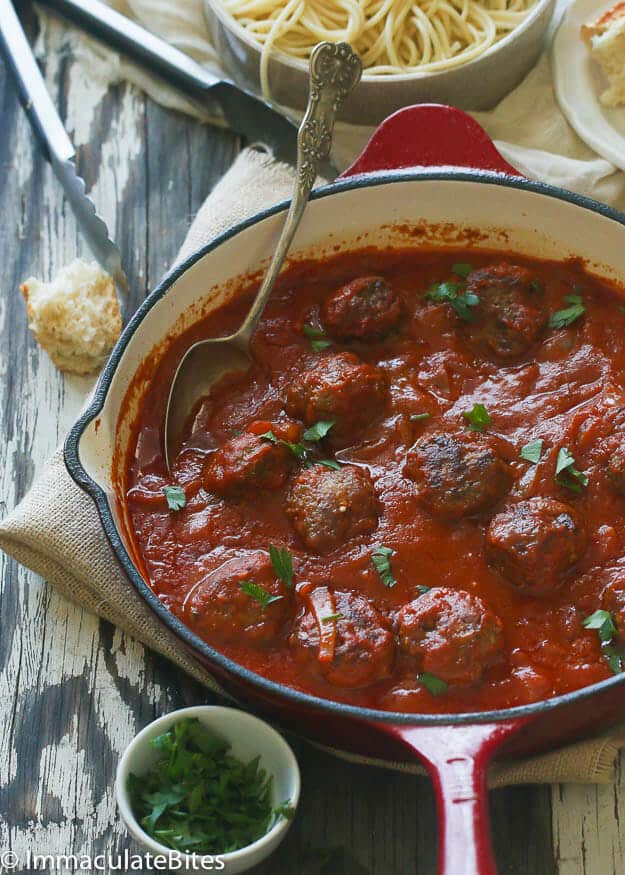 I would have to admit spaghetti and meatball is not one of my favorite foods. In fact, I rarely made them at home until recently- it is one of my son's favorite "real food". So now I have to make it often… because of him. I like making a big batch and freezing it in little containers- for single serving. Make weeknight meals less hectic .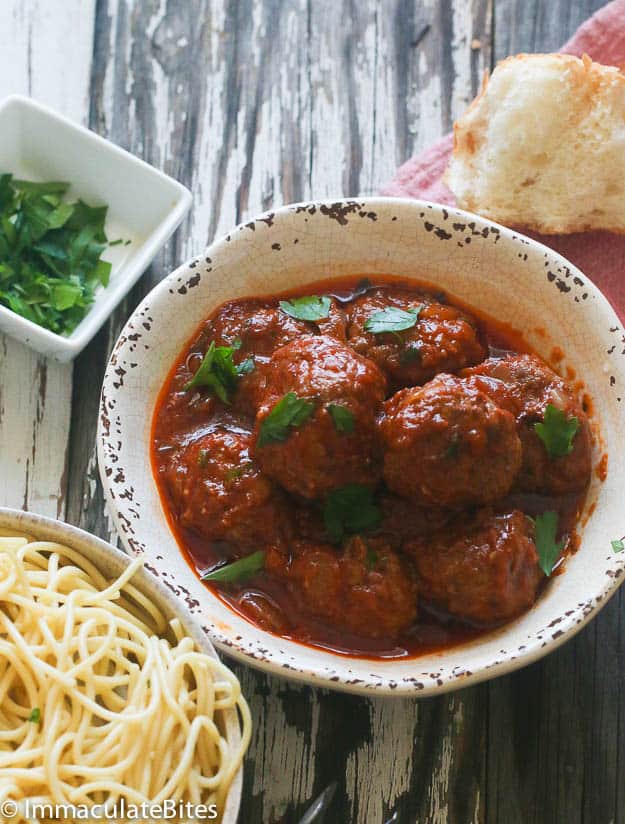 In this recipe, the tomato sauce is slowly simmered for about  30 minutes and up to an hour to eliminate or tone down the acidic flavor – inherent in tomatoes and for the flavors to come together. That is just the way I saw most  people making it.  I have to admit I don't follow these rules most of the time.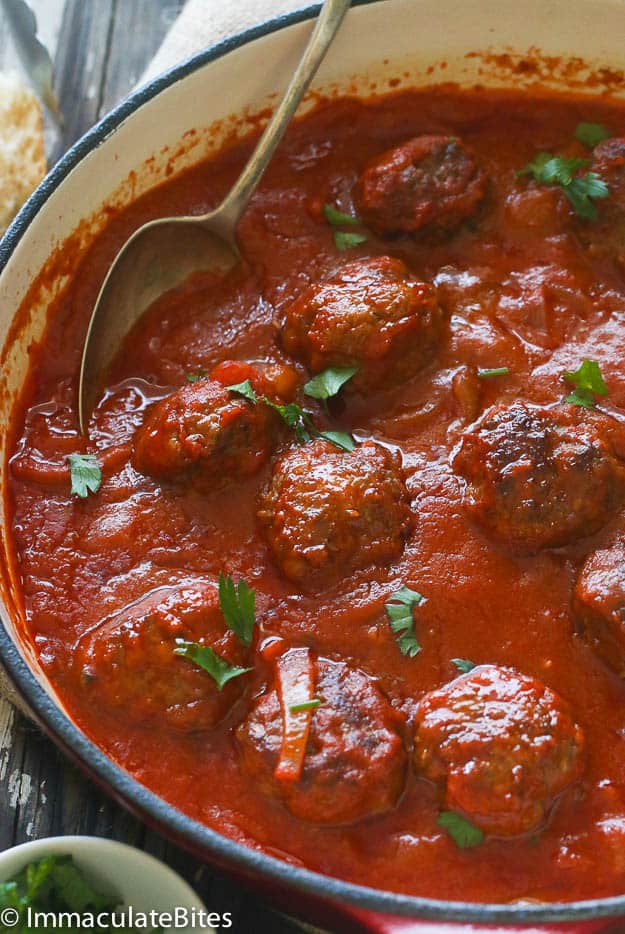 In West Africa, we like to infuse our sauce with herbs spices and some heat. True to African culture, there is no shortage of spices in these meatballs or sauce – garlic, parsley, thyme, hot pepper and white pepper. This is however a milder version of piquant taste present in most sauces. My son likes his with tons of  tomato sauce.
I don't .
This is how I make mine with only a can of sauce more on the dry side.  These meatballs with some crusty bread and you are in  Heaven.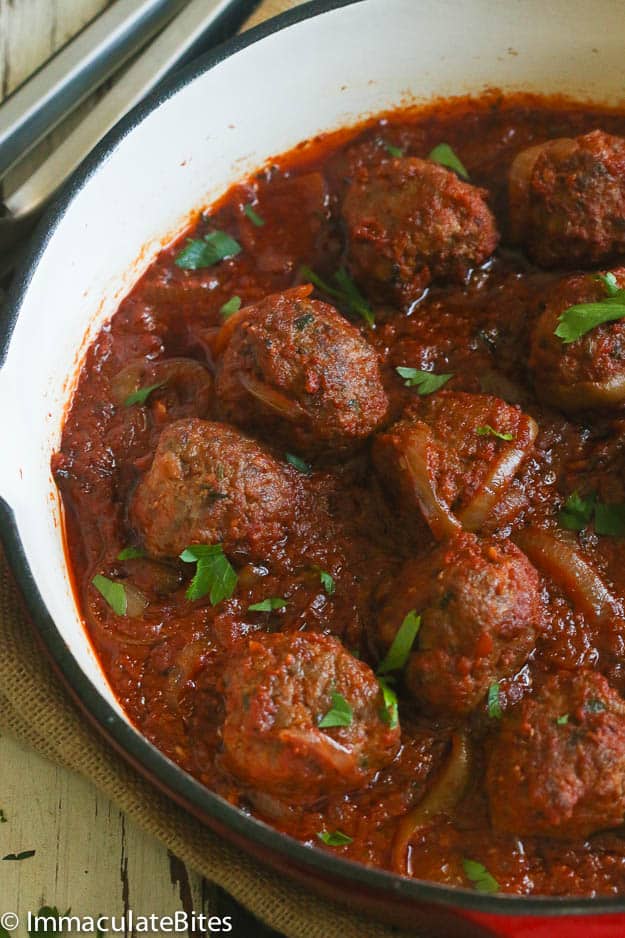 This sauce always gets rave reviews when I make them, so completely different from what is served here, in the United States.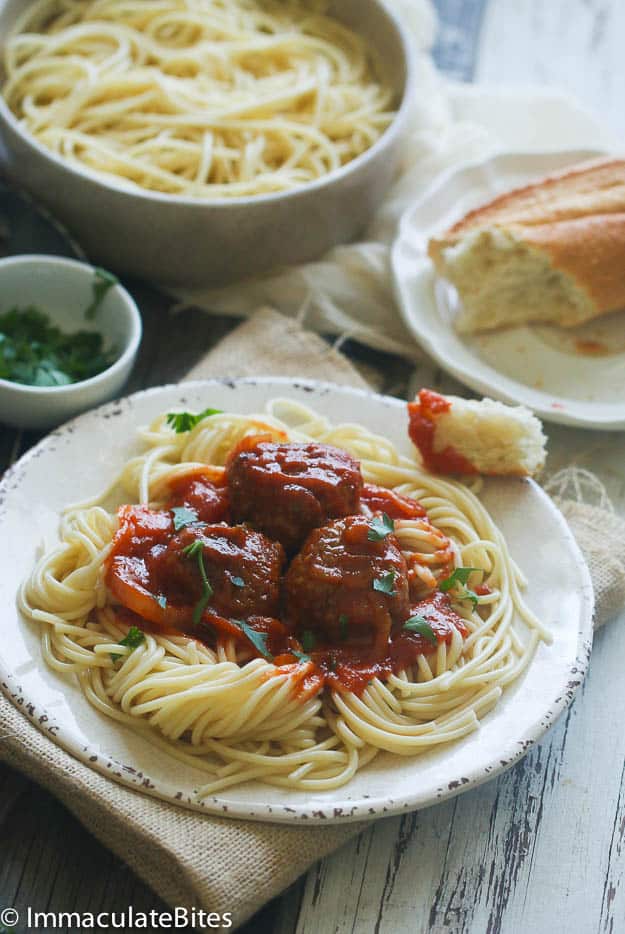 You have to try it to believe me.
Enjoy !
NOTES
If cooking for kids then you might consider leaving out cayenne pepper or scotch bonnet pepper.
I have tried it with one , two can tomato sauce and it all works out well. Adjust cooking oil if you are only using one can of tomato sauce.
Chicken bouillon is optional feel free to leave it out completely.
You can replace  bread with french or rolls.  Make sure they are soft before adding to the the meatballs.
Meatballs and Spaghetti Sauce(African Style)
Ingredients
1-pound ground beef meat )
2 slice bread (about 28 grams)
½ cup milk
¾ tsp. salt or more (adjust to suit taste buds)
2 tablespoons chopped parsley
¼ small onion grated(about ¼ cup grated onion)
1 teaspoon minced garlic
½ teaspoon white pepper
1/ 4 teaspoon minced hot pepper or cayenne pepper(optional, adjust to taste)
Sauce
½ - ¾ cup cooking oil (canola , olive oil)
2 14-ounce tomato sauce
1 medium onion chopped
3-teaspoon garlic
1-teaspoon fresh thyme or dried
1-teaspoon white pepper
1 teaspoon smoked paprika
2 tablespoon chopped parsley
1 teaspoon Maggie (bouillon powder) optional
Hot pepper(cayenne, scotch bonnet to taste) optional
¼ teaspoon curry (optional)
1-2 cups broth (beef or chicken)
Salt to taste
Instructions
Soak bread and milk. Set it aside
In a large bowl, combine ground beef with soaked bread mixture.
Then add parsley, white pepper, grated onions, hot pepper, minced garlic. Lightly mix the meatballs with your hands and shape into balls about 14-16 balls - do not over mix. Store, covered, in refrigerator until needed.
In a large saucepan, add about ¼ cup oil, bring to medium heat. Add meat balls let it sit for at least at least 3 minutes or more before moving it around. Lower flame if necessary to prevent it from browning too fast you may do do in 2 batches (depending on the size of your pan) brown on both sides. Remove and set aside.
Add chopped onion, thyme and garlic to perfume the oil, stir for about a minute.
Next add tomato sauce, curry, white pepper, hot pepper and paprika. Stir the pot frequently to prevent the sauce from sticking to the pot
Add salt and bouillon according to preference with about 2 cups of stock. Bring to a boil and let it simmer to blend all the flavors- about 30 minutes or more –stirring occasionally
Add meatballs about 10- 15 minutes before sauce is ready. Adjust seasonings, sauce consistency with water/stock and salt.
Serve warm over spaghetti