Mofongo with shrimp sauce – fried mashed plantains infused with garlic, bacon, and chicharrones (fried pork skin) stuffed with a succulent tomato, garlic, parsley, shrimp sauce. What's not to love?
What I love about food blogging is that, I get to try out different recipes weekly. Sometimes it happens once and other times, it takes forever to get it just right.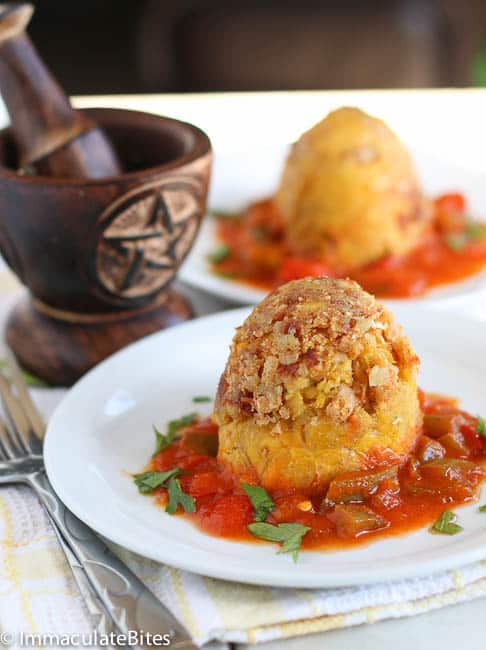 Monfongo is one of those recipes that I did not mind making a gazillion times. Trust me, you would make it over and over again. Apart from the fried plantains (one of my all time favorite food), the other thing that really appealed to me about this exotic Puerto Rican dish is garlic and chicharones; yes that's right, delicious, fattening pork rinds. I just had to go there. Ok, I never said this was going to be healthy. This, my friends, is comforting- real comfort food at it s best!
Fear not, about the chicharones, you can use bacon, actually after trying this several times and comparing it to restaurant version. I kind like it with bacon. It truly enhances the flavor of the mashed plantains. So I used bacon and chicharones -Who says less is more? The more the merrier!
I would say this dish definitely has its root in Africa, where mashed plantains are served in most West African homes and I think that's why it sits so well with me.
 But this one, am telling you, is mashed plantain taken to another level. The shrimp sauce is just like cake icing .
If you do not have a mortar and pestle you might try a food processor (it is an alternative way, much more easy, however, the texture would not be the same but it still tastes great). Form them into balls and serve along side the shrimp sauce
If you want to taste something that would make you really really happy try this recipe.
This dish is best served immediately.
Enjoy!

Mofongo Shrimp Sauce Recipe
Ingredients
2-3 tablespoon canola or olive oil
½ pound shrimp peeled and deveined
1 cup tomato sauce or 2 large tomatoes, chopped
¼ onion sliced
½ teaspoon minced garlic
¼ cup chopped bell pepper
½-teaspoon ground cumin
¼ teaspoon smoked paprika
2-3 tablespoon fresh cilantro or parsley
½ cup chicken broth or more
2-3 unripe plantains
¼ or more chicharones
Oil for deep-frying
2-3 tablespoon olive or canola oil
3-4 garlic minced
2 crumbled bacon
¼ cup chicharrones crumbled
Instructions
Lightly season shrimp with creole spice. Heat about 1 tablespoon of oil over medium heat in skillet.
Sauté for about 3 -5 minutes shrimp set aside.
Add remaining tablespoon oil, followed by onions, garlic, cumin, paprika stir for about a minute or until fragrant.
Add bell pepper, chicken broth or water.
Bring it to a boil then simmer for about 5-7 minutes.
Toss in shrimp; continue cooking for about 2-3 minutes more adjust for salt and pepper. Remove from heat, Set aside
In a small saucepan add 3 tablespoons oil, followed by garlic bacon and salt. Simmer for about a minute until fragrant. Be careful not to let it burn. Remove and set aside.
Cut the plantains into about 4 -5 thick round shapes.
Soak in salted water for about 15-30 minutes, remove and dry with a paper towel.
In a large, sauce pan pour vegetable oil, until it is at least 1-inch inch-place on medium heat until oil is 375 degrees.
Gently place plantains into the oil. Do not overcrowd the pan. Do so in batches.
Fry for a few minutes until lightly brown about 3- 4 minutes each side until slightly brown
Use a large spoon or something like that to take it out of the oil. Remove the plantains; let it drain on paper towel.
Place about a ½ teaspoon or more of garlic oil bacon mixture into mortar; give it a smash, with a pestle.
Add the chicharones and some salt if necessary. Then one by one, start adding and smashing the fried plantains with the other ingredients. Once all the ingredients have somewhat come together then the mofongo is ready. Don't over do it! Run a knife or spatula between the mofongo and the mortar walls, place shrimp sauce in the middle. Serve right out of the mortar or turn the mortar upside down, on serving plate and bang lightly -you will get a nice mofongo dome. Repeat the same process with the remaining plantains.
If using a food processor combine, bacon garlic oil, chicharones, and plantains. Add salt to taste. Add a little bit of warm water or chicken stock to hold it together. Form balls and serve.