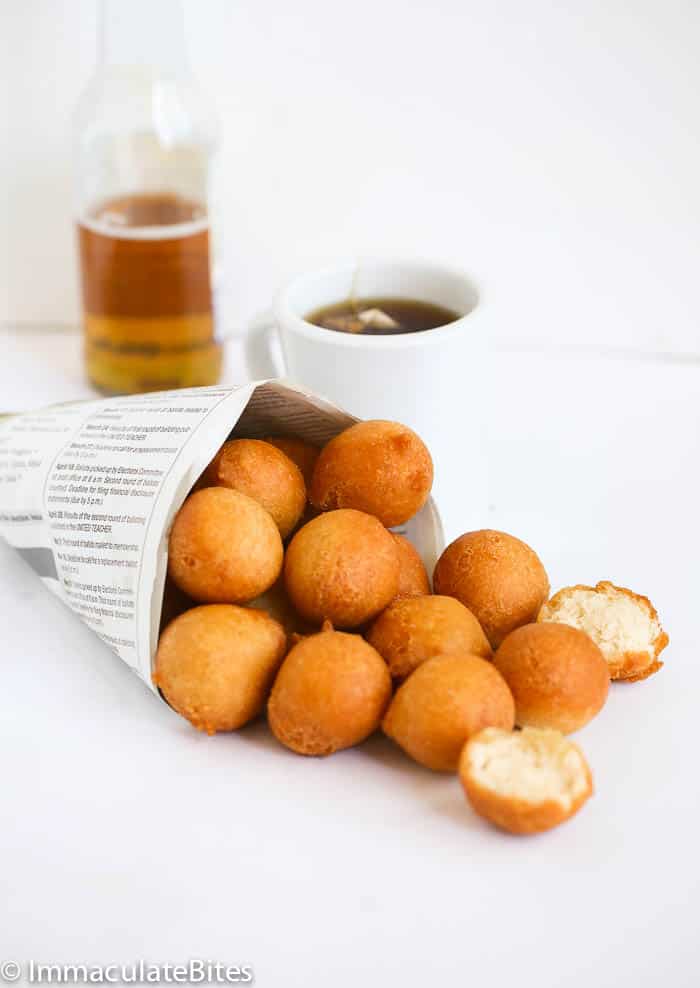 If you have ever traveled  to a West African country or attended a West African gathering chances are you have tasted this fried dough. It is an extremely popular West African snack food that is sold on every street corner imaginable and goes under different aliases.
Ghanaians call it Bofrot (togbei), Congolese call it mikate, gbofloto in Ivory Coast; Cameroonians and Nigerians call it Puff-Puff or African beignet in other parts of  Africa.
I have made the original yeast puff -puff recipe featured here and of course couldn't help but jazz it up with another variation – coconut puff puff. Not to be forgotten is this African doughnut, which is basically cake doughnut.
Today, the honor goes to this no yeast beer puff puff.  I love this childhood favorite  snack of mine that am not going to end here – certainly not! It would not be my last puff puff.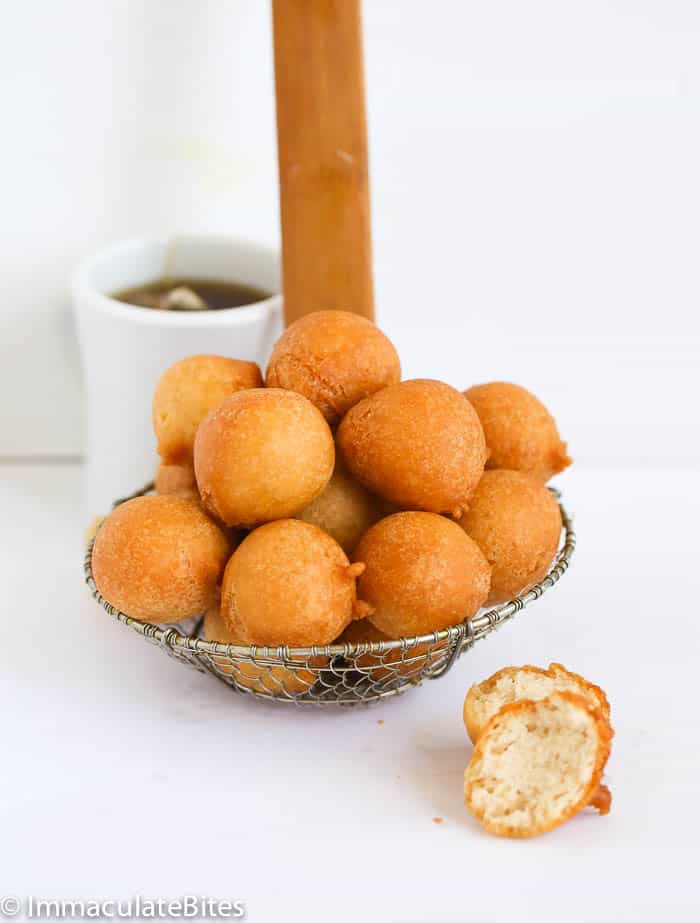 Can you blame me?  They are simple, and straight forward to make, and a crowd pleaser.
What sells this recipe is the length of time it takes to make it. This deep fried bread is for those times when you don't have the patience to wait for the yeast to do it 's magic.It  taste just like  beer bread only this one is even better- Fried.
Instead of yeast, it is made with self-rising flour -in a gratifying short time  -less than 15 minutes you will be biting into it! I decided   to include beer in this recipe to make it tender, airy and flavorful.
All you need is self-rising flour, sugar, beer, egg and  oil . This snack was mainly served for breakfast , but today , especially with Africans living abroad . It is a must for parties .So go ahead and save this recipe when the craving kicks in. You can roll this puff puff in cinnamon sugar , if you like .Enjoy  for breakfast with coffee, tea or African snack
No yeast puff puff
Ingredients
3 cups Self rising flour
½ cup sugar
½ cup beer( I used Heineken)
1 large egg
1¼ cup water
½ teaspoons nutmeg(optional)
oil for deep frying
Instructions
In a large, sauce pan pour vegetable oil, until it is at least 3 inches (or about 5 centimeters) high (too little will result in flatter balls), and place on medium heat until oil is 375 degrees.
Meanwhile, in a medium bowl mix all the dry ingredients, flour, and sugar.
Stir in the water, eggs, beer ; mix well until everything has been fully incorporated. The batter should be smooth, thick and spoon able.
I use my hands to scoop up the batter; you can do the same or use 2 spoons – one to scoop up the batter, and another spoon or spatula to drop it in the oil- in the shape of a ball. Do not overcrowd the pan. Do so in batches
Fry for a few minutes until the bottom side is golden brown.
Turn the ball over and fry for a few more minutes until the other side is golden brown.
Use a large spoon or something like that to take it out of the oil. I usually place them on napkins right away to soak up some of the excess oil.
Roll in cinnamon sugar as soon as you remove from the pan or deep in melted butter, then roll in cinnamon sugar , if you want to go the cinnamon sugar route.
Best serve warm
Notes
Here is a good substitute for self rising flour
3 cups flour
4 teaspoon baking powder
1 teaspoon salt

Cinnamon sugar
1/2 cup sugar
1 tablespoon cinnamon