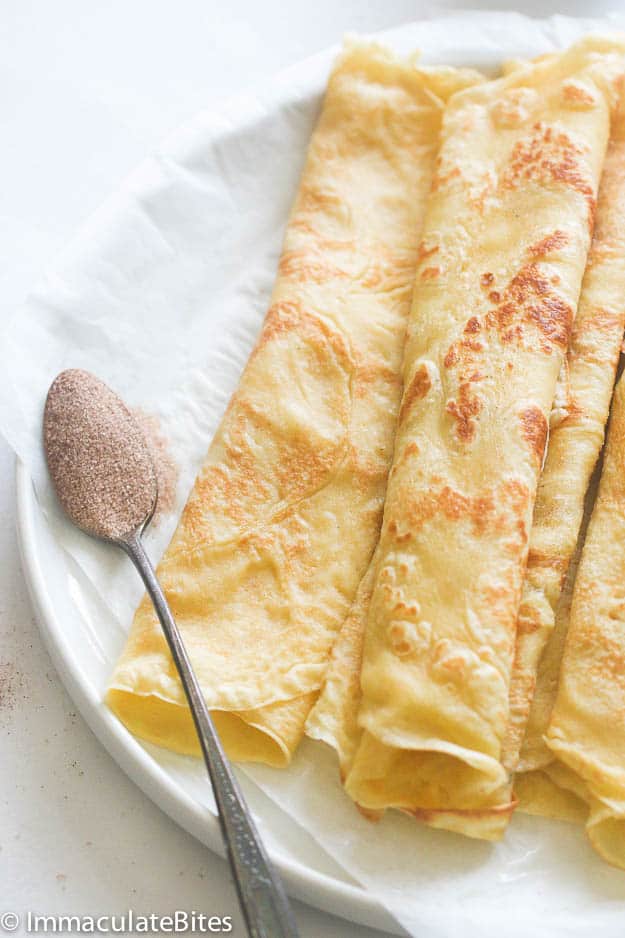 Not a Week goes by, in my household ,without making these tender pancakes – they are my son's favorite breakfast. Who am I kidding, they are mine too!!!- for several reasons; Childhood memories, comfort rich taste and of course, a great make ahead breakfast – Now, tell me you like that!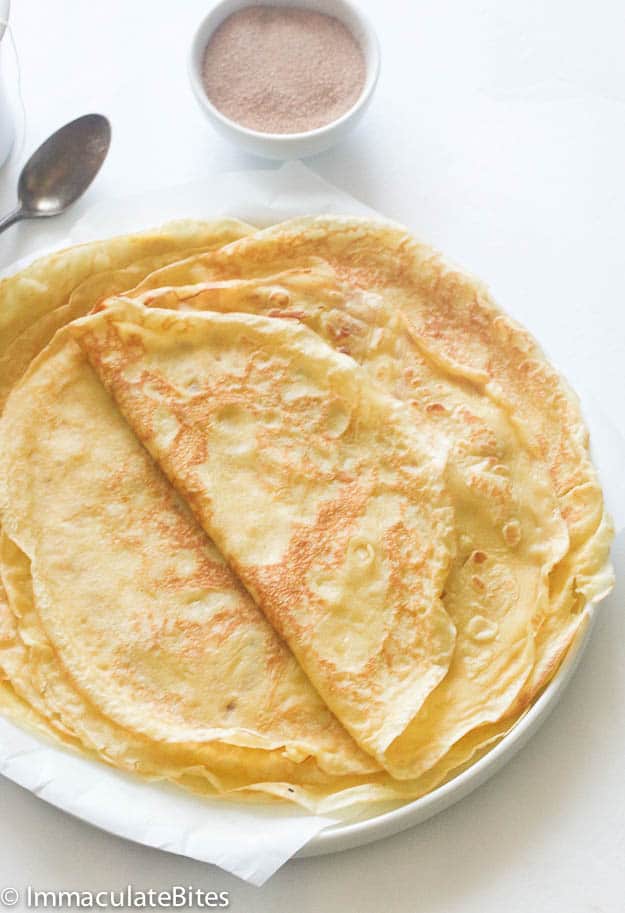 I started making  these pancakes , when  I was about 10 years old , with  no  precise measurements . It always had a different taste each time because in my culture , all you need to know in order to cook  are  the ingredients . So armed with flour, eggs, milk and oil. I embarked on my pancake venture  making pancakes with pride and dedication . At the time , I love it and I knew my pancakes were  good.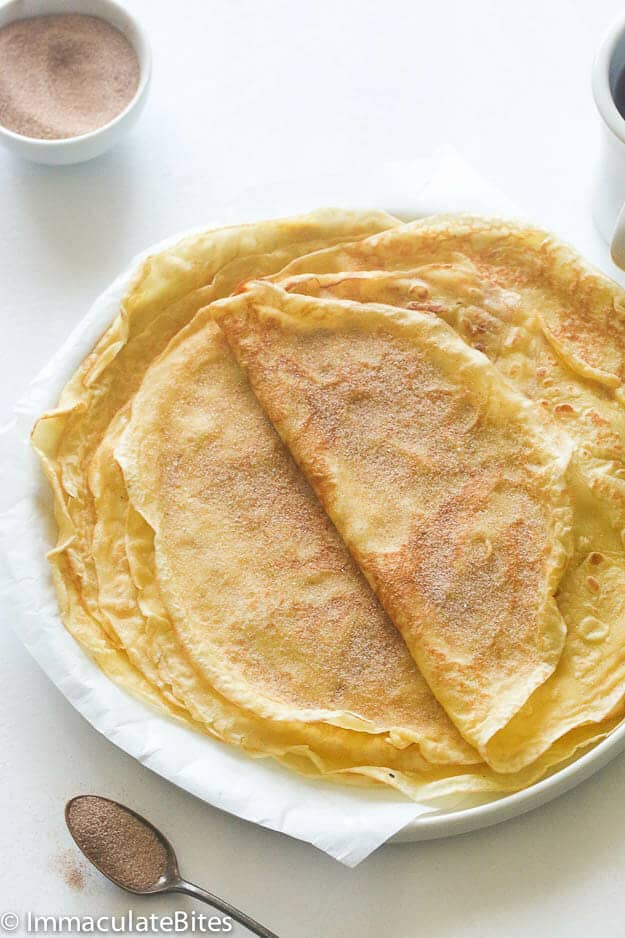 However,  whenever I had an oporturnity  to  sample  pancakes sold  at my neighborhood  patisserie  , It  always was spot on- tender and tasty. One day ,I was bold enough to politely  ask them for their recipe .The lady making the pancakes  looked at me as if  something was wrong with me, without saying a word. I  learned that great tasting  pancakes are , indeed,  best left to bakeries and restaurants .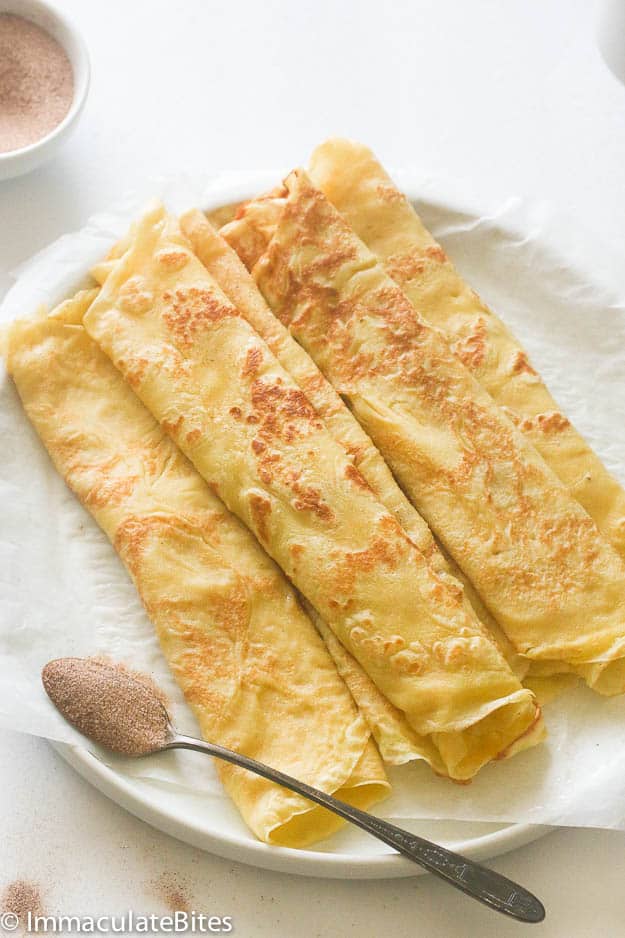 Fast forward to now, after making gazillion pancakes . I now have  an amazing recipe , that I use most of the time , with some lessons learn.Whisking the eggs separately  and letting the batter rest for at least an hour or more , relaxes the gluten found in flour and makes for some really  light and tender pancakes .Also  nutmeg and melted butter  adds flavor to pancakes.
These tender pancakes are a cross between crepe and  American pancakes – a  little thicker than crepes but not as thick as American pancakes . They are comparable to South African or Swedish pancakes , I call them  African pancakes because to be honest , there is no  name for it , other than pancakes . This is the pancake I know   from   Cameroon , West Africa, where I grew up, with slight variations. I can't seem to get anything like  this in restaurants or maybe it is just comfort food to me , one that has to be homemade.
Deck it up however you like, butter, syrup, cinnamon sugar  . My preference fresh fruit on the side and a cup of tea.
Enjoy!!!
Notes;
For a lighter pancakes use 1 cup milk and 1/2 cup water   instead of 1 1/2 cup milk

African Pancakes
Ingredients
2 cups flour
1½ cup milk
½- 2/3 cup sugar
6 eggs
¼ cup melted butter
1 teaspoon vanilla flavor
¼- 1/2 teaspoon nutmeg
½ cup oil (optional)
Instructions
Sift together flour, sugar,nutmeg and salt; set aside. In a large bowl, beat eggs and milk together with a mixer or by hand . Mix in flour mixture until everything has been incoporated .Finally stir in melted butter.
Let the batter rest for about an hour or more in the refrigerator or overnight.
Heat a skillet or a non stick frying pan then lightly coat the hot pan with vegetable oil, cooking spray, or clarified butter.Then pour about a ½ cup of batter depending on your fry pan or skillet. Tilt pan so the batter spreads across the bottom of the pan. Cook the pancake for about 2 minutes, until the bottom is light brown.
Lift with a spatula, turn and cook the other side. Serve hot sprinkle with cinnamon sugar, powder sugar or syrup
Notes
You have to oil the pan for the first pancake, however, you do not have to do the same for the rest