Peri Peri Chicken Skewers – Flavor Packed BBq chicken skewers marinated in a spicy pepper, garlic, lime, basil and oregano sauce .Great for entertaining .  Prep the night before let it marinate overnight and grill when ready.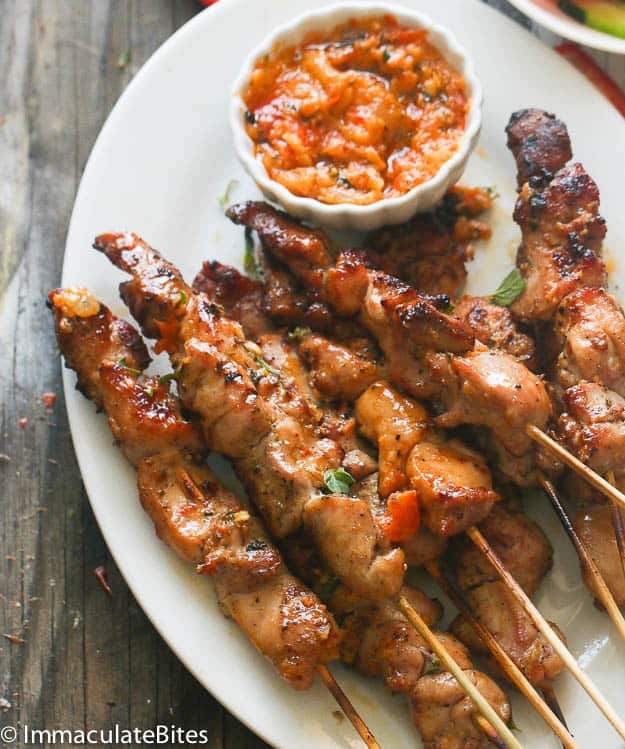 Perhaps chicken skewers are not first thing that pops in your mind. When you think of firing up the grill. I think you just might change your discernment after you give these Peri Peri chicken skewers a go. These are super flavorful and a cinch to make. After slicing, threading the rest is a breeze.
Peri Peri marinade is a complex sauce that I seem to enjoy every now and then. A popular hot pepper  sauce made out of chili peppers- enjoyed in many parts of the world.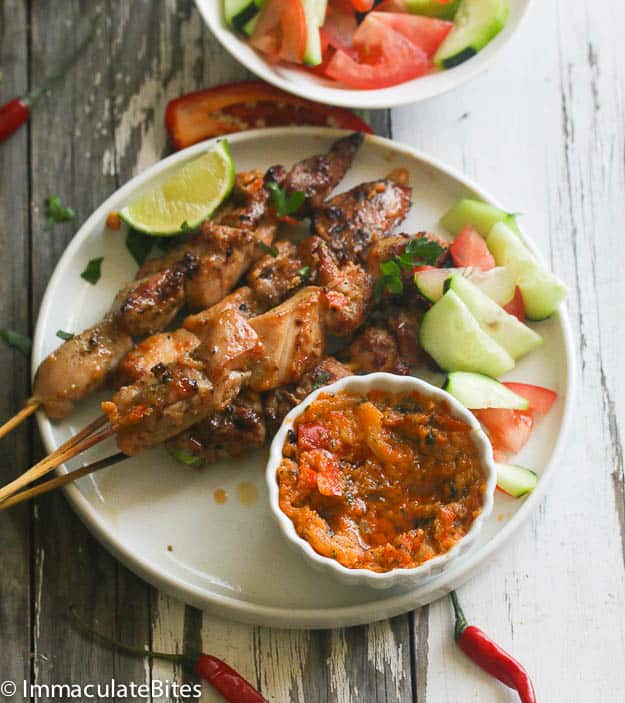 I created a post just dedicated to it right here. So check it out! To learn more.
What I like about this peri peri chicken is that it allows you to prepare the skewers ahead of time so you can spend your day relaxing till you are ready to fire up the grill.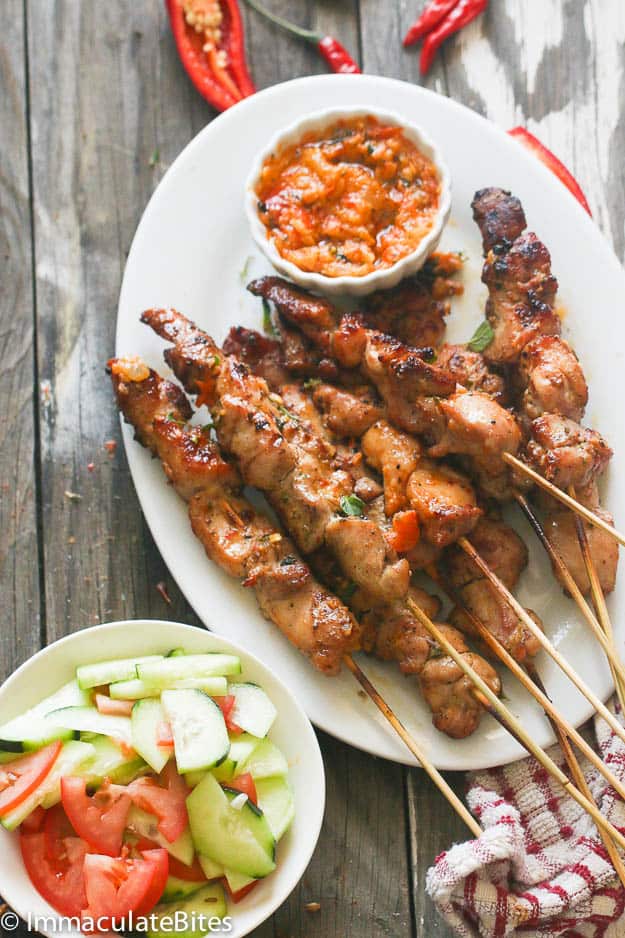 The marinade is packed with red bell pepper, sweet paprika, fresh oregano, garlic, and peri peri pepper, jalapeno and lemon juice. No exact science here…add more or less of the ingredients. It will still turn out just fine. Just like these Mozambique chicken here you can be a little more adventurous and add some coconut milk to it- it helps intensified the flavor and somewhat balances out the heat.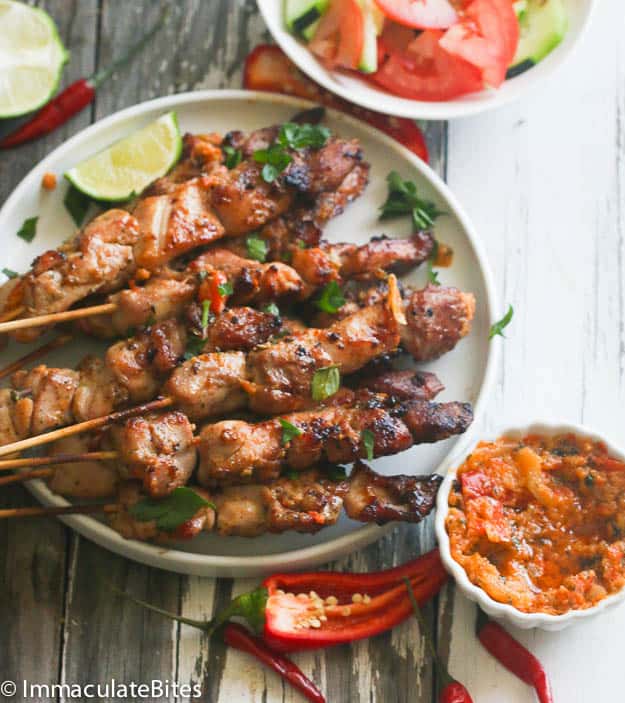 You know you can completely eliminate the Peri peri peppers, sub with any hot pepper and/or adjust to taste. YOU DECIDE!
You can serve  alongside some kachumbari, featured here (cucumber tomato relish) salad or rice. Either way, everyone will be sure to gobble these up INSTANTLY!
A word to the wise double or triple up you will be glad you did.
Enjoy!

Peri Peri Marinated Chicken skewers
Ingredients
2-3 pound boneless skinless chicken thigh, trimmed
Salt and pepper to taste
1-teaspoon chicken bouillon (optional)
¼ cup olive oil or more
¼ cup chopped onions
¼ medium red pepper
1 fresh jalapeno peppers, coarsely chopped, seeds removed
1 fresh chili pepper or more coarsely chopped (adjust to taste more or less)
1 teaspoon smoked paprika
3-4 garlic cloves
Juice of I medium sized lemon (adjust to taste)
4-6 large basil leaves
2-3 tablespoons fresh oregano
½ cup coconut milk (optional)
Instructions
Soak the skewers for at least 60 minutes or more totally submerged in water before using it to prevent burns. You may skip this part if pan grilling.
Blend red pepper, jalapeno pepper, chili pepper, garlic, basil, oregano, and onions in a food processor or blender. Add olive oil, coconut milk to facilitate blending. Then mix in smoked paprika, lemon juice black and or white pepper
Refrigerate and use when ready. You may make this a day or more ahead of time.
Trim chicken thighs of excess fat and pat dry with a cloth or paper napkin. Cut chicken thighs into 2-inch chunk.
Season with salt, chicken bouillon and pepper or adobo seasoning mix. You can either marinate the chicken now or thread then marinate-about 4 pieces per skewer. Making sure the skewer is fully covered with chicken chunks.
Place in a zip lock bag, or sealed containers and refrigerate for at least 2 hours, preferably overnight.
When ready to grill. Using tong remove excess marinates and reserve.
Pre heat grill to medium- high heat.
Place chicken over medium heat, and then brush with oil to prevent chicken from sticking. Grill for about 10 to 15 minutes, rotating from sides for even cooking. Keep an eye on it -- if they are browning too quickly, turn the heat down.
Grill in batches if you have a small grill. Transfer the skewers to a platter.
In a small saucepan simmer the remaining peri peri marinade and the one from the chicken for about 7 minutes. Serve with chicken