Plantain Pancakes- Rich, tender, & delicious Soft, Tender, Rich  Plantain Pancakes, like pancakes but with a sweet plantain taste.  Good for Breakfast or make it for dessert with coconut sauce.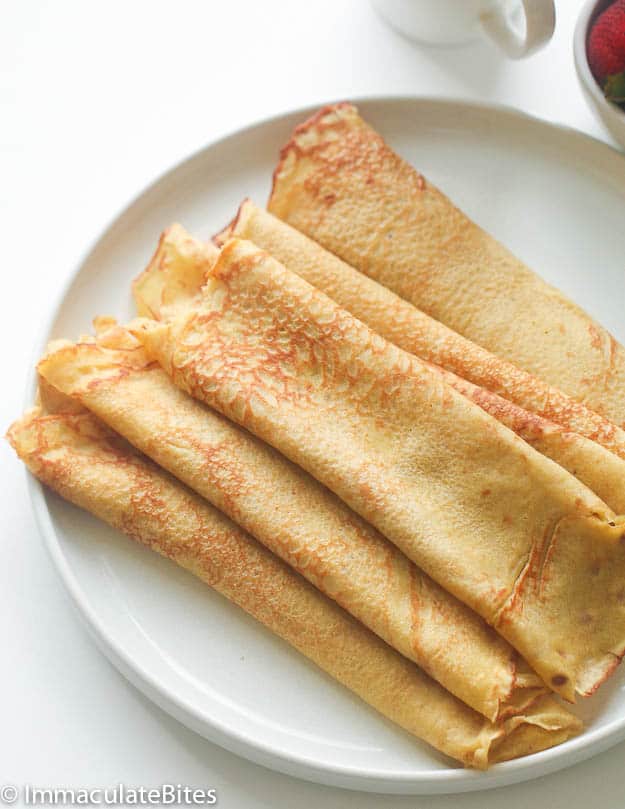 Have you tried one of those 2 ingredient banana recipes? When I heard about the trend of two ingredient banana pancakes, I just had to jump onboard and do a taste test. Sad to say it's not my thing.
Decided to do the same with plantains since plantains contain more starch. I loved the full plantain flavor and the soft interior.
But still not sold.
You may not want to take my word for it. I am not a fan of flourless, sugar and dairy free pancakes.
The two- ingredient plantain pancake just doesn't taste like pancakes. No they don't! So if you are expecting a pancake you will be painfully disappointed.
If you are feeling adventurous give it a try and tell me what you think.
This here is my  variation of plantain pancake made with flour, eggs, milk, overly ripe plantain, butter and nutmeg. Simply delicious and satisfying. Good enough to make me want to get some extra plantains when am at the grocery store.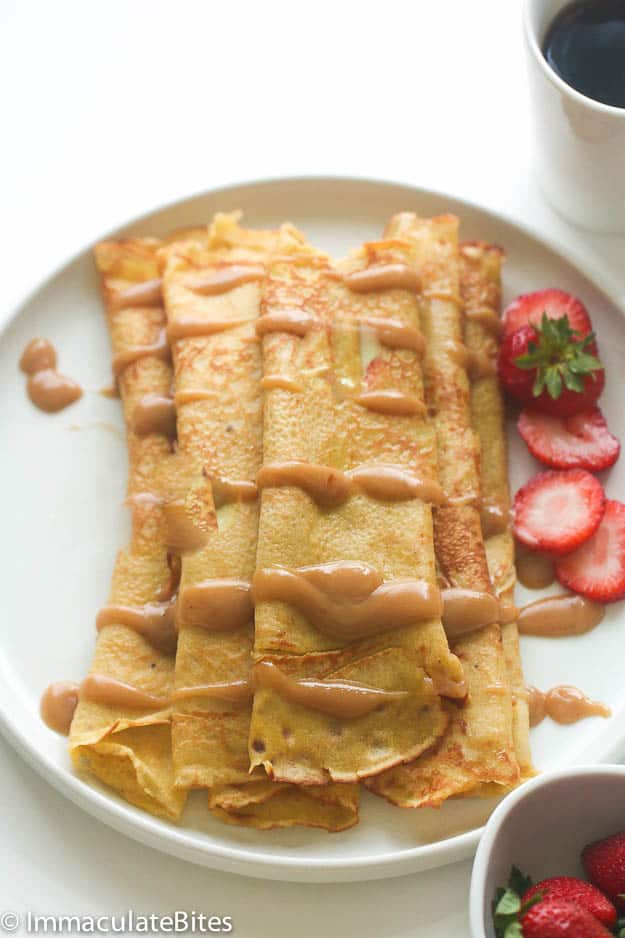 These come together quickly with a blender. Blend the plantains until puree and then add the rest of the ingredients. Let it rest and you are on your way to a tasty breakfast.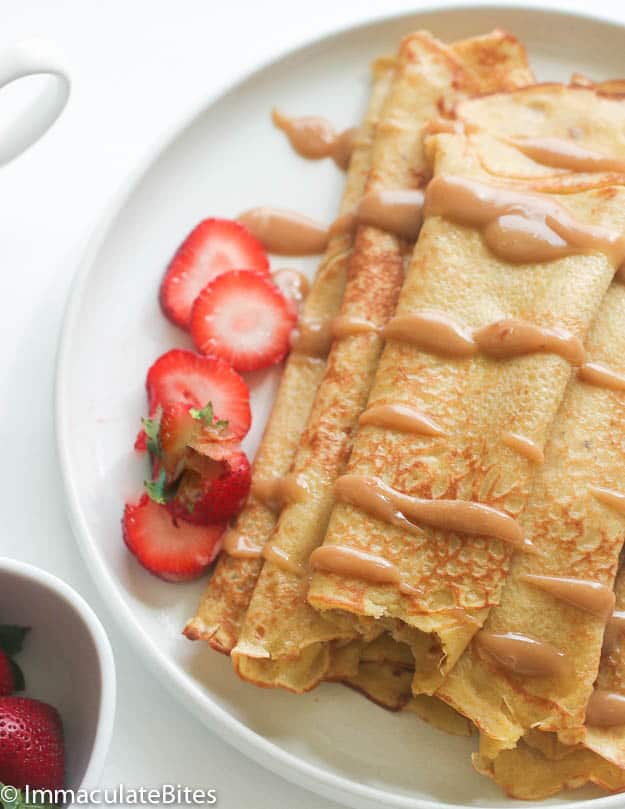 Want a scrumptious dessert? Top with Coconut sauce and you will be glad you did.
Enjoy!!!
Plantain Pancake
Ingredients
2 medium overly ripe plantains (1 cup puree)
1½ cups flour
⅔-cup milk
⅔-cup water
¼ cup sugar (adjust to taste)
5 eggs
⅓ cup melted butter
1-teaspoon vanilla extract
½ -1 teaspoon nutmeg
½ cup oil (optional)
Instructions
Cut up peeled plantains. Add to blender and blend until puree. You may do so with a potato masher. Then add the rest of the ingredients and pulse several times until all the ingredients have thoroughly mixed. Scrape the sides if need be and do one last pulse.
Let the batter rest for about 30 mins or more in the refrigerator or overnight.
Heat a skillet or a non stick frying pan then lightly coat the hot pan with vegetable oil, cooking spray, or clarified butter. Then pour about a ½ cup of batter depending on your fry pan or skillet. Tilt pan so the batter spreads across the bottom of the pan. Cook the pancake for about 1 minute on each side, or until the bottom is light brown.
Serve hot with coconut sauce, cinnamon sugar, powder sugar or syrup.