The EASIEST, most simple, quick and flavorful fish fillet in cream sauce. Ready in under 30 minutes.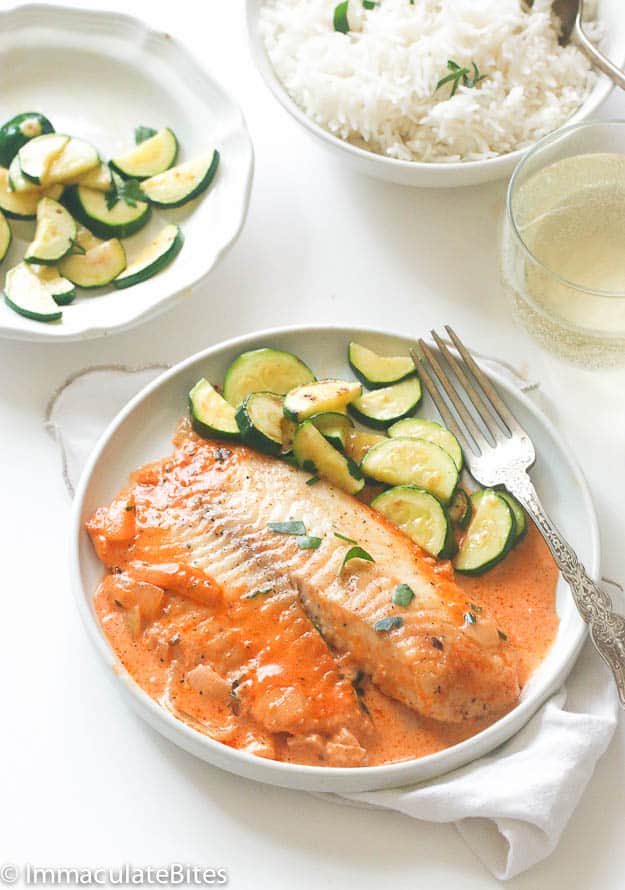 Are you a fan of quick and easy meals? I guess we all are- right?
Even the ones, who love slaving away in the kitchen (I have sometimes been guilty of that).
 But as much as I love cooking some days, to be honest, or let say most days, I would rather not spend much time in the kitchen, especially on a weeknight- dealing with work, a kid and trying to spice up the menu can be nerve racking.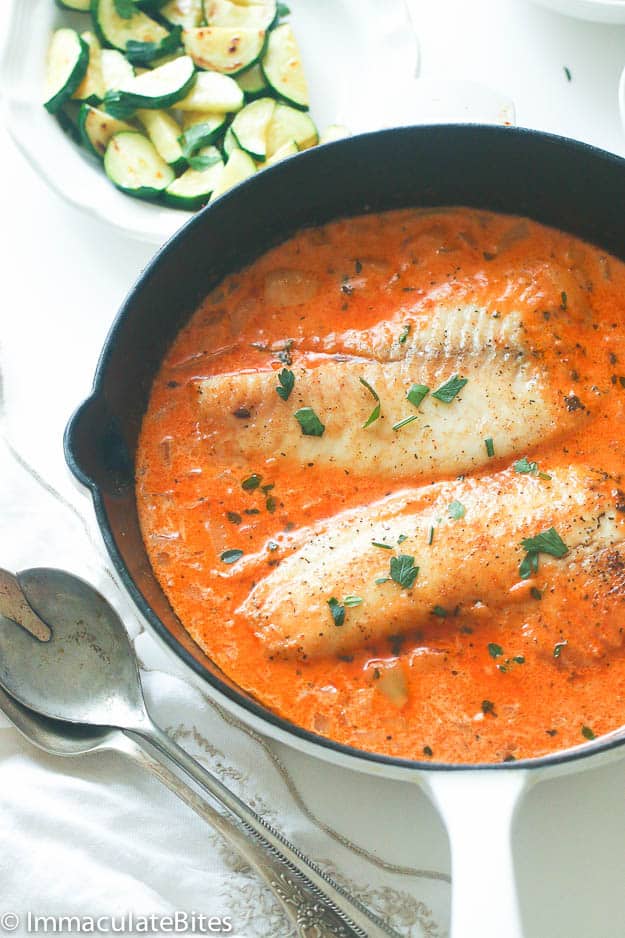 A while back, I made this creamy spicy chicken legs and it was a hit with a lot of people. So I decided to make another creamy dish this time using white fish fillet.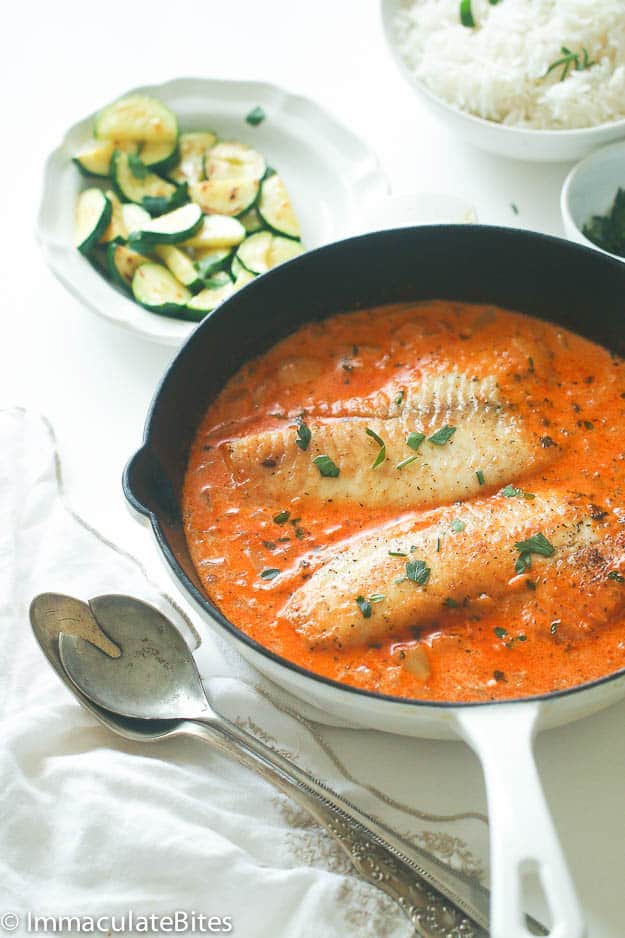 This one is even quicker – in less than 30 minutes you are done and you do not have to pan-fry the fish if you don't want too. You can add the fish the last 5–6 minutes of cooking. How easy is that?
This fish fillet in creamy sauce  is our new favorite, it will really come in handy when you have those days…. . It couldn't get any better than this – creamy, spicy and full of herbs. Can I get a YES!
Ok, If you really want crispy exterior and soft flesh interior then you have to coat your fish with flour before pan-frying. Then  place the fillet on top of your sauce. I usually don't coat my fish unless it absolutely necessary .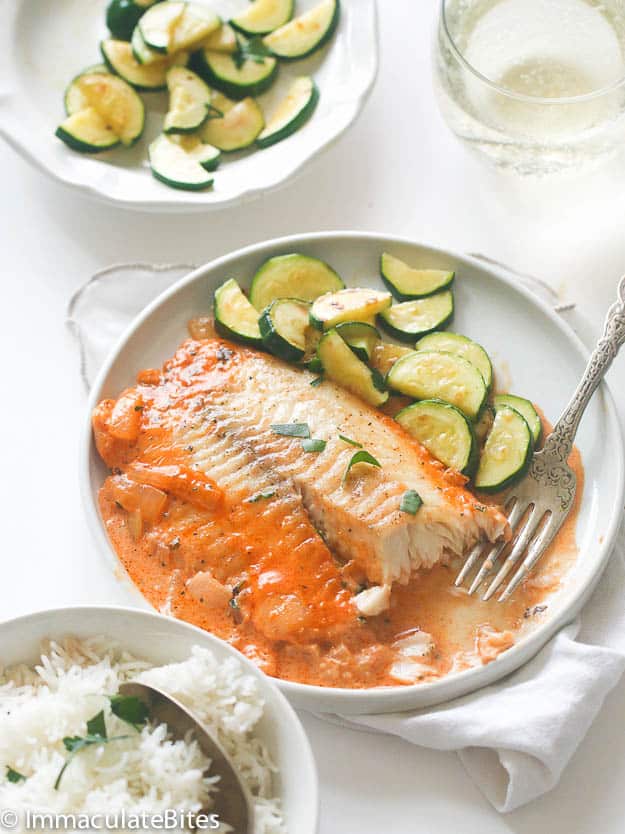 White fish fillet is very delicate so handle with care, make sure you are using a non-stick pan or for best results.
Serve over rice with wilted spinach and you are set.
Red Snapper in creamy sauce
Ingredients
1-11/2 pound red snapper fillet (about 2-3 fillets)
2 tablespoons olive oil or canola oil
¾ teaspoon or more (I used creole seasoning)
½ medium onion diced
1 teaspoon minced garlic or ½ tablespoon garlic powder
¼ cup tomato sauce
1-teaspoon thyme, Italian herbs
¼-cup milk
¼ cup cream (heavy or whipping cream)
½ -1 cup broth or water
½ teaspoon smoked paprika
½ -teaspoon white pepper or black pepper
1-2 tablespoons chopped parsley
Salt to taste.
¾ cup flour for drenching (optional)
Instructions
Rinse fish fillet, season with seasoned salt and pepper. Set aside
In a large or large skillet heat oil over medium heat, until hot, and then add the fish fillet, brown 2 minutes on each side-to ensure even brownness.
Remove fish and set aside. Drain oil and leave about 2 tablespoons
Add onions, followed by minced garlic stir for about 5 minutes, then add cream, milk, tomato sauce, paprika, white pepper, thyme, parsley, ½ cup broth salt and pepper
Bring to a boil and let it simmer for about 7-8 minutes. Then add fish-Adjust sauce thickness and seasonings, with water or broth, salt according to preference. Simmer for a minute or two. Remove from heat and serve warm