My immense love of anything and everything coconut coupled with my continued urge to make my weekend morning worth looking forward to, steer me, towards this Coconut Samoan Sweet Bread.
I knew when I saw this recipe that I would ultimately lead me into danger zone but I did not heed warning. They are every bit as tender, pillowy and crusty on the outside just like these my favorite sweet rolls featured here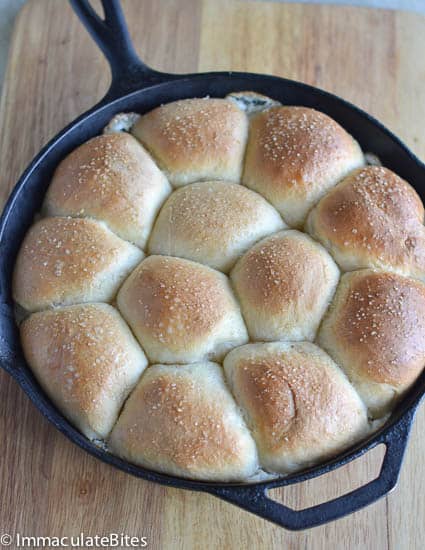 The difference between these two rolls lies mainly in the flavor of the dough. The coconut milk adds a special depth of flavor to the dough with a slight coconut flavor- making it amazingly tender and light in texture.
When making these rolls make sure you only use enough flour to keep it from sticking to your hands – the dough should be a little bit sticky.
Most of the recipes I perused through had some kind of milk in it so I did a little of research on the purpose of milk in the bread. It helps to deepen the flavor and produces a crusty outer layer. I only added enough coconut milk to be absorbed by the bread. If you prefer a soggy bottom add more coconut milk (about a ¼ cup). This sweet rolls can be made entirely without a stand mixer.
I simple love them every bite of this bread. They are so soft and buttery that they're perfect eaten plain

Samoan Coconut Bread Rolls( Pani Popo)
Ingredients
1 package (2¼teaspoon) Active dry yeast
3 tablespoons) Warm water (105F- 115 F)
1 can coconut milk (14-15oz) divided
4 tablespoons butter
1 large egg
¼ cup powdered milk (I used full fat milk)
½ cup Sugar
½ teaspoon salt
3½ cups to 3¾ cups all purpose flour
2 -3 tablespoon raw sugar optional (for the top)
Instructions
In a standing mixer combine 3-tablespoon lukewarm water and yeast. Let it sit until dissolve for about 5 minutes.
Meanwhile in a microwave safe medium bowl, combine 1 cup coconut milk, with the butter pieces, sugar, salt and microwave for about a minute. Stir until everything is melted. Lightly whisk in the egg and powdered milk to the butter mixture (if the mixture is too hot let it cool to a warm mixture to prevent eggs from curding.)
Dump everything into the yeast mixture.
Mix for 2 minutes at medium speed. Add about 3 ½ cups of flour and continue mixing dough.
Add in enough additional flour (if needed) to make soft dough.
Turn dough on lightly floured surface and knead for 8 to 12 minutes or more if you want airy bread.
Place dough in a greased bowl, turning once to coat the dough Cover loosely with a clean cloth and let rise in a warm, draft-free place for 1 to 2 hours or until doubled.
Punch the dough down.
At this point the dough maybe shaped into a grease loaf pan, and place seam side down in the pan or divide dough into 12 equal pieces. Shape into balls.
Place in greased 12 -inch round pan and bake. You may refrigerate before baking for up to 24 hours.
Preheat the oven to 350 F. Add the remaining coconut milk in the pan. Brush the top of the loaf with coconut milk and sprinkle with sugar. Bake until the crust is deep golden brown and the bottom of the loaf sounds hollow when tapped, 20 to 25 minutes.
Remove from the baking pan and let it cool. I like to eat mine when it is still warm.