Easy Slow Cooker Chicken and Bean Stew  simmered with garlic,onions, tomatoes, ginger, thyme and Caribbean spices.Comfort food never tasted so good!  Pull out your slow cooker cause you going to want to make this ASAP!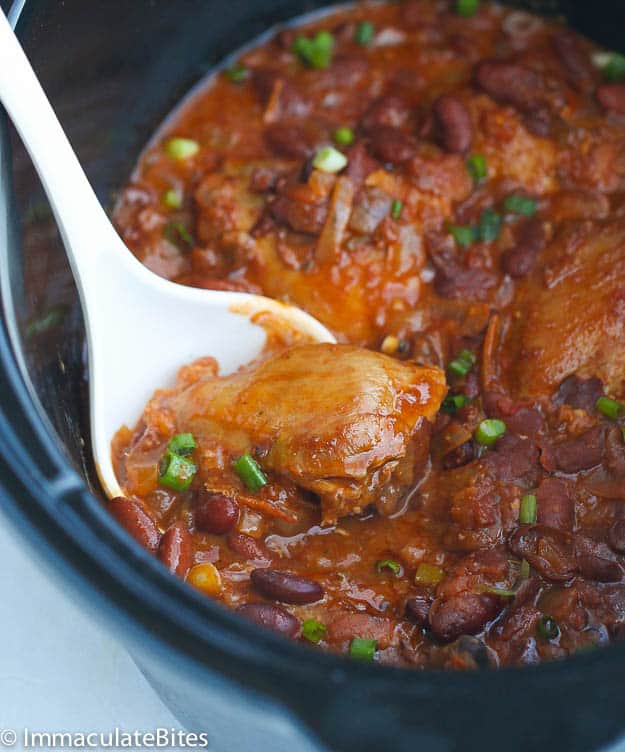 My first slow cooker was an impulse shopping, got it because it was dead cheap. Sadly, it collected dust for MANY MANY years and to tell you the truth, for the life of me, can't really remember what happened to it.
This time, am not going to let that happened  got it, with the intention of putting it to WORK….am getting my money's worth. In fact, I have recipes lined up to try or remake in this crockpot. So be prepared.
This slow cooker chicken and beans  stew has been crossed off that list… quickly become a staple in my household, incredibly popular when I serve it to a crowd and  incredibly easy to make, with just about 10 minutes of prep time required.
Make it with canned beans or leftover beans, it's quicker this way.  I always boil more beans than needed and freeze to make soups and stews. No preference here, any beans will suffice
Same with chicken, you can use boneless, or bone-in chicken breast or thighs. I used leftover bone in chicken from my previous recipe and just took out the skin off.
Notes
Since slow cookers mellow out he flavors of spices, it's always good to adjust your spices as needed towards the end of the cooking.
If you don't own a slow cooker, you can always make this stovetop too, it's just that easy and practical. Just follow the same instructions and instead of, adding everything into the pot, you add some stock, bring it to a boil and then reduce the heat and let it simmer. Until chicken cooked through. Easy!
When adding chicken, it is a great idea to brown the chicken first, for a few minutes, sauté the garlic, onions and other spices stove top, before adding to the crockpot. Seriously adds flavor.
If you want to throw everything in the crockpot and cook away, that's fine too, but sauté and I always brown before adding to slow cooker.
After making this chicken and beans you MUST make this corn bread. You would thank me later. Incredibly Delicious!
It's a match made in heaven.
Enjoy!!

Slow Cooker Chicken and Beans
Ingredients
2 – 2½ pounds chicken breast or thighs
2-tablespoon canola oil
1 onion finely chopped
2-3 green onion diced
1 small jalapeno pepper, seeded and minced (use scotch bonnet pepper if you want more heat)
1-1/2 Tablespoons minced garlic
½ teaspoon ground allspice
½ teaspoon cumin spice
1½ -teaspoon fresh thyme
2 teaspoon minced ginger
2 teaspoons smoked paprika
1 large bay leaf
¼-½ teaspoon cayenne pepper
2-3 medium tomato chopped
4 cups cooked beans or 1-2 15oz. cans rinse and drained
2 cups chicken broth or more
1-tablespoon chicken bouillon powder (optional)
Salt and white pepper, to taste
Fresh cilantro/parsley leaves (optional)
Instructions
Place chicken thighs in a large bowl. Then seasoned with your preferred seasoning salt or marinate with, garlic, ginger, paprika, white pepper and thyme.
When ready to cook heat up a skillet or large sauce pan with about 2 tablespoons oil, and then brown the chicken about 3-4 minutes until chicken is golden brown: remove and place in the crockpot. Drain any excess oil from the skillet and leave about 2 Tablespoons of oil or add more if needed.
Add the onions, garlic, green onions, thyme, ginger,cumin, paprika, all spice, jalapeño and sauté, stirring occasionally, until onions are soft and translucent, about 4-5 minutes. Add to crockpot.
Then add beans, chicken broth, tomatoes, bay leaf, bouillon powder, and salt.Cover and cook on high for about 3-4 hours
Stove top method
Reduce the heat, cover and simmer gently for about 35 minutes or more until chicken is tender and has reached desired consistency.
Adjust seasonings and thickness of soup according to preference with broth and spices
Remove, shred chicken if desired and serve warm with corn bread. Garnish with parsley ,green onions or cilantro.
When ready to cook heat up a skillet or large sauce pan with about 2 tablespoons oil, and then brown the chicken about 3-4 minutes until chicken is golden brown: remove and place in the crockpot.
Add the onions, garlic, thyme, ginger, paprika, all spice, jalapeño and sauté, stirring occasionally, until onions are soft and translucent, about 6-7 minutes. Add to crockpot