Slow cooker Jamaican Beef Stew -Rich and exciting, beautifully tender cooked low and slow for hours! One pot meal Loaded with vegetables ! Warm, comforting and hearty.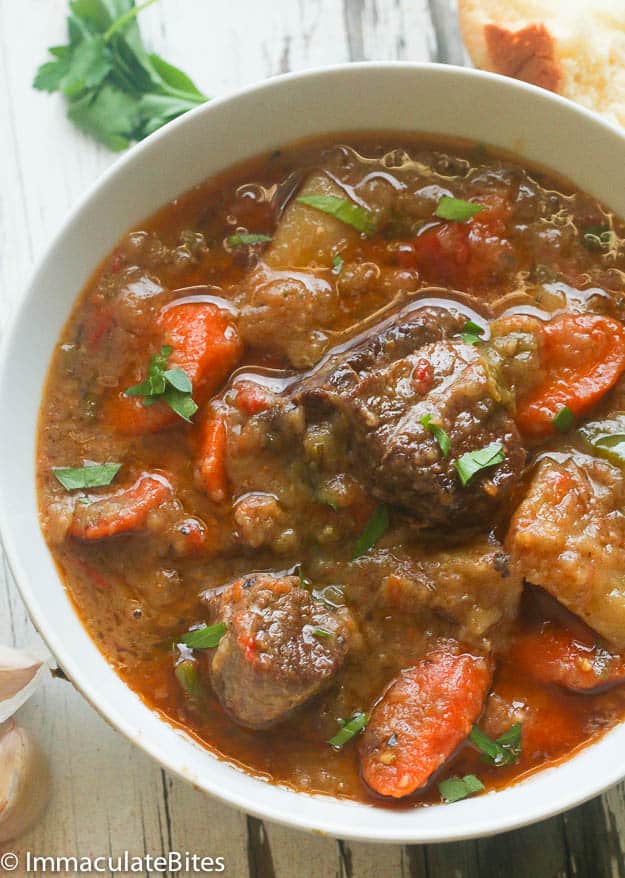 This slow cooker Jamaican beef stew will have you doing the happy dance.And get out your cool moves. It sure does that for me. Doing the dance with a spoon in my mouth. Boy oh Boy  what can I say…
Melding Jamaican flavors in one pot  infused with beef and vegetables yields an OUTSTANDING  result. The stew is so hearty, comforting and oh so delicious.Yes, I use that word too often but it is.
We have all had beef stew-right?  Any good beef stew has tender beef and root vegetables cooked in liquid to form a gravy but all those elements are taken to new heights with this recipe. And you  still get your gravy without flour.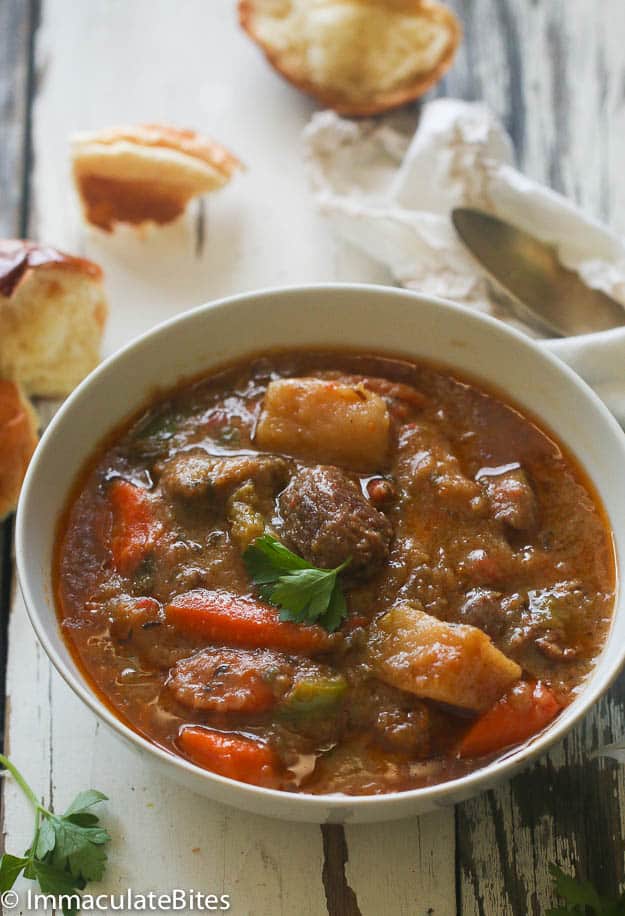 Every element here is highlighted with Jamaican seasonings including scotch bonnet for some heat, allspice, (pimento), carrots for some sweet notes , garlic, ginger  and of course some thyme to round out the bold flavors.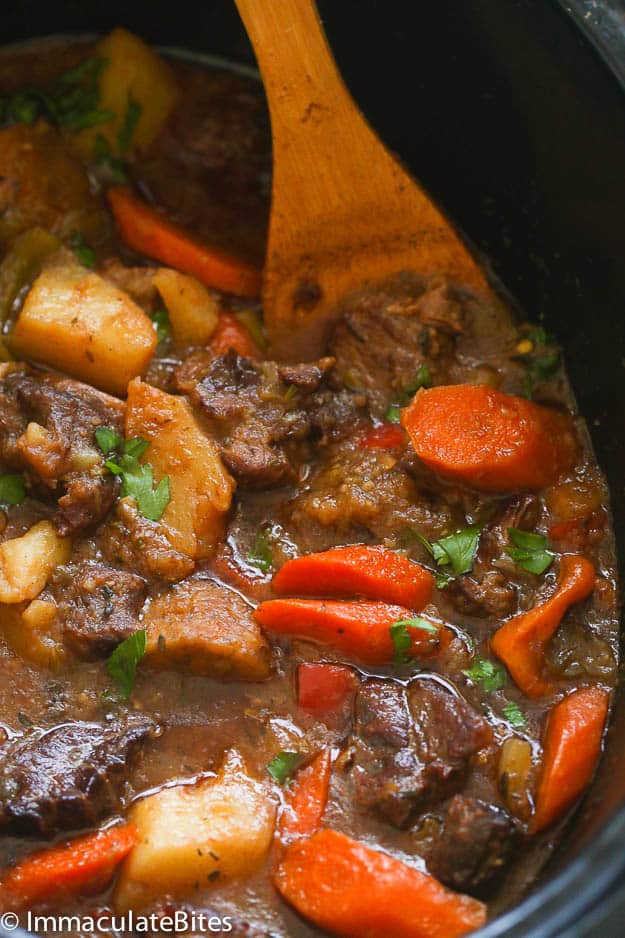 For many, making delicious food at home is too much of a task due to busy schedules but since this recipe uses a slow cooker, all you have to do is set it and forget it for hours. This means you start the stew in the morning and dinner will be ready for you when you get home minus the effort.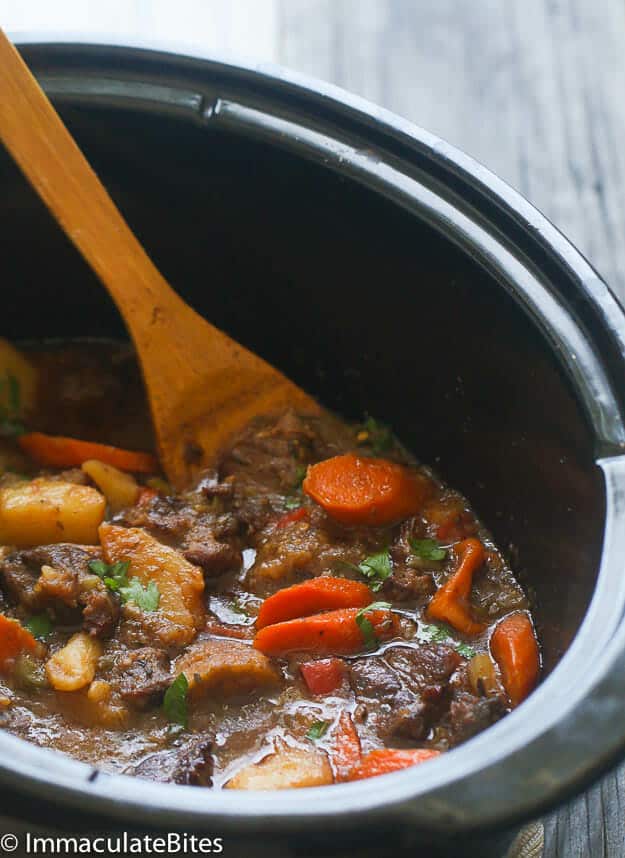 Along with convenience, there are quite a few benefits of using a slow cooker to make this Jamaican stew. For starters, slow cookers transform inexpensive cuts of beef into fall apart tender meat. Additionally, slow cooking promotes absorption of all the spices resulting in fuller, more robust flavors with more depth. As a plus, cooking foods on low heat for an extended time destroys fewer nutrients.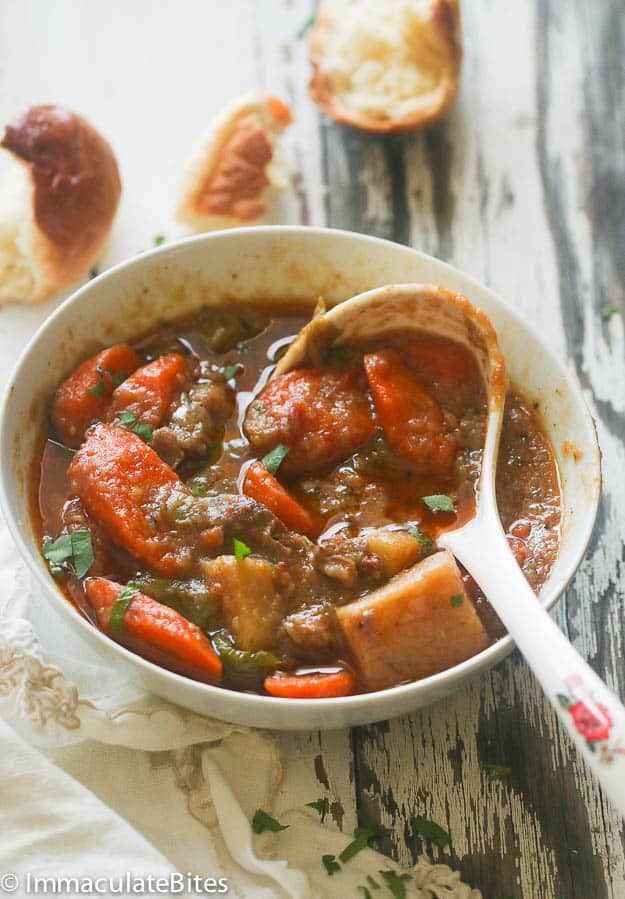 Gather all the ingredients and give this recipe a try. When it is ready, just sit down and savor the stew.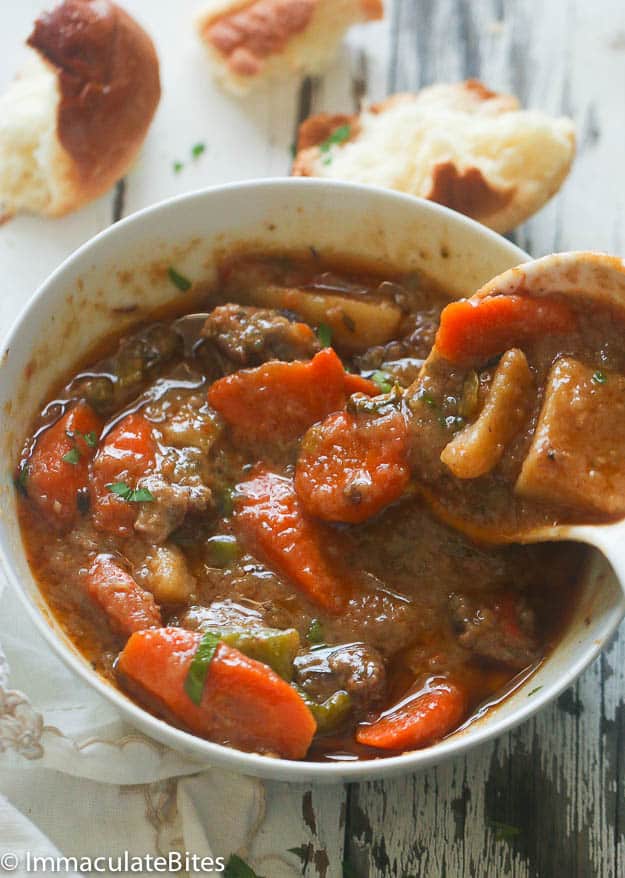 It is sure to be one of your favorite suppers and the leftovers are even better.
Enjoy!!!
Tips and Notes for Making Stew Beef 
To make this completely paleo leave out white potatoes and go with sweet potatoes instead. Or better yet use plantains. Be sure to cut them in big chunks so they do not get all mushy when done. Same with the carrots and other vegetables. Didn't have enough potatoes so I include un-ripe or green plantains as well. Ripe plantains do not work well here
Don't waste your money on expensive cuts of meat. Go with the tougher and cheaper cuts of like chuck, leg shanks, bottom round. It benefits from long hours of cooking- collagen breaks down leaving the meat fork tender and infused with the flavors from the stew. Can't be beat.
As always 10 minutes of browning and sautéing beef, vegetables and spices yields maximum amount of flavor. You don't have to but it is advisable. Yields maximum amount of flavor.
If you want to get an extra touch of sweetness then add 1 Tablespoon of brown sugar.
Slow cooker Jamaican Beef Stew
Ingredients
2 pounds stew beef cut in small chunks
¼ cup canola oil
2 bay leaves
1 teaspoon all spice
2 teaspoons minced ginger
1 Tablespoon minced garlic
1 medium onion diced
1 small bell pepper
2 Tablespoons tomato paste
1 Tablespoon fresh thyme
Scotch bonnet pepper or 1 teaspoon hot sauce
1 teaspoon smoked paprika
2 cups broth/water or more
2-3 Green Onions diced
2-3 pounds potatoes (cut in large chunks)
2-3 Large carrots cut in large chunks
2-3 Tablespoons parsley (optional)
1 Teaspoon Bouillon powder(Beef Chicken or vegetable) adjust to taste (optional)
Salt and pepper to taste
Instructions
Season stew beef with salt and pepper to thoroughly cover all sides
Heat the oil an oven safe Dutch oven pan over medium heat. Add stew beef and brown well, turning once, about 2 -3 minutes per side, until beef browns up. Do not overcrowd pan. Cook in batches, if necessary. Add beef to slow cooker.
Add onions, green onions, garlic, thyme, all spice, bell pepper and bay leaf; scotch bonnet pepper or hot sauce to the skillet. Stir for about 2-3 minutes until onions is translucent.
Add tomato paste, bouillon.Stir for another minute , then add water or broth to the skillet scrape all sidesBring to a boil , remove and and pour in the slow cooker.
Then throw in carrots, potatoes in the slow cooker and salt according to preference
Cover and cook on high for about 3-4 hours or low for 6 -7 hours.
Remove and serve with bread