Southern Fried Cat Fish- Classic Southern Fried Catfish dipped in buttermilk and breaded in spicy seasoned cornmeal and fried to perfection.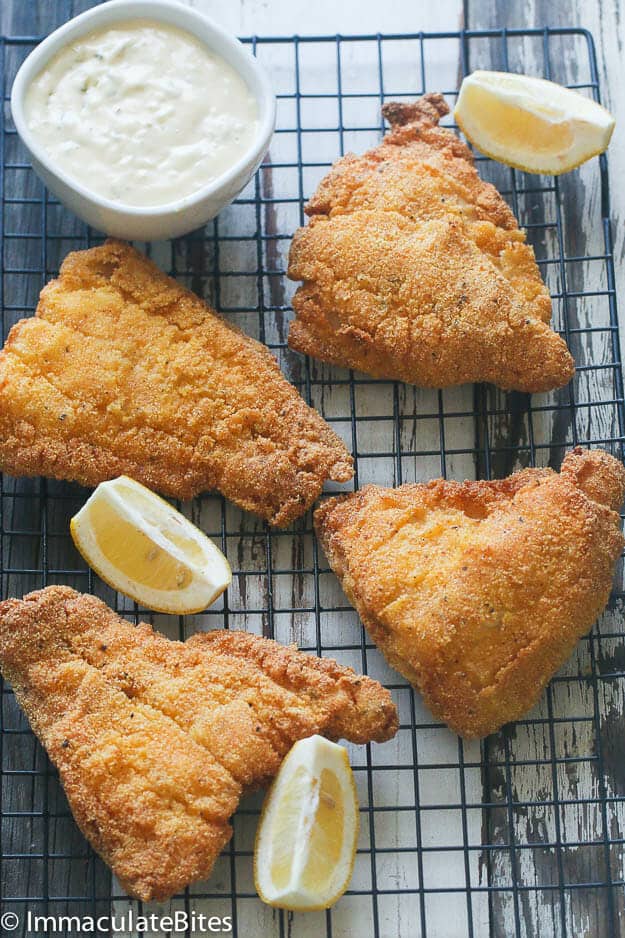 Fried cat fish conjures thoughts of finger-licking goodness and crispy crunch in every bite. When I bought these fish fillets at the market my intention was to bake them with garlic and salt.But I would not stop thinking  about fried fish, buckets of fish with hush puppies, dipped in tartar sauce…  that did it for me   -sometimes nothing can satisfy that desire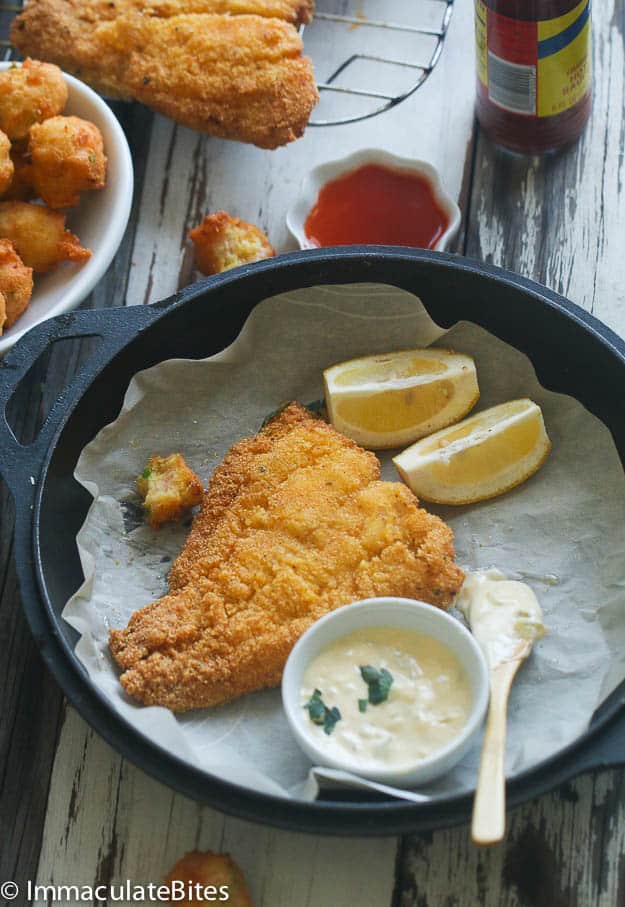 The baked version has been put on the back burner – for another day and time. So sorry healthy my healthy peeps.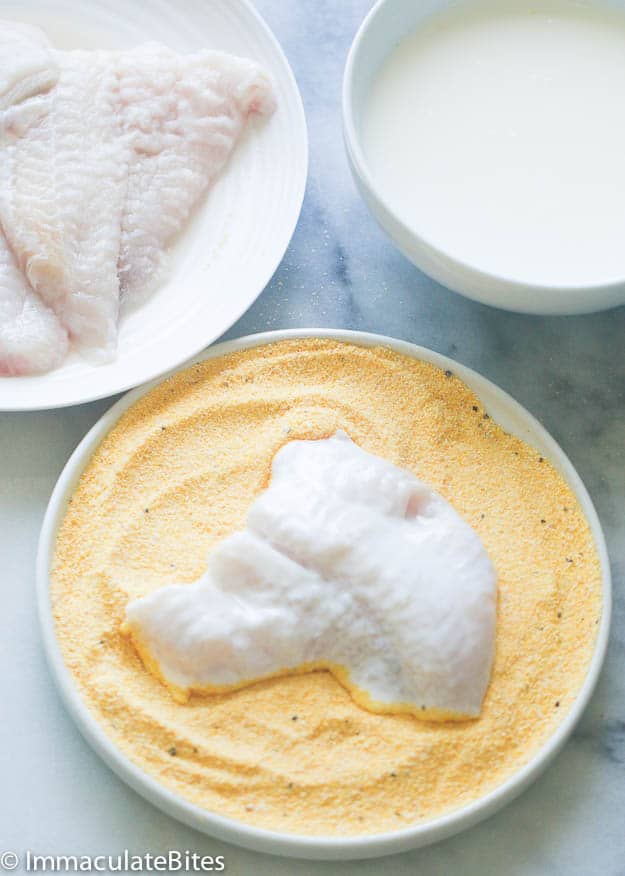 Although not the healthiest choice, deep frying fish adds great flavor and wonderful crispiness to any fish. When done right it can't be beat. This Southern Fried Cat Fish is one of my favorite ways of frying fish.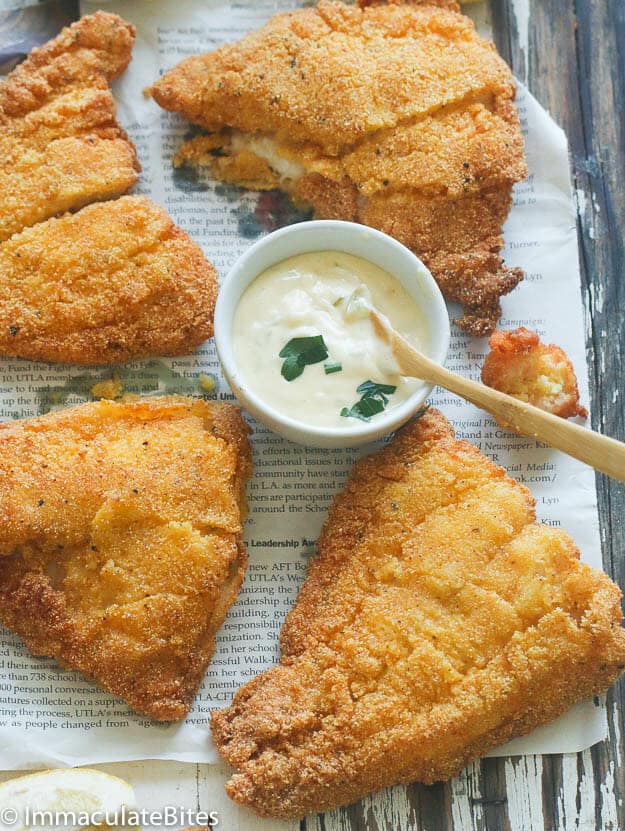 I remember living next to a local seafood market and would never get tried of ordering fried fish. Yep!  I ate my way through the menu- from fried fish to calamaris.
Those days are long gone, Now, I have to balance out my meals. Am not a young chicken anymore. But I have to go there occasionally . It's pretty had for me to completely give up a meal I really enjoy.
This recipe  is made with the very minimal ingredients, the Cat fish  fillets are dipped in buttermilk and coated with a seasoned corned meal –  with granulated garlic, onion powder, cracked pepper, cayenne pepper and salt.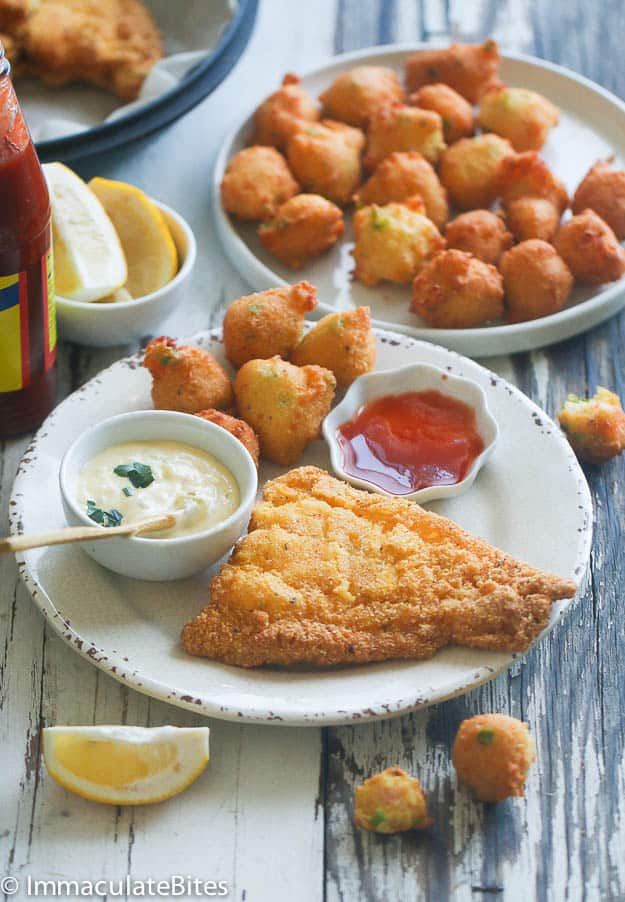 This is gluten free – no added flour. I find the cornmeal adds a gritty crunch to the fish. Which adds to it's appeal.
Don't care too much for cat fish , then replace it with another  white fish ;  tilapia,  red snapper it works just as well . Also you can cut in strips or bite size portions if desired .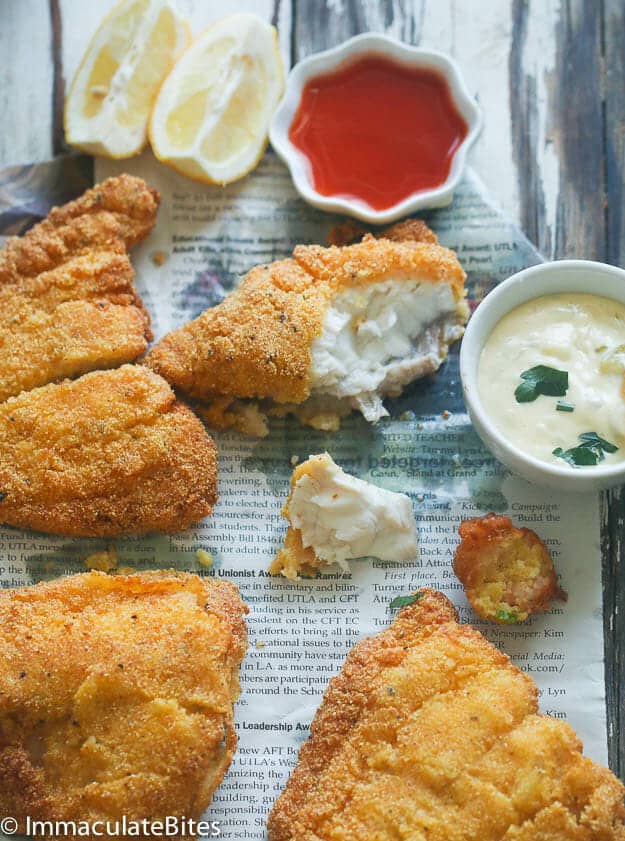 Serve with it homemade  tartar sauce here or store bought version.
Tips For Southern Fried Cat Fish
For the best possible results, start by making sure that your fish is absolutely fresh. A fresh fish should smell like clean water. Do not buy fish that has fishy odor. Cooking won't improve it. Speaking from experience here.
IF it's your first time frying fish you might want to cut the fish in smaller pieces or chunks. Strips. Whole fish fillet or large chunks can be somewhat daunting.
 Overcrowding your cast iron or deep- fryer will lower the oil's temperature, which can result in soggy fish. So stick with a few pieces at a time.
For Crispiest result, I most often use cast iron skillet or Dutch oven. They retain heat more.
 Before frying the temperature should be around 375  degrees it ensures that the batter reacts and creates a barrier between the oil and the food. If your oil's temperature it too low, the food will soak up oil.
Once you remove the fish out of the fryer, place them on a metal cooling rack above a sheet pan. It prevents it from getting soggy.
Southern Fried Cat Fish
Ingredients
1½ cup cornmeal
1 Tablespoon Granulated garlic
1 Teaspoons onion powder
½ -1 teaspoons cayenne pepper
1 teaspoon white or black pepper
2 teaspoons salt (adjust to taste)
1½ cup buttermilk
4 (6-ounce) catfish fillets (cut in small chunks)
Spicy Tartar Sauce
1 cup mayonnaise
1 tablespoon finely diced onion
½-1 teaspoon mustard sauce
3 tablespoons hot pepper relish
1 tablespoon granulated garlic
Dash hot sauce
Salt and pepper to taste
Instructions
Preheat a deep-fryer to 375 degrees F or In a large, sauce pan pour vegetable oil - half way .
In a large bowl mix together, cornmeal,garlic , onion powder, cayenne, salt and pepper.
If fish fillet too large cut into bite-sized pieces.
Dip each strip in buttermilk and lightly deep into the remaining corn meal.
Deep fry the fish in the fryer or saucepan a few pieces at a time, moving them around so they don't stick. Fry until brown and crispy, about 3 to 4 minutes or more depending on the size. These big chunks took about 6 minutes per side.
Remove from the fryer with a slotted spoon place on a cookie rack to ensure crispness.. Repeat with the remaining fillets and season the fish with lemon juice. Serve with spicy tartar sauce
Spicy tartar sauce
In a serving bowl combine mayonnaise, garlic, hot pepper relish, onions, mustards,dash hot sauce ,salt and pepper .Cover with plastic wrap and let the flavors mellow in the refrigerator for at least 1 hour before serving.