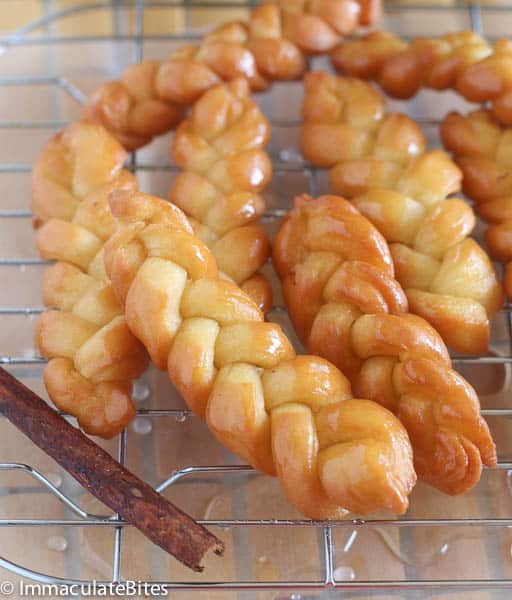 We all a vice right? And fried foods are mine- especially when they are a sweet treat….  Not a weekend  goes by without an occasional indulgent of some sort of fried food.  You heard right!  However, moderation is the key. Okay, that's not exactly true. I can barely contain myself. So don't take my word for it.
First things first: koeksisters are pronounced like, " cook sister". Now that you know how to pronounce it, what the heck is it?  Allow me.  koeksister  is a super popular South African sticky doughnut .It derives it's name from the Dutch word "koekje", which can be interpreted as "cookie". There are two versions of this popular doughnuts: this  is the Afrikaner version –sticky ,braided ,crunchy and crunchy –drenched in syrup, laced with cinnamon, lemon and ginger. The end result… a taste bud explosion.
They are extremely popular in South Africa, sold on major streets and have made their way into super markets. These are a true indulgence, one that is worthy of a birthday celebration, holiday or even creating a special occasion if you do not have one (I do that all the time).
I know these doughnuts take a bit of advance preparation before deep-frying but are a fun to do especially if you have  kids.
Enjoy
Traditional Koeksisters
Ingredients
Spicy Syrup
2 cups sugar
1¼ teaspoon cream of tartar
1 tablespoon chopped ginger
Fresh squeeze lemon juice(half lemon)
1 cinnamon stick
1 cup water
Dough
1 cup corn flour (100grams)
1½ cup all purpose flour
2½ teaspoons baking powder
¾ teaspoon salt
2 tablespoon sugar
½ cup milk
1 large egg
25 gram butter
oil for deep frying
Instructions
In a medium saucepan. Add, cream of tartar, salt, sugar, ginger, lemon juice and cinnamon stick. Bring water to a boil and let it simmer for about 10 minutes, Stirring syrup occasionally. Let it cool and refrigerate until ready to use.
In a large bowl combine all the dry ingredients- corn meal, flour, sugar, baking powder
Then all the wet ingredients milk and egg followed by butter. Knead several times until all the ingredients have been incorporated. Let it rest for about 30 minutes.
Place dough on board and roll out into about 1 inch thickness. Using a cookie cutter or knife cut into strips thin strips and then shorter strips.
, Divide the dough into three strands and stretch them out carefully until they are of an even thickness all the way down. Pinch the ends together
Take the left strand and cross it over the middle strand 
Take the right strand and cross it over the middle strand. Tightly pinch to seal the end.
In a large, sauce pan pour vegetable oil into a pot, until it is at least 3 inches Test to make sure the oil is hot enough by putting a 'drop' of batter into the oil. If it is not hot enough, the batter will stay at the bottom of the pot rather than rising to the top. If using a deep fryer, fry at 350 degrees
Gently place koeksisters in the pan
Fry for a few minutes until the bottom side is golden brown.
Turn the over and fry for a few more minutes until the other side is golden brown.
Use a large spoon or something like that to take it out of the oil and directly place in syrup.
Leave to soak in the syrup for a while. Transfer to a cooling rack. Cool completely before eating.