8 Amazing Pork Chop Recipes – Delectable and mouthwatering pork chop recipes will surely make you get another serving of mashed potatoes or rice. Don't worry; I won't judge you! These pork chop recipes are undoubtedly family-friendly and easy to make and yet a winner meal perfect for lunch or dinner, whether they're baked, fried, grilled, or roasted.
I'm really happy to share these 8 Amazing Pork Chop Recipes with you guys that will surely impress your loved ones because every recipe will bring a forkful of nostalgic comfort and satisfying goodness with every bite.
Not only do I have here both baked and grilled pork chop recipes, but also saucy pork chops cooked in a flavorful and creamy mushroom and onion gravy. Aah!
So tender and juicy, you'll be dreaming about these pork chops all night. I'm telling you, my pork chop marinade… It's simply the best!
So, read along and find more about my quick, easy, and outrageously delicious pork chop recipes! I'm sure you're going to love them, too!
Ways to Season Pork Chops
There are two ways to season the pork chops to ensure all the great flavors are absorbed into the meat well. However, determining the best seasoning for your meat depends on your chosen dish.
For example, when grilling pork chops, brine seasoning is more appropriate.
Pork Chop Brine – This is basically immersing the pork chops in a salt and water solution, along with other seasonings and spices, for a couple of hours. It adds flavor to the pork meat, helps the pork retain its moisture, and tenderizes the meat at the same time. Because of the pork chop's high moisture content from the brine, they won't get dry as quickly while cooking.
Pork Chop Seasoning – Using a dry rub like pork chop seasoning is best when you're tight on time, and you're going to cook the pork chops right away. Because they are "dry" pork chop marinades, they stick to the meat easily and get absorbed quickly, too. But of course, marinating them for a longer time means more flavorful pork chops. However, since they don't have any liquid on them, the meat is not being tenderized.
In conclusion, I highly suggest brining them first and then rubbing them with dry pork chop seasoning before cooking. Doing this ensures tender, juicy, and tasty pork chops. 😉
Pork Chop Recipes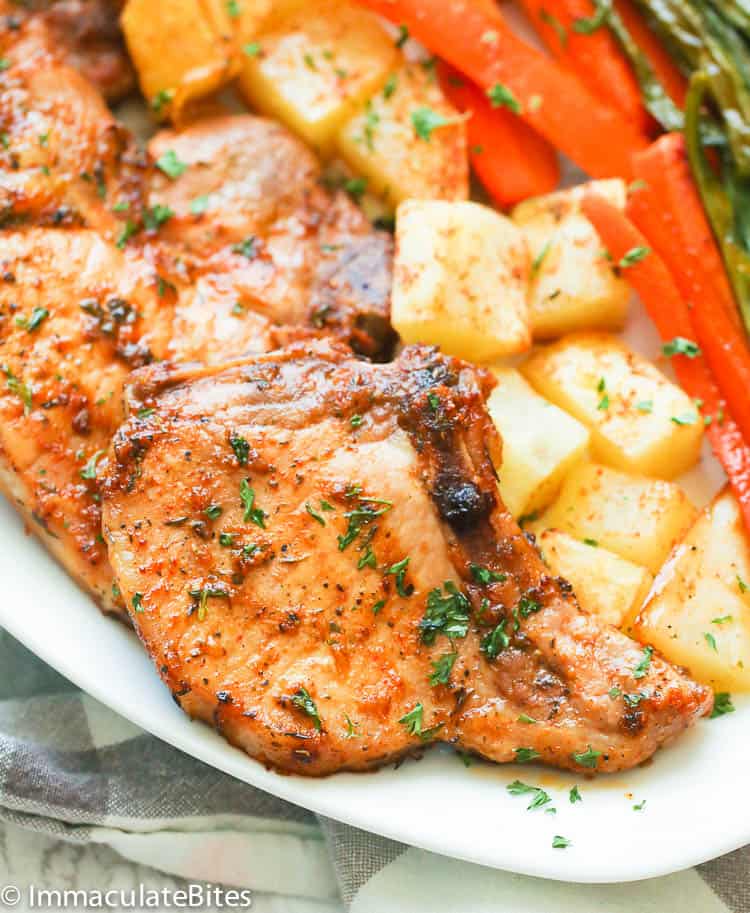 Enjoy these savory pork chops perfectly seasoned with Creole Seasoning, thyme, garlic, and Worcestershire sauce, then baked to perfection along with fresh veggies like potatoes and asparagus. An easy, family-friendly meal that is absolutely filling and satisfying. You can easily customize it with your favorite veggies, too.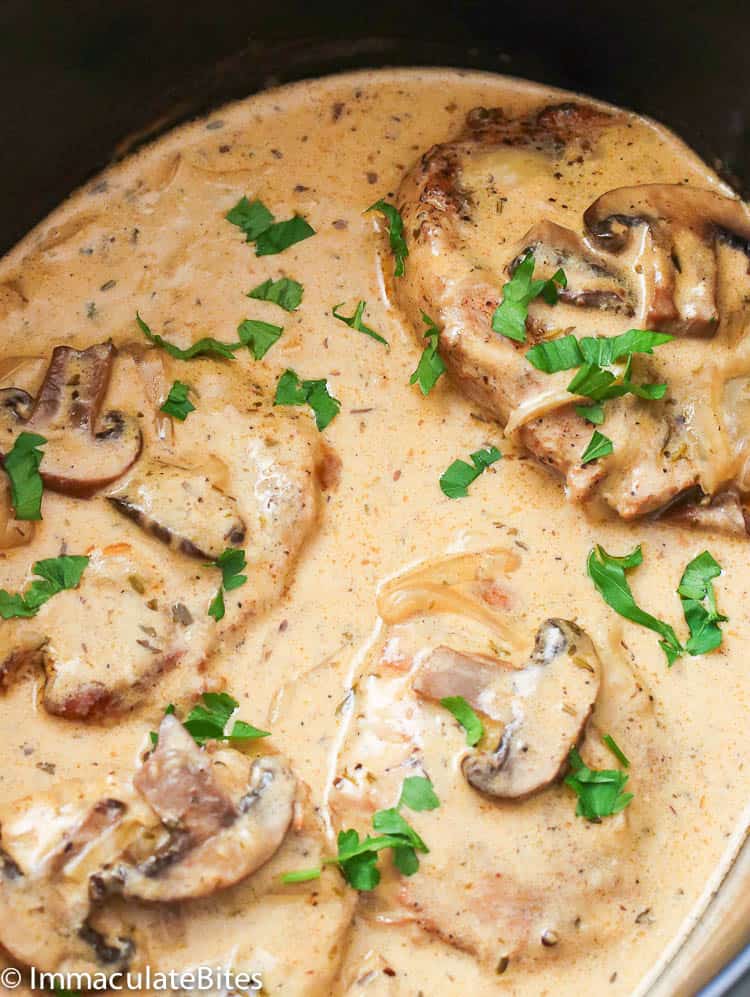 Low and slow is the secret to the greatness of this savory pan-seared pork chop recipe. Simmering the pork chops in a rich and creamy mushroom sauce using a slow cooker traps all the wonderful flavors inside, resulting in incredibly tender and juicy pork chops and oozing with great flavors, too.
On the other hand, you can also try a quicker version of the creamy and saucy instant pot pork chop recipe here.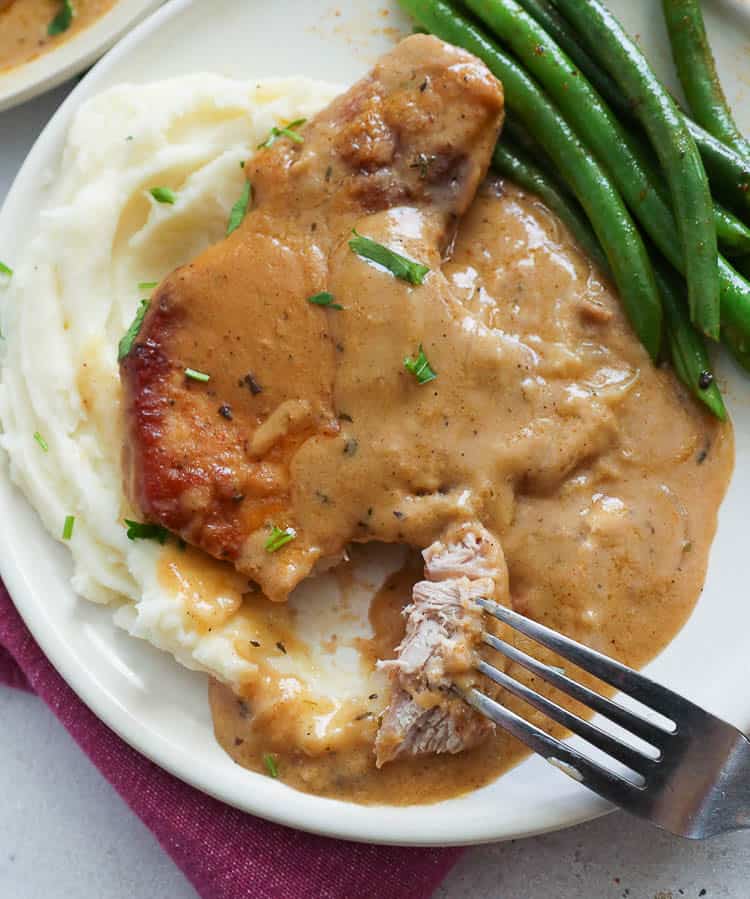 If you love my pork chops simmered in mushroom gravy sauce, then you should definitely try this one, too. This breaded pork chop recipe here is made even more scrumptious in onion gravy. Make sure to double the batch because they can easily be devoured in seconds. Don't say I didn't warn 'ya!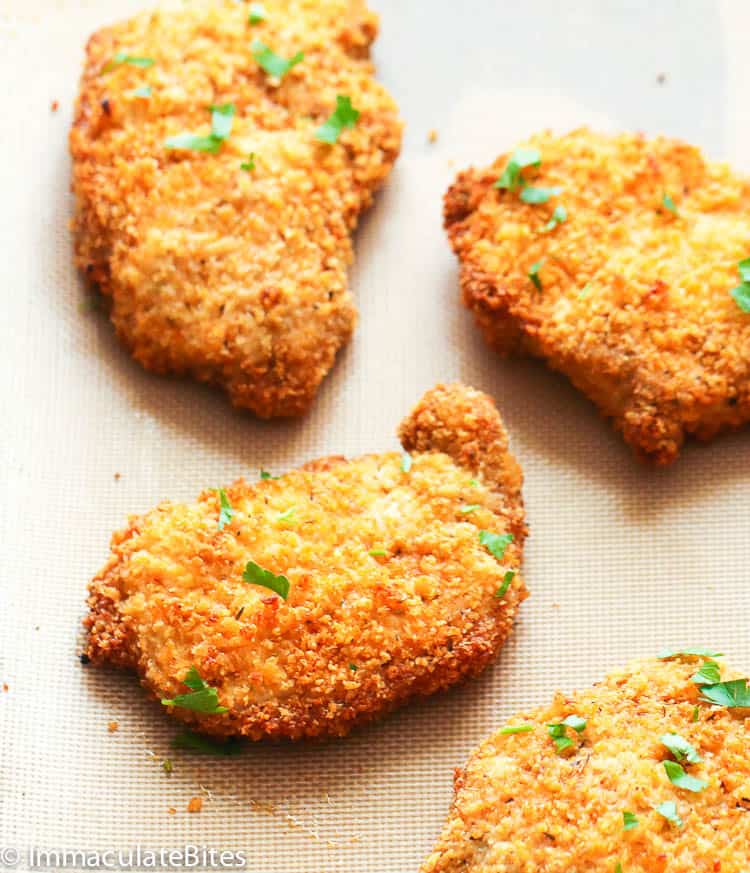 Meanwhile, a healthier version of our favorite breaded pork chop recipe is here. To make these incredibly tasty baked pork chops, make sure to season your bread crumbs first with butter and parmesan cheese because it will result in tender, juicy, and oh-so-tasty pork chops like no other! Satisfaction guaranteed!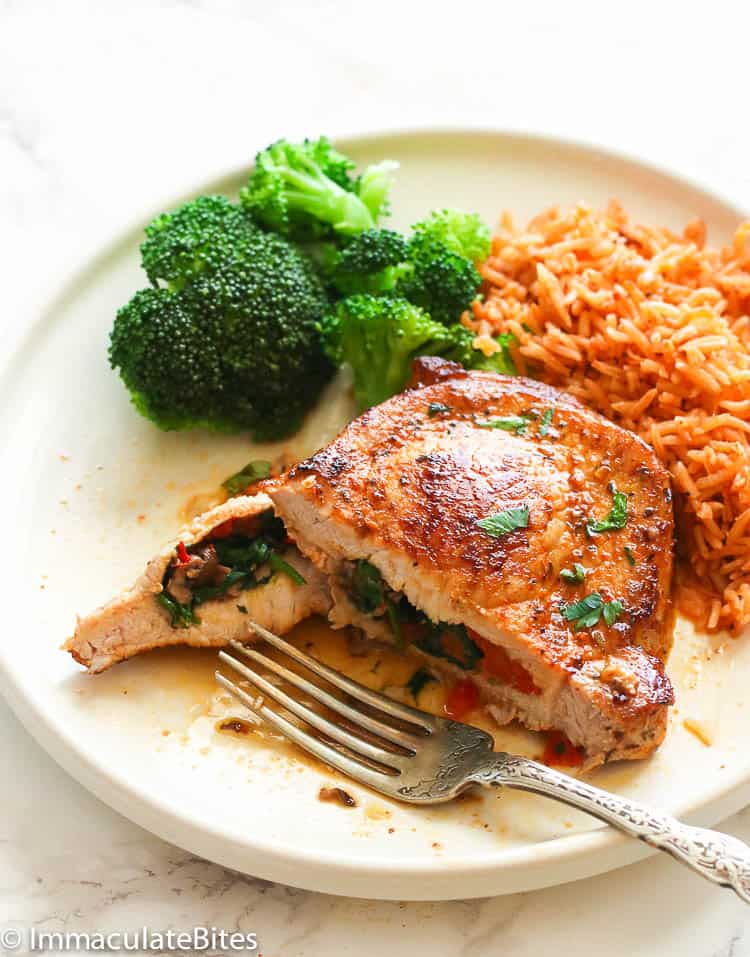 Just when you thought baked pork chops were already at their best—suddenly, here come stuffed pork chops that will surely blow your mind with their deliciousness. Each pork chop is filled with delectable sauteed mushrooms, spinach, bell peppers, and slices of cheese, too. Full of mouthwatering goodness, indeed!
6. Pan-Fried Boneless Pork Chops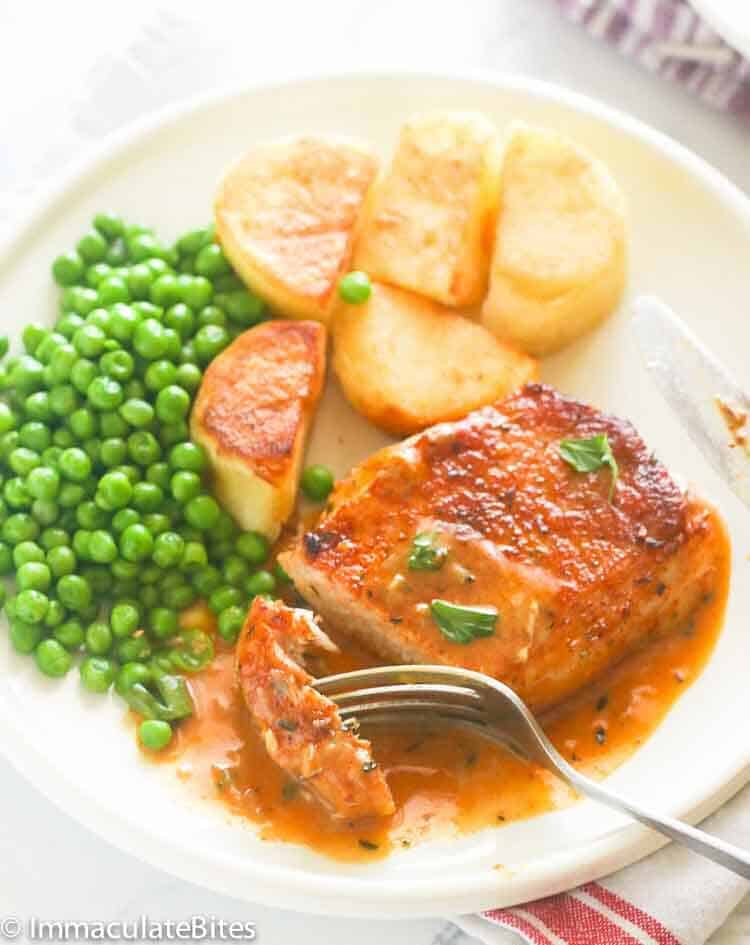 Aside from my favorite Creole Seasoning, I also added cumin and orange juice to this best-tasting pork chop marinade. What a great addition to this pork chop recipe! I just love the added citrusy sweetness from the oranges. It perfectly complements the whole dish, adding another layer of fruity flavor in the background. Oh yes!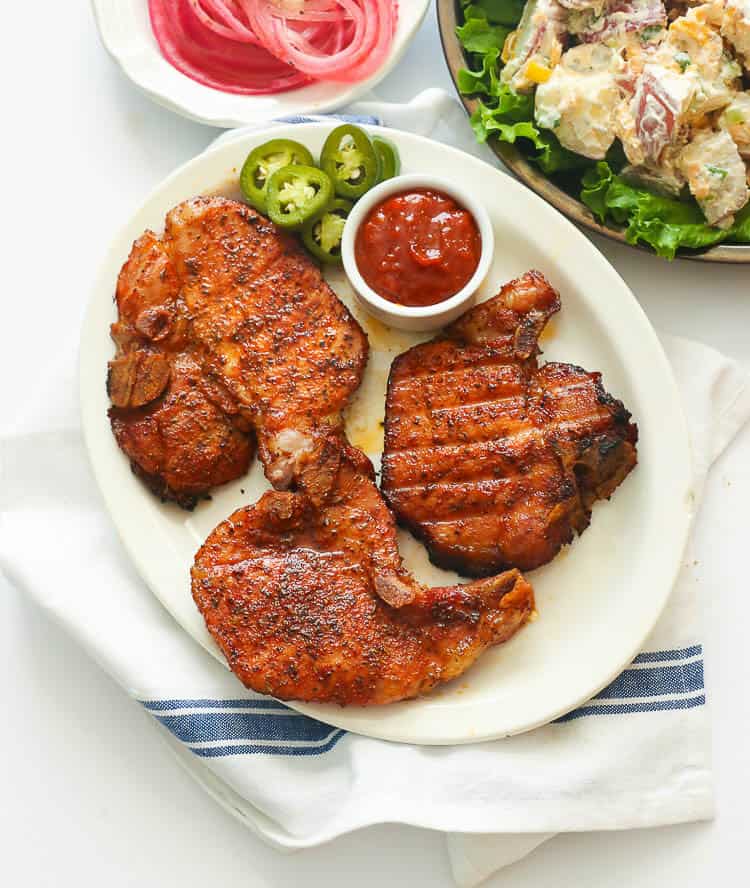 Do you see those gorgeous smoked pork chops glistening with flavorful spices? Ahh! So inviting, indeed! I'll gladly eat them any time, paired with rice or on their own. You're definitely gonna love the added smoky flavor to this smoked pork chop recipe. And if were you, I'd add more spices, like cayenne and pepper flakes, to ramp up the flavor of these pork chops. Yum!
8. Marinated Pork Chop With Rosemary And Garlic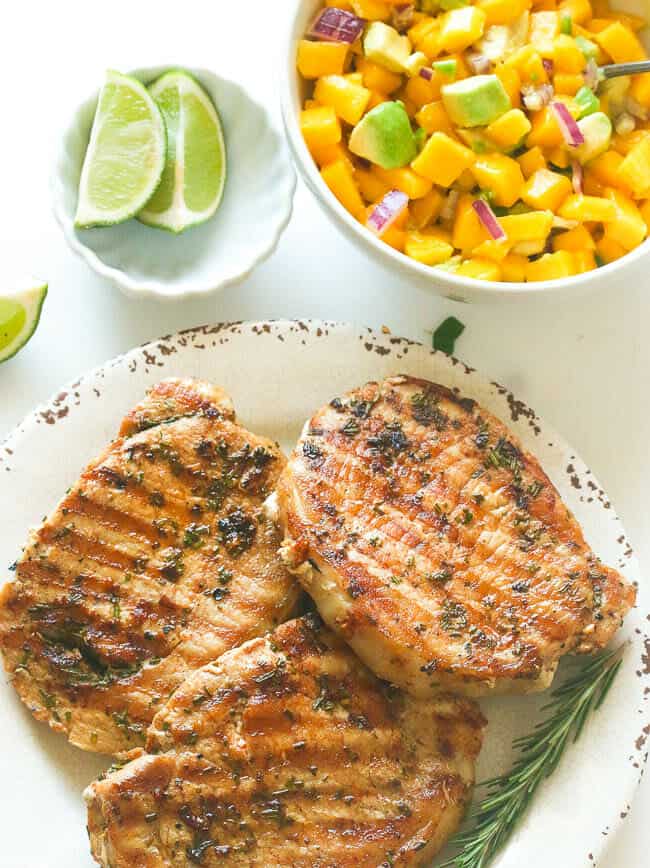 Finally, saving the best for last. I always love the charred effect of grilled pork chops. They are very enticing! This is especially with their herby and mildly spicy flavor brought about by cayenne, paprika, rosemary, garlic, and soy sauce. Awesome! But, of course, they are not only pleasing to the eyes but equally delicious, too.