Sweet Corn Fritters-  Wholesome, flavorful   Corn  fritters  with  Cilantro Avocado  dip. Crispy, Cheesy, Melty, Sweet, and SO crazy good!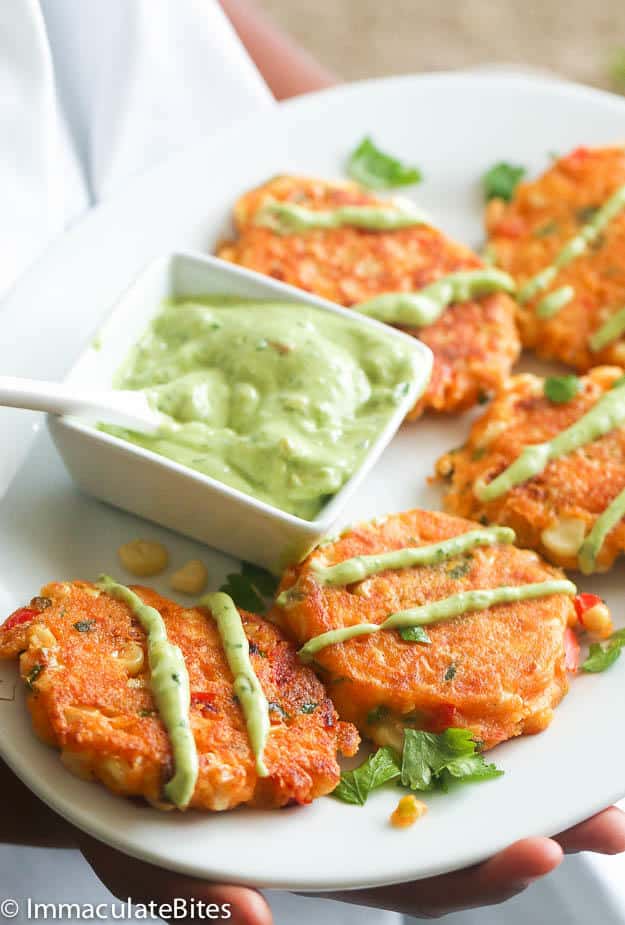 WELL.. I think I've found a whole new way to enjoy sweet corn. I know corn can be enjoyed a gazillion ways. I have a few to share this season.  My Super Duper quick & easy way is to throw it in the microwave for about 5 minutes or more and that's it- healthy, sweet and delicious.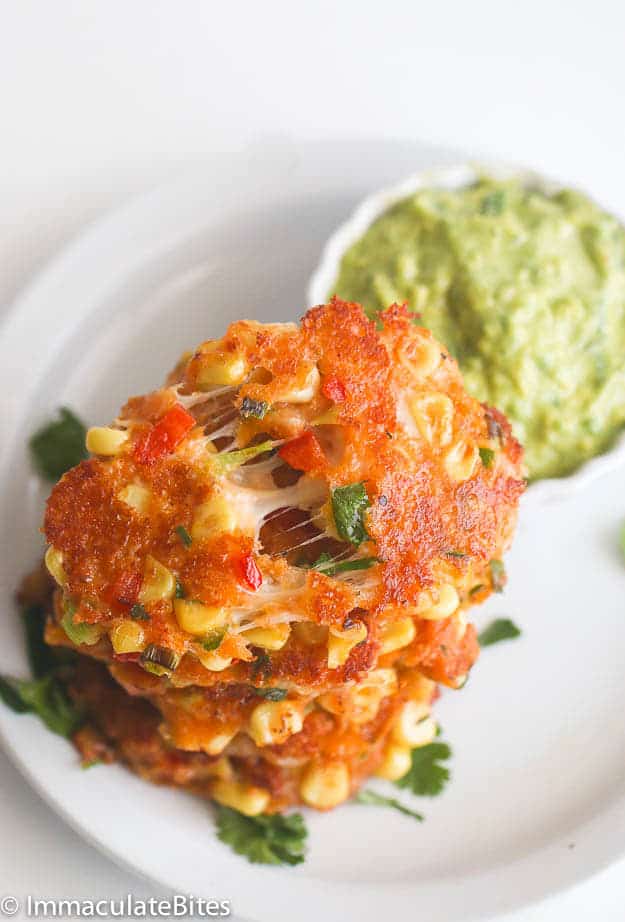 This however, takes this sweet corn to another level of deliciousness. A far cry from what I grew up making as a teenager.
Oh, I think you are going to love this way of enjoying one of summer's greatest produce. And you might crave it during the winter months. Maybe????  I think you will once you make it .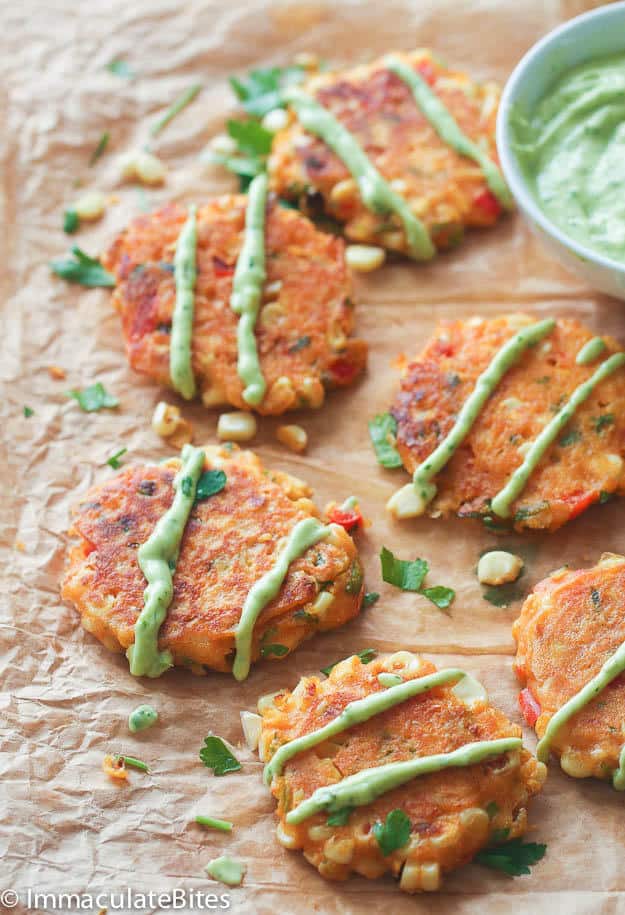 With these sweet corn fritters you get the best of both worlds it's crispy on the outside and soft inside, with fresh burst of corn kernels and cheese. CRAZZZZY Delicious. Am I repeating myself??? Sorry. Just making sure you get it .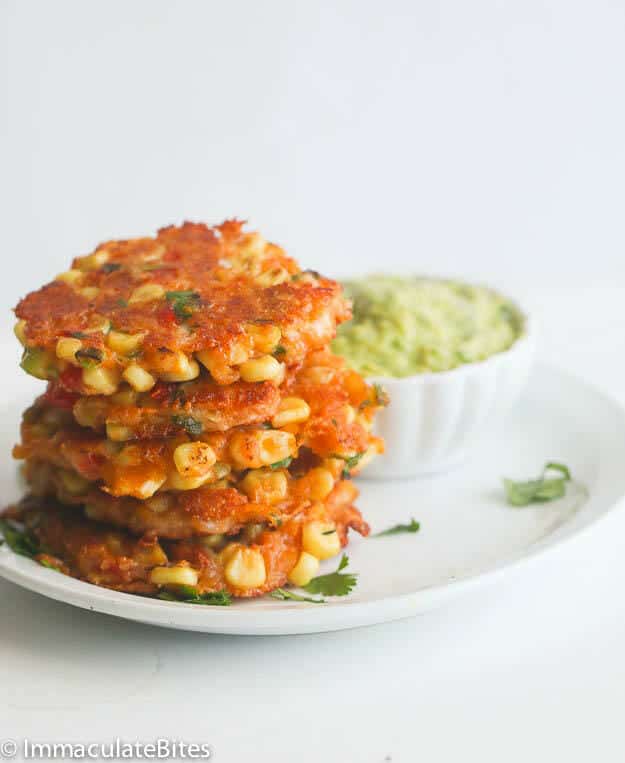 As usually, when it comes to my favorite summer produce I do a lot of experimenting.. And to be honest it was hard to pick a favorite way of making these.  I tried it vegan with no cheese and used coconut milk instead of milk and still loved it. So if you want to go the vegan route omit the cheese and use coconut milk in place of milk.
These sweet corn fritters are made with fresh corn, green onions, smoked paprika, garlic, milk, cheese and parsley or cilantro. The use of cornmeal gives these fritters an extra a sweet yet robust corn flavor and a wonderful crunch. While the all purpose flour helps to bind it together to prevent it from falling apart.
Serve it with Cilantro Avocado sauce, Avocado salsa or just go with plain old sour cream
Enjoy!!!
Notes
Removing corn from the husk can be a messy job so here is an easy way to make sure the kernels don't mess up your whole kitchen. Place corn in the center of the Bundt pan with large side down. Using a small, sharp knife, slice the corn off the cob, turning the ear as you go.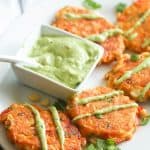 Sweet Corn Fritters
Ingredients
2

cups

of sweet corn kernels

about 2 ears of corn

1

green onion

scallion diced

1

teaspoon

minced garlic

¼

cup

diced green bell pepper

1

tablespoon

chopped cilantro

½

cup

all-purpose flour

½

teaspoon

smoked paprika

¼

corn meal

½

cup

or more milk

sub with coconut milk

½

teaspoon

black pepper

¾

teaspoon

salt or more

adjust to taste

½

small Jalapeno pepper

optional

½-1

cup

cheese
Cilantro Avocado dip
½

medium avocado

¼

cup

low fat sour cream

1//2

cup

cilantro leaves

1/2

teaspoon

minced garlic

Salt and Lime to taste
Instructions
Remove husk from corn and using a sharp knife cut the kernels from the cob from top to bottom. It's best to use a Bundt pan to do so

Microwave corn in bowl for about 5 -7 minutes. Let it cool

Or boil corn first, before removing from husk.

In a medium bowl, mix together all the dry ingredients; corn kernels, corn meal, green onion, bell pepper, jalapeno pepper, flour, minced garlic, cilantro, paprika, , and salt.

Then gently pour in milk you might have to add about a tablespoon or more to form a thick batter.

Finally add cheese if desired. Thoroughly mix, until the ingredients have fully combined.

Heat oil in a large nonstick skillet over medium heat. Working in batches, add about ¼-1/3 cup batter on skillet, Using the back of a cup or spoon gently press down on the ball to flatten, then fry until golden brown, about 3-4 minutes per side, depending on thickness.

Drain on paper towels before serving.

Best serve warm with cilantro dressing
Cilantro Avocado dip
Pulse or mash all the ingredients. Then add water or oil to desired thickness. Squeeze about half of lime juice with the the blended ingredients. Salt.
Nutrition Facts
Sweet Corn Fritters
Amount Per Serving
Calories 294
Calories from Fat 99
% Daily Value*
Total Fat 11g 17%
Cholesterol 30mg 10%
Sodium 746mg 31%
Potassium 417mg 12%
Total Carbohydrates 39g 13%
Protein 12g 24%
* Percent Daily Values are based on a 2000 calorie diet.