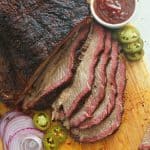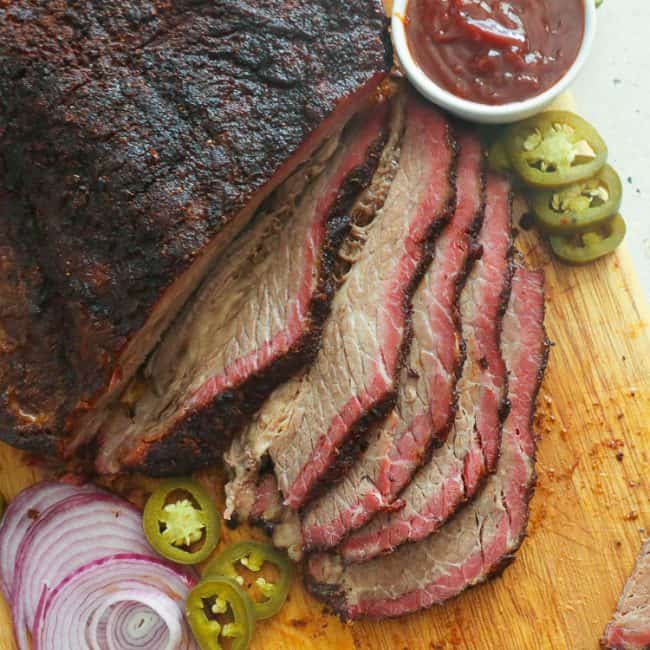 Print
Smoked Beef Brisket
Tender, flavorful, and super easy Smoked Beef Brisket makes a filling flavor-packed meal with aniconic melt-in-your-mouth sensation. You'll only need a handful of ingredients to achieve a juicy and meaty dinner that's totally worth the wait. The best part about this recipe is that it's such a simple recipe you can totally follow today!
Take the meat out: Place the meat fat-side-upon a chopping board

Trim the fat: Slice away the excess fat to let the smoky flavor penetrate the meat. Make sure to leave a layer of fat on the meat. this will keep our meat moist

Season the meat: Rub both sides with salt and pepper

Rub the flavors in: Rub both sides with your choice of mix, personally I go for the Immacualtebites homemade creole seasoning but you can also use whatever rocks your boat. Make sure to cover every inch.

Placement: Place the meat fat-side-up inside the smoker close the lid to start the cooking process

Remove and Rest: Once the internal temperature of the beef reaches 195 F, remove the meat from the smoker and let it rest for about 20 – 30 minutes. This helps all the natural juices to seep back into the meat.

Slice and serve: thinly slice the brisket and serve along with your favorite side.
Mix the dry rub in advance – If you have your homemade rub to really tweak the flavor, try making a batch in advance. This will save you time in mixing the dry ingredients.
Give it a little trim – If bought a brisket with excessive fat, you can trim that part away but I suggest leaving about ¼ inch of fat in just so it doesn't dry out easily. The excess fat may not render at all so it just prolongs the cooking time.
Fat side up – This is just a personal preference since I'm used to doing this. However, you can actually smoke your brisket fat side down. This is great especially when you have a lot of heat coming from below.
Properly rest – you're going to want to rest it for a bit, around 20 minutes. This is to let the juices seep back into the meat so that when you finally slice it, it stays moist.
Serving:
30
g
|
Calories:
82
kcal
|
Protein:
5
g
|
Fat:
5
g
|
Saturated Fat:
1
g
|
Monounsaturated Fat:
2
g
|
Sodium:
317
mg