Great tasting  Rum Cake With Rum Butter Sauce baked from scratch  without pudding mix and paired with rum butter sauce for that additional goodness.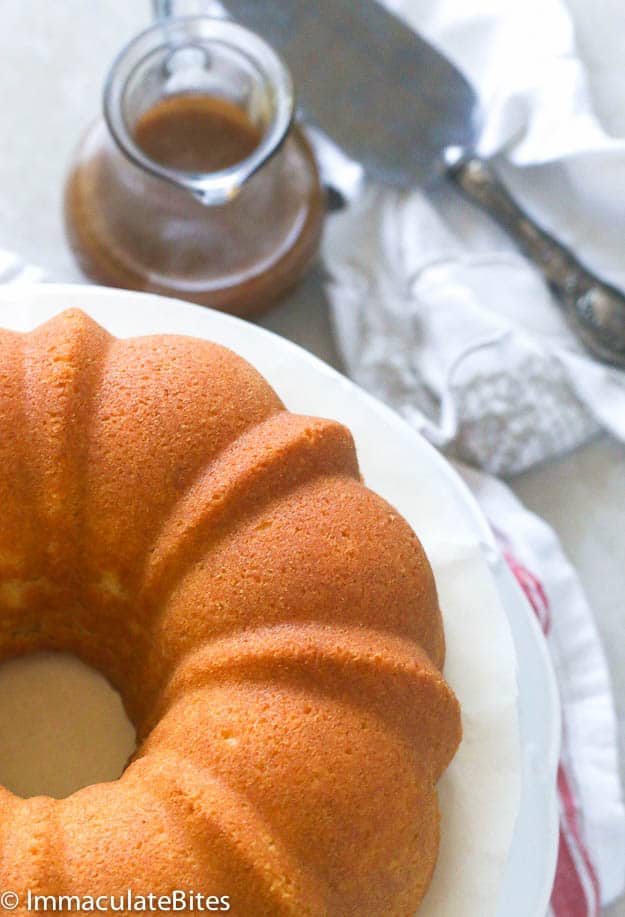 Rum cake?
What! another recipe with rum? 
Ok don't shoot me just yet.
 Forget about the rum, you do not have to include it anyways. Guess what? I even used the left over rum from this  rum glazed pineapple. You may do the same if you wish. It has a more deep brown color.
Let me tell you about this cake and how delightful it is.  It is adapted from Carole Walter's, absolutely BEST yellow cake. I guess when you label a cake the absolute best cake you are bound to get a lot of people poking at the recipe. What I have to say is that it is Sooo good- definitely a keeper.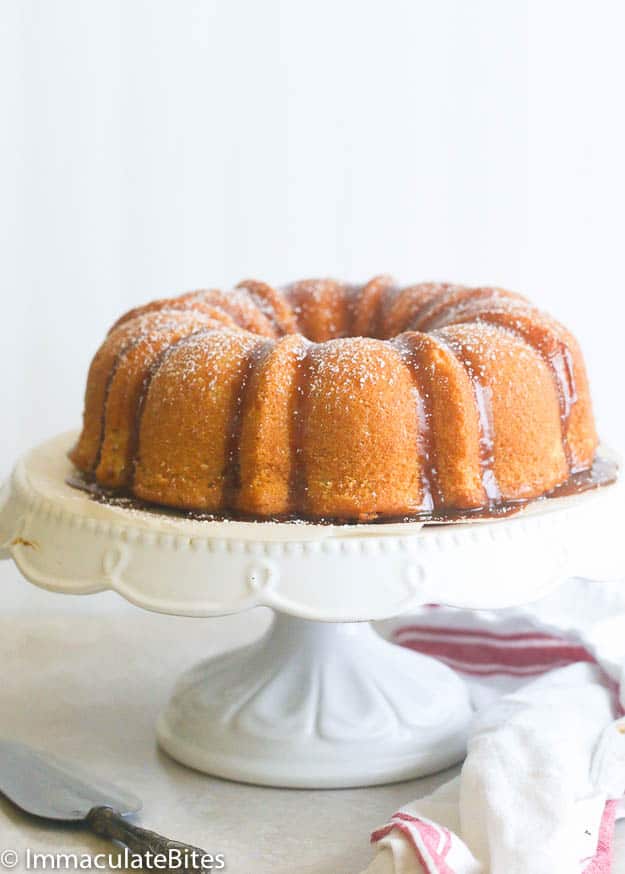 Though it is quite good I made a few adjustments, for you -to make it taste even better. You would love it!  I  reduce the sugar to 1 ¾ cups and upped the flavor with rum, and nutmeg.
So now are you still mad at me? A little bit?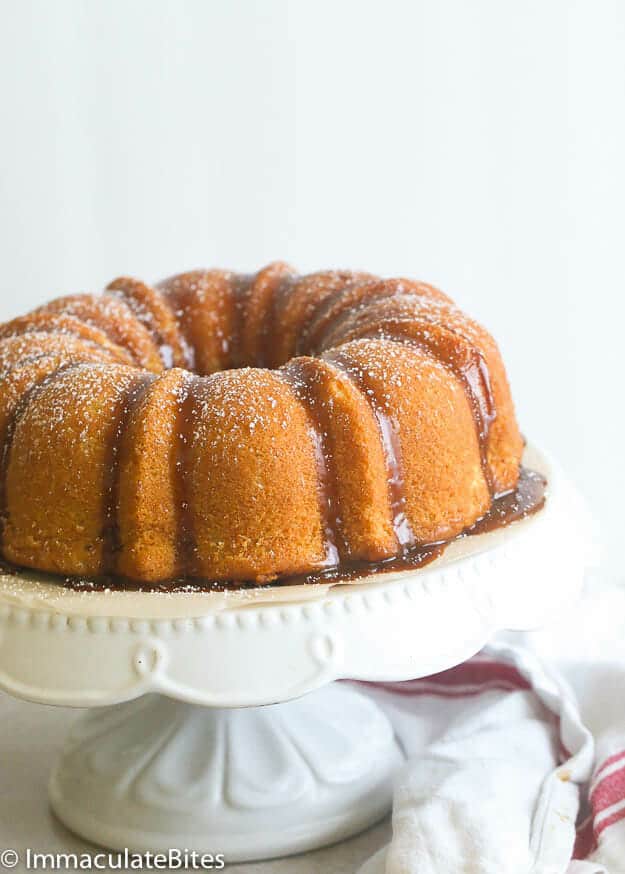 Ok, lets keep going, what makes this cake worthy? The texture- buttery, and dense – one that would have made my home economics teacher leap with joy. Did I also already mention it is great for soaking up the butter rum sauce? Because it is.
Now, If only I had this recipe when I was taking my finals, in school just maybe.. I would have got an A in her class. Sadly though, I had a B.
Rum reminds a lot of people of the holidays and the holidays is around the corner! Woohoo!!! And that means baking season i 
If for some reason you really do not want to be bothered with rum, you can ice it or use simple syrup to make it moist- without that it is not a moist cake- just tender. To tell you the truth, I love it with or without the sauce.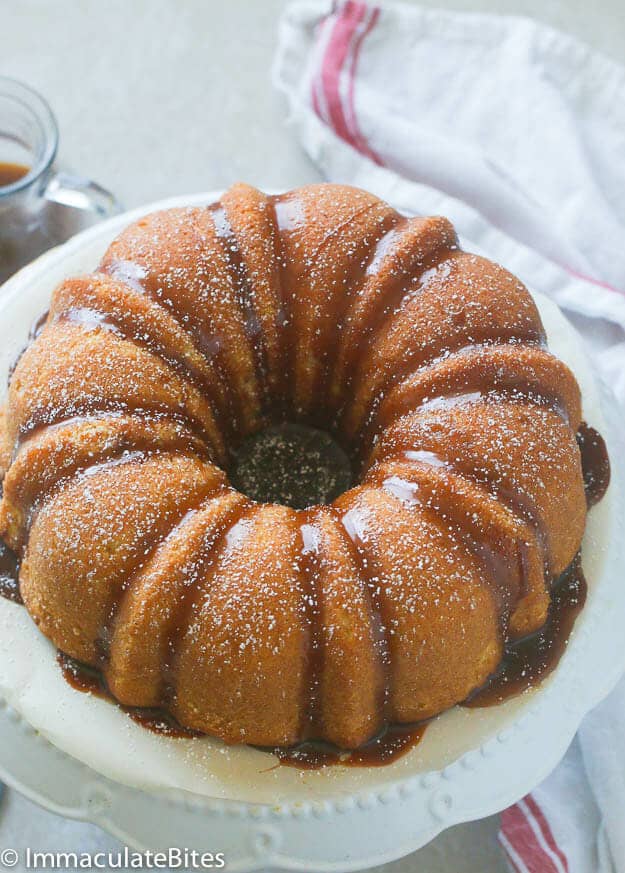 Enjoy!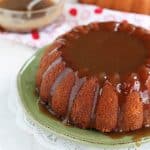 Rum Cake With Rum Glaze
Great tasting Rum Cake With Rum Butter Sauce baked from scratch without pudding mix and paired with rum butter sauce for that additional goodness.
Ingredients
10

ounce (284grams )

butter

2

cups (400grams)

sugar

4

large eggs

3

cups (360grams)

sifted cake flour

1

tablespoon

baking powder

¼

teaspoon

salt

1

cup (250ml)

milk

1 -3

Tablespoon

dark rum

1

teaspoon

vanilla extract

¾

teaspoon

nutmeg

RUM GLAZE

8

ounce

butter

½

cup

sugar

¼

cup

water

3

Tablespoon

dark rum
Instructions
Pre-heat the oven to 160°C/325°F.

Cream together the butter and sugar at high speed in a stand mixture until it's fluffy and starting to look white, about 5- 7 minutes.

Stir in the eggs, a one at a time, beating the mixture well between each one and adding a tablespoon of the flour with the last egg to prevent the batter from curdling.

Sift in the flour and baking powder into the batter, alternating with the milk –until fully absorbed by the mixture.

Then add , nutmeg, and vanilla extract

Stir well until everything is fully combined. Scrape down the sides of the mixing bowl.

Pour batter into a bundt plan or 2 greased 8- 9 inch bottomed tube pan and bake at 325 until a tester inserted into the center comes out clean, 45–50minutes. Transfer to a wire rack. Let cake cool in pan for 10 minutes.

Rum glaze

In a small saucepan combine butter, sugar, rum and water over medium heat. Bring to a boil and simmer for 3-4 minutes stirring constantly to prevent any burns. Remove from heat and cool slightly.

Poke little holes into the cake with a toothpick. Spoon the syrup over the cake and let it soak in. Let the cake cool to room temperature . Pour the remaining glaze over the cake
Recipe Notes
You can use a large bundt pan or use two 8 inch pan like I did. if you use a one baking pan you should extend the
Nutrition Facts
Rum Cake With Rum Glaze
Amount Per Serving
Calories 585
Calories from Fat 234
% Daily Value*
Total Fat 26g 40%
Cholesterol 128mg 43%
Sodium 298mg 12%
Potassium 222mg 6%
Total Carbohydrates 79g 26%
Protein 7g 14%
* Percent Daily Values are based on a 2000 calorie diet.