What can be a good chili powder substitute? I know you've probably noticed that I like to eat spicy food! Sometimes when I enjoy it too much I tend to forget that I've finished my stock of spicy things in my pantry. So here we are…
I grew up eating spicy food. In most of the Immaculate Bites recipes, there's always an extra profile of spice. I can't help it! That capsaicin makes food so much better for me. But, of course, I also make sure that my dishes are still as tasty even if I omit the chilies (for my friends that aren't much a fan of spicy food).
But what if you run out of it and someone in your guests just likes it extra spicy? No problemo, today let's talk about chili powder and what you can substitute with it.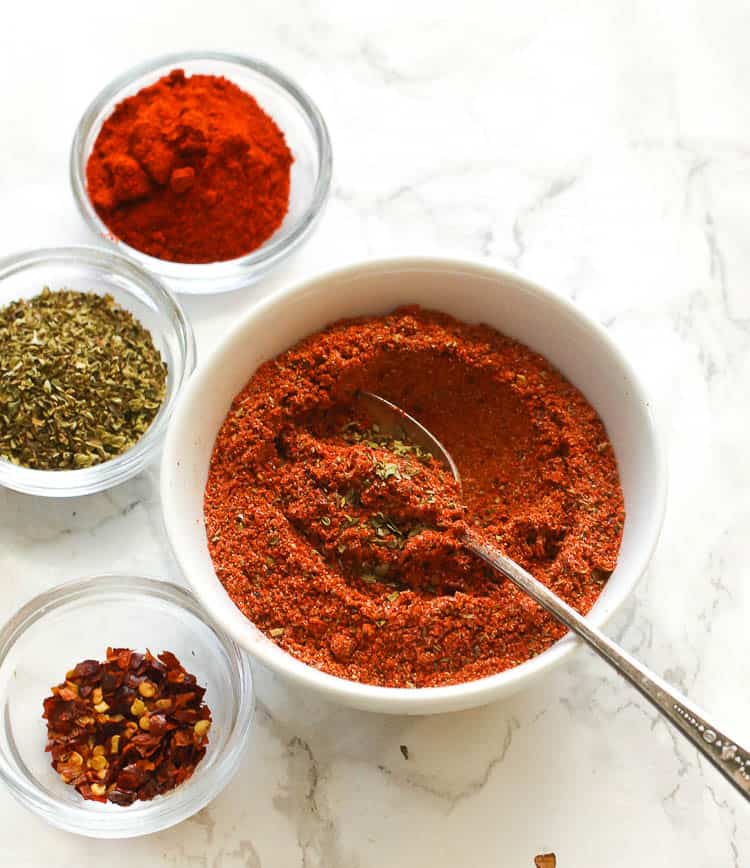 What's In A Chili Powder?
The ingredients in a chili powder are different kinds of chili peppers with an addition of other spices that can be cumin, ground oregano, onion powder, and garlic powder. Other seasonings such as salt and ground black pepper can also be included according to your preference.
Some Chili Tid Bits
Before you can identify which ingredient is a good substitute for chili powder, you should first know the flavor profile of that spice mixture.

There's a difference between chili powder and chili flakes. The first one is a blend of spices with chili pepper as its dominant ingredient while chili flakes are literally flakes of dried chili peppers.
The spice heat level is measured with the Scoville scale and can range from mild to extremely hot. So if you focus on the heat factor, then you can choose to use spicy chili peppers as the main ingredient.
Best Chili Powder Substitutes
1. Homemade Chili Powder
There are a lot of perks that you can get from making your own mix. First, you can be sure that there are NO unwanted preservatives and extra salt in your mix. Second, you can ensure the freshness of the ingredients (you know where your ingredients came from) and lastly, it saves you more money than buying a store-bought one.
Easy Homemade Chili Powder Recipe:
You can easily make it by using a hot variety of dried chili with a proportion of 1 tablespoon Chili powder to 1/4 teaspoon of other ingredients like onion powder, garlic powder, ground cumin, oregano powder.
Pro Tip: When starting with whole ingredients, you can roast them first to enhance the flavor in your spice mix. Then grind them together when it cools down. Store in an airtight container and always make fresh batches for maximum flavor.
2. Chili Flakes
That is the way to go if you want to enjoy that same spiciness level. Just look at its bottle's label and determine what type of chili pepper it is made of.
3. Scotch Bonnet Flakes
My favorite kind of chili! Its hot and fruity spiciness makes it a good chili powder substitute. You know how I love that in most of my Caribbean-inspired dishes.
4. Cayenne Pepper
This and chili powder can be interchanged in any recipe that it's called for. Cayenne is spicier than chili powder but it is also considered to be mild spicy compared to other types of pepper in the capsicum annuum family. (You can check out my taco seasoning.)
5. Chipotle Chili Powder
It's smoky-sweet and spicier (than ancho chili) and is made of ripe Jalapeño peppers. This powder is a staple in Mexican cuisine and utilized as a base ingredient for other sauces that they put into tacos, mayo, and enchiladas sauce.
6. Ancho Chilies
Also a good substitute for chili powder, this moderate spicy chili powder is made of poblano chiles. If you're going for a Mexican flavor profile, then this one also fits the bill. You can use it in soups, beans, fish, meat, and even cakes.
7. Hot and Spicy Tomato Sauce
You can make it by adding coriander, oregano, cumin, hot sauce, and salt. It's spicy and savory at the same time. It's like a hot sauce but it's thicker. Plus, you'll get the natural sourness of tomato which is fantastic!
8. Hot Sauce
Definitely! This hot liquid is also a good substitute for chili powder but in "liquid form". Don't sweat it if you can't find a ground or powdered spices and chilies, this one will work pretty well with stews, soups, marinades, and even to your dressings.
Can You Substitute Paprika For Chili Powder?
You can use paprika as an alternative to chili powder because it's a member of the same family as chili peppers. Although the flavor and spiciness of paprika are different from chili powder.
It's more on the sweet, smokey, and mild spicy side than spicy-hot. The most you can get of its similarity with chili is its vivid red color.
What's Not To Use As Sub To Chili Powder?
You surely can substitute chili powder with another blend of spices that will add heat to your recipe. But in some recipes where certain flavors are achieved with a good spiciness level, the substitute powder or ingredient SHOULDN'T be overpowering.

Curry powder has a lot of strong-tasting spices in the mix like cumin, ginger, fennel seed, cardamom, and many more. Though it's spicy and hot, all these aromatic flavors will surely change the taste of the food that you'll add it to.
Chinese mustard and wasabi

are both mainly used as condiments for typical dishes that they're added to. The main source of heat is the mustard seeds and rootstalk of Japanese Horseradish (wasabi).

The spicy taste and hot sensation come from the chemicals

that are developed by mashing or grating it.
Perhaps by now, we know that not all with heat can be easily used as a substitute for chili. Do you like your food spicy? What's your regular go-to chili substitute at home? Let me know in the comment section.