African Grill Chicken (kati kati) – grilled chicken, then sauteed to perfect with the right blend of spices to give you a lip-smacking chicken dish!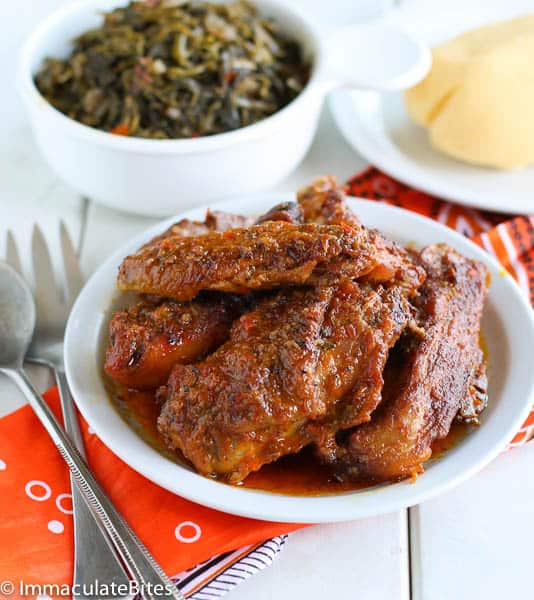 Kati Kati is in the house – people! You know I wouldn't just do you like that. Make fufu and Njama then leaving you hanging. Come on now- I am a nice person.
Are you ready for some fingerling chicken -African style?
Louder! Ok. You are ready So let's get started!
Kati Kati is one of the most ancient and distinctive dishes of the Nkom people, in the Northwest province of Cameroon. Yes, they do date back in time and they are definitely different- in a good way.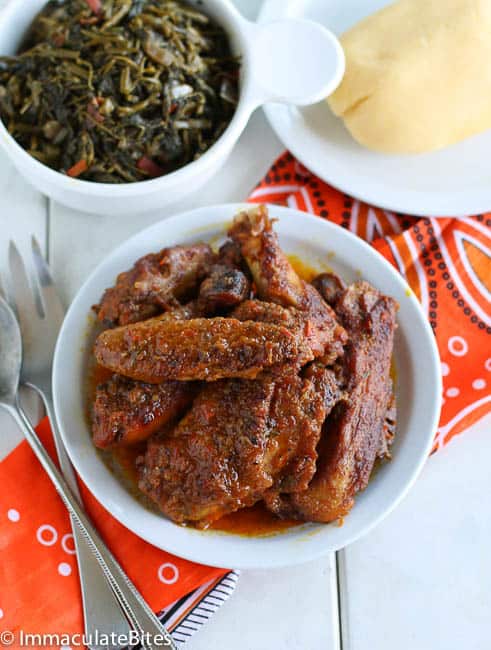 Made the traditional way, it starts with fresh-butchered organic chicken -roasted over open flame with salt and freshly grind pepper only.
Then it is lightly simmered in palm oil with Maggie (chicken bouillon) and served with corn fufu (polenta) and vegetables.
Here is my own version of this chicken; I upped the spices a tiny bit – not much; granulated garlic, onions powder and cayenne pepper (hot dried pepper) before grilling. Included tomatoes to make some sauce.(I hope you don't mind) . This is what makes this chicken so tantalizing.
If you are not into palm oil or adding oil to your chicken-I hear you!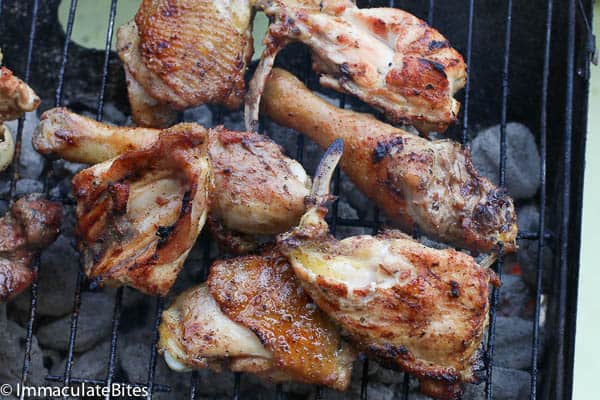 Forget about the oil-serve with any starchy side oil of choice.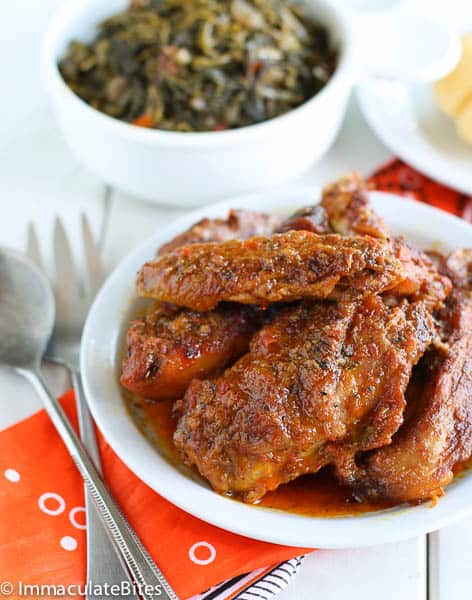 Use fresh chicken, if you can. In my neck of the wood (los Angeles) we have tons of places to get them a little bit pricy but worth it. There are several varieties – hen, rooster and the regular chicken (soft chicken). I like to get the rooster it is lean but the most flavorful of all the chicken- not too tough like the hen and can be fully cooked on the grill. What's not to love!
Now, don't even think of throwing away any parts of the chicken. Forget the breast and thighs – the neck, gizzard, feet and back are the best part !!!! No kidding!
Heck, I need to get my moneys worth.
You need to see me munching on them when no one is watching. I will wrestle with dogs for these bones. Beware! Keep your dogs away!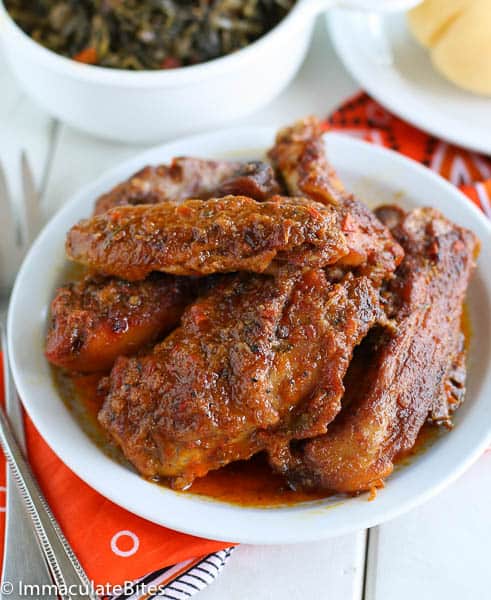 Ok, back to serious matter, I have reduced the amount of oil usually call for in Kati Kati because is just not necessary. HOWEVER, you may add more if you please … don't let me stop you.
Even if you want to want to add enough to swim in it, have a pool party. Who am I to say no. See I am giving you options here. So go make it
Don't forget to serve it with this stir-fry vegetable (njama njama) and fufu (cornmeal).
Please let me know how you like it.
Enjoy!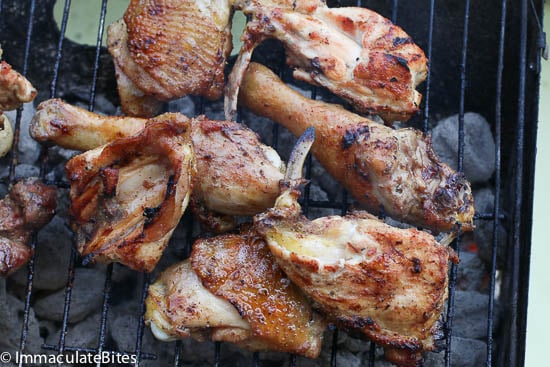 Print
African Grill Chicken (kati kati)
African Grill Chicken (kati kati) - grilled chicken, then sauteed to perfect with the right blend of spices to give you a lip-smacking chicken dish!
Ingredients
3-4

pounds

of chicken

skin- on cut up into desired pieces

1 ¼

teaspoon

salt

1

tablespoon

onion powder

1 ½

tablespoon

garlic powder

1

teaspoon

white pepper

½

teaspoon

cayenne pepper

1

teaspoon

bouillon powder

, you may replace with salt

Sauce

2

fresh tomatoes

½

cup

water or more as needed

Chicken bouillon to taste
Instructions
Trim chicken of excess fat and pat dry with a cloth or paper napkin.

In a small bowl combine the spices, onions, pepper, garlic, and Maggie.

Season chicken with spice rub.

Preheat a hot barbecue, grill, griddle or frying pan.

Place chicken on the grill coated with cooking spray; grill for about 20~30 minutes, rotating sides or until browned and almost cooked.

Blend tomatoes and set aside.

Heat up a large saucepan over medium heat –add palm oil to the pan and tomatoes puree. Sauté for about 4-5 minutes, stirring occasionally

Transfer the chicken to the saucepan and bring to a simmer over low heat, spooning the sauce over the chicken to coat.

Add about 1/2-1cup of water cover and cook until the chicken is well flavored by the sauce 4 to 5 minutes and thoroughly cooked through. Adjust for seasonings and oil

Remove from the heat and serve warm with fufu and njama njama.
Nutrition Information:
Calories:
185
kcal
(9%)
|
Carbohydrates:
16
g
(5%)
|
Protein:
5
g
(10%)
|
Fat:
11
g
(17%)
|
Saturated Fat:
3
g
(19%)
|
Cholesterol:
15
mg
(5%)
|
Sodium:
1856
mg
(81%)
|
Potassium:
125
mg
(4%)
|
Sugar:
1
g
(1%)
|
Vitamin A:
415
IU
(8%)
|
Vitamin C:
0.4
mg
|
Calcium:
31
mg
(3%)
|
Iron:
2.2
mg
(12%)
Nutrition Facts
African Grill Chicken (kati kati)
Amount Per Serving
Calories 185
Calories from Fat 99
% Daily Value*
Fat 11g17%
Cholesterol 15mg5%
Sodium 1856mg81%
Potassium 125mg4%
Carbohydrates 16g5%
Protein 5g10%
Vitamin A 415IU8%
Vitamin C 0.4mg0%
Calcium 31mg3%
Iron 2.2mg12%
* Percent Daily Values are based on a 2000 calorie diet.