Crispy Grilled Chicken Wings- Crispy on the outside, tender and juicy on the inside, and deliciously seasoned – that is the definition of perfect chicken wings. This recipe adds the awesomeness of a smokey flavor from the grill. These will be some of the best-tasting wings you've ever eaten.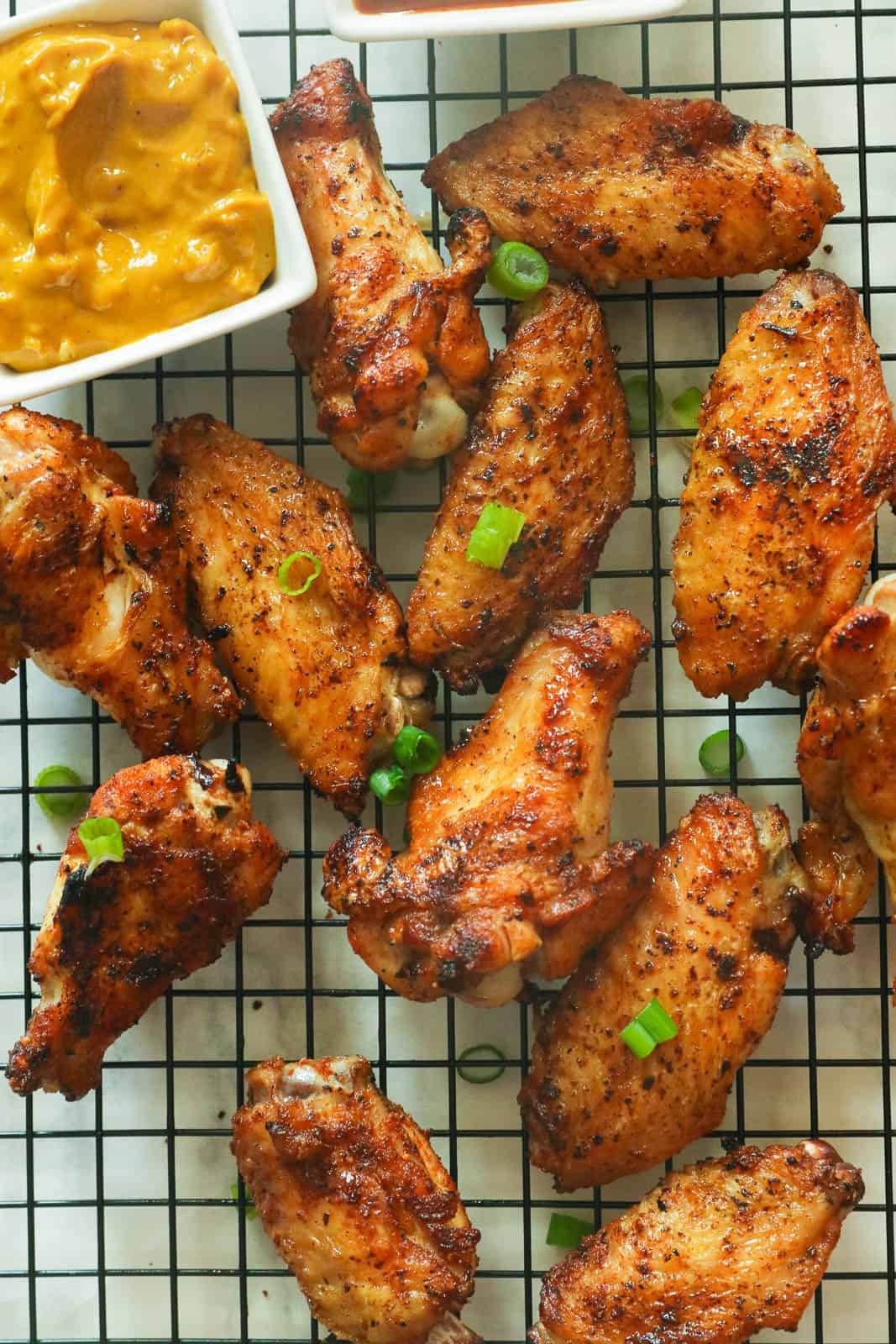 I don't know about you, but summer makes me want to grill everything. Being out in the beautiful outdoors surrounded by close friends is always a blast. And grilling up these tasty wings only adds to the fun.
This simple grilled chicken wing recipe is so good and has endless possibilities. You can make them super spicy, sweet, or tangy, however you like to eat your wings! The smoky flavor from the grill takes it over the top. And they pair perfectly with cold beer or cocktails when you're ready to party.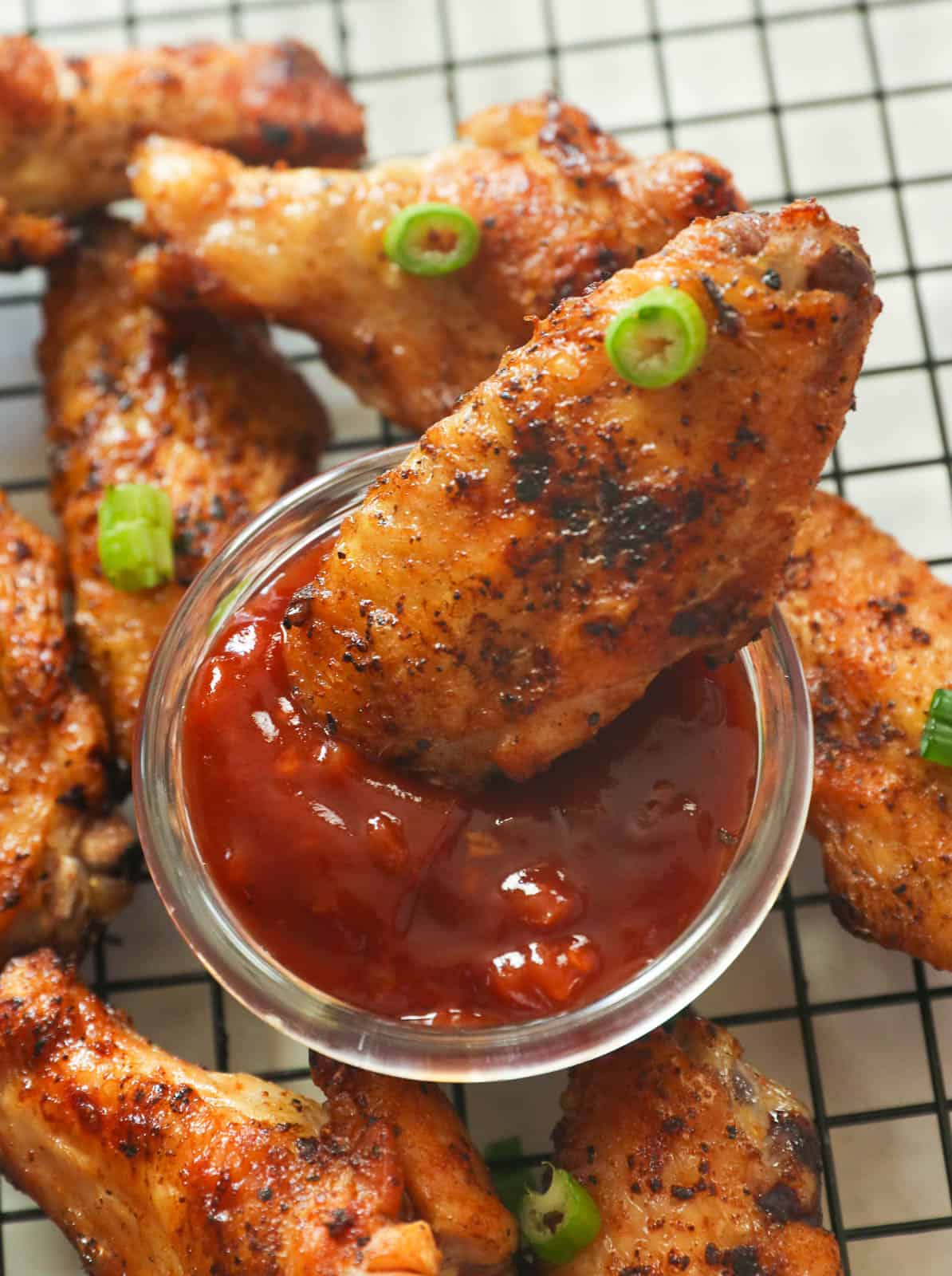 Super Easy Grilled Chicken Wing Appetizers
Crispy Grilled Chicken Wings make the perfect finger food. And you'll be amazed at how crispy these wings get without a fryer in sight. They come out perfectly seasoned and delicious on their own, but they're also tasty dipped in your favorite sauce. They're super effortless to make, but flavor and juiciness just might blow your mind.
Recipe Ingredients
Chicken Wings – You can buy the drums and wingettes or get the whole wings and cut them up yourself (the more economical choice). If you want to experiment with turkey wings, go for it. All you'll need to do is parboil them for about 10 minutes, dry them, season them, and slap them on the grill.
Seasoning – I use salt, thyme, onion powder, garlic powder, smoked paprika, pepper, cayenne, and a little brown sugar to balance the spice. Immaculate Bites Creole or jerk seasoning are also fabulicious.
Sauces – This recipe's beauty lies in being able to slather these with your favorite sauce. Caribbean pepper sauce, African pepper sauce, and remoulade are fantastic options.
How to Make Grilled Chicken Wings
Prep Chicken – Pat dry with a paper towel or kitchen towel. Dry chicken skin = crispy chicken wings.
Season the Wings – In a small bowl, combine the spices and coat the wings thoroughly. You can add a bit of oil to the chicken to help prevent sticking on the grill. Set chicken aside.
Grill – Prepare your grill and heat it for about 20 minutes at medium heat, then place the wings on the grill. Let them cook for 30 minutes, flipping every 5 minutes until golden brown and crispy. Watch the grill and move the wings around if you notice flare-ups.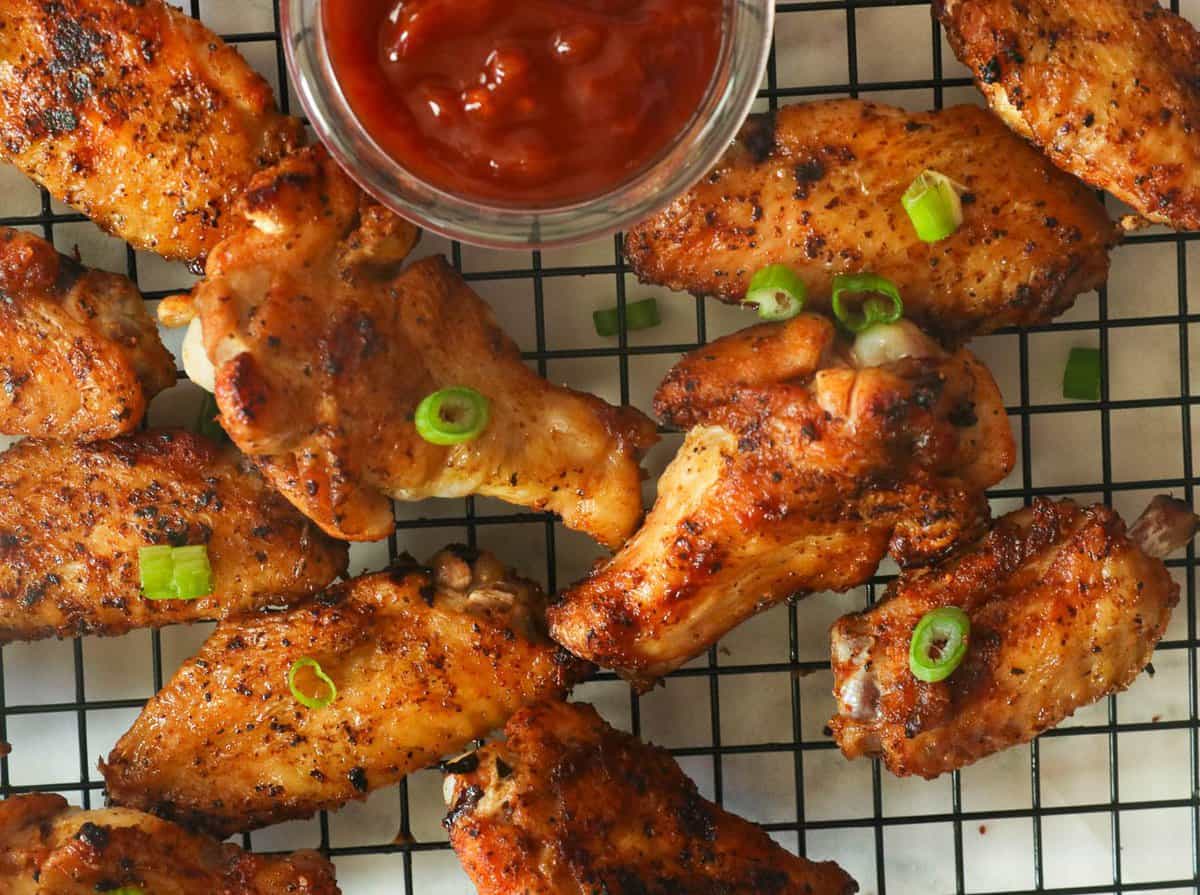 Recipe Variations
Experiment with different spice mixes and sauces to change up this incredible recipe. I love to combine taco seasonings with chimichurri and all-purpose seasoning with Peruvian green sauce.
You can make this recipe paleo- and keto-friendly by omitting the sugar. How easy is that?
Tips and Tricks
For extra crispy chicken wings, add a teaspoon of baking powder per pound to your spice mix. Then leave them on a wire rack uncovered in the fridge overnight.
If you want to increase the smokiness of the wings, try adding a chunk of hickory wood to your grill.
Make-Ahead Instructions
You can marinate the chicken wings the day before and keep them in the fridge. Take them out 30 minutes before you want to grill them so that they come back to room temperature.
These guys also freeze well. You can freeze them for two months, already seasoned and ready to go in a freezer ziplock bag.
Serving and Storage Instructions
These are best enjoyed hot off the grill with your favorite sides and sauces. The hardest part is waiting until you sit down to finish your wings. No judgment here!
Storing these wings is super easy. Just toss the leftover in a Tupperware or airtight container with a lid. They will stay delicious for about four days.
When you're ready to finish off those leftover chicken wings, you can reheat them in the oven, an air-fryer, or put them back on the grill. You could even heat them in a skillet on the stove. Microwaving will work, but don't expect them to get as crispy as before.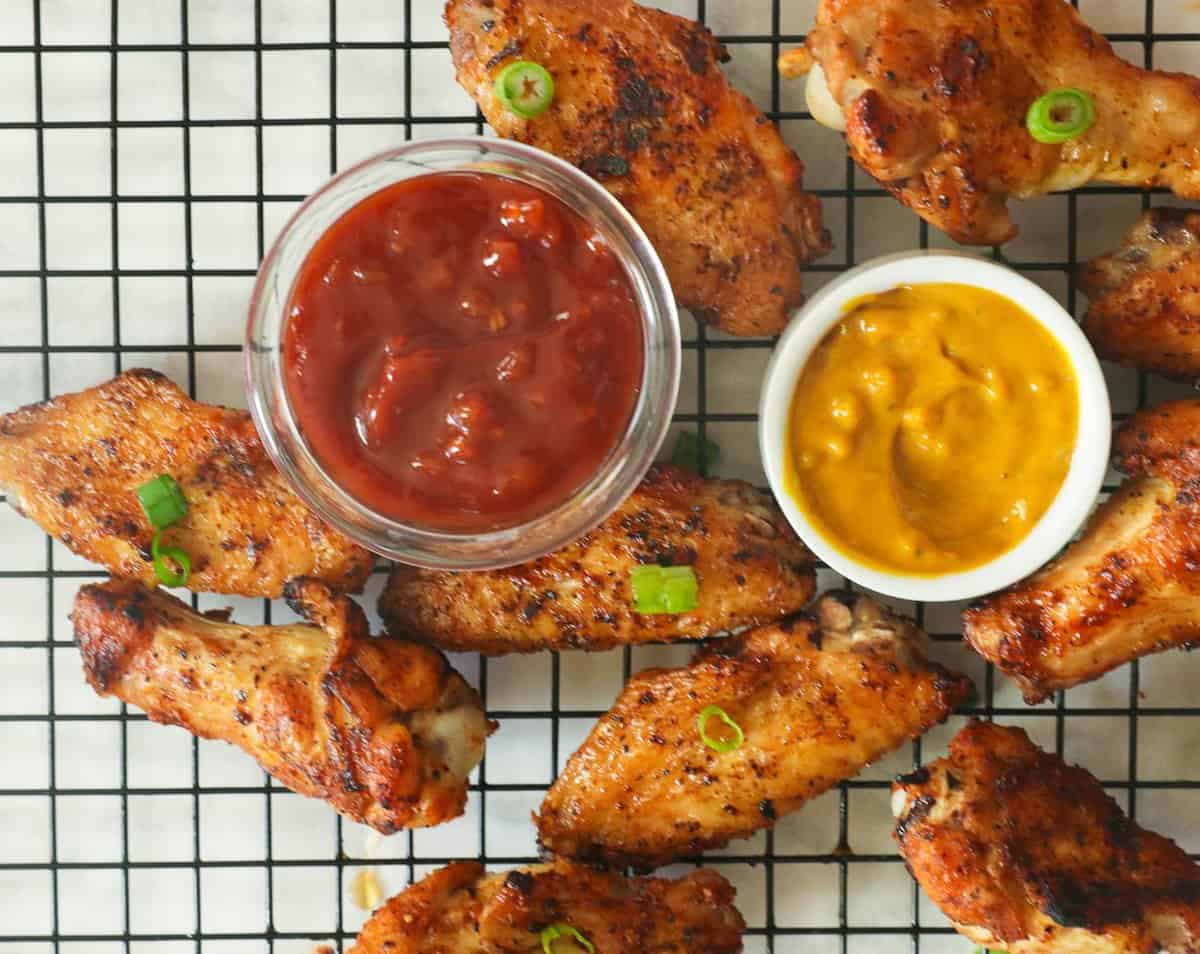 FAQs
How do I keep chicken wings from sticking to the grill?
You can lightly oil the grate on your grill and add a touch of oil to the chicken before putting it on the heat.
Should I marinate grilled chicken?
Of course! Chicken wings are great at absorbing marinade flavors. You can marinate your wings with a dry rub or a sauce, but the dry rub will give you crispier grilled wings.
How do you get chicken wings crispy on a grill?
High heat is a big help to get crispy chicken skin, but you want to be careful not to let it burn before the inside is cooked (165℉/74℃ internal temperature). Heat the grill to 450℉/232℃ and put the wings directly on the grate. Flip them every 5-10 minutes for about 30 minutes.
What to Serve With Crispy Grilled Chicken Wings
If you are grilling with friends, you will want some delicious sides to serve with your wings. Try my broccoli mac and cheese and a tossed salad for the ultimate comfort-food meal. Ambrosia salad is a light and fruity dessert perfect for a summer day.
More Delicious Grilling Recipes To Try
Conclusion
This crispy grilled chicken recipe comes together with minimal effort and will satisfy your craving for crisp, juicy, smokey, grilled meat this summer. What seasoning do you plan on using? Let me know what you did to make it extra special. ❤️
Watch How to Make It
This blog post was originally published in June 2018 and has been updated with additional tips, new photos, and a video.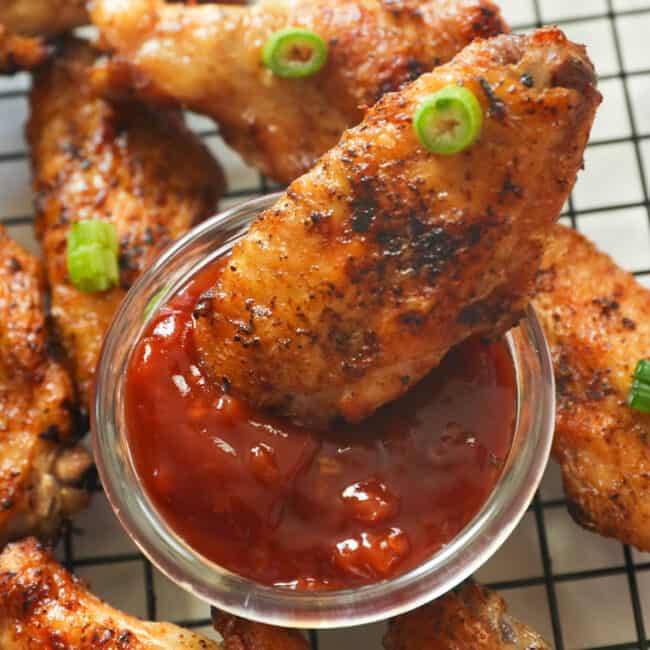 Print
Crispy Grilled Chicken Wings
Crispy on the outside, tender and juicy on the inside, and deliciously seasoned – that is the definition of perfect chicken wings. This recipe adds the awesomeness of a smokey flavor from the grill. These will be some of the best-tasting wings you've ever eaten.
Ingredients
3

pounds

chicken wings

2

teaspoons

thyme

1

teaspoon

salt

1

tablespoon

onion powder

1

tablespoon

garlic powder

1

teaspoon

smoked paprika

1

teaspoon

white or black pepper

½

teaspoon

cayenne pepper

1

teaspoon

bouillon powder

(or replace with salt)

2

teaspoons

brown sugar

(optional)

2-3

tablespoons

cooking oil

(for drizzling)
Instructions
Wash the chicken wings and dry them with a paper towel. (If you have time, you can allow them to air dry in the fridge.)

In a small bowl, combine thyme, salt, onion and garlic powder, paprika, white and cayenne pepper, bouillon powder, and brown sugar.

Place the chicken in a large plate or bowl, lightly salt, then mix with spice blend and drizzle with oil (to prevent the chicken from sticking to the grill).

When ready to grill, wipe down the grill and lightly oil—preheat to medium heat. Or, if using charcoal, fill it half full. Then light it up for about 20 or more minutes before.

Place chicken wings on the grill.

Let them grill for approximately 20-30 minutes, flipping every 5 minutes or so until they are golden brown. Keep an eye on them because the grill tends to flare up. (Try to move them around a bit to prevent flare-ups.)
Tips & Notes:
Make sure to dry the chicken well with a paper towel to ensure crispier skin.
Lightly oil the grilling surface to prevent flare-ups and the wings from sticking to the grill and keep a close eye on it.
Please keep in mind that the nutritional information is a rough estimate and can vary significantly based on the products used in the recipe.
Nutrition Information:
Serving:
240
g
|
Calories:
330
kcal
(17%)
|
Carbohydrates:
4
g
(1%)
|
Protein:
23
g
(46%)
|
Fat:
24
g
(37%)
|
Saturated Fat:
6
g
(38%)
|
Polyunsaturated Fat:
5
g
|
Monounsaturated Fat:
11
g
|
Trans Fat:
1
g
|
Cholesterol:
94
mg
(31%)
|
Sodium:
566
mg
(25%)
|
Potassium:
231
mg
(7%)
|
Fiber:
1
g
(4%)
|
Sugar:
1
g
(1%)
|
Vitamin A:
314
IU
(6%)
|
Vitamin C:
2
mg
(2%)
|
Calcium:
26
mg
(3%)
|
Iron:
1
mg
(6%)