Southern Caramel Cake – moist and tender layered-cake wrapped and sandwiched in real caramel goodness with that perfect gooey sweet combo. No candy thermometer required!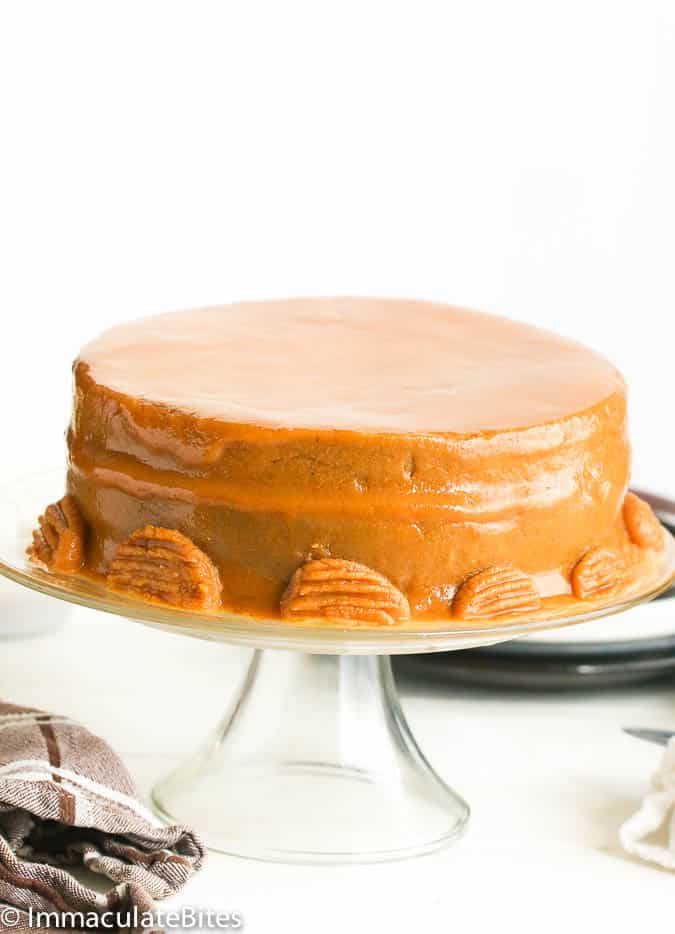 I didn't realize that I haven't shared this Caramel Cake on the blog when I've been indulging this for some time now. When fall season starts to kick in, you can find me whipping more apple and caramel combos up.
'Cause, hellooo, they're like the best fall combo ever! Seriously!!!
But it's usually the balanced sweetness and saltiness of caramel that makes my heart skip a bit more. I'm in love with anything caramel- A favorite from my childhood.
And since I'm a true-blooded cake-o-holic (check out my recent Hummingbird Cake here), caramel is the best way to add to your cake when you're talking about pure fall comfort food.
Can I get an applause here? (Thank YOU!!) )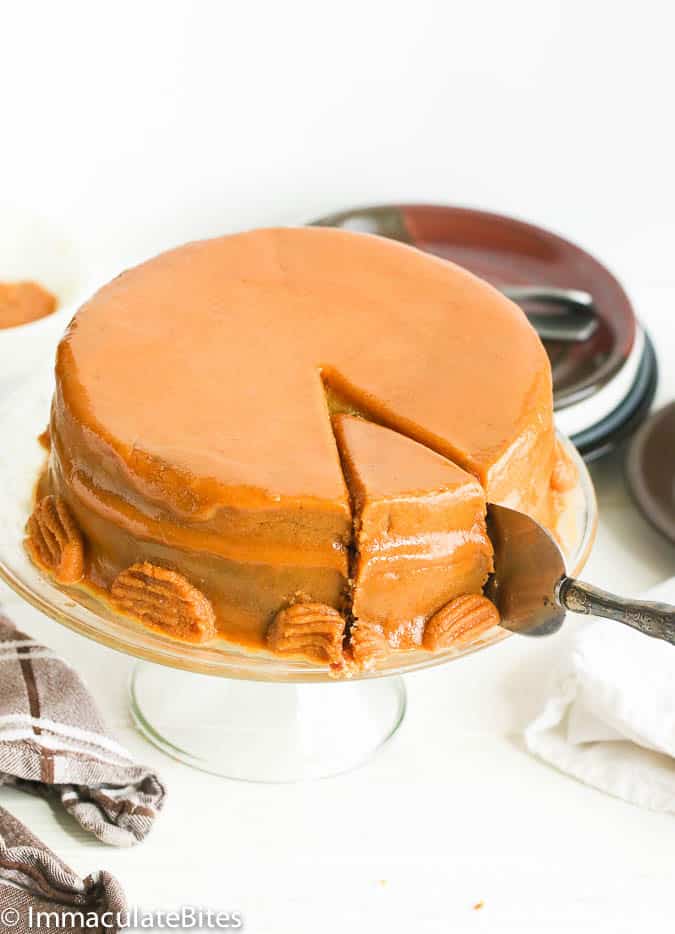 This caramel cake though can turn a full-grown happy adult to tears, as what it is known for. Why? 'Cause as much as you love this cake, it'll take even the finest bakers a couple of attempts and cake disasters before they hit the right spot. 
Yes, this layered cake here is pretty popular for being a tedious one. But it doesn't have to be. Trust me, I'm no talented baker. And I'm not just trying to simplify things. 
 As you can tell, this caramel frosting is indeed the star of the show. But you know what, it's actually an easy cake to make. Yes, now please hear me out.
Once you know the right tips in making the perfect caramel frosting, you'll be able to assemble and cover it all up in no time. Try it yourself. And you don't have to use a candy thermometer.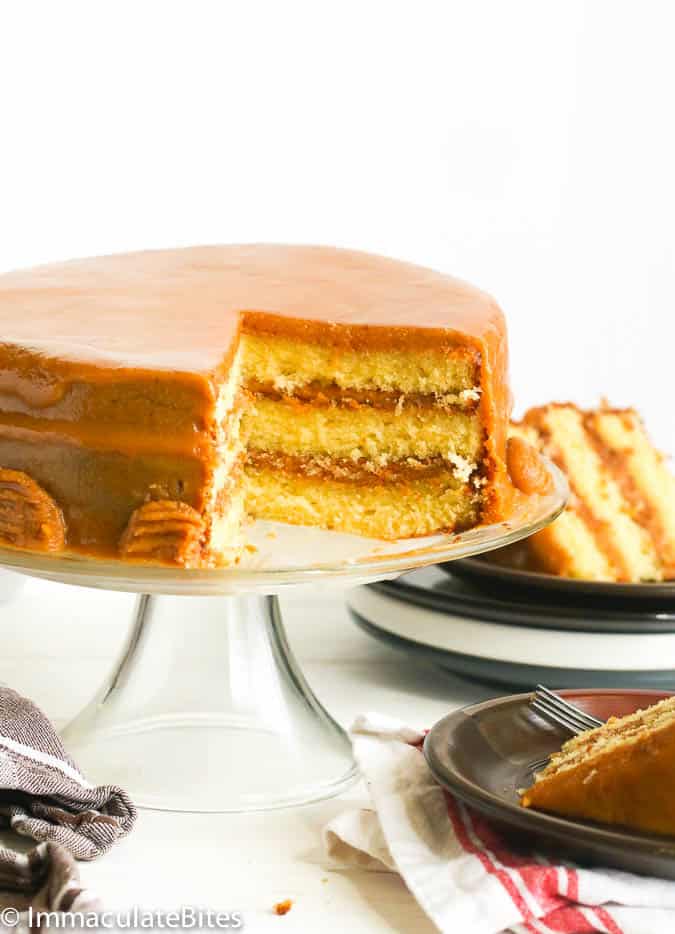 No eggs, no cream. You just need four ingredients (yes, FOUR) to make this frosting and just dump them all in a saucepan. Easy peasy, right? No continuous stirring! However, you need to keep a close watch while you make the frosting. 
It is also imperative too to use a 3 quart or bigger saucepan to hold all the frosting ingredients to avoid overspilling. This is kinda the old-fashion way, as they say.
Again, don't worry. I also had that self-doubt on my first attempt. But if I let my doubt won over, I wouldn't be able to master this incredibly indulgent cake.
If you're certainly up for a challenge, then this one's for you. After all, a slice of perfect salty and sweet caramel layered cake with caramel frosting should be worth all the trouble, right?
Now raise your whisk and whip up this perfect holiday cake. Cause this is another one to add to your celebration.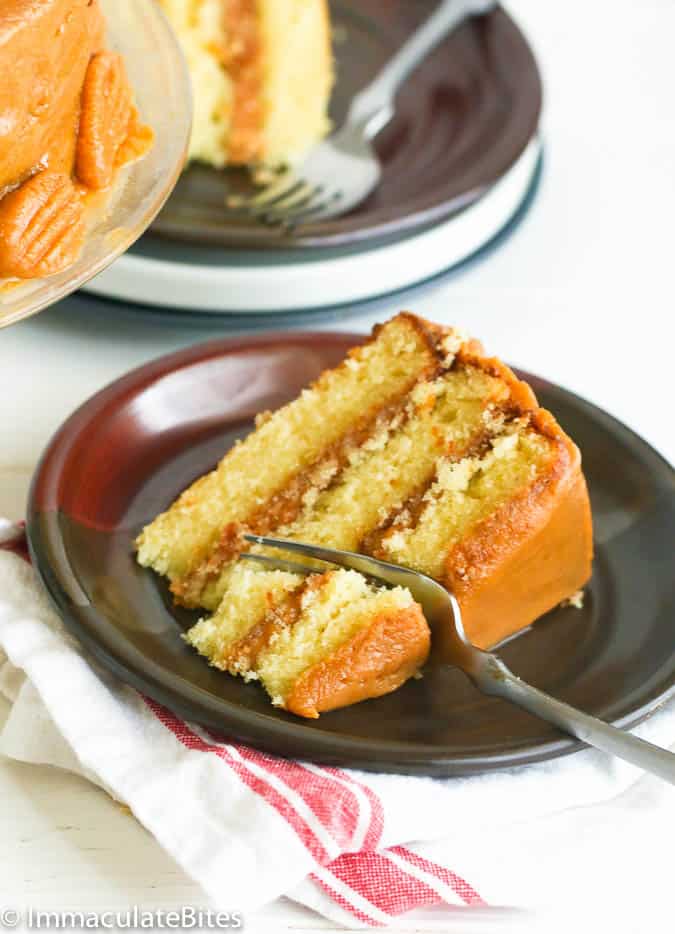 Tips and Notes:
Make sure to cool the cakes and level them before you doll them up with the frosting.
If you aren't quite ready yet, you can bake the cake layers in advance, cool and wrap them up tightly in a plastic and store them at a room temperature for a few days.
When making the frosting, you don't have to constantly stir it but you must keep a close watch on it.
Do not use any saucepan that is below 3 quart or it'll most likely to spill.
Before you start layering the cake, place a parchment paper on the cake stand so the bottom part won't stick to it.
Make sure to dab a couple of tablespoons of frosting on the cake stand before placing the first cake layer. This ensures that it stays in place and it doesn't slide off.
While the frosting is still a little warm, start frosting the cake with a little amount, enough to fill the cake. Then pile the rest of the cake.
Work as quickly as you can since the frosting will begin to set as it cools. You can also dip your offset spatula in warm water to prevent the frosting from sticking on it while spreading the frosting around the cake.
If the frosting gets too thick, add a teaspoon of hot water into it and blend it up to loosen a bit using a hand mixer.
Let the icing set completely before you serve the cake.
Don't forget to check out these other cakes Classic Red Velvet Cake Recipe here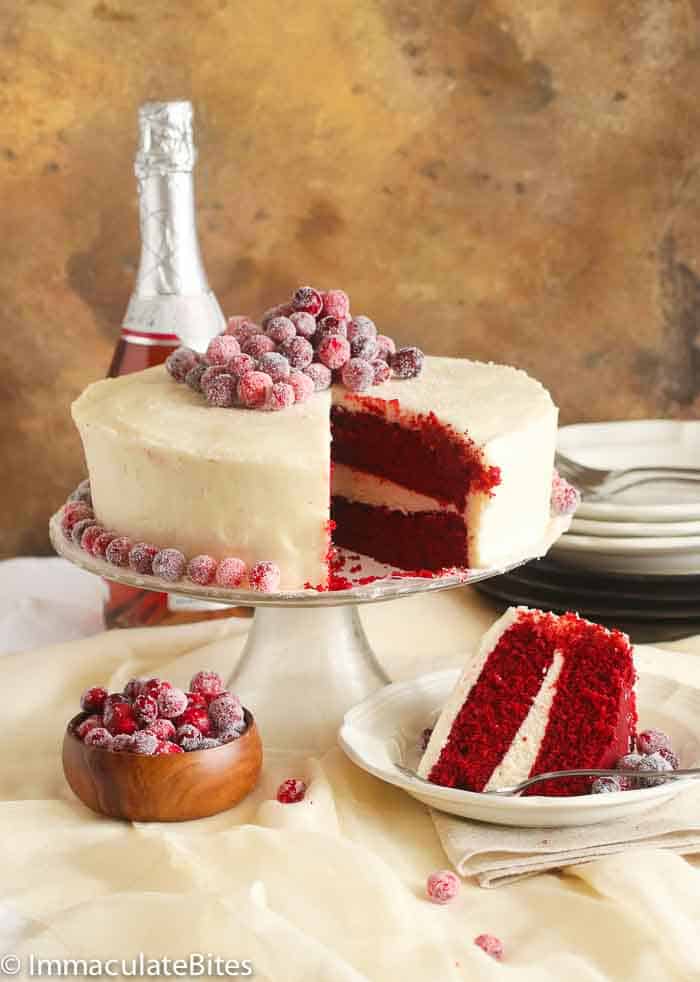 Or this Hummingbird cake – Get the recipe here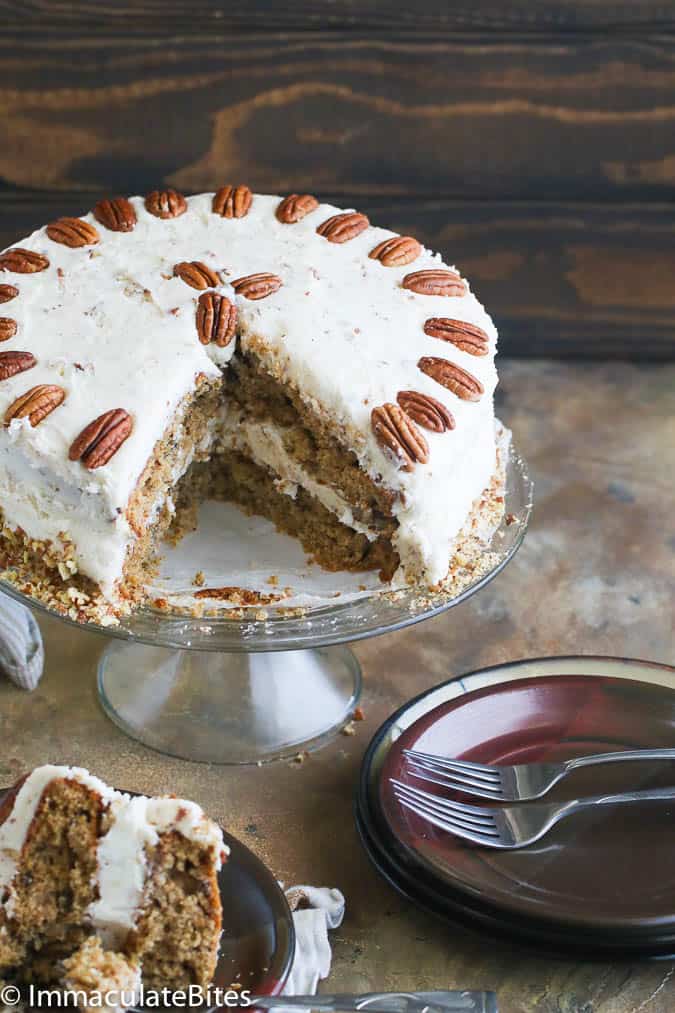 And this Italian Cream Cake. Get the Recipe here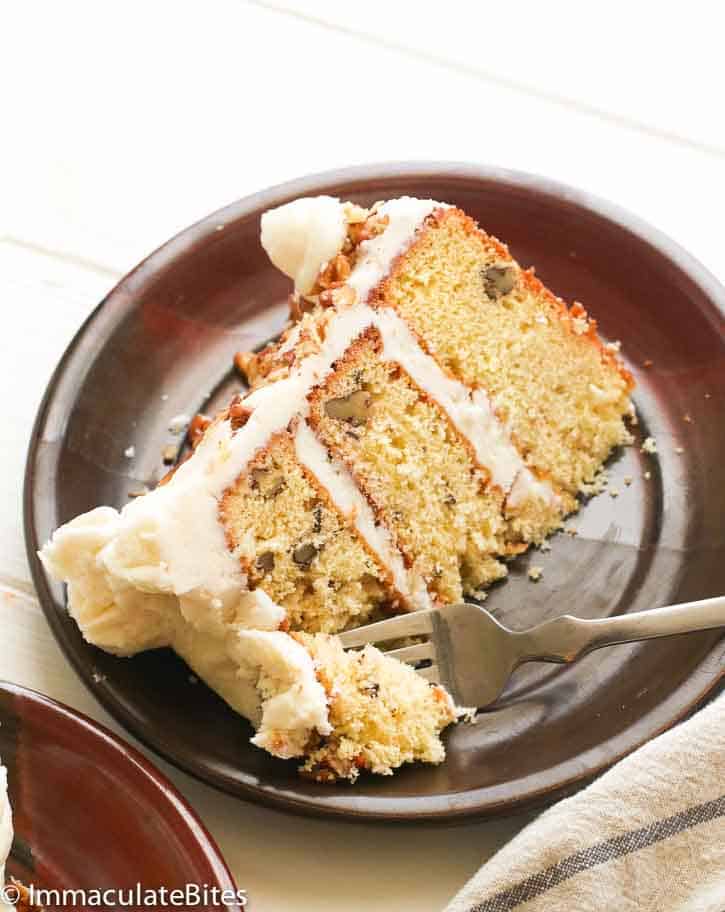 Enjoy!!!
Watch How To Make It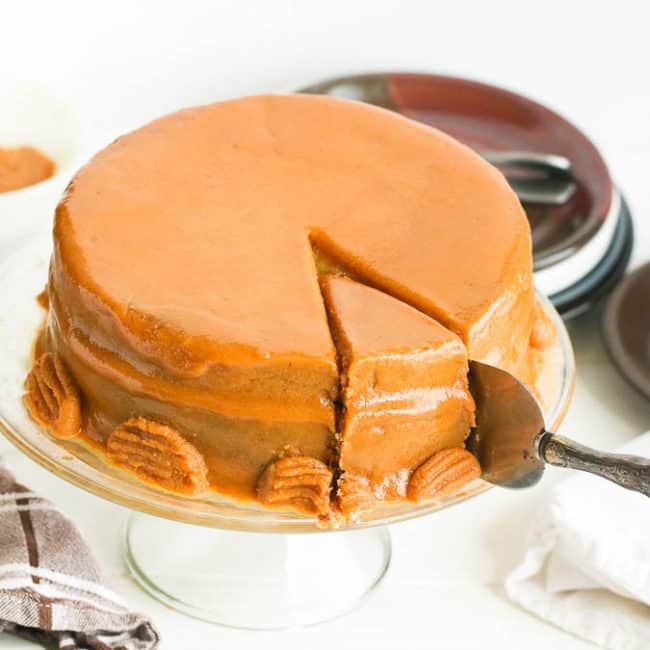 Print
Caramel Cake
Southern Caramel Cake – moist and tender layered-cake wrapped and sandwiched in real caramel goodness with that perfect salty and sweet combo.
Ingredients
10

ounce

(283 grams), (1 cup and half a stick) unsalted butter

2

cups

(400 grams) granulated sugar

6

large eggs

2 1/2

cups

(266.5 grams) cake flour

½

teaspoon

(3.25 grams) salt

1

tablespoon

(15 grams) baking powder

½

cup

(115 grams) milk

½

cup

(115 grams) sour cream

1

tablespoon

(13 grams) vanilla extract
Caramel Frosting
1 1/2

(113-169 grams) stick of butter

2

cups

(400 grams) granulated sugar

1 ½

can

12 oz. evaporated milk (531 ml)

1

teaspoon

(4.20 grams) vanilla
Instructions
Pre-heat the oven to 160°C/325°F. Grease a 3 inch x 9 inch pan generously with cooking spray and set aside.


Cream together the butter and sugar at high speed in a stand mixer until it's fluffy and starting to look white - about 4 to 5 minutes. Add sour cream and mix for another minute.


Stir in the eggs, a little at a time, beating the mixture well between each addition. Sift in the flour, salt and baking powder into the batter, and then add milk and vanilla extract.


Stir well until everything is fully combined. Scrape down the sides of the mixing bowl.


Pour batter into the greased cake pans into three equal parts. Tap pans on work surface to eliminate any large air bubbles.

Bake at 325 F until a tester inserted into the center comes out clean - about 30-35 minutes. Transfer to a wire rack.

Caramel Frosting
Add butter, evaporated milk, and sugar to a 3 quart or larger saucepan. (It's imperative that you use a bigger sauce pan for this. The caramel might spill over if using anything smaller than 3 quart.)


Cook over medium heat until everything has melted together.


Bring to a boil then reduce heat so the caramel mixture boils gently . Cook uncovered while stirring periodically for about 1 -1 1/2 hours – or until sauce thickens and you've reached the desired color.

Remove from heat and add vanilla extract . Let it cool about 30-40 mins before glazing

Glaze cake; top the bottom, second and exterior layer with caramel . Let it cool completely cake until set.

Nutrition Information:
Calories:
581
kcal
(29%)
|
Carbohydrates:
82
g
(27%)
|
Protein:
4
g
(8%)
|
Fat:
27
g
(42%)
|
Saturated Fat:
16
g
(100%)
|
Cholesterol:
164
mg
(55%)
|
Sodium:
173
mg
(8%)
|
Potassium:
204
mg
(6%)
|
Sugar:
80
g
(89%)
|
Vitamin A:
910
IU
(18%)
|
Vitamin C:
0.1
mg
|
Calcium:
104
mg
(10%)
|
Iron:
0.6
mg
(3%)
Nutrition Facts
Caramel Cake
Amount Per Serving
Calories 581
Calories from Fat 243
% Daily Value*
Fat 27g42%
Cholesterol 164mg55%
Sodium 173mg8%
Potassium 204mg6%
Carbohydrates 82g27%
Protein 4g8%
Vitamin A 910IU18%
Vitamin C 0.1mg0%
Calcium 104mg10%
Iron 0.6mg3%
* Percent Daily Values are based on a 2000 calorie diet.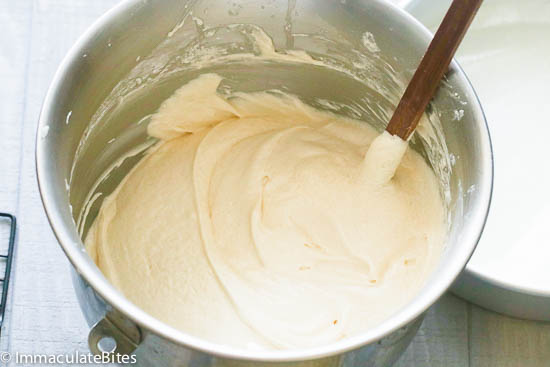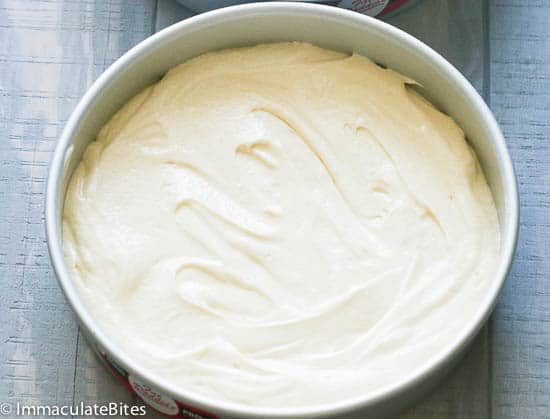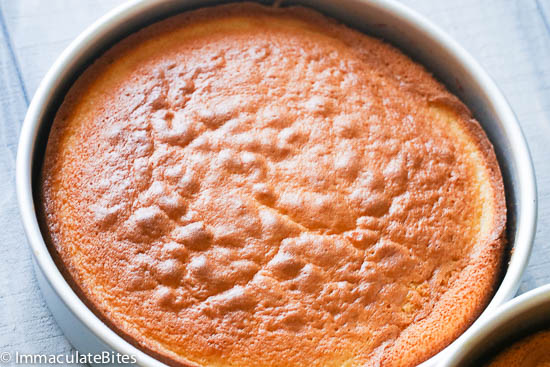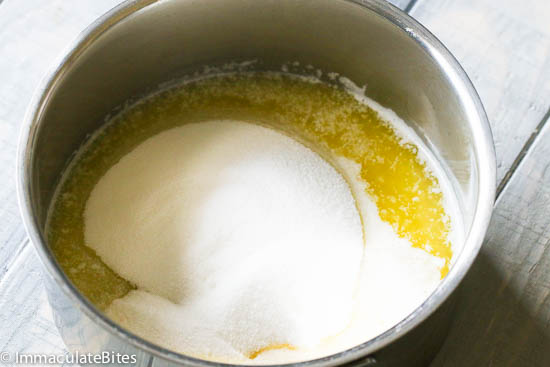 Add butter, evaporated milk, sugar to a 3 quart or larger saucepan. It's imperative that you use a bigger sauce pan for this. The caramel might spill over, as it boils if using anything smaller than 3 quart.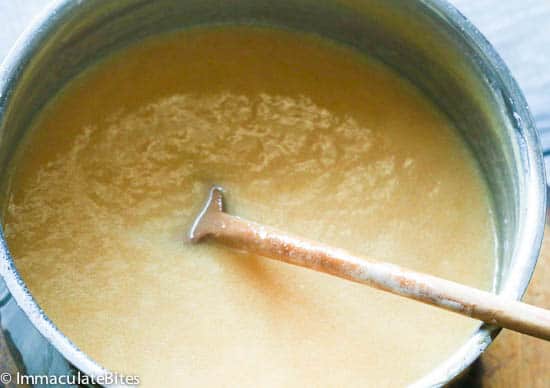 Half way throw cooking it would continue to have a pale color – just keep stirring, frequently with a wooden spoon or resistant spatula to knock back the foam.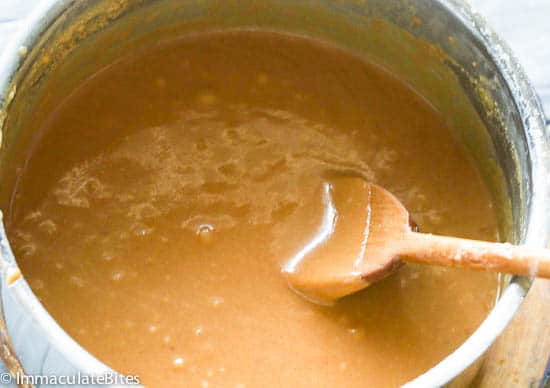 Don't walk away from it. You have to keep a close watch on the sauce.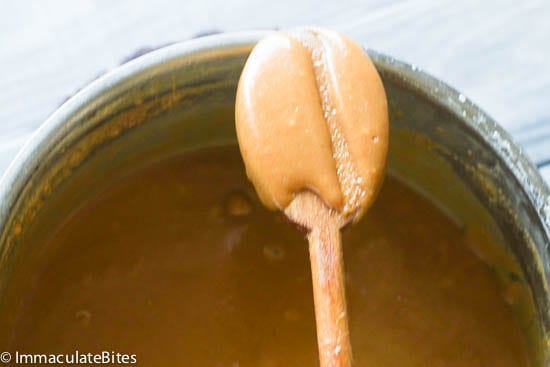 Cook until the sauce thickens and turns into a golden brown color – an easy way to check for thickness is to  dunk a spoon into your pot, pull it out and quickly run your finger down the back of the spoon. If the caramel does not run and the little path you have drawn holds it's shape, then it's thickened.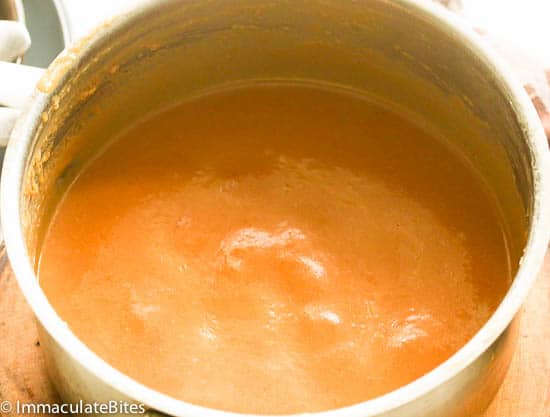 As sauce cools down it thickens even more and can turn into a thick paste while cold. So it's best to let it cool about 30-40 minutes before adding to cake.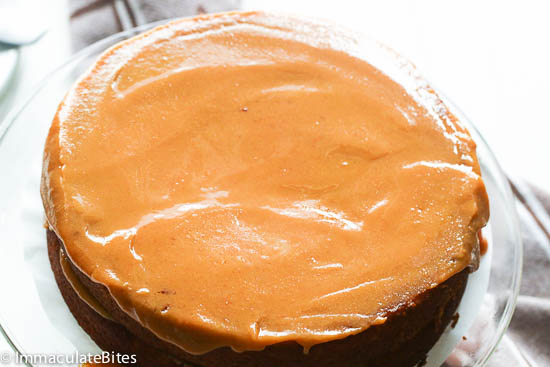 SaveSave
SaveSave
SaveSave
SaveSave
SaveSave
SaveSave
SaveSave