Rum Glazed Pineapple – pineapple slices soaked in rum glaze and then grilled with beautiful grill marks. Top it with ice cream for a wonderful dessert!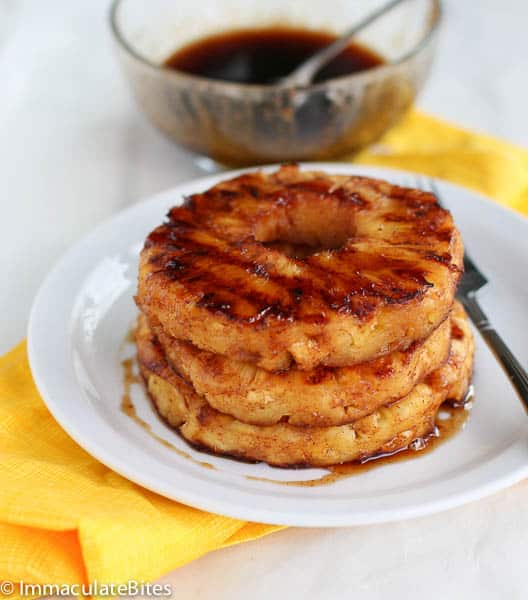 Oh my words, Oh my words, YOU GUYS!!
These rum glazed pineapple topped with vanilla ice cream is ridiculously good. The best part is that is it is easy to put together and now is the time to do it. You know why? Because it is pineapple season they are everywhere this time of the year – juicy and sweet and this one is caramelized.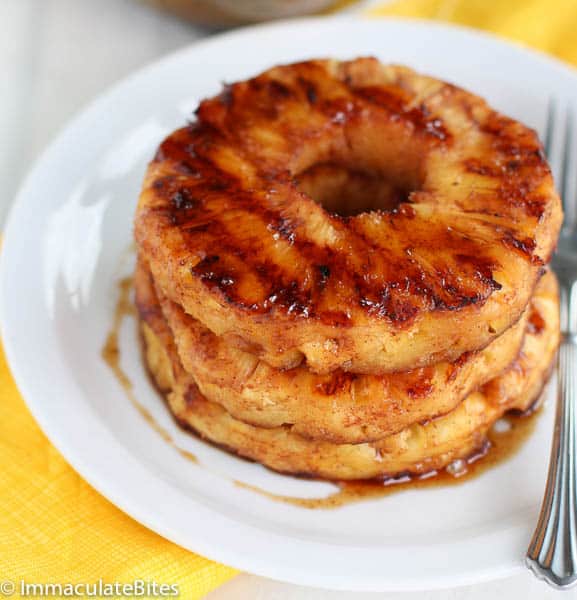 Although I have to say any pineapple will work for this recipe.
Ok, I have to tell you about this rum glazed pineapple. You see for the past three weeks this rum glaze pineapple was laying around in my computer. No not this one -silly. Another version of glazed pineapple -not just blog worthy.
Yes, you do have to take a test to be featured on this blog.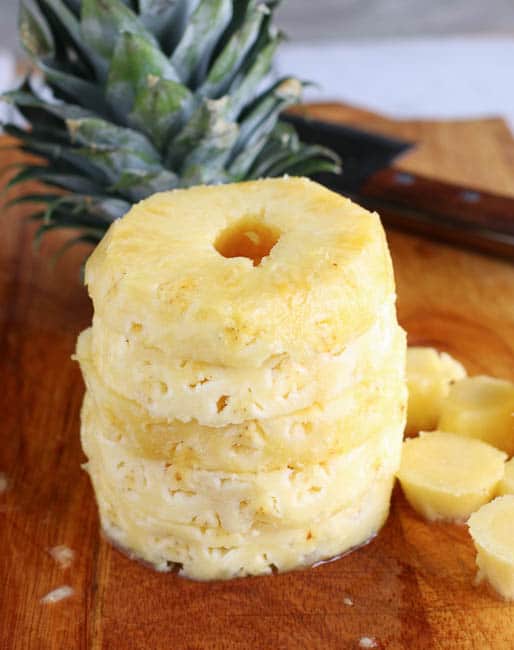 If you don't measure up, I put you on foot patrol. And it was doing it's around, until I stumbled upon this pineapple rum from Ali, the blogger behind "gimmesomeoven"
That did it ! Pineapples soaked in rum glaze. Duh! Why did I not think of soaking mine in the sauce?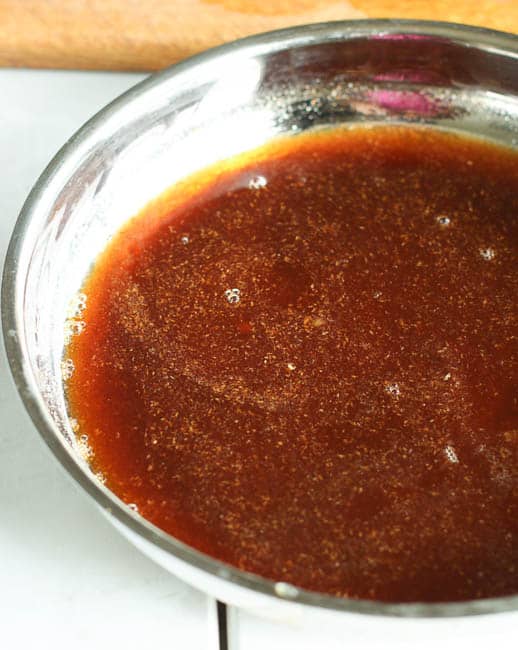 One small change that makes a huge difference!
Rushed out of the house got not one, not two, but three pineapples to put it to the test.The testing is the best part of blogging and of course, you guys too! You brighten up my day, with all the lovely messages you send to me-PRICELESS!
Anyways, back to this this pineapple,If horses were wishes, I would jump right in and soak up on this rum glaze – make friends with the pineapples and take a rum glaze bath. If only.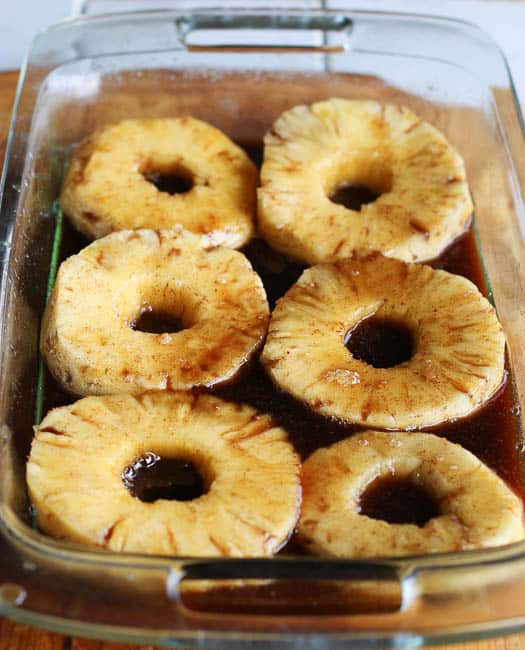 .
The next best thing would be to double the sauce – oh yes, I did that but kept the rum the same!( Can't tolerate alcohol too well).
Wow! I started doing the happy dance as soon as I made the sauce. (I 've got moves you know.)
It is "out of this world" good- beating all the rum pineapple, I have ever had the pleasure of making or enjoying at a restaurant.
This! My friends, is a keeper!
Top with ice cream and drizzle with rum sauce- you are in Dessert heaven.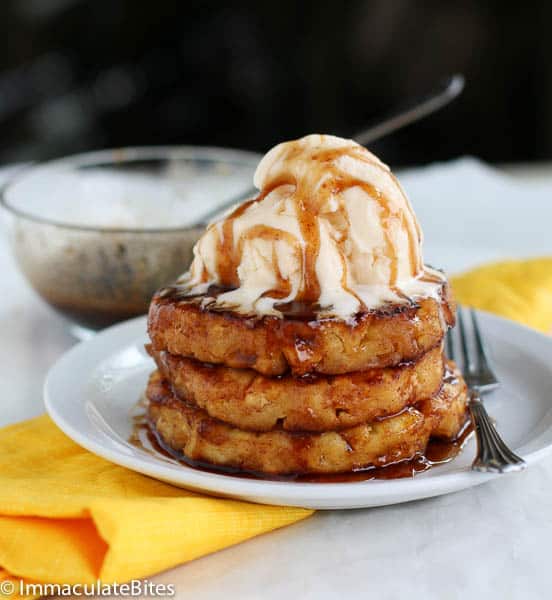 I have used up all the other two pineapples and offering to make it for any one that visits and they share my sentiments.I can't wait to make this for my sister when she visits – she is going to flip. She doesn't understand why you need to go through all this trouble with pineapple. She will soon.
Enjoy!
Watch How To Make It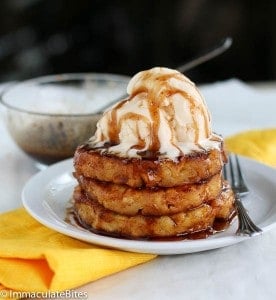 Print
Rum Glazed Pineapple
Rum Glazed Pineapple – pineapple slices soaked in rum glaze and then grilled with beautiful grill marks. Top it with ice cream for a wonderful dessert!
Ingredients
1/2

cup

dark rum

1/2

cup

water

or more rum

1

cup

packed brown sugar

1

tsp.

ground Cinnamon

I used half cinnamon and half nutmeg

1

pineapple

cored and cut into about 1 inch or 6-8 rings

Ice cream

coconut or vanilla
Instructions
In a small bowl, combine, brown sugar, rum , nutmeg and cinnamon.

Place the pineapple in a glass pan in a single layer. Then pour all the mixture over the pineapple. Coat pineapples with the sauce the let it sit for about 15-20 minutes

When ready to grill remove pineapple and let it drain then pour the sauce in small sauce -pan and bring to a simmer.

Let it simmer until reduced by half – about 6-8 minutes. Set aside

While the sauce is simmering away –place a grill pan or skillet on medium high heat.

Grill pineapple for 2 to 3 minutes per side, or until heated through and grill marks appear. Watch out for this step- they do grill pretty fast. Set it on a plate. Repeat with the remaining pineapple slices.

Transfer on a serving plate, top with ice cream and drizzle with sauce.
Tips & Notes:
Recipe Adapted from Here http://www.gimmesomeoven.com/easy-grilled-pineapple-recipe/
Nutrition Information:
Calories:
316
kcal
(16%)
|
Carbohydrates:
68
g
(23%)
|
Protein:
1
g
(2%)
|
Fat:
1
g
(2%)
|
Saturated Fat:
1
g
(6%)
|
Polyunsaturated Fat:
1
g
|
Monounsaturated Fat:
1
g
|
Sodium:
16
mg
(1%)
|
Potassium:
261
mg
(7%)
|
Fiber:
3
g
(13%)
|
Sugar:
61
g
(68%)
|
Vitamin A:
108
IU
(2%)
|
Vitamin C:
87
mg
(105%)
|
Calcium:
71
mg
(7%)
|
Iron:
1
mg
(6%)