Skip the guesswork and learn HOW TO CUT A PINEAPPLE in many simple different ways and know when to use them. This is a pineapple guide on the next level!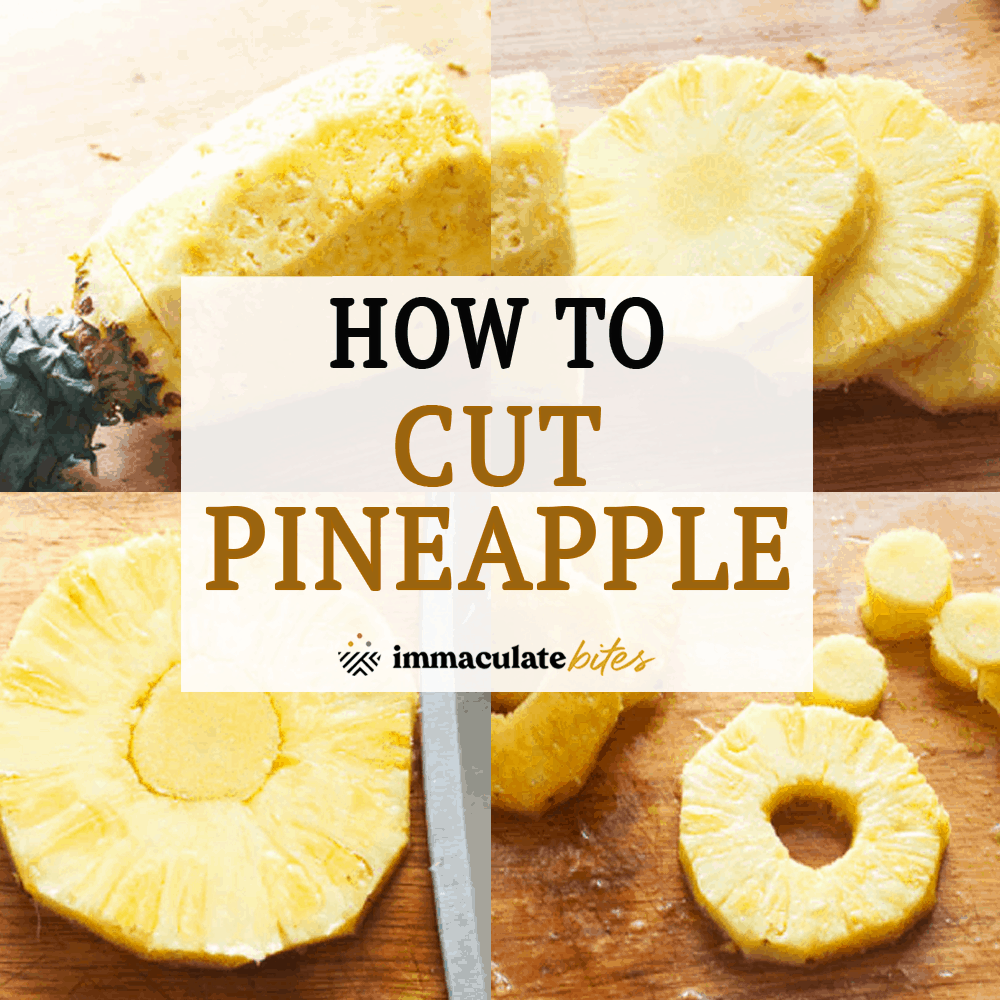 Just the scent of a ripe pineapple brings me to the pacific islands and Hawaii. The nostalgic sweet zingy taste of this fruit makes me feel like my feet are under white warm powdery sand. Often times, I drink or eat pineapples as a reward for a hard day's work because it eases my stress and makes me feel comfortable. In short, pineapple is a natural stress reliever! Agree?
Not only does this power fruit have a heavenly "island getaway" sweetness, but it also packs a great deal of nutritional value; from boosting your immune system to fighting diseases with its antioxidants. Which is what we actually need during these times when being healthy is our number one priority.
But not everyone knows how to slice pineapple and reap its bountiful benefits. That's why, today, you will be your own Tiki Queen by learning how to cut a pineapple in different shapes and sizes.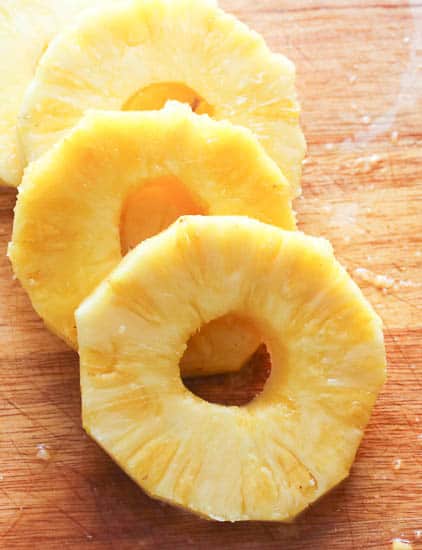 How to Tell if a Pineapple is Ripe?
First thing's first, get yourself a good pineapple! But how can you tell if the one in front of you is a ripe pineapple? I've discussed it thoroughly in my latest kitchen hack blog post on How to Pick a Pineapple.
In summary, you'll need to take note of these key pointers before you go on a pineapple shopping spree.
The more yellow the pineapple's skin is, the riper it is. But we don't want it to be on the dark orange kind of spectrum.
A good pineapple should have vibrant green leaves.
It should be firm, but yield slightly to a squeeze.
The heavier the pineapple is, the higher the water content it has, which means it is packed with fresh juicy flesh.
Try smelling the bottom part of the pineapple. If it smells sweet, fresh, bright, and fruity, then you're good to go.
How to Peel a Pineapple
It isn't that hard to peel a pineapple. Peeling a pineapple is as easy as a 4-step process. To start, lay the pineapple sideways on your chopping board/ Then cut off the bottom part of the pineapple. Now you can use the bottom part for the pineapple for it to stand.
Hold on to the leaves and start peeling with your knife from the top down towards the base. Once you feel good about your peels, you can just easily cut the top leafy part you used as a handle. And VOILA! You now have a freshly peeled pineapple ready to consume!
How to Slice a Pineapple
Pineapples can be very decorative. Food artists often use these using different cuts and shapes. Actually, there is no one way to cut pineapples, it always depends on your preference. So, the best way to cut a pineapple is always relative to how you will use it.
With that being said, we are going to show you basic pineapple cuts that you can use for your salsa, savory cooking add-ins, or for grilling. Let's dive right in!
Wedges
The easiest shape to cut. Once you have peeled your pineapple, cut the pineapple in quarters lengthwise. Do this again but adjust your cut to 45 degrees. From top to bottom cut down again. This will give you 8 wedges. Cut them into halves to have more but shorter pineapple wedges. This shape is best used for barbecuing.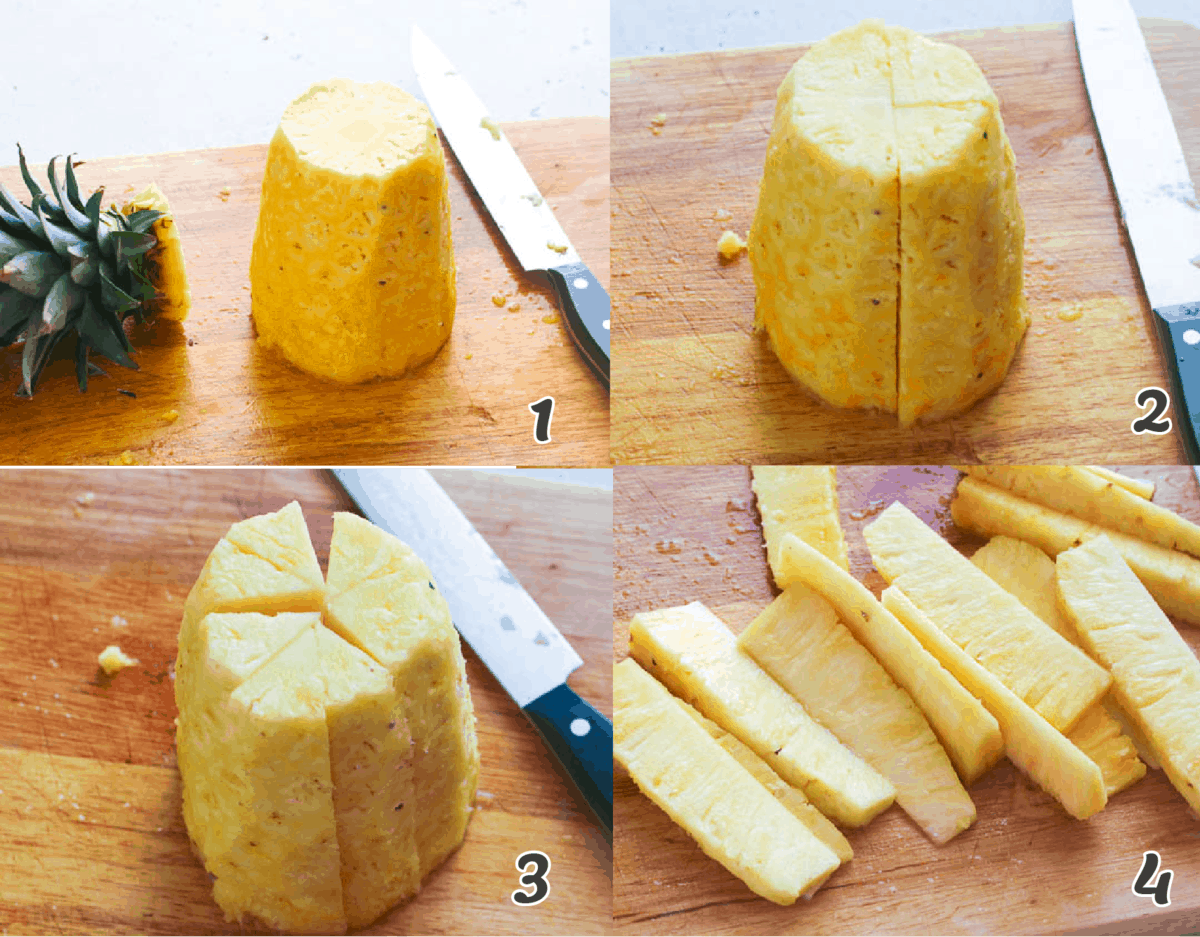 Rings
Rings are a more decorative form of pineapple slice than the wedge. After peeling your pineapple from top to base, don't cut the leafy part yet, instead, lay the pineapple sideways and cut it into semi-thin slices or depending on your preference. Once you have the round pineapple slices, carve out the hard-circular centers to create the ring. Ring cuts or doughnut cuts are best used on roasted or baked meat (see my Pineapple Honey Baked Ham HERE) or for grilling. This shape is occasionally used as a décor.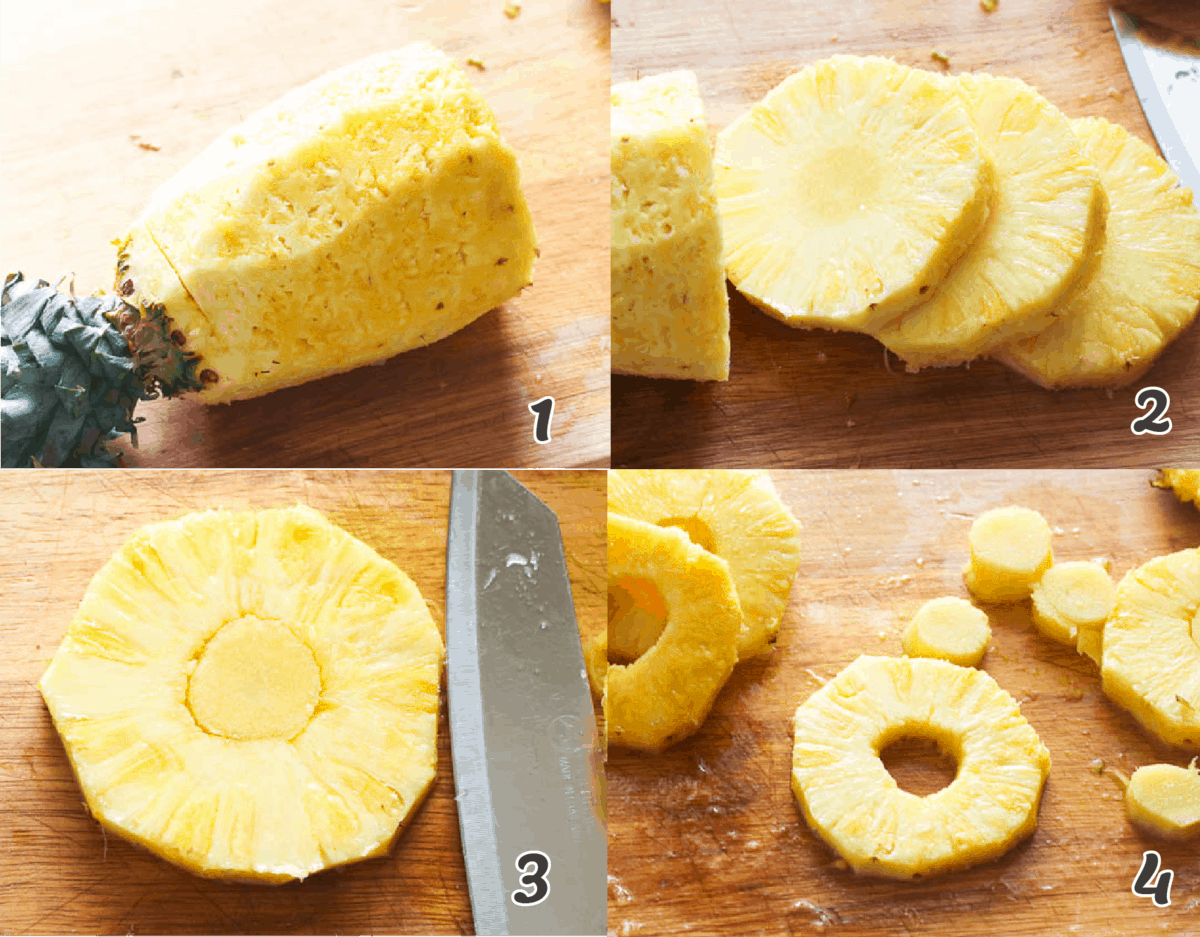 Chunks
Chunks are essentially a further type of pineapple cut from the ring. The process for this cut is basically the same as the ring-shaped cut with one extra step. Cut the ring-shaped pineapple cuts into halves and cut them further into smaller pieces. One pineapple ring should yield about 6 –8 chunks. Chunks are usually used in making sauces, blending into a puree or juice OR as a salad ingredient, or as part of a marinade mixture. It is also popularly used as a pizza topping. (I mean, who doesn't want pineapples on their pizza?)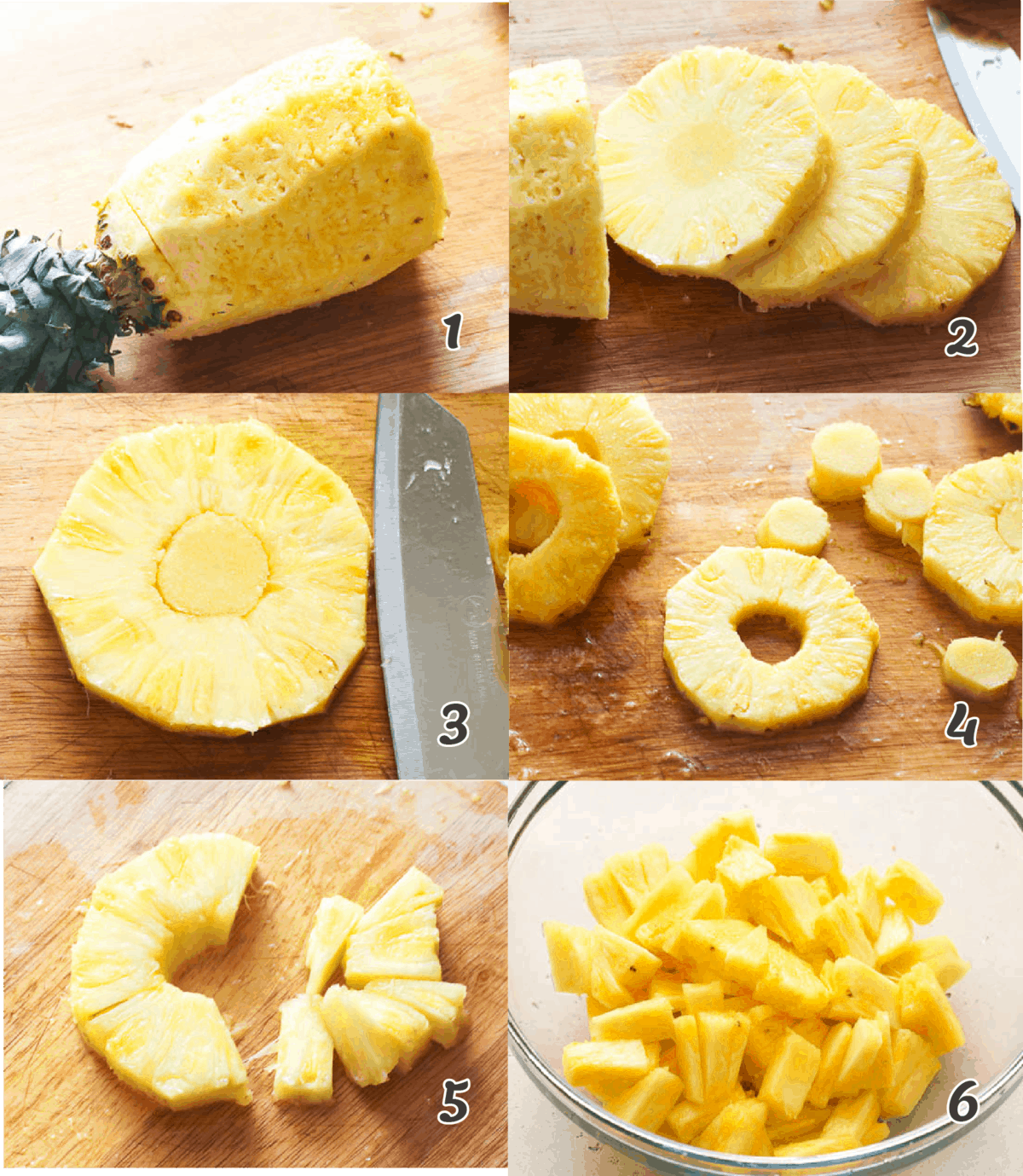 And last, but not the least, are pineapple dices. Cut those chunks in half crosswise and you'll get smaller pieces of pineapple dices that are best used for your salsa (See my Grilled Pineapple and Black Bean Salsa HERE).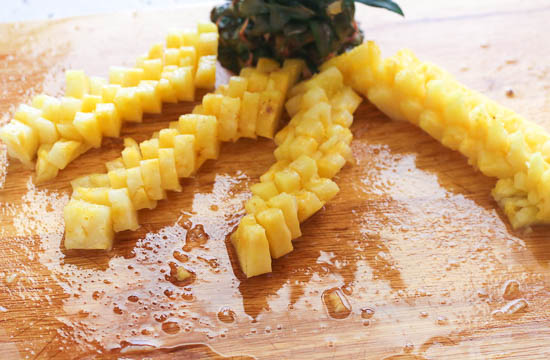 How to Store Pineapple
Pineapples, just like other fruits, easily brown when exposed for too long. This is caused by oxidation from the air. To properly store and prolong the life of your sliced pineapple, store it in an airtight container and keep it somewhere cool.
Another way to keep your pineapple slices fresh is to submerge it in a container with clean water. This reduces oxidation and delays the browning. You may also try freezing the pineapples to preserve all the pineapple goodness and thaw it out when you're ready to eat.
Fun Fact: A fresh pineapple contains Enzyme Bromelain, an enzyme that digests proteins; this is why whenever we eat too much pineapple. We feel like our tongues get small cuts; this enzyme is also the reason why pineapples are great natural tenderizers for your meats.
More Pineapple Recipes
Ready to make use of those fresh sweet pineapple slices? Try these recipes below.