Pina Colada – classic summer drink that will take you to the tropics in every sip. Made with fresh pineapples, cream of coconut, rum and some ice. A wonderful refreshing and delicious summer cocktail!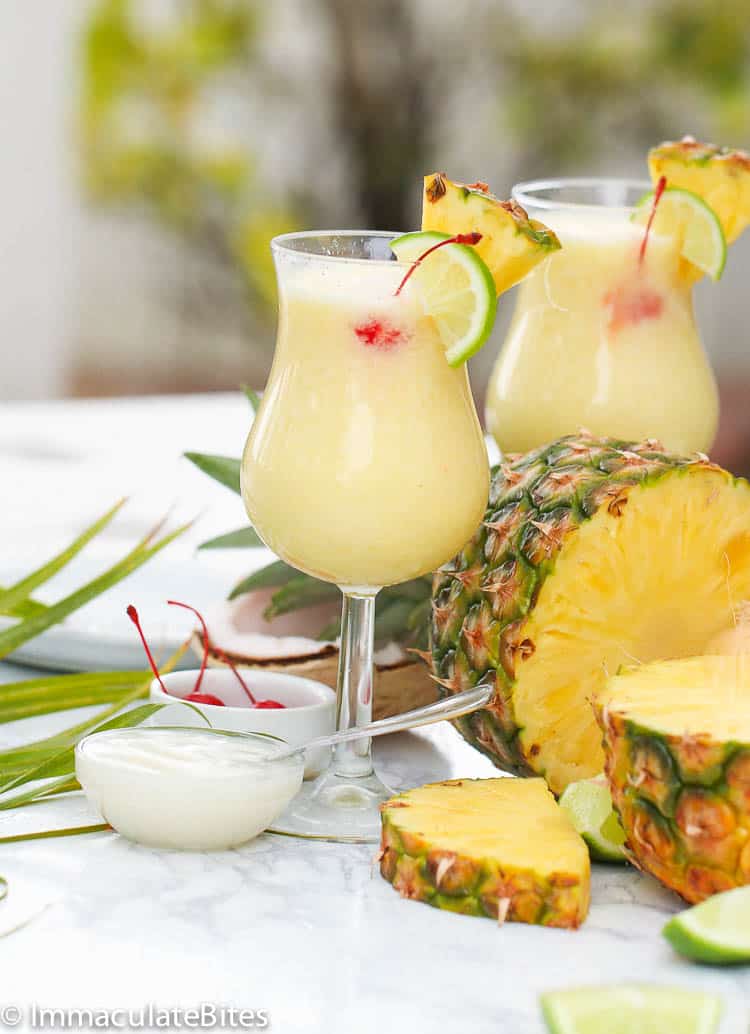 I just got to tell you guys that it's already officially summer here at home. The moment hubby brought tons of fresh pineapples from the local market, I had to jump right in and make my favorite summer cocktail -Pina Colada. I couldn't think of anything else other than mixing a tropical concoction to soothe my longing for a beach vacay. Are you all excited for summer? Oh heck yes I DO!! 😀
Why Is It Called Pina Colada?
Pina Colada literally translates to the "strained pineapple" used in concocting this fun drink. A delicious tempting rum, pineapple and coconut cocktail served blended or shaken with ice. It is a well-celebrated drinks in the warmer parts of the world and even here in some sunnier parts of the U.S.
Although there's no definite date on when this drink was introduced or who invented it. But stories would suggest that it was in the 19th century that Pina Colada was given birth in Puerto Rico and eventually took the world by storm. With its popularity, Puerto Rico officially named Pina Colada as its national drink and celebrates National Pina Colada Day every 10th of July. However, we don't have to wait until July to celebrate Pina Colada Day. Oh yesss!
What's In A Pina Colada?
Since Mother's Day is just few days away and so is Cinco de Mayo (a celebration of Mexican culture in the U.S.), I am planning on serving this sunny, cold and vibrant drink to my guests. Lucky them, all these pineapples that hubby brought in could last me another 2 or 3 weeks. 😉
Pina Colada uses three main components with varied proportions depending on the variation you're eyeing for.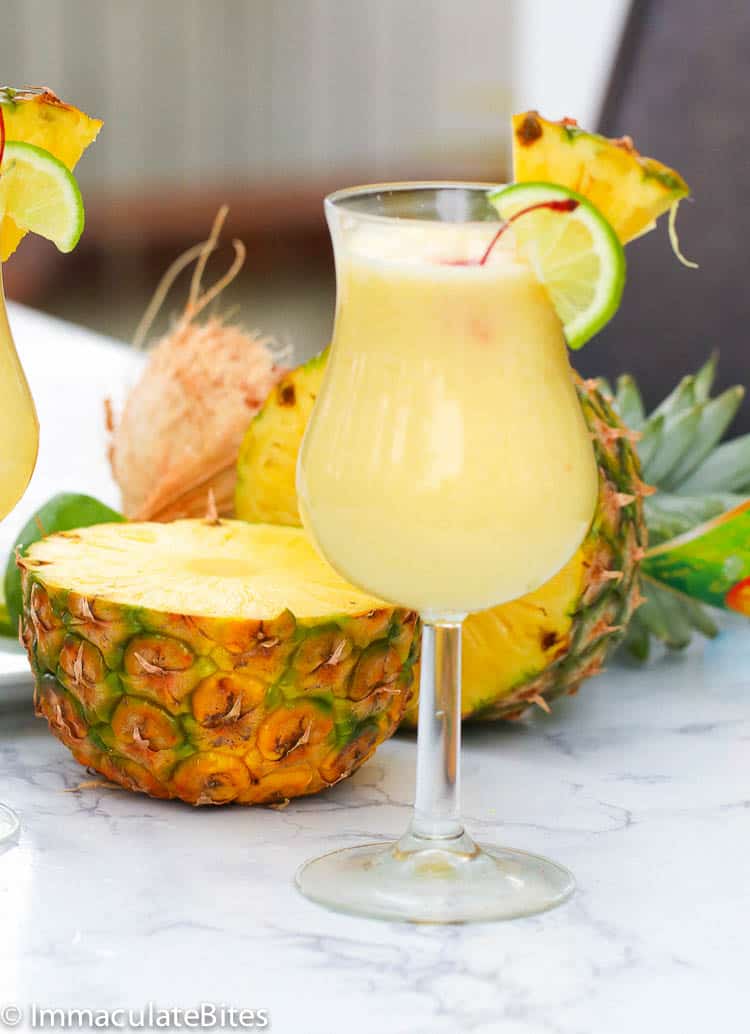 Pineapples. Of course, what is Pina Colada without pineapples? The quality of your pineapple is going to make or break this drink. Although some versions of this drink uses pineapple juice, I prefer the fresh diced chunks of pineapple blended into this Pina Colada drink. It is naturally sweeter and refreshing, in my opinion. 
Cream of Coconut. Well, this ingredient might get you second guessing 'cause any groceries would actually offers different sort of canned coconut products: coconut milk, coconut cream and cream of coconut. Please remember that coconut milk is a great alternative to dairy milk while coconut cream has less water than coconut milk, making it thicker and sort of okay to use in a Pina Colada. But what I do love the most is the Cream of Coconut which is rich, thickest among the three and, well, it's sweetened. Okay, diet is definitely not a word when making cocktails. So yes, bring on the sweetened cream of coconut!
And the 3rd primary ingredient to this tasty drink is no other than RUM. 
Which Rum Is  Best For Pina Colada?
Rum is the base for this cocktail and choosing a good quality rum is as important as choosing the pineapples for this recipe. I actually chose to use both white and dark rum for this cocktail with white rum having a greater portion. White rum has this sweet and subtle flavor in it which doesn't overpower the rest of the other ingredients.
Moreover, adding dark rum is the best decision I've made so far as it adds a layer of robust flavor to this drink that complements to that vibrant sweet and smooth beach drink. Actually, adding dark rum is optional for this recipe. But if you ask for my favorite brand, I'd say Bacardi and Mount Gay is on top of our list. Feel free to play around with different brands for rum until you find the one that suits you.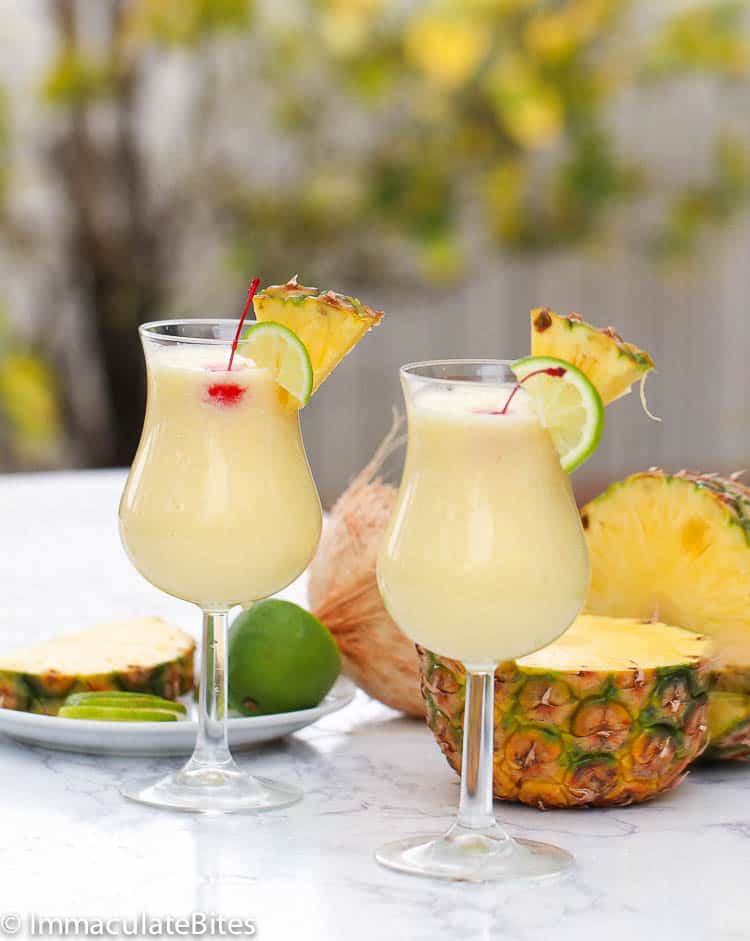 Can Pina Colada Get You Drunk?
While this popular island drink may look harmless to you, well, don't get too confident. This Pina Colada cocktail recipe is not the lightest drink, nor it is the strongest. But if you're like me who has a low alcohol tolerance, then don't get too caught up with another glass of this. 😉 It's so easy to enjoy this drink and have some seconds or thirds until you realize you're already talking foreign language. 😂 So be careful!
How Do You Make A Non-Alcoholic Pina Colada?
Somehow I kinda thought that one of you will be asking a non-alcoholic version of this. 'Cause let's be honest, you can never say no to a pineapple and coconut combination! To make it non-alcoholic or as they say "Virgin Pina Colada", you can simply ditch out the rum and the  cream of coconut. Coconut milk will work fine, just bump it up depending on your desired consistency and add about 1/4 cup of sugar, or to taste.
Other Fun Drinks To Enjoy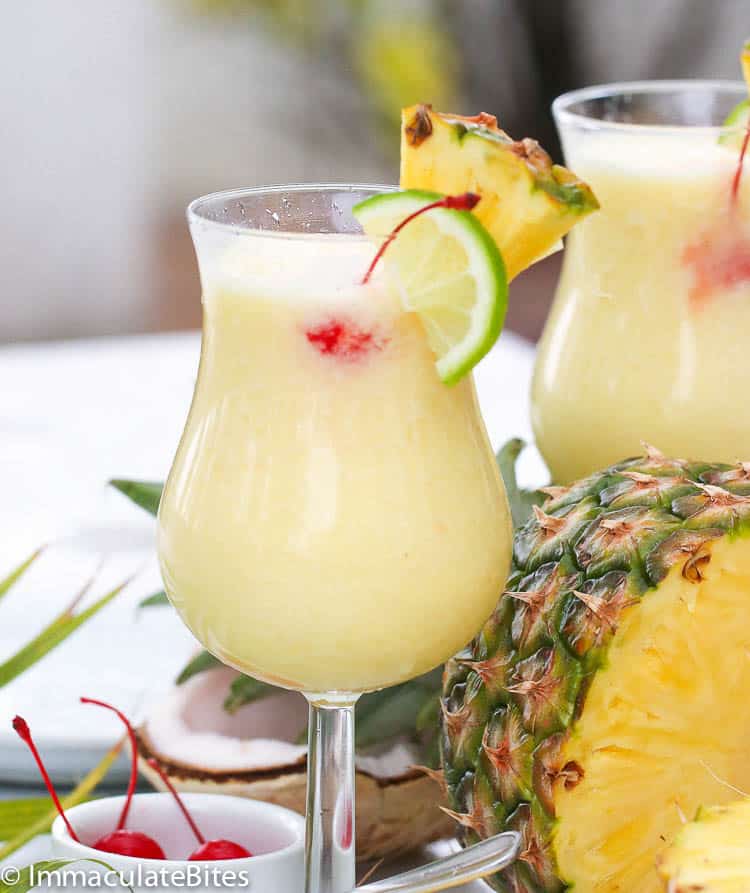 Enjoy!
Watch How To Make It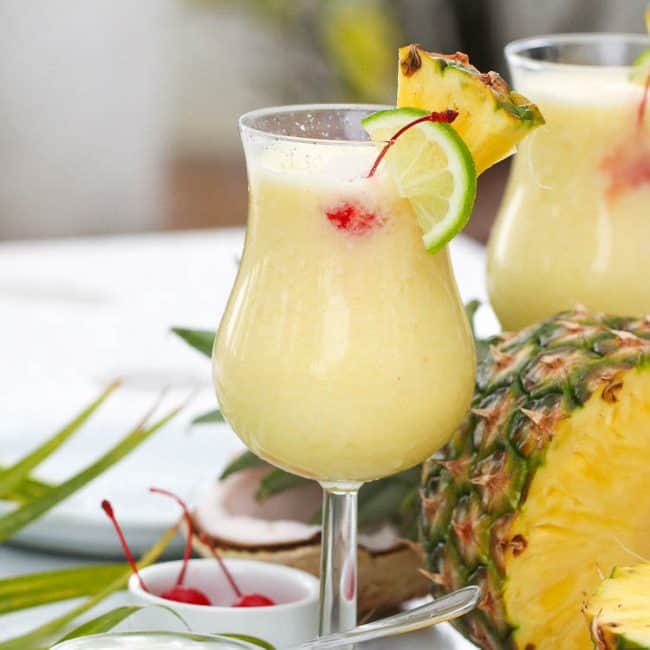 Print
Pina Colada
Pina Colada - classic summer drink that will take you to the tropics in every sip. Made with fresh pineapples, cream of coconut, rum and some ice. A wonderful refreshing and delicious summer cocktail!
Ingredients
2

cups

(490 g) fresh diced pineapple

5

ounce

(190 g) sweetened cream of coconut

1/3

cup

(80 g) coconut milk

4

ounce

(120 ml) white rum

2

ounce

(60 ml) dark rum (optional)

2

tablespoons

(30 ml) fresh lime juice

1

cup

ice cubes

Maraschino cherries, pineapple and lime slices

(for garnish)
Instructions
Combine fresh pineapple, cream of coconut, coconut milk, white and dark rum, lime juice and ice cubes to a blender cup. Blend on high until smooth and frosty (slushy frozen drink consistency).

Pour into two tall glasses and garnish with maraschino cherries, pineapple and lime slices. Serve immediately.
Tips & Notes:
Do not add too much ice as it is going to melt and make the drink watery.

Please keep in mind that nutritional information is a rough estimate and can vary greatly based on products used.
Nutrition Information:
Serving:
1
glass
|
Calories:
663
kcal
(33%)
|
Carbohydrates:
73
g
(24%)
|
Protein:
1
g
(2%)
|
Fat:
20
g
(31%)
|
Saturated Fat:
17
g
(106%)
|
Sodium:
43
mg
(2%)
|
Potassium:
262
mg
(7%)
|
Fiber:
4
g
(17%)
|
Sugar:
63
g
(70%)
|
Vitamin A:
95
IU
(2%)
|
Vitamin C:
83.4
mg
(101%)
|
Calcium:
28
mg
(3%)
|
Iron:
1.7
mg
(9%)
Nutrition Facts
Pina Colada
Amount Per Serving (1 glass)
Calories 663
Calories from Fat 180
% Daily Value*
Fat 20g31%
Sodium 43mg2%
Potassium 262mg7%
Carbohydrates 73g24%
Protein 1g2%
Vitamin A 95IU2%
Vitamin C 83.4mg101%
Calcium 28mg3%
Iron 1.7mg9%
* Percent Daily Values are based on a 2000 calorie diet.