Coquito or also known as the Puerto Rican Eggnog is a refreshing and tropical drink with a twist made primarily of sweetened condensed milk, coconut milk, cinnamon, nutmeg and rum. Rich, creamy, sweetened coconut rum drink!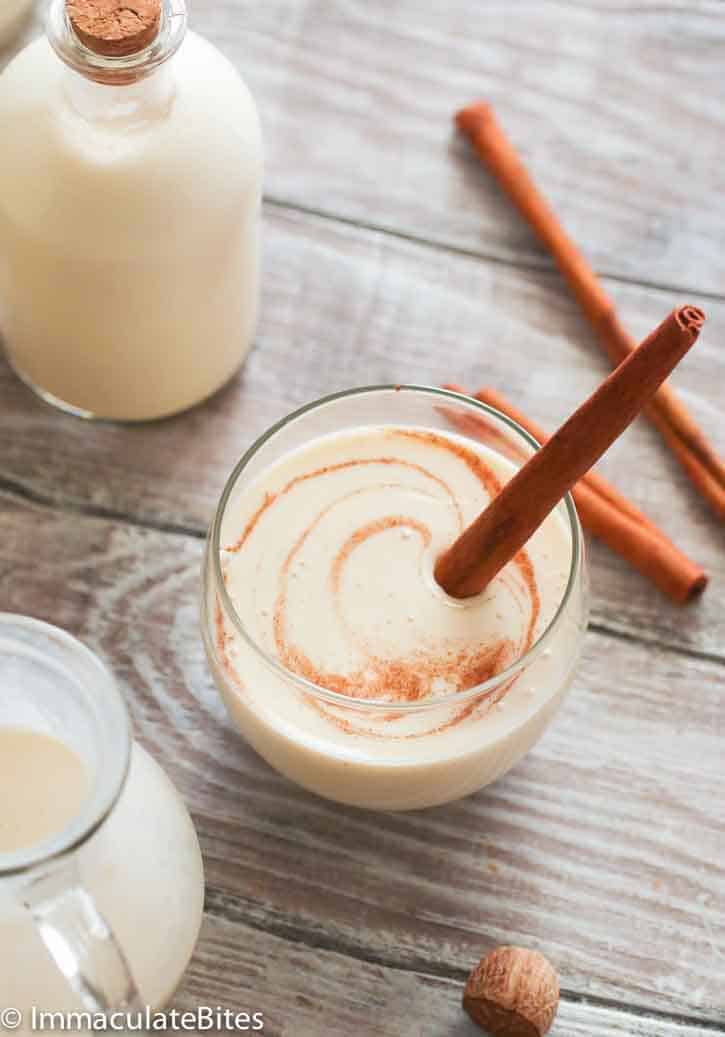 Christmas isn't complete without glasses of boozy drinks over festive songs and loud chatter. It may not look like it, but I have a low alcohol tolerance – just a sip and I'm all knocked out. 
So I'm pretty thankful to a few cocktails and mocktails that would allow me to take on few more sips before I spaced out. But when it comes to Christmas drink,  this creamy coconut milk is always present .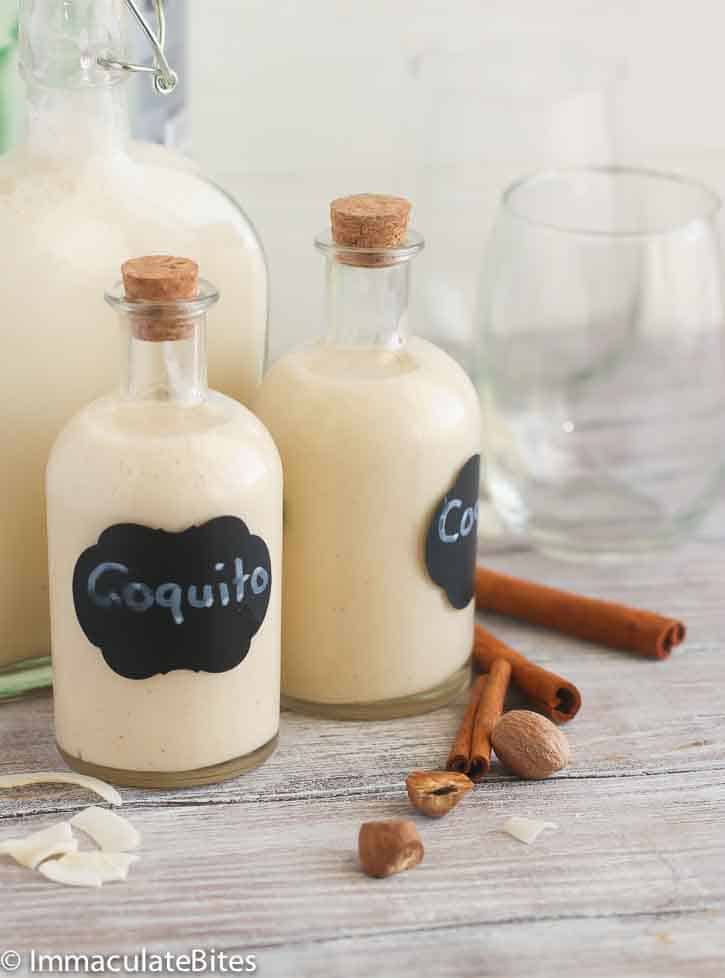 It does have rum in it, but the condensed milk, coconut milk and spices balance this drink – not so overpowering and not too thick. Adjust to suit your tastebuds 
Coquito is a Puerto Rican version of eggnog. It is usually served during Christmas Eve or Nochebuena and given out in bottles as Christmas gifts. There are many versions of this but the base ingredients of this popular holiday drink would always be coconut milk, sweetened condensed milk, cinnamon, nutmeg and rum.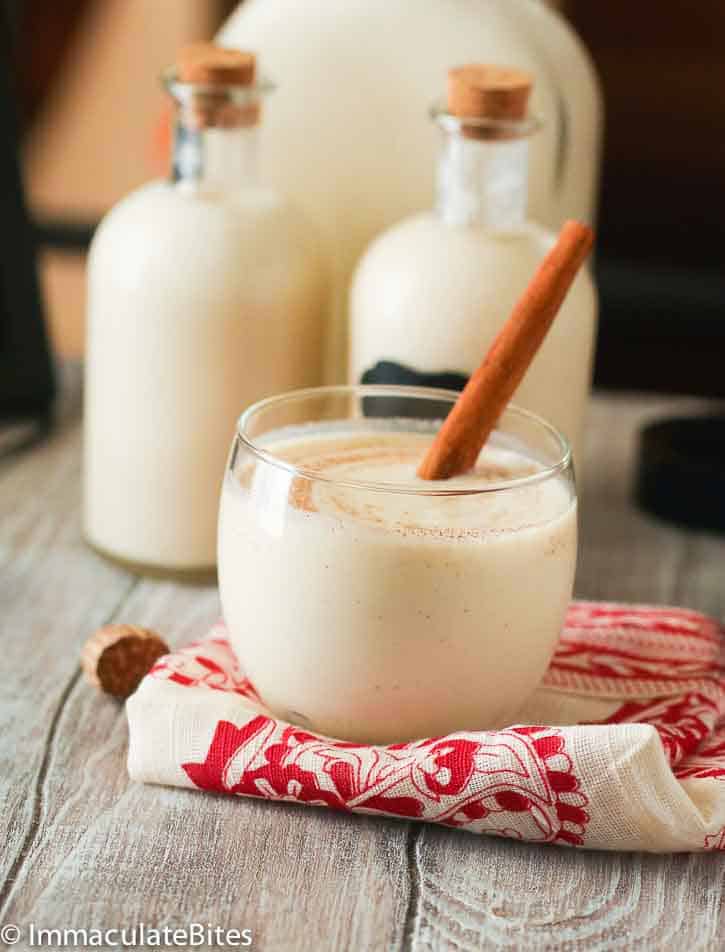 Others recipes call for  egg  yolks  to thicken it up.  Can't fathom the idea of raw egg in my drink.  Light and simple does it for me . Much enjoyable this way. Feel free to add egg yolks , if that rocks your boat .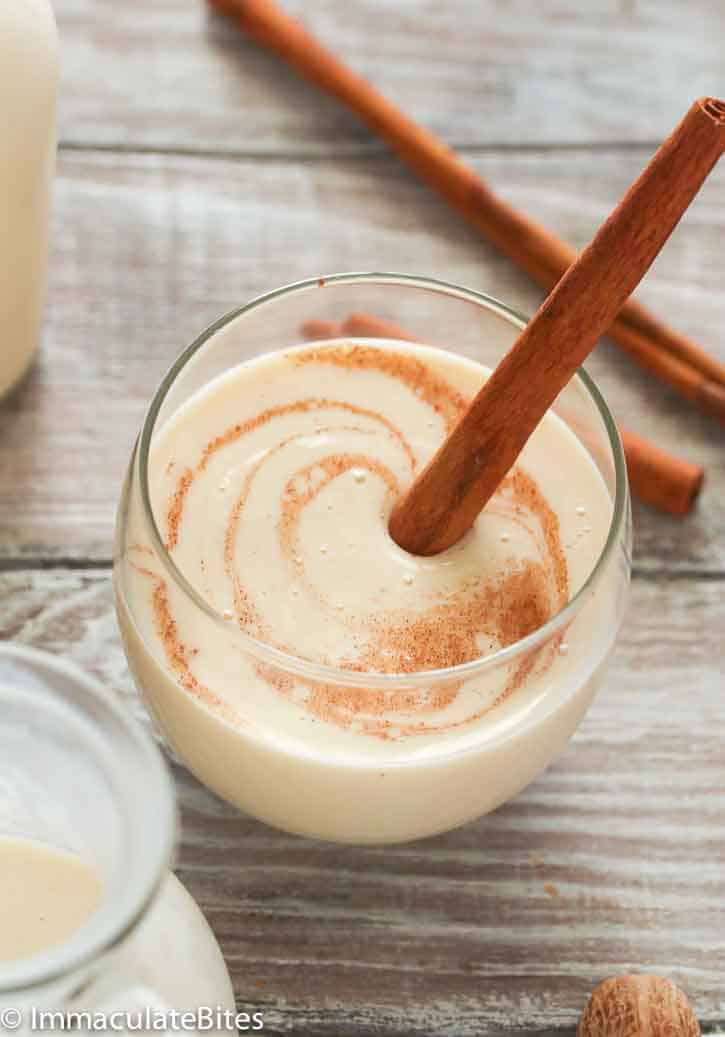 Serve it super cold with a sprinkle of cinnamon or nutmeg or bottle it up and give away as Christmas gifts. Your friends would never have any other Christmas drink as good as Coquito.
Happy holidays, everyone!
Tips and Notes:
Coquito is mostly made with coconut cream (homemade is best ). However,  I sub with coconut milk . Feel free to go with thick coconut cream.

Stir or shake well before serving.

Adjust the rum content according to your preference. If you want it prickly on the back of your throat and warms you on the inside, go with 1 1/2 cup of white rum.
If you want to thicken it up, you can add 2 egg yolks and whisk it in to blend thoroughly until frothy.
Chill at least 2 or up to 6 hours before serving it.
 You can play around with your Coquito like adding some cocoa powder into it or a thinned chocolate ganache for that chocolaty version.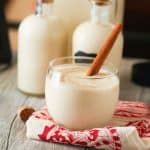 Coquito (Puerto Rican Eggnog)
Ingredients
1

14-ounce (354 ml) can sweetened condensed milk

2

cups

(480 ml) coconut milk or cream

(see notes 1 )

1

12-ounce (354 ml) can​ of evaporated milk

½

teaspoon

ground cinnamon

¼

teaspoon

ground cloves

¼

teaspoon

ground nutmeg

1

teaspoon

vanilla extract

½ – 1

cup

(120-240 ml) white rum

(more or less to suit taste buds)

Cinnamon Sticks for garnishing
Instructions
Combine all ingredients in a blender and blend for about a minute.


Bottle or place in a sealed container and then refrigerate. It will keep for up to 2 weeks .


If desired garnish with cinnamon stick or sprinkle with cinnamon spice .

Nutrition Facts
Coquito (Puerto Rican Eggnog)
Amount Per Serving
Calories 709
Calories from Fat 270
% Daily Value*
Total Fat 30g 46%
Cholesterol 77mg 26%
Sodium 414mg 17%
Potassium 834mg 24%
Total Carbohydrates 89g 30%
Protein 18g 36%
* Percent Daily Values are based on a 2000 calorie diet.
SaveSave