Pernil Puerto Rican Roast Pork – Herb and spice marinated pork shoulder slowly roasted in the oven until tender and fall of the bone delicious with an amazing crisp and crackling skin.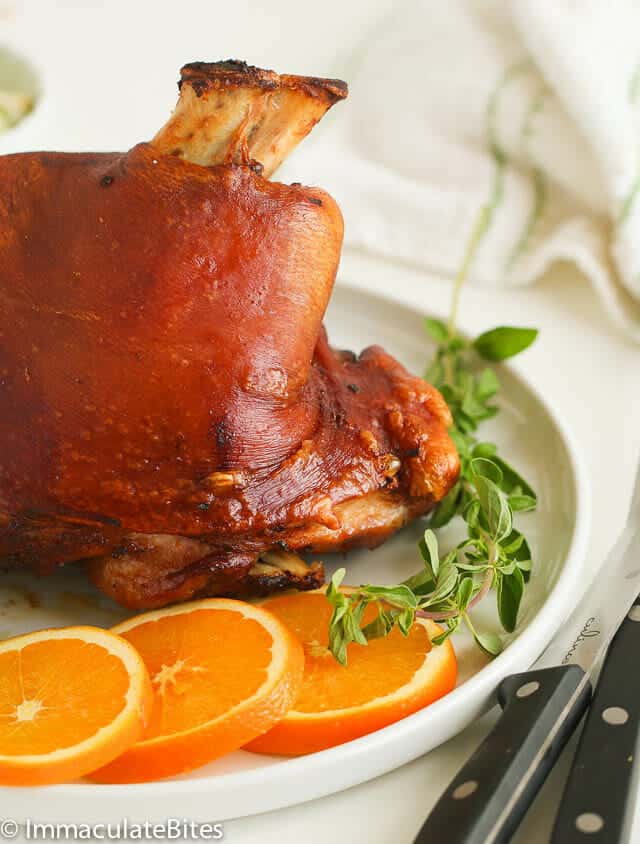 What can I say? I couldn't pass up on a good pork sale; in my neck of the woods they are going for 79 cents a pound. So I got a 10 pound pork and split it in half and cooked it up Puerto Rican Style. Above is one half – with super crispy skin, roasted on top of a rack, and below is the other half cooked in a cast iron 12 inch pan.
And it's all about the super pork skin for me – they are crispy, crackling and sensational.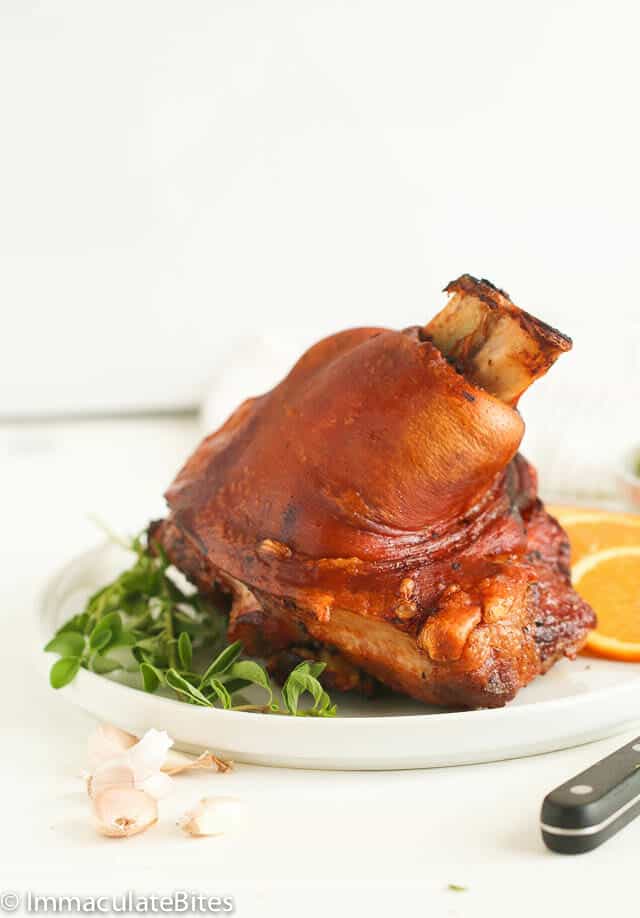 Pernil is a really tasty and super easy way of cooking up pork shoulder or butt with tons of flavor.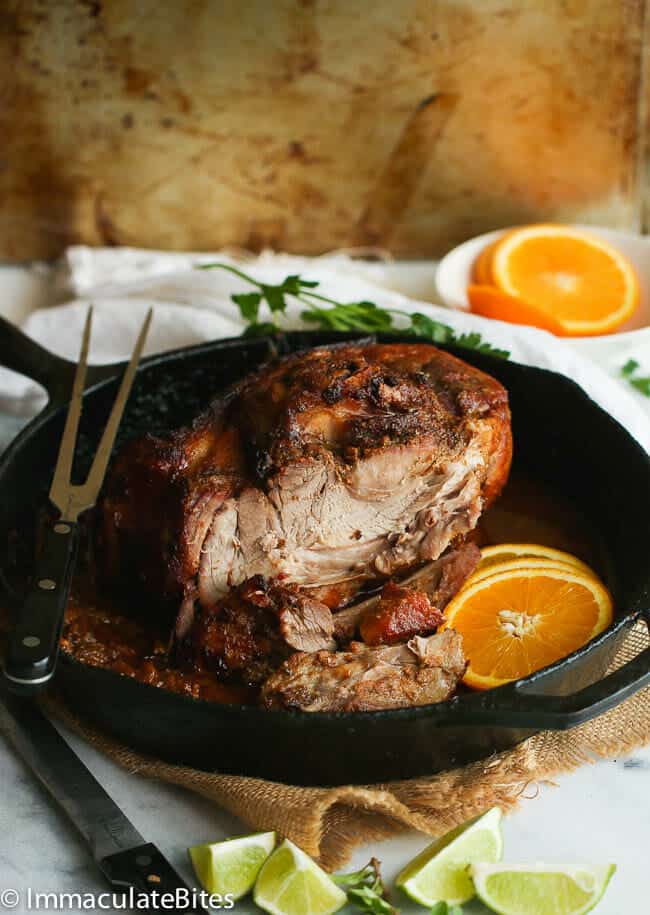 The spice blend does all the heavy lifting work for you. Once you rub the spices onto the pork, you don't even need to sear it.
You are still going to be rewarded with a nice crispy skin and juicy tender meat.
Traditionally, Pernil is made with sour orange, however, it's hard to find sour orange outside of the Islands, especially here, in the U.S. So most people sub lime juice and orange to equate the sour orange taste. Or most modern recipes just use lime or vinegar.
I purposely leave out the sour taste. It goes way beyond that garlic, cumin and salt alone is good enough to get this going. To please everyone, I do serve lime on the side as an option.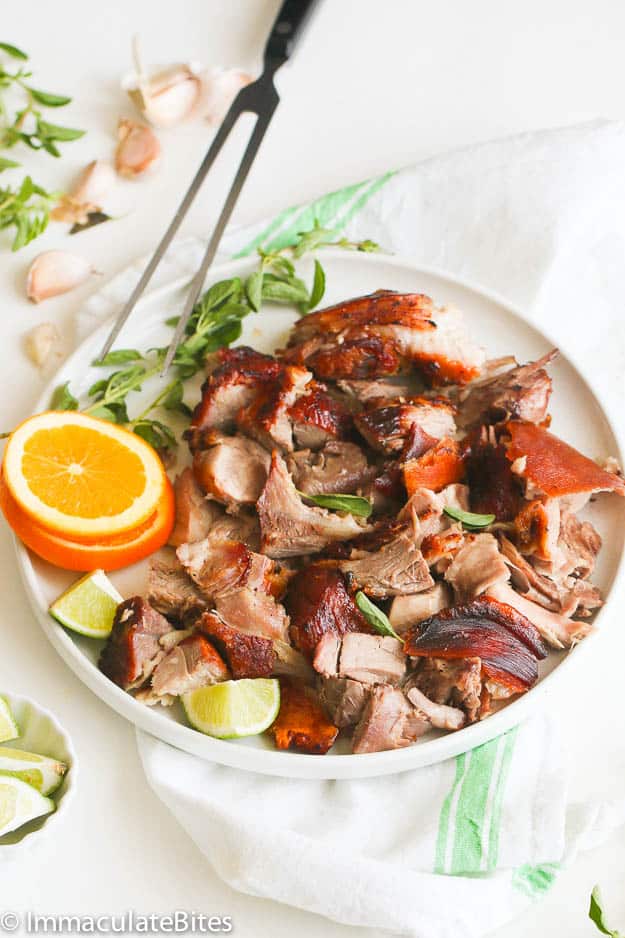 Don't forget to crank up the heat towards the end of roasting to achieve ultra crispness.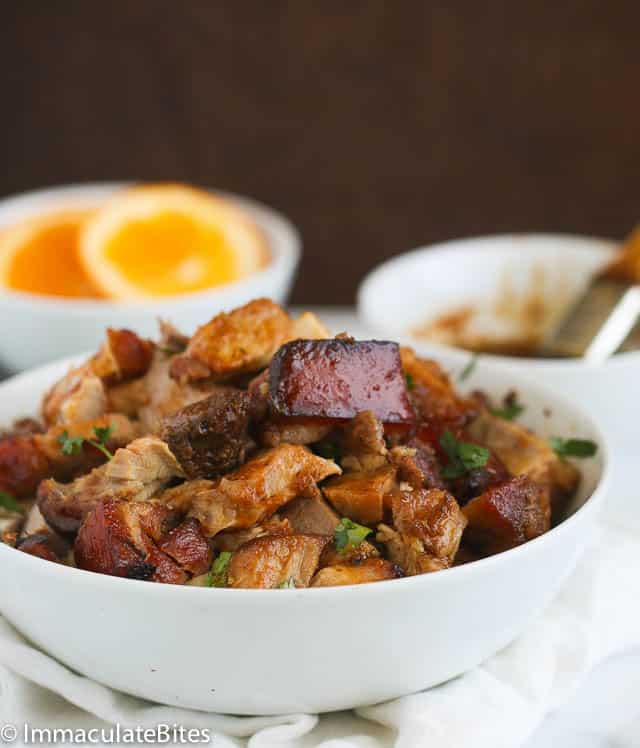 Since this is a festive dish, plan on adding it to the menu this easter season. Do serve it with this arroz con gandules here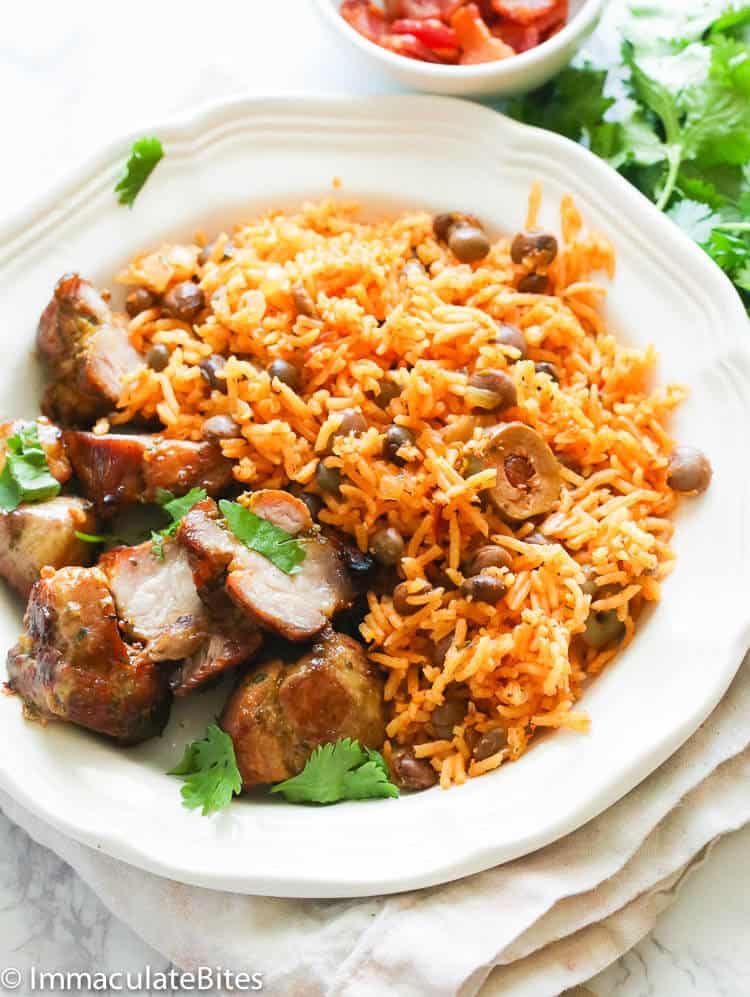 And wash it down with this coquito here.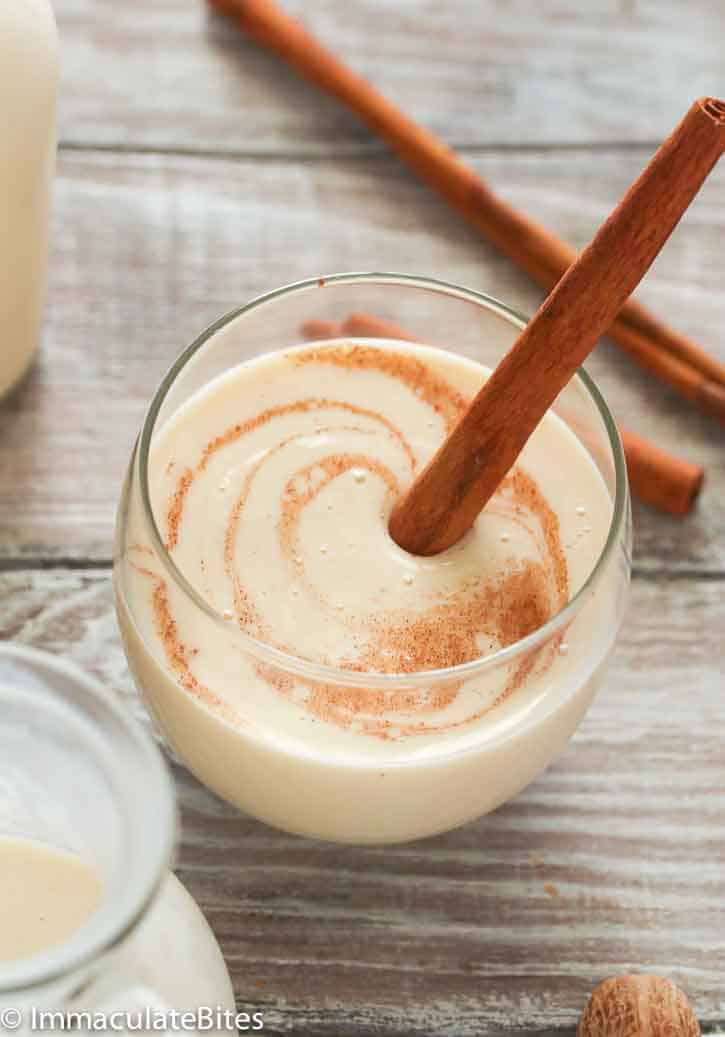 You will be glad you did.
Enjoy!
Watch How to Make It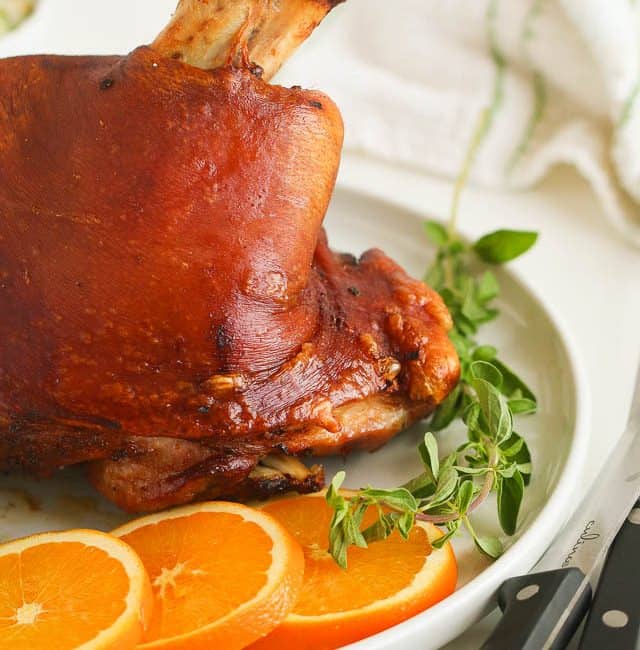 Print
Pernil Puerto Rican Style
Pernil Puerto Rican Roast Pork- Herb and spice marinated pork shoulder slowly roasted in the oven until tender and fall of the bone delicious with an amazing crisp and crackling skin.
Ingredients
5-6

pounds

pork shoulder

bone-in

2

teaspoons

salt or more

1/4

cup

chopped onion

5-7

medium garlic cloves

,whole

2

tablespoons

fresh oregano leaves or 1 tablespoon dried oregano

1

tablespoon

parsley

1

teaspoon

cumin spice

½

teaspoon

chili pepper or more adjust to taste

1

tablespoon

smoked paprika

1

packet Sazon Goya

,optional

Freshly ground black pepper

1

medium yellow onion

1

medium orange

,optional

lime for serving

Olive oil as needed.
Instructions
Pulse, 1/4 cup onion, garlic, oregano and parsley together in a food processor, adding oil in a drizzle and scraping down sides as necessary, until mixture is pasty or use a mortar /pilon and pestle grind the spices.

Mix in cumin, chili, sazon and paprika Set aside.

Remove pork from packaging and gently rinse pork under cold water.

Dry with a paper napkin or towel. Salt and Pepper according to preference – about ½- 3/4 teaspoon per pound.

Then do your best to rub oregano and garlic mixture into the scorings.Refrigerate the pork shoulder, for about 4 hours or up to 3 days before roasting.


When ready to roast, remove pork from the fridge and let it rest for about 30 minutes.

Preheat oven to 275 degrees. Cover a roasting pan with foil, then layer sliced onions , and sliced orange at the bottom on the pan with about ½ cup orange juice and about 1/2 cup stock or water.

Add any remaining marinade. You might have to add some more as it cooks if you want some reserve to serve with the marinade.

Place pork skin side up in the pan. remove any seasoning on top of pork skin.

Roast the pork for about 3 hours or more, uncovered.

Remove from the oven and let oven preheat to 500 degrees.

Place back in the oven; let it roast for up to 15- 20 minutes until skin is crisp and puffy, rotating pan every 5 minutes, for even crispness.

Let meat rest for 10 to 15 minutes before cutting it up; meat should be tender. Serve with lime and sauce from marinate

If you want super crispy skin Just like you see in picture one. Do the following ;place pork on top of roast pan or place on a rack in a pan, instead before roasting
Nutrition Information:
Calories:
223
kcal
(11%)
|
Carbohydrates:
4
g
(1%)
|
Protein:
27
g
(54%)
|
Fat:
10
g
(15%)
|
Saturated Fat:
3
g
(19%)
|
Cholesterol:
92
mg
(31%)
|
Sodium:
581
mg
(25%)
|
Potassium:
544
mg
(16%)
|
Fiber:
1
g
(4%)
|
Sugar:
2
g
(2%)
|
Vitamin A:
205
IU
(4%)
|
Vitamin C:
10.1
mg
(12%)
|
Calcium:
48
mg
(5%)
|
Iron:
2.3
mg
(13%)
Nutrition Facts
Pernil Puerto Rican Style
Amount Per Serving
Calories 223
Calories from Fat 90
% Daily Value*
Fat 10g15%
Cholesterol 92mg31%
Sodium 581mg25%
Potassium 544mg16%
Carbohydrates 4g1%
Protein 27g54%
Vitamin A 205IU4%
Vitamin C 10.1mg12%
Calcium 48mg5%
Iron 2.3mg13%
* Percent Daily Values are based on a 2000 calorie diet.
How to Make Pernil