There are so many delightful dishes you can make with plantains. From enticing appetizers to mouthwatering dinner ideas, including vegan versions! Certified quick, easy, and oh so delicious plantain recipes will surely give you the ultimate comfort food satisfaction. And with these incredible recipes, you won't even mind eating plantains for every meal!
Not only are plantains a good source of fiber, potassium, and magnesium, but they're also undeniably delicious and extremely versatile.
In fact, you can prepare them in so many different ways, from simple baked and fried treats like plantain chips and tostones to saucy plantain stews; the options are endless.
My favorite would be Sweet Plantain Hash and Eggs and Pastelón. Although, Baked Plantain Frittata competes pretty well for the top spot, too. Aah! It's really hard to decide which ones are my favorites. So, here I compiled 20 Enjoyable Plantain Recipes to give you more reasons to love plantains. Oh yes!
Breakfast Plantain Recipes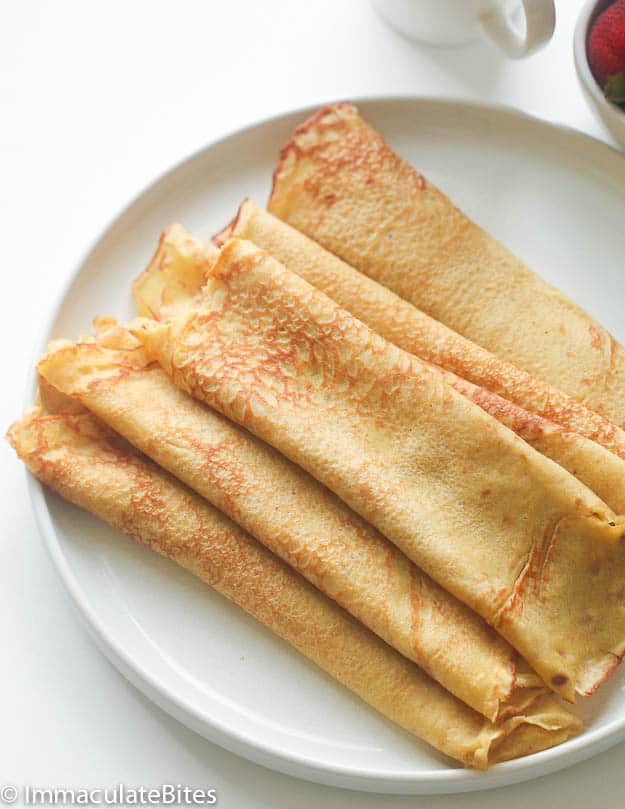 Level up your regular pancake recipe with the addition of mashed plantains and a dash of nutmeg. It may not be as airy and fluffy as the traditional pancakes, but it's equally soft and delicious. You can also enjoy it drizzled with caramel sauce, whipped cream, and homemade coconut sauce too.
2. Baked Plantain Frittata (Baked Plantain And Eggs)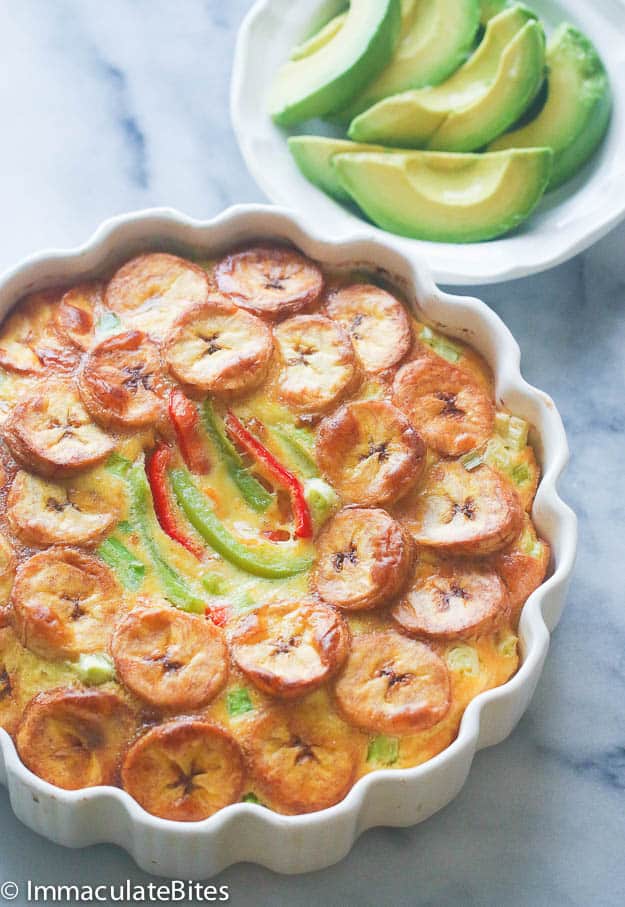 Get your morning energy boost in these healthy and guilt-free baked plantains and eggs. Bursting with great flavors from paprika, thyme, and pepper. A combination of cheese such as cheddar, mozzarella, and pepper jack are great additions, too. Just omit the sausage to enjoy a delightful vegetarian breakfast treat.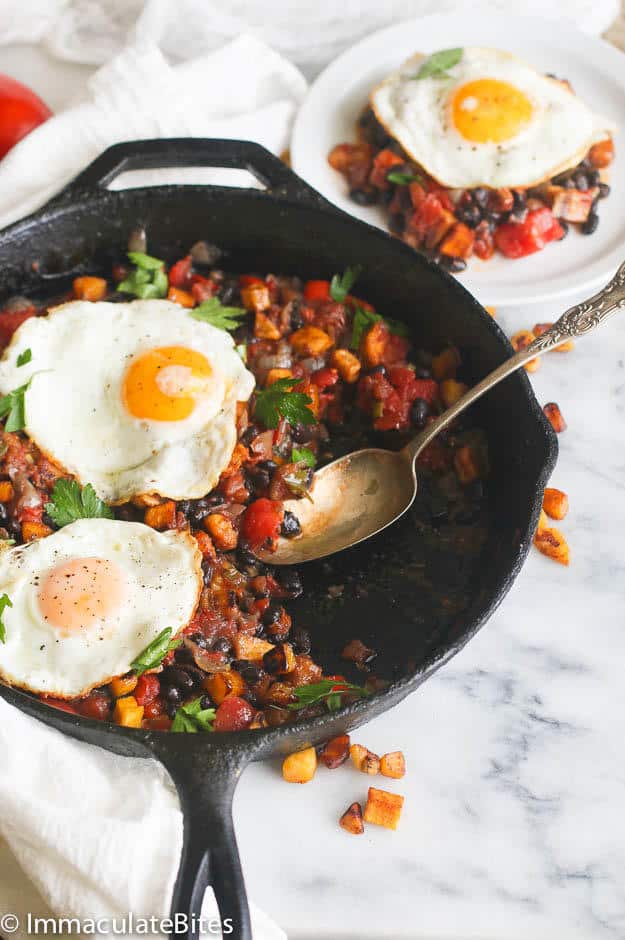 Kick-start your day with a good dose of this amazing sweet plantains hash and egg breakfast combo, an incredibly light but extremely delicious breakfast casserole loaded with black beans and tomatoes. And it's easily customizable with your favorite spices and proteins like sausage, smoked turkey, or leftover ham. 😉
4. Tatale (African Plantain Pancakes)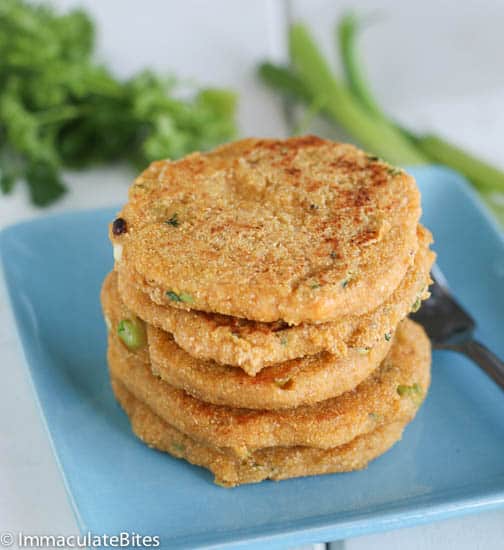 Another take on plantain pancakes, only this one is savory and spicy rather than sweet. Surprisingly, the combination of plantains and cornmeal perfectly balances the complex flavors of ginger and cayenne. Top it off with a generous amount of guacamole, and you're all set for a mouthwatering breakfast special or afternoon snack.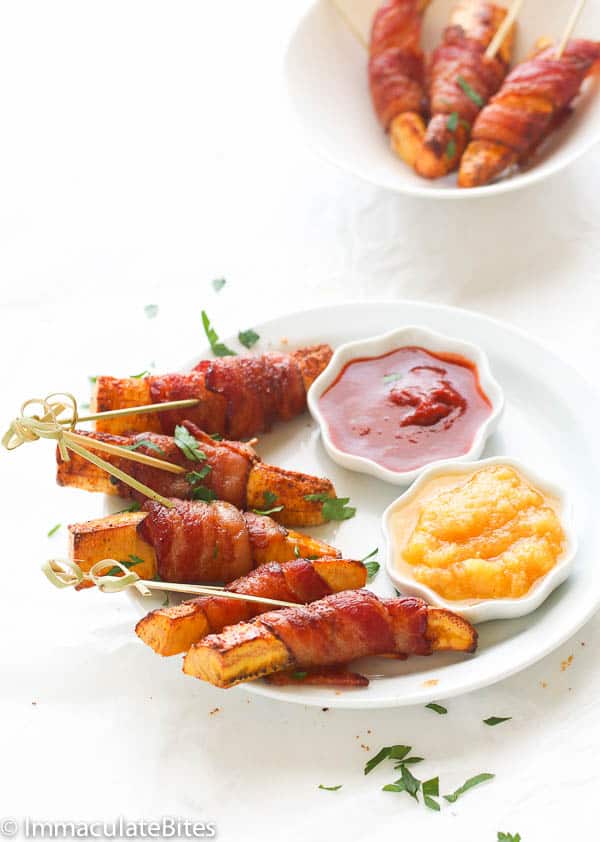 Bacon and plantains together? What a genius idea, right? Two of our most beloved food ever in one amazing breakfast combo. Life is really good! More importantly, they are made with only four ingredients! They're also healthier because they are baked! These rolls of plantain happiness make a great breakfast, snack, and appetizer, too. 😉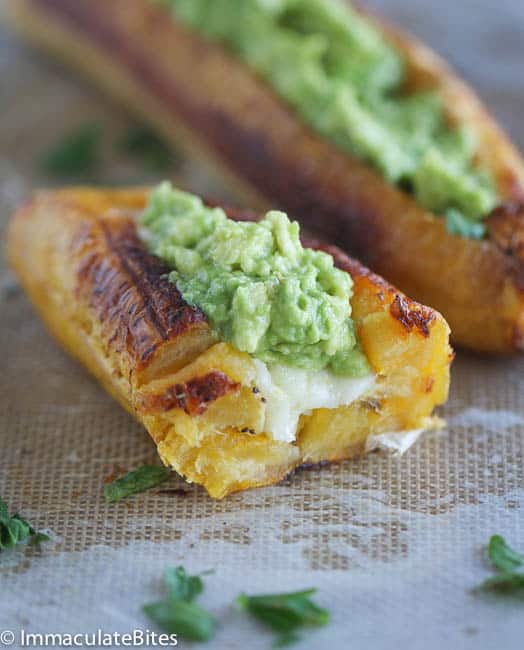 Everything in this lovely ensemble of plantains and mozzarella cheese screams nothing but comforting goodness! That melty, gooey, yummy cheese says it all! And don't forget to add the guacamole on top for a more fun-tastic experience. Aah! What a glorious combination! Such an enjoyable breakfast or snack for the whole family.
Dinner Plantain Recipes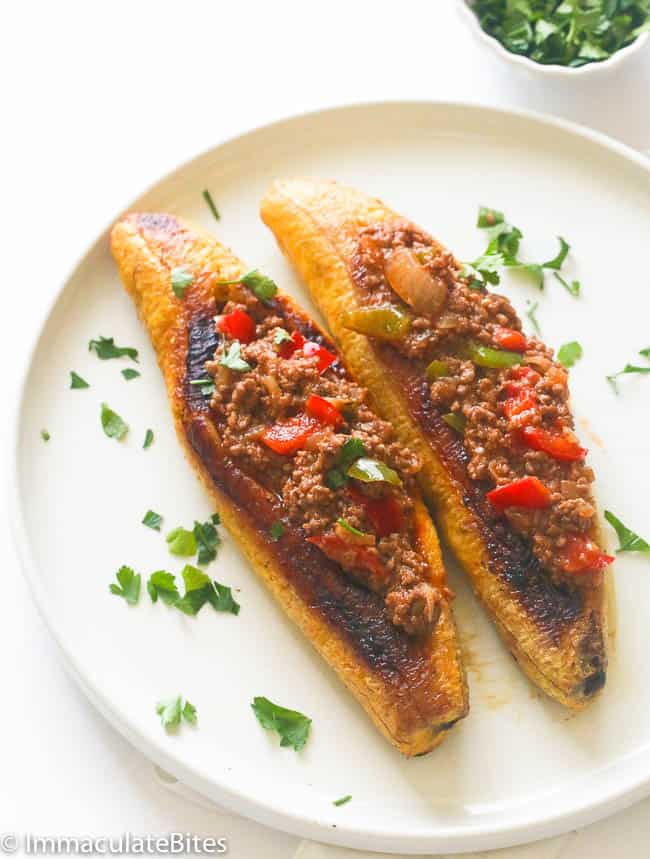 Plantain is already enjoyable on its own, but hey, there's always room for more deliciousness. Like a blank canvas, you can add any of your favorite fillings to your baked plantains. Try it with sauteed minced pork here simmered in a well-spiced tomato-based sauce loaded with cheese and bell peppers. Yum!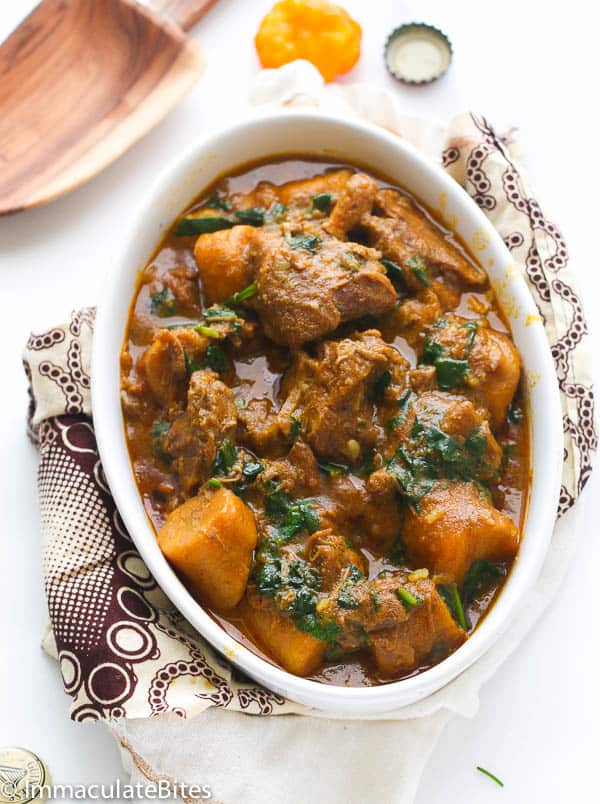 I'll gladly finish a bowl or two of this overly comforting spicy plantain stew any day! Not only it's brimming with savory flavors from cayenne and bouillon, but it's also filled with nutritious goodness from chunky meat and chopped kale. Absolutely one of the best plantain recipes that will surely bring warmth to your soul.
9. Pastelon (Plantain Lasagna)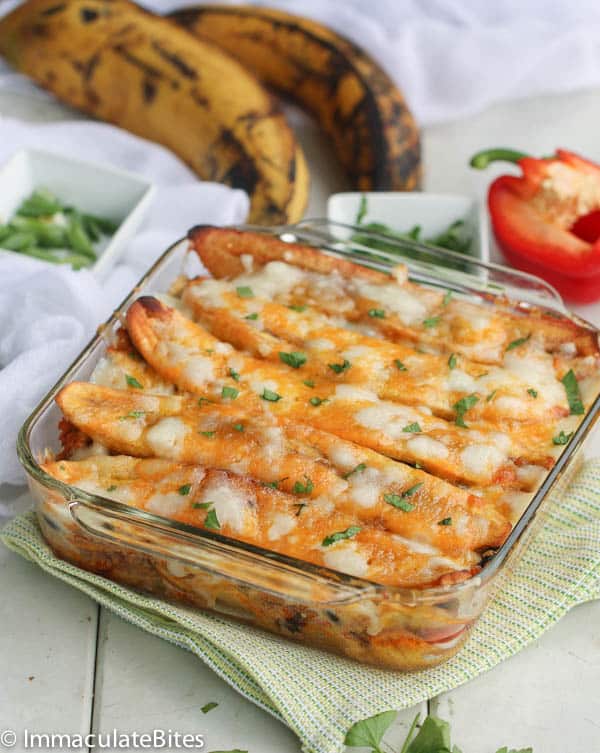 Instantly fall in love with this Easy Lasagna with a twist! So, instead of lasagna pasta, this beauty right here is made with layers of baked or fried plantains, spiced beef, and cheese. And it's gluten-free! It's not only pleasing to the eyes but also incredibly tasty and savory. You'll enjoy every forkful of this amazing dinner superstar! 🤩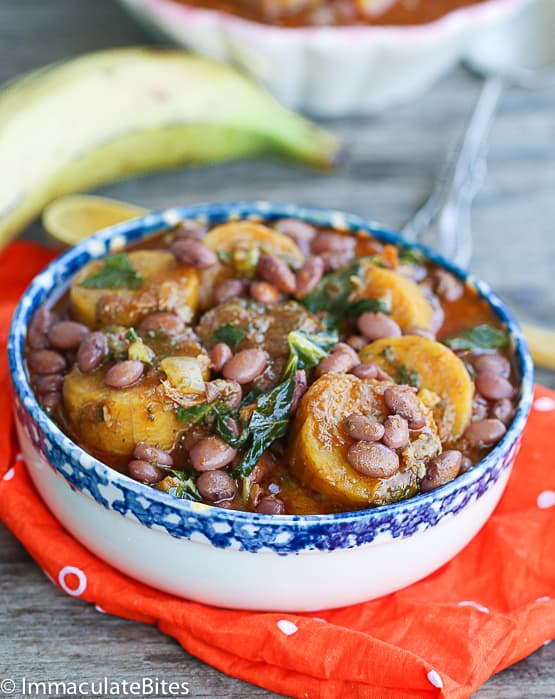 If you enjoyed Sese Plantains, you'd find this plantains and beans recipe is equally deserving of lovely compliments. The added beans complement the whole dish, while the spiciness from Scotch bonnet peppers and cayenne makes this dish extra delectable and flavorsome. This makes a wonderful side dish and dinner as well. Truly indulging, indeed!
11. Baked Stuffed Plantains with Black Beans (Vegan)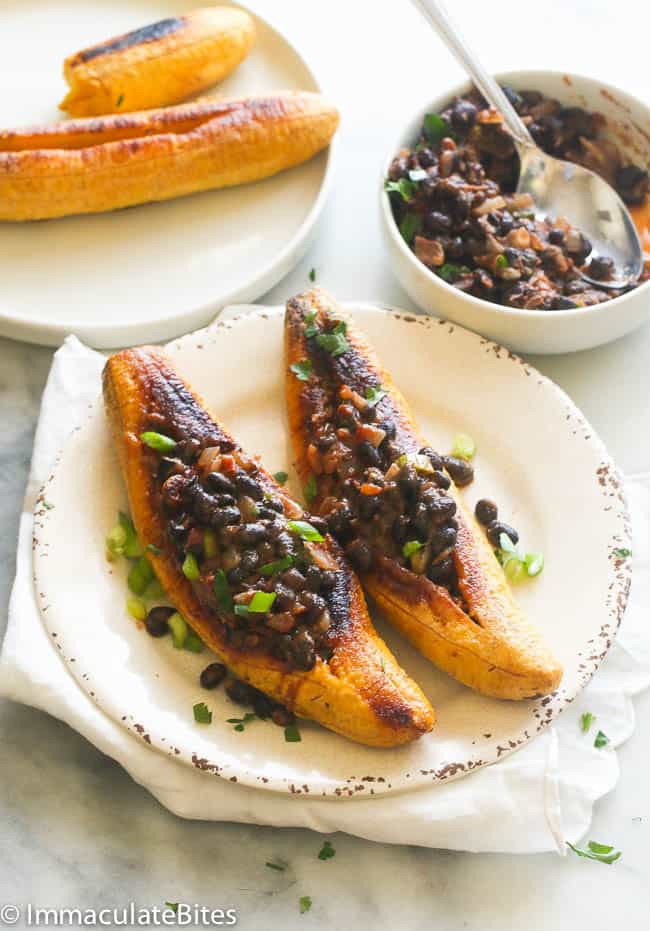 For this recipe, I used canned black beans instead of diced meat while using the same spices and seasonings to keep its nice savory flavor. As a result, I get to enjoy these stuffed baked plantains that are completely vegan without sacrificing the taste. So, if you're looking for quick and easy vegan plantain recipes, then this one right here fits the bill. 👌
12. Gizdodo (Gizzards and Plantains)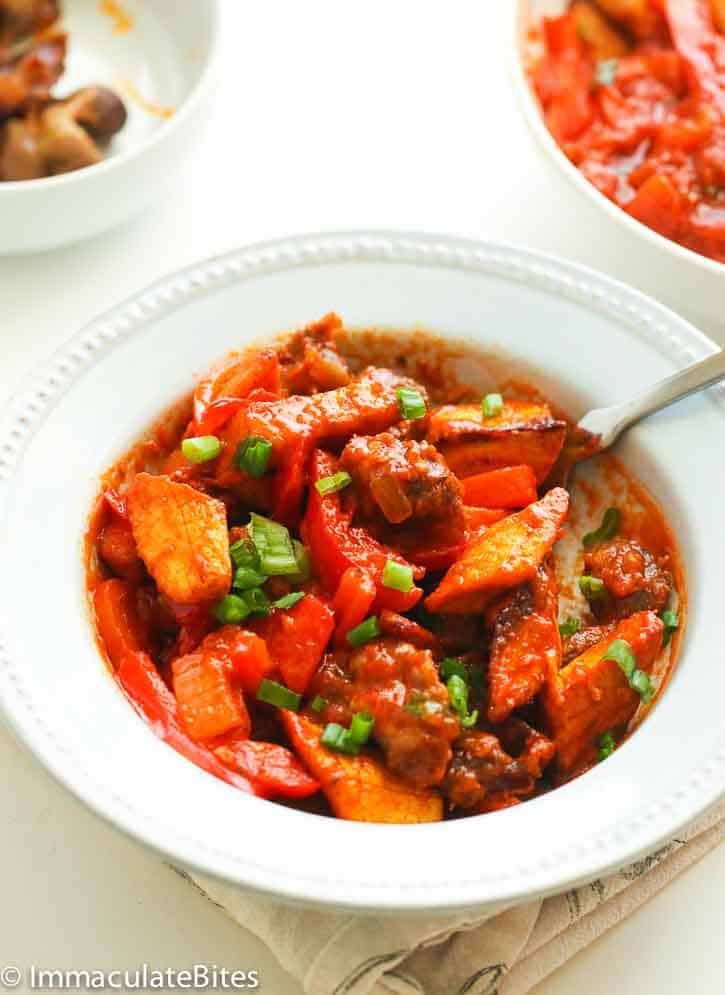 Here comes another plantain recipe to satisfy your soul food cravings. Starring plantains and gizzards simmered in a tomato-based sauce exuding delicate flavors from paprika, thyme, and curry. Enjoy it spicy or not — it's completely up to you! Don't like chicken gizzards? Then try it with chicken thighs, instead. 😉
13. Kondres (Spicy Stewed Plantains)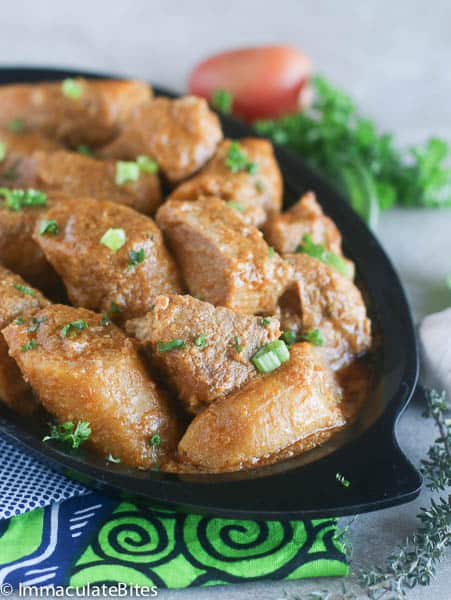 Low and slow is the way to go to enjoy this mouthwatering dish with tender and juicy meaty additions such as beef, oxtail, and goat. However, you can always use a pressure cooker to shorten the cooking time. Yes! The added plantains complement the whole dish; thus, giving a vibrant and sweet profile to this dish. Hmmm-mmm!
Appetizers and Snack Recipes
14. Baked Plantains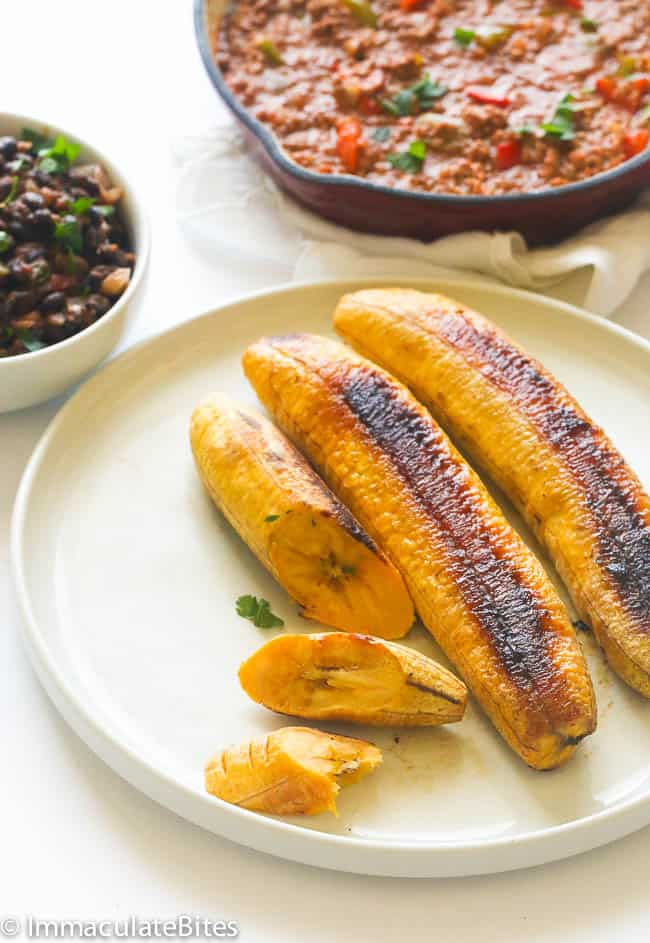 Baked plantains for the win! Effortless to make, yet incredibly comforting in so many ways! Enjoy it plain or stuffed with delicious fillings such as Picadillo, Guacamole, and Black Beans. It's such a healthy and guilt-free side dish that it doubles as a snack, too.
15. Fried Plantains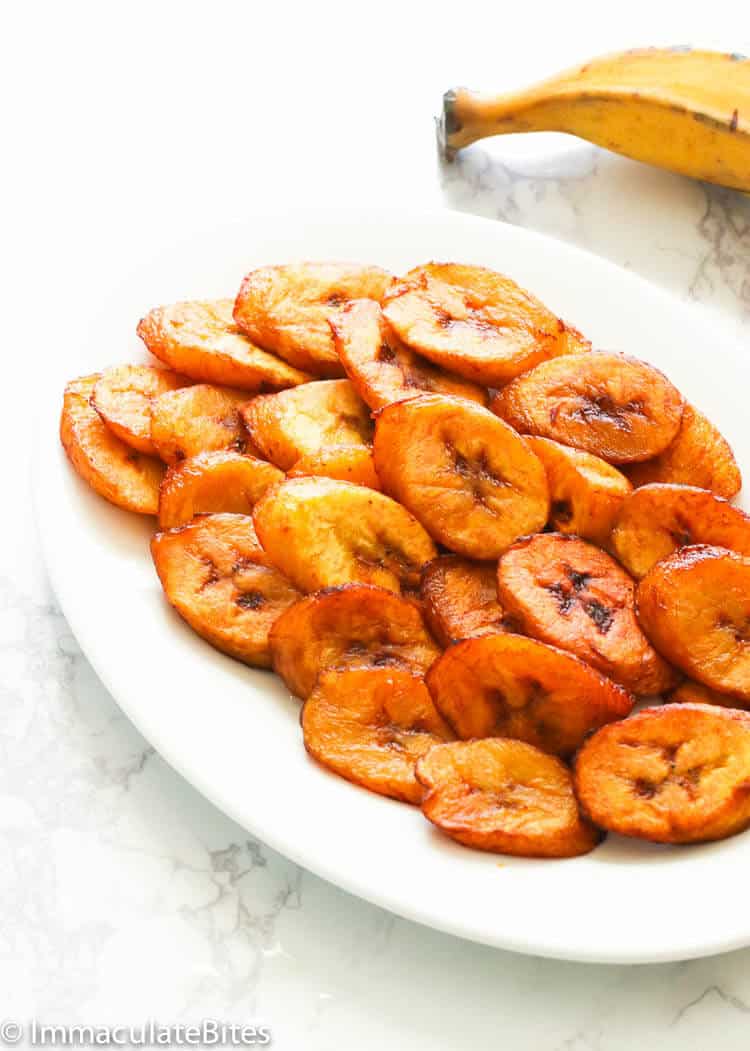 Ripe plantains, oil, and a pinch of salt are all you need, and you're minutes away from enjoying an amazing side dish. Yes! And if you want a healthier version, you may opt to cook them in an air fryer instead. This makes a healthy snack perfect for kids and kids at heart. So simple and easy, yet so comforting!
16. Kelewele Or Aloco (Spicy Fried Plantains)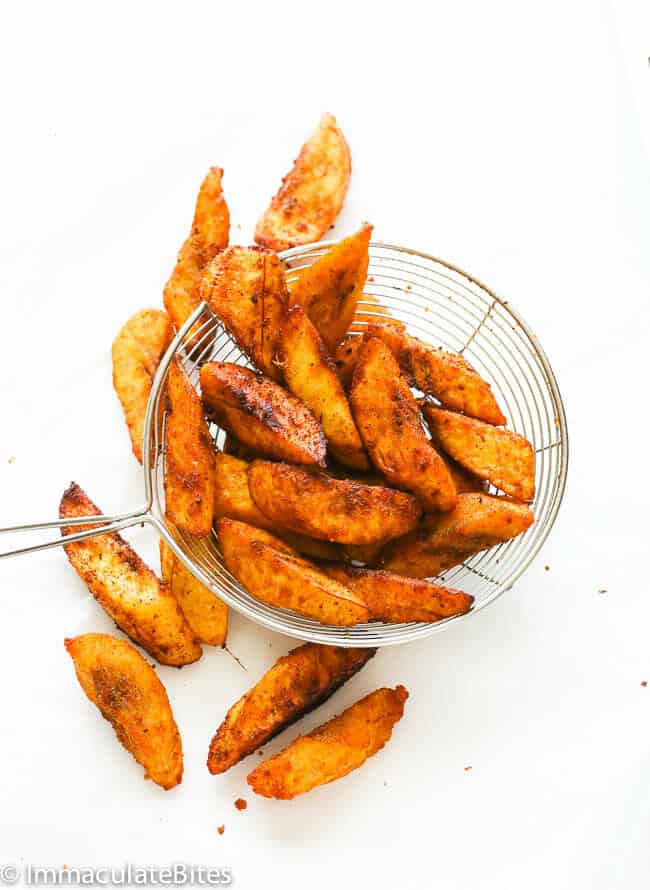 Entice your tastebuds with an explosion of complex flavors from nutmeg, lemon, cayenne, and ginger in this spicy fried plantain recipe. An African delicacy best enjoyed with peanuts and Caribbean Rice and Beans. Be warned, though, because it's truly addicting. 😉
17. Plantain Chips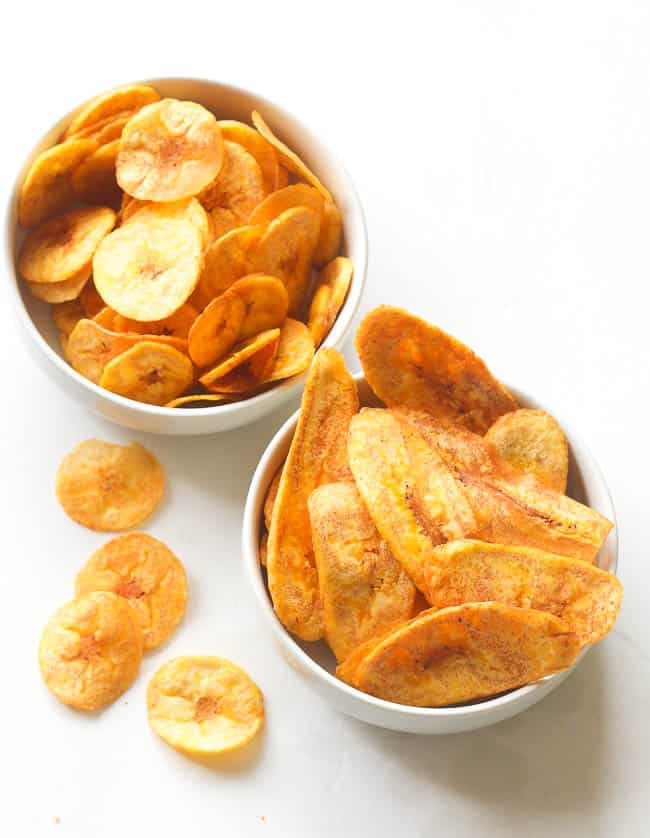 It really doesn't matter whether you bake or fry them because both will yield the same crispiness. Oh yes! And don't forget to pair them with my homemade mango avocado salsa for the perfect snacking experience. So good! Also, you can just add a pinch of sugar to turn them into sweetened fried plantains. They're such a wonderful snack and appetizer, too.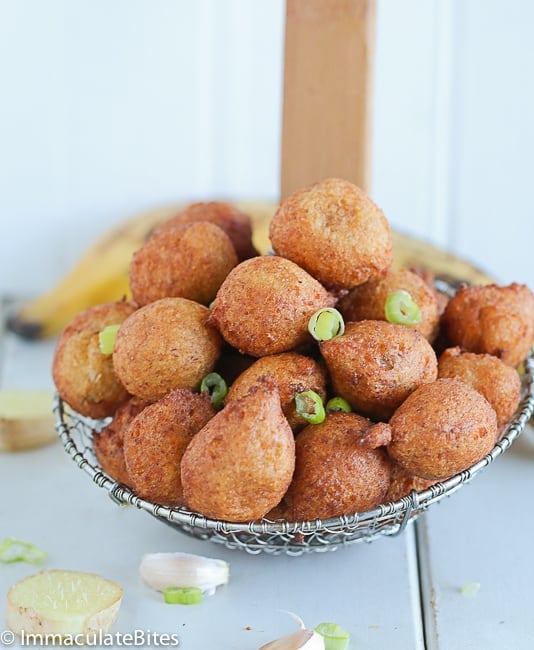 Instead of having sweet fritters, why not try these spicy and wholesome plantain fritters? And you'll surely love this alternative because it's vegan! These babies don't have sugar in them, but I use spices such as ginger, garlic, and cayenne to amplify the flavor. Hence, you can enjoy these balls of fried plantains guilt-free! Yay!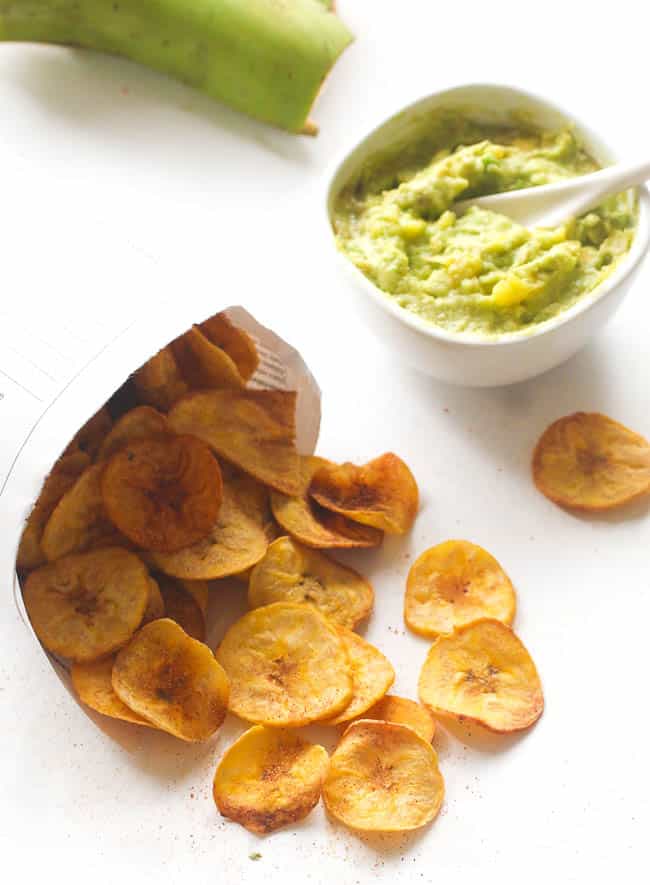 Making this yummy, healthy snack is as easy as 1, 2, 3. Slice your plantains thinly, pop them in the oven, and tadaaah! Easy peasy, lemon squeezy! And the fun doesn't end there… Fantastic dips like tropical guacamole, Hummus and bean dip can instantly step up your game! Oh yes!
20. Plantain Flour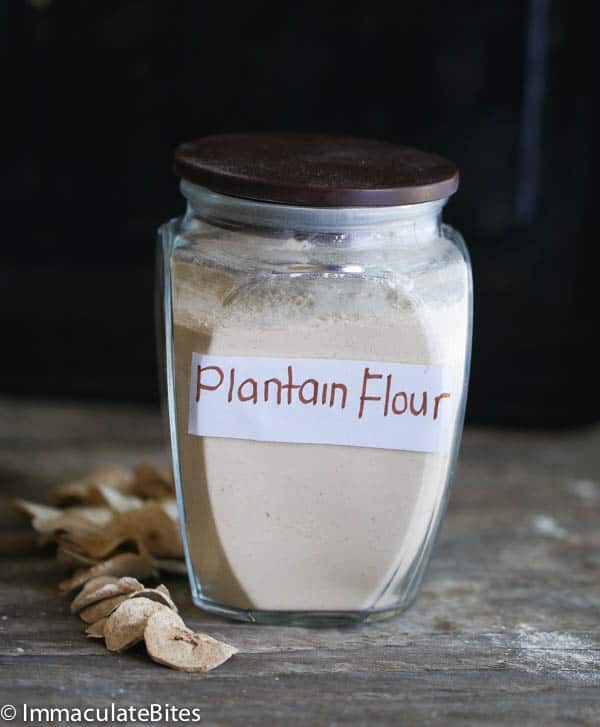 And if you have green plantains to spare, you can turn them into plantain flour and use them to make toothsome baked plantain treats. No more plantains wasted, plus, you'll get to enjoy paleo and gluten-free goodies with this flour, such as cookies, pie crust, waffles, pancakes, and more. What a healthy substitute for flour, indeed!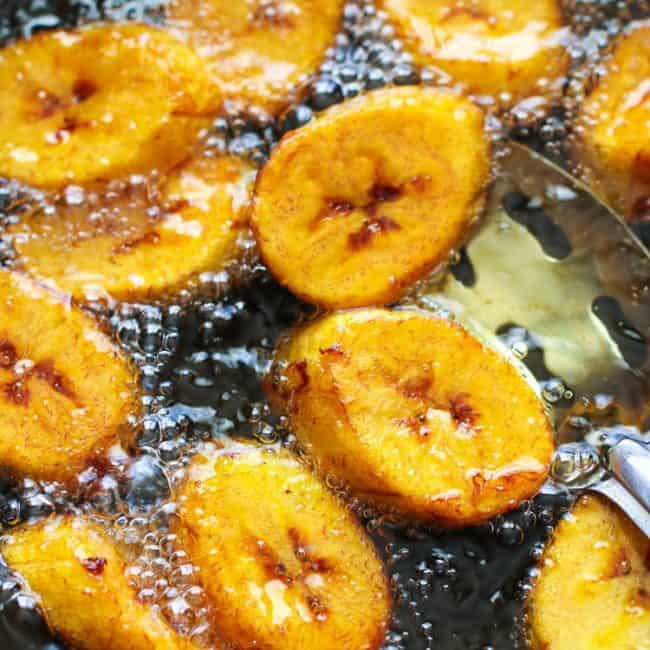 Print
Fried Plantains
Fried Plantains – sweet ripe plantains, sliced and fried to perfection. It's somewhat crisp on the outside and soft on the inside. Sooo good that you can eat it as a side dish to rice & beans, stews or on its own! Amazingly delicious!

Ingredients
2-3

plantains

vegetable oil for deep-frying

Salt to taste
Instructions
Using a sharp knife cut both ends off the plantain. This will make it easy to grab the skin of the plantains. Slit a shallow line down the long seam of the plantain.

Cut plantains in diagonal pieces or medium sized slices and set aside.

Heat oil in a large skillet over medium-high. Test if oil is ready by carefully trying out a slice of plantain. Oil should bubble before proceeding with the rest. If not wait another minute or two. If oil is too hot turn off gas and wait for about 2 minutes before proceeding.

Fry in batches, turning once, until plantains has reached desired color (brown) about 2 –3 minutes per side.

Then continue cooking, turning plantains occasionally , until soft and deep golden brown, 5–7 minutes.

Carefully remove plantains with slotted spoon and transfer to a paper towel-lined plate or tray .

Season with salt and/or cinnamon sugar, if desired. Serve hot.
Healthy Fried Plantains
Coat a large frying pan with cooking oil spray. Spray the tops of the plantains with a generous layer of oil spray and sprinkle with salt, freshly ground pepper

Let the plantains "fry" on medium heat, shaking the frying pan to redistribute them every few minutes

As the plantains brown, continue to add more cooking oil spray, salt and pepper (if needed) until they have reached the desired color and texture.
Nutrition Information:
Calories:
145
kcal
(7%)
|
Carbohydrates:
38
g
(13%)
|
Protein:
1
g
(2%)
|
Sodium:
4
mg
|
Potassium:
595
mg
(17%)
|
Fiber:
2
g
(8%)
|
Sugar:
17
g
(19%)
|
Vitamin A:
1345
IU
(27%)
|
Vitamin C:
21.9
mg
(27%)
|
Calcium:
4
mg
|
Iron:
0.7
mg
(4%)
Nutrition Facts
Fried Plantains
Amount Per Serving
Calories 145
% Daily Value*
Sodium 4mg0%
Potassium 595mg17%
Carbohydrates 38g13%
Protein 1g2%
Vitamin A 1345IU27%
Vitamin C 21.9mg27%
Calcium 4mg0%
Iron 0.7mg4%
* Percent Daily Values are based on a 2000 calorie diet.