It's time for Thyme! Did you know that the ancient Greeks used it as an ingredient of baths because of the beautiful aroma of this plant? The scent of burning the herb was used as a freshener of temples! 😮 Well, with food as my sacred space – it's a perfect use for meats, chicken, and fish, alike. It makes my dishes smell (and taste!) a little more refreshed.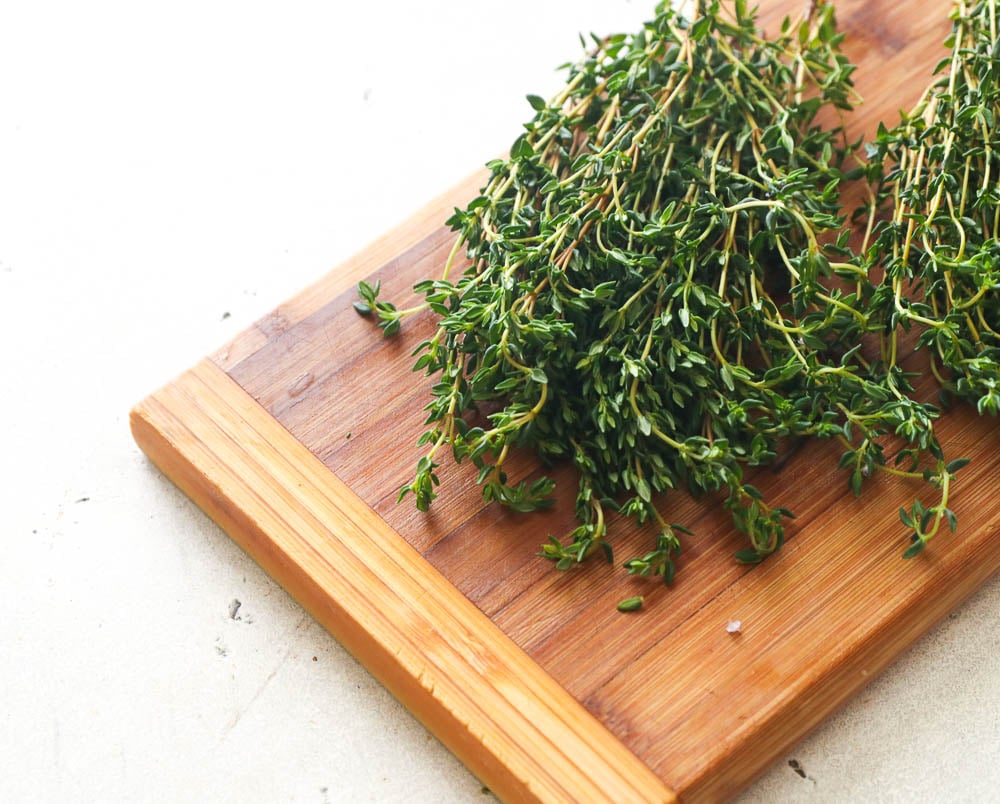 What Is Thyme?
Thyme is an herb (dried aerial parts) of some members of the genus Thymus of aromatic perennial evergreen herbs in the mint family Lamiaceae and relatives of the oregano genus Origanum. It has over 300 varieties that are in fact edible. Thymus vulgaris most commonly cultivated and used for culinary purposes.
Different Kinds of Thyme
Here are our top favorites for cooking, surely you've used one of this kind:
Lemon Thyme – a perfect herb with beautiful yellowish-green foliage and subtle hints of lemon to its aroma. The taste is much like the common kind but with a lemony twist to it. A good addition to dishes containing fish and seafood, such as Seafood Gumbo and infusing flavor in Brined Salmon.
Caraway Thyme – carries along with its beautiful ground covering foliage, the aroma of the caraway seeds.

Italian Oregano Thyme

– It produces one of the best-flavored oreganos on a 12-inch high plant.

Mint Thyme

– is a kind that is perfect for ground coverage. Its lilac flowers make it a sight to enjoy while even without the flowers, its minty aroma and green foliage are beautiful as well.

Juniper Thyme

– has a pungent taste and aroma and is a perfect culinary herb.
French Thyme – It is an attractive shrub that has white blooms to flaunt. Its chopped leaves are often added to soups and stews to enhance their flavor. Make use of it with these hearty soups Cajun Corn Shrimp Soup and Instant Pot Oxtail Soup.

Orange Balsam Thyme

– has an astringent aroma associated with it and is a great herb used in cooking.
Thyme Camphor Herb Plant – Its herbaceous flavor makes it a perfect addition to robust meat curries, like this Instant Pot Curry Goat.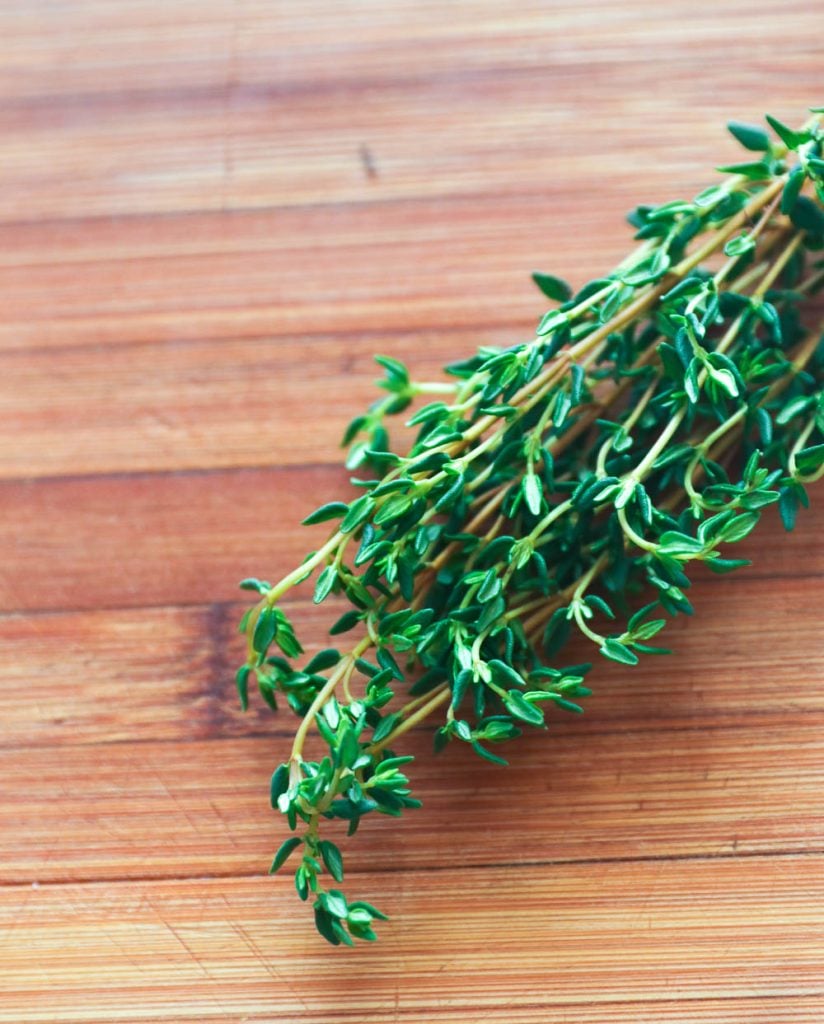 Fresh Vs. Dried
What's healthiest? Fresh is often seen as the most healthy, although dried thyme is also healthy. The only thing is when dried, thyme will lose some of its volatile oils along with vitamins. The upside is that the nutrients that are left can be preserved for a long time.
Italian Dishes – This herb is great when used fresh, and goes well in many typical southern Italy pasta sauces which often feature peppers and eggplants.
Seasonal – Dried is usually used during seasons when fresh ones are not available.
Dry Means FLAVOR – Dried thyme retains much of the flavor and aroma of its fresh counterpart. It doesn't acquire a dry or straw-like taste once it loses its moisture. This means that fresh and dried kinds are generally interchangeable as far as flavor is concerned.
How Do I Use Thyme?
Meat dishes – Its intensely pungent flavor complements most meats, including chicken like this Jamaican Jerk Chicken, Braised Chicken Garlic Thyme. and game.
Perfect for Stews. Its robust nature can withstand long cooking time and it's a compliment to slow-cooked dishes such as stews and daubes.
Bouquet Garni (thyme, parsley and bay) in stews, soups, meat, fish, compound butter, eggs, dressings, and vegetable dishes. Its used in many recipes from soups to meat like this Beef Barley Soup recipe. It's also a favorite ingredient in Italy.
Paired with other herbs – Its flavor also marries well with other robust and heady herbs such as rosemary and sage. It also pairs exquisitely with lemon, garlic, and basil. You can get great results if you marinate the meat with these herbs for a few hours before grilling (Smoked Prime Rib) along with good quality Italian olive oil and pepper.
Stuffed meat – Stuffings for poultry, pork and lamb, use it chopped in a marinade for olives. Add sprigs to marinades for meat, fish or vegetables or tuck a few sprigs with half a lemon and an onion inside a chicken before roasting. You can try this Stuffed Pork Loin recipe with it.
Infusing flavor – can be used either fresh or dried or put sprigs in oil or vinegar to infuse the flavor.
Antioxidant properties – it contains numerous flavonoids that make it an antioxidant-rich food. It also has volatile oils that have antibacterial, antispasmodic and carminative, or gas relieving properties.
Substitutes For Thyme
Fresh Herbs
Herb type – Any variety of fresh herbs work as a substitute for thyme in sweet and savory recipes. The ratios differ slightly for each type of herb.
Fresh to Dry – You can use 1 1/2 times the amount of fresh as would dry. So if the recipe calls for 1 teaspoon of dried thyme, then start with 1 1/2 teaspoons of fresh.
Oregano Substitute
Oregano hits many of the same earthy, minty, savory, and slightly bitter notes.
Fresh – Use fresh oregano in a 1:1 swap for fresh thyme, and same for the dried ones.
Dried to Fresh – Use half the amount of dried oregano for the amount of fresh thyme.
Marjoram Substitute
It's got a woody, minty profile similar to oregano, but with a sweeter and more delicate flavor.
Fresh and Dried – a 1:1 swap of marjoram, same goes for dried ones.
Dried to Fresh –

Use half the amount

of dried marjoram as a swap for fresh.
Basil Substitute
Fresh basil is very licoricey and bright. Use half of the amount of fresh basil as you would fresh thyme.
Dried to Fresh – Dried basil is a bit more muted, so a

1:1 swap

for fresh thyme.
Dried –

2:1 swap

for dried thyme

, would be appropriate.
Spice Blends Substitute
A few of these contain powdered aromatics or dried seeds, you may not want to include these in sweet recipes that call for thyme.
Poultry Seasoning – typically contains thyme, nutmeg, thyme, marjoram, black pepper, rosemary, and sage, this spice blend is a natural swap for thyme.
Italian Seasoning – a mixture of dried basil, marjoram, thyme, oregano, and rosemary, this ultra-fragrant spice blend is another great choice for a thyme substitute.
Storage
Refrigerate -The best storage method for fresh thyme is to place it in the refrigerator. You should wrap it in a slightly damp paper towel and place it in a resealable plastic bag and keep it for up to a week.
Air-tight container – Store dried thyme in a tightly sealed glass container that's in a dark, cool, and dry place for a year or longer depending on how often the container is

opened.

For fresh Thyme sprig — snip the end of the thyme's stem and put it in a glass jar in 1 inch of water. Seal this with a plastic bag.