Black pepper is graded according to its size, meaning the larger the peppercorn, the better and stronger the flavor.  Its contribution to any dish that it's added to may look so tiny and simple but it's grand with flavor! No wonder it's called the "black gold" and still treasured since the time of the Ancient Egyptians.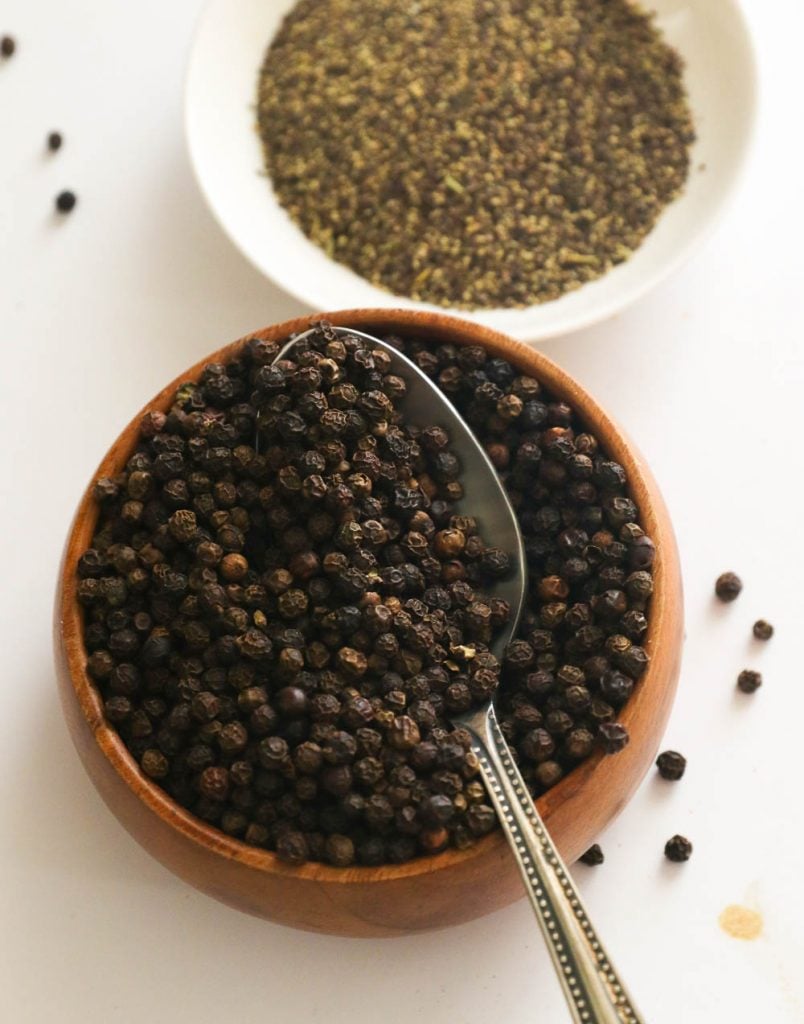 What Is Black Pepper?
It is a flowering vine from the Piperaceae family and is cultivated in tropical areas for its fruit, or peppercorns. It is produced from the still-green, unripe drupe of the pepper plant. Basically a Dried Drupe! Lol. The drupes dry in the sun or by machine for several days. When it dries, the spice is called black peppercorn and used as a spice and seasoning either whole or ground.
White Pepper Vs. Black Pepper
Black pepper is richer and bolder by the time the whole black pepper dries. It has its strongest flavor possible It also has a lot of heat, topped off with a strong aroma.
White pepper is more "exposed" than black, it

loses its flavor much faster

. It will turn stale and you might not know it. So if you decide to cook with white pepper, remember it should be fresh.
Flavor Of Black Pepper
Pungent, earthy, hot, woody, brash—pepper's distinct flavor somehow pairs well with just about any savory food (Cube Steak and Mushroom), and some sweet ones, too. If salt helps bring out flavors, black pepper makes foods bolder versions of themselves.
Cook with freshly harvested pepper, this is usually not an issue for high-demand grades like Tellicherry, which sell quickly, but something to look out for in lower-quality peppercorns.
Black Peppercorn Grading 
The berries for black peppercorns are picked from the vine just before they ripen and turn red. As they dry, the berries turn black.
Tellicherry is the wagyu beef of the black peppercorn world, these extra-large berries are left to ripen longer on the vine, maximizing their rich fruitiness and its peppercorn flavor.
The Bold Tellicherry is a

wagyu ribeye, the best of the best

, truly some of the strongest, most pungent peppercorns in the world.
What Are The Benefits Of Black Pepper
Besides enhancing the flavor of the dish, the king of spices is known to offer a number of health benefits.
Diaphoretic – The thermogenic characteristic of black pepper is its diaphoretic quality, which means it promotes skin flush and perspiration.

Reduces Health Risks – reduces the risk of cancer, and heart and liver ailments.
Clear Up Congestion – It is also a remedy that cures cold and cough by stimulating circulation and mucous flow. Increasing the amount of pepper you sprinkle on your meals can help to break up the excess mucus that is causing your congestion issues.
Great for Digestion – Topping your food with plenty of black pepper stimulates your tastebuds. This, in turn, sends signals to the stomach to begin producing hydrochloric acid. More hydrochloric acid means more efficient digestion. The piperine in black pepper helps stimulate digestive enzymes and improve gastrointestinal functionality and has antioxidant, antimicrobial, and anti-inflammatory properties as well.

Uses And Application
Oral Hygiene – Use it as a daily mouthwash simply by mixing together a small amount of clove oil with salt and pepper.
Skin Exfoliant – It makes an excellent natural exfoliator for your skin. It helps to remove dead skin cells, add more oxygen and stimulate circulation to skin cells. 

Make a homemade face scrub by mixing together a cup of sugar, half a cup of coconut or avocado oil, a few drops of orange essential oil and half a teaspoon of ground black pepper.

Laundry! – Sprinkle half a teaspoon of ground black pepper in your laundry, to increase the cleaning power of the detergent which will provide a great way to keep the colors in your clothes bright.
Natural Garden Pesticide – make a mixture of pepper and water and spray the mixture on any plants which are being eaten by insects
Whole and Ground
Whole peppercorns, when stored correctly, will keep their flavor for a little over a year

.

Ground pepper only keeps its flavor for about 3-4 months.
Freshly Ground for Best Taste – Dried whole black pepper has a very strong flavor for dishes like Chicken Adobo, but for daily use it is

 best when it is freshly ground.

Oils are released bringing out even more flavor when the whole peppercorn is cracked using a mill.
Recipes
Substitutions
White and black pepper – may be swapped for small amounts called for in a recipe.
Dried Papaya seeds are similar in texture to black peppercorns and have a pungent taste so your black pepper sauce tastes just the same as before. Use a 1:1 ratio.
Dried Green peppercorns are a good substitute in case you realize you cannot find the salt buddy for the pungency to your dish while cooking. Substitute it at a 1:1 ratio. Try it with my Lentil Soup or African Black Bean Stew recipe.
Pink pepper is a sweeter version of white pepper. It can be a great substitute for black pepper as it can give your dish a rosy tone. Used to enhance flavors of bacon, beef, chicken and white fish- Baked Cod. You may need to add more than the required amount of black pepper to a recipe.
Sichuan peppercorns are a moderate substitute for black peppercorns as they have a unique aroma, which comprises a lemony-tangy flavor. Use a 1:1 ratio. Try it with this Spicy Roast Garlic Broccoli.
Coriander seeds can be used as a black pepper alternative when needed, just grind the seeds and use the powder to season. Try it with this Blackened Shrimp and Pasta.
Storage
Away from Sunlight – Store in a cool, dark cupboard, away from direct heat or sunlight to maximize the shelf life of ground black pepper

.

Year Shelf-Life for Whole Peppercorn – The whole black peppercorn can

last for about

a year w

hen kept in a sealed container.

Ground Pepper Shelf-Life – The pre-ground version loses its best flavor after just a few months. This is exactly why you can find bottles of whole peppers with built-in grinders.