Lentil Soup – super easy, cozy and healthy lentil soup that is huge flavor. Loaded with earthy and aromatic spices. . Best enjoyed with slices of bread or on its own. So cozy and comforting!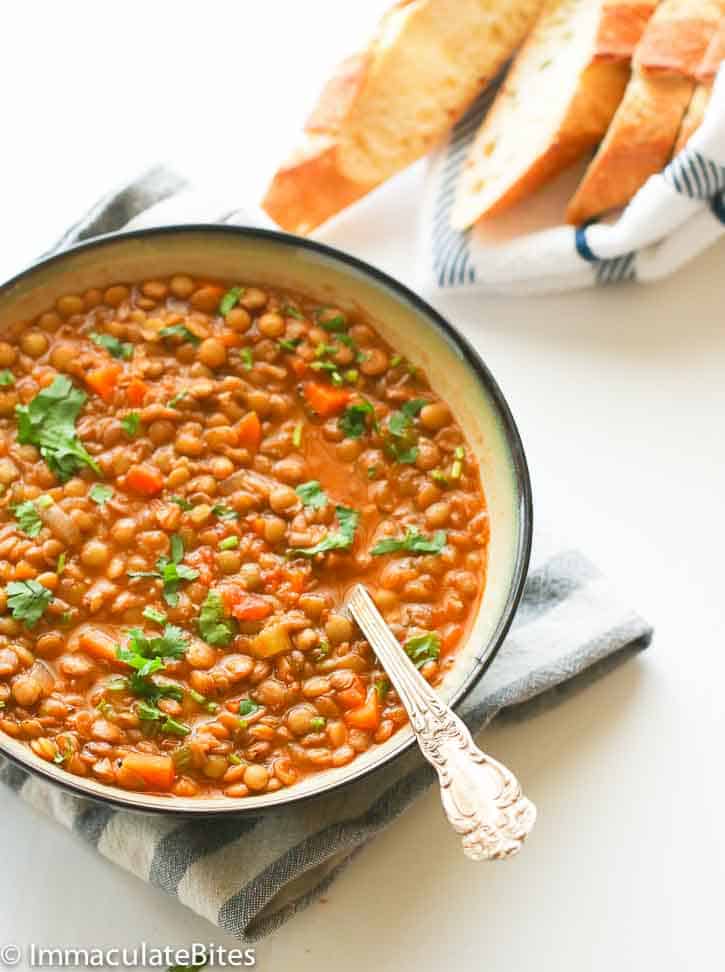 Although it's officially fall season, the weather here in LA seems to be  not in full fall swing. But that won't stop me from digging in a warm cozy bowl of soup like this Lentil Soup.
Don't let the long list of ingredients scare you 'cause believe me, it comes together easily.
This Lentil Soup is perfect for weeknights or whenever you need a hearty quick fix on the table without laboring too much in the kitchen.
Unlike its other leguminous cousins like beans, lentils cook up quicker. It only takes half an hour from stove top to table and you may leave it unattended.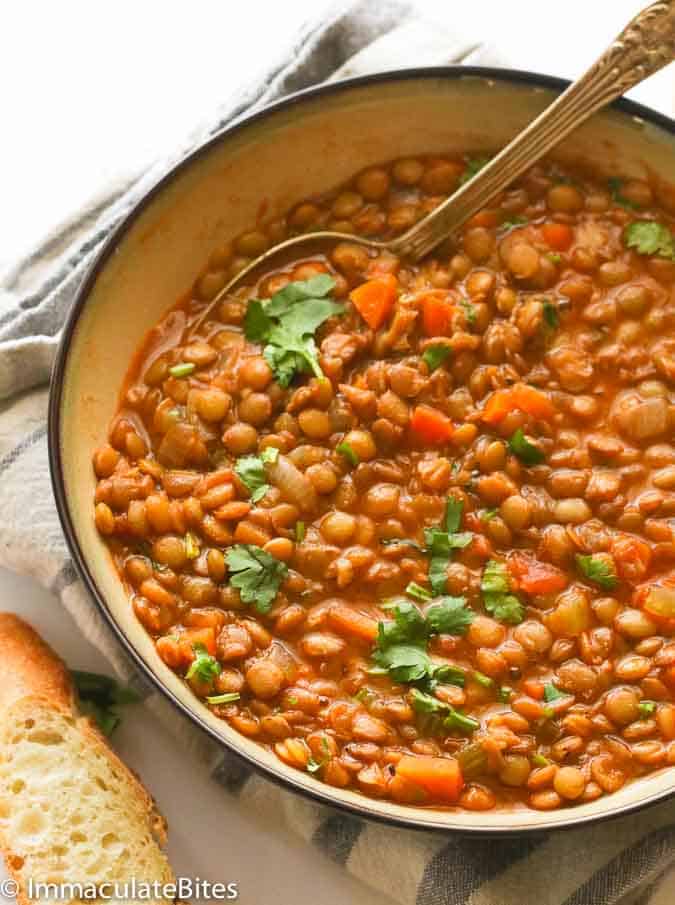 While you're waiting for it to simmer and cook through, you can prepare a side dish to go along with it. In this recipe I paired it with thick slices of bread which is so perfect for dunking. Oh yeah, dunk it, dunk it!!  
But if you want to go all out, you may pair this Lentil Soup with cornbread.
This classic recipe can be subbed with brown, red and even yellow lentils and even chickpeas. But I prefer to use green lentils in this recipe as they hold their shape very well even after cooking. They still look oh-so pretty, right?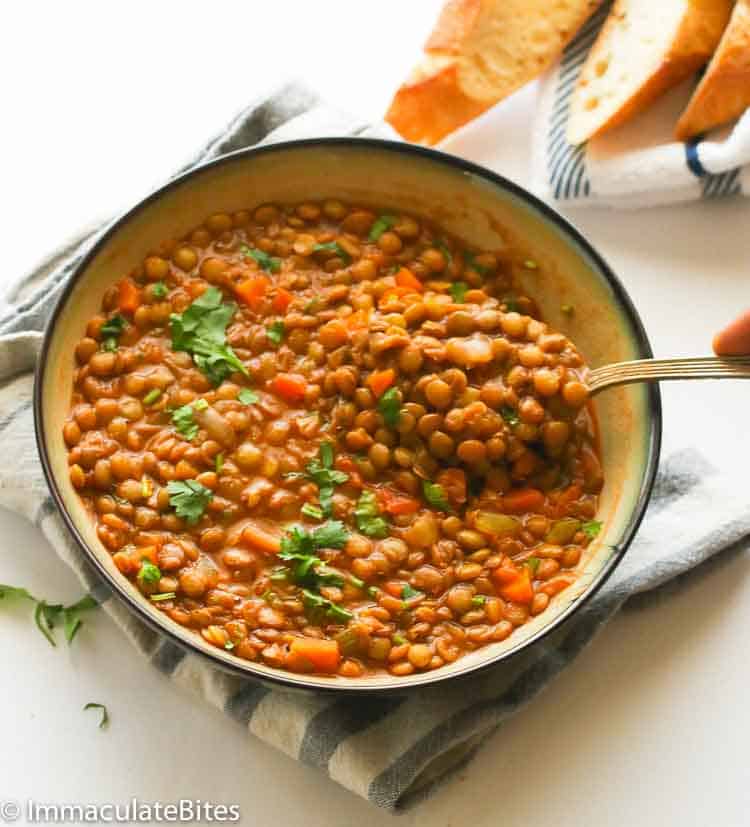 Well, you may have also read a couple of recipes online that doesn't call for soaking the lentils. But I'd like to soak these lentils for two hours before they hit the stovetop. Soaking lentils (or beans) reduces the phytates and other anti-nutrients for maximum absorption of nutrients found in lentils and beans.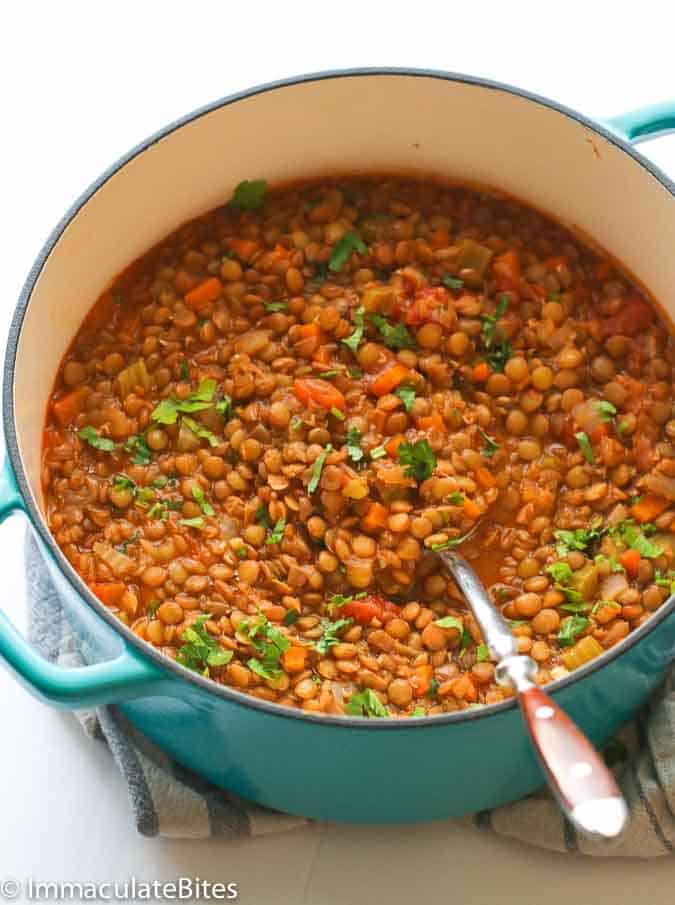 If you've noticed though, when you soak your beans or other legumes before cooking them, they tend to be easier to digest making you feel more full. But it's your call. You may skip the soaking step.
This simple yet warm and hearty Lentil is a perfect addition on your fall and winter menu. What's not to love with a big bowl of healthy soup? You'll be begging for seconds and thirds. Enjoy!
 Tips and Notes:
 You may sub green lentils in this recipe with brown, red, yellow lentils and even chickpeas.
When you buy lentils, use them within a few months. Older lentils take longer to cook and shred their skins during cooking. And never mix newly-purchased lentils with the old ones.
Soaking your lentils for longer may result to loss of nutrients. I prefer it soaked just for 2 hours.
You may think that your lentil pack is safe from unwanted intruder but to be on the safe side, sift through the lentils before soaking them to get rid of debris or pebbles.
If you want to add a little bit of meat into this soup, you may do so by adding  pork shoulder, ham hock or even bacon. 
Keep tasting the lentils as they cook to see if they're your preferred consistency.
Never sub the chicken broth with plain water. This chicken broth makes a difference.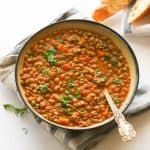 Lentil Soup
Lentil Soup - super easy, cozy and healthy lentil soup flavored with a hint of cumin and smoked paprika that brings warm to every spoonful of it and added with tomato for an extra boost of flavor. Best enjoyed with slices of bread or on its own.

Ingredients
1

pound

(450 grams) dry lentils

,soaked for 2 hours

3-4

tablespoons

cooking oil

2

medium

onion

,diced (about 1 3/4 cup diced)

4

garlic cloves

,minced

1/2

tablespoon

minced ginger

2

celery ribs

,diced (about 1 cup)

1 1/2

teaspoon

cumin

2-3

teaspoons

smoked paprika

1

14.5 ounce, 425grams can

diced tomatoes

2

green onions

, chopped

1

teaspoon

white pepper

2-3

large carrot

, chopped (about 1 1/2 cup)

2

tablespoons

or more chopped parsley/Cilantro

½

teaspoon

cayenne pepper (optional)

6

cups

or more Vegetable /Chicken broth or water

Salt and Pepper to taste
Instructions
Heat up large sauce pan with oil then add onions, celery, garlic, ginger, and cumin spice. Stir occasionally for about 2-3 minutes until onions are translucent.

Then add smoked paprika and soaked lentils . Stir and sauté for about about a minute .

Finally add tomatoes, green onions, white pepper , carrots and cayenne (optional)

Add about 6 cups chicken stock . Then salt.


Bring to a boil and let it simmer until sauce thickens. It might take about 30-45 minutes or more depending on how you like your lentils. Throw in some parsley, adjust for salt and pepper and soup consistency with more Liquid. Serve warm with bread.

Recipe Notes
Please keep in mind that nutritional information is a rough estimate and can vary greatly based on products used.
Nutrition Facts
Lentil Soup
Amount Per Serving (1 cup)
Calories 312
Calories from Fat 63
% Daily Value*
Total Fat 7g 11%
Sodium 39mg 2%
Potassium 793mg 23%
Total Carbohydrates 45g 15%
Protein 17g 34%
* Percent Daily Values are based on a 2000 calorie diet.