Jamaican Carrot Juice-  Not your ordinary Carrot Juice , this delightfully creamy and Sweet Carrot Juice that is sure to please- Enjoy for Breakfast or as Cocktail. Vegan Option

Whenever I introduced this  Jamaican Carrot Juice to my friends and family, there is always a fair bit of skepticism.  The healthy ones just love the idea of a Carrot Juice while the others are totally against taking a sip. They can't believe I would offer them carrot Juice as oppose to all the other Juicy Cocktails I make.
I just love looking at their expression when they have a sip. Then it's all over. Never do they doubt again. Ah Oui, Yes. Yes. It is that good.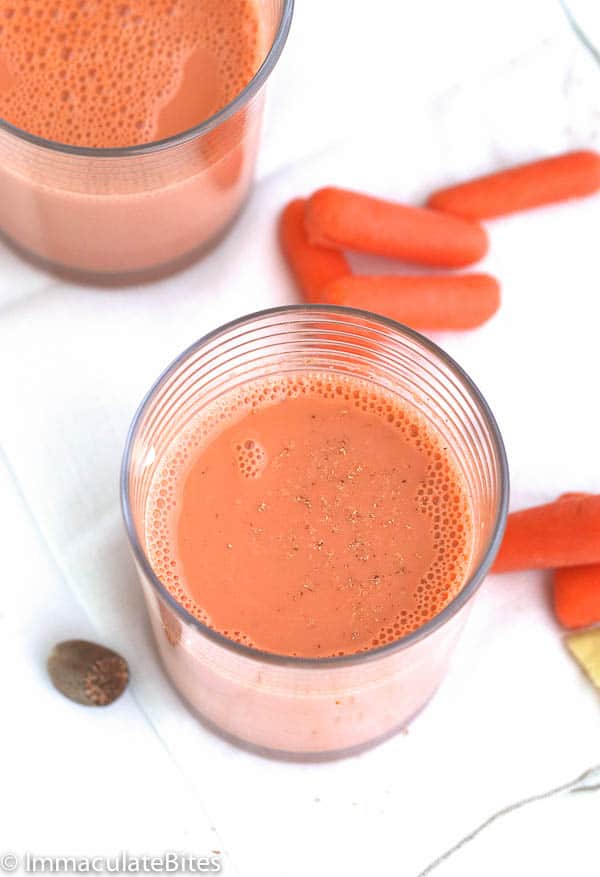 One of them exclaimed," you should bottle this and sell. I smile and politely nod, while they drink away.
Ok, am not going to profess this is a healthy treat – No far from it, though is somewhat healthy. After all it is made with carrots and ginger. Right?  If you buy that argument. Lets get down to this tropical paradise.
 This Caribbean Carrot Juice is quite simple to put together, doesn't need a lot of precision.  But am going to over you several ways of making it.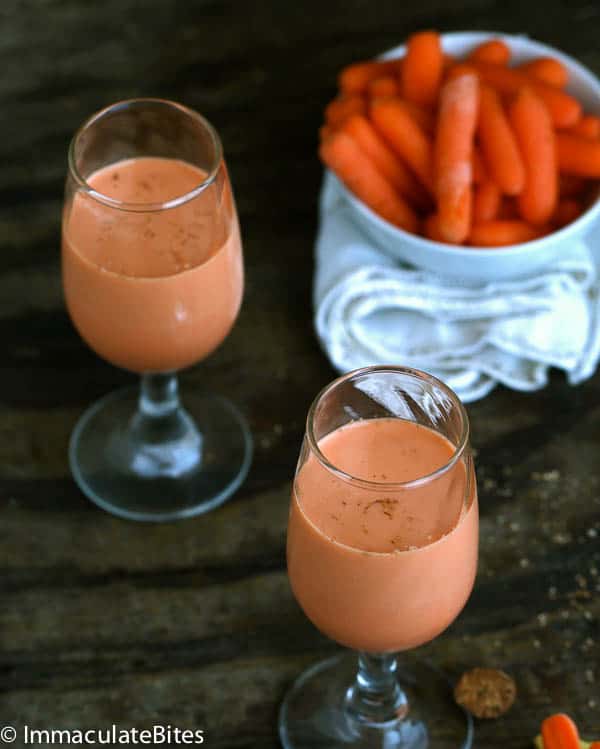 The way it is often made is a Can of condensed milk, flavoring, carrots and alcohol if you want to go that route. It's all about customization. And you can do this for your guests too!
Want to go the vegan route? No problem, but it going to take to do an extra step. Make your own condensed milk, which is fairly easy to make and can be made ahead of time.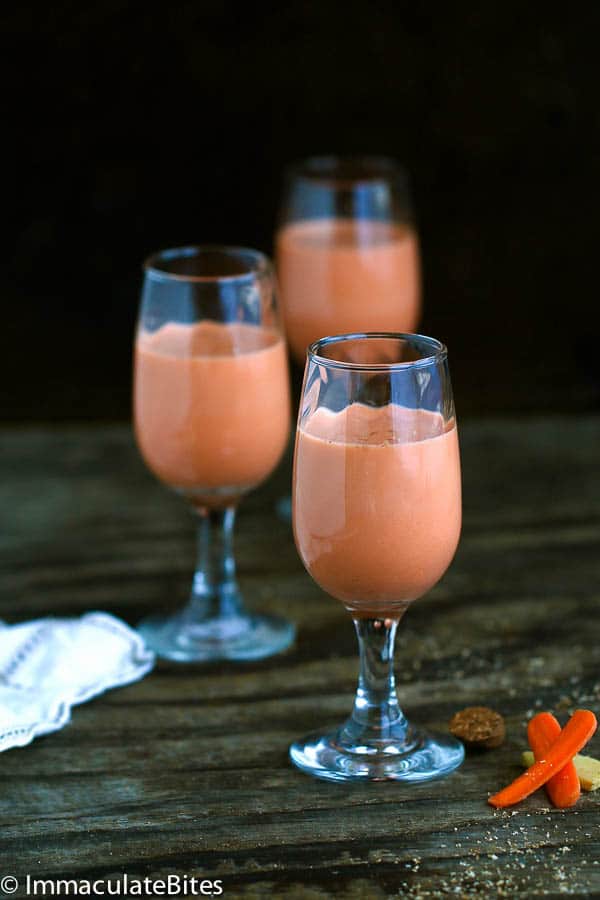 Another option that hubby does is blend the carrots add coconut milk to it, season to taste and drink away. He does not like to throw away anything
My favorite is surprisingly the vegan one, just because I love coconuts. No  I think it gives it a nutty flavor, which makes it more appealing.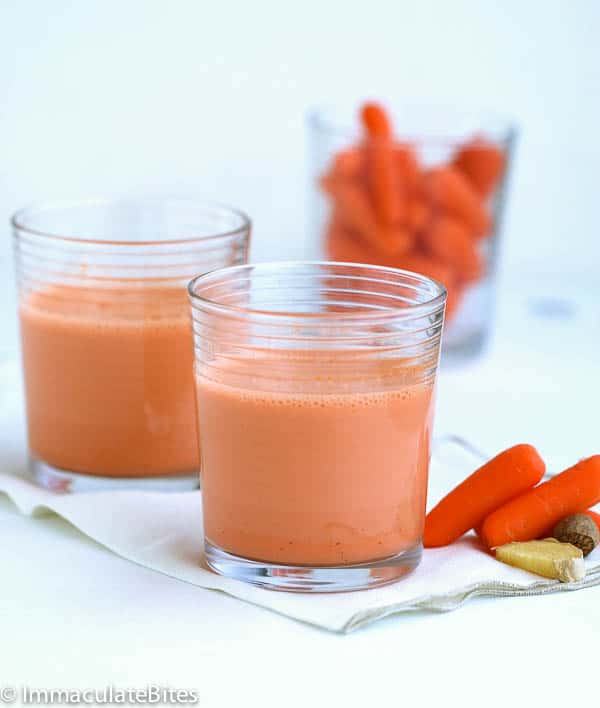 I have given you several options because I really want you to try it out. So go ahead, you are not going to be disappointed. They make delicious Cocktails!
Do let me know how it works out .
Cheers!
Jamaican Carrot Juice
Jamaican Carrot Juice- Not your ordinary Carrot Juice , this delightfully creamy and Sweet Carrot Juice that is sure to please- Enjoy for Breakfast or as Cocktail. Vegan Option
Ingredients
2

pounds

Carrots baby carrots or chopped

4

or more cups water

1

can Condensed milk

1/2

teaspoons

nutmeg/ cinnamon adjust to taste

1

teaspoon

vanilla

½

teaspoon

fresh ginger

Rum add according to preference

optional
Vegan option
Vegan Condensed Milk

1

can coconut milk

1/3

cup

coconut sugar
Instructions
Add coconut milk and sugar in a medium saucepan.

Cook on medium heat for about 35 or more minutes, stir often with a whisk you may have to reduce the heat if necessary to prevent any burns. Do not step away from the saucepan. When it has thickened remove and let cool before using. Proceed with carrots and replace the condensed milk with this.

Blend carrot in a blender (I used blendtec until puree) with about 3-4 cups of water.

Sieve the carrot mixture using a Cheesecloth, fine cheese or clean kitchen towel. Squeeze really tight to extract all the carrot Juice. Save the Carrot Juice. Discard the rest.

Rinse the blender with water to remove any leftover carrots.

Then place the carrots juice in the blender together with all the other ingredients. Pulse or about 30 seconds until all the ingredients have come together.

Chill and until ready to drink
Recipe Notes
I used baby carrots for convience . you may use regular carrots, do peel the exterior and chop before blending.
Nutrition Facts
Jamaican Carrot Juice
Amount Per Serving
Calories 67
% Daily Value*
Sodium 142mg6%
Potassium 430mg12%
Carbohydrates 15g5%
Protein 1g2%
Vitamin A 25020IU500%
Vitamin C 4.7mg6%
Calcium 58mg6%
Iron 1.6mg9%
* Percent Daily Values are based on a 2000 calorie diet.