Crispy Coconut Shrimp- Fresh Shrimp dipped in coconut batter , then rolled in an aromatic combination of coconut flakes, breadcrumbs and spices . So Decadent, So Exotic , So Tasty !!  Baked or Fried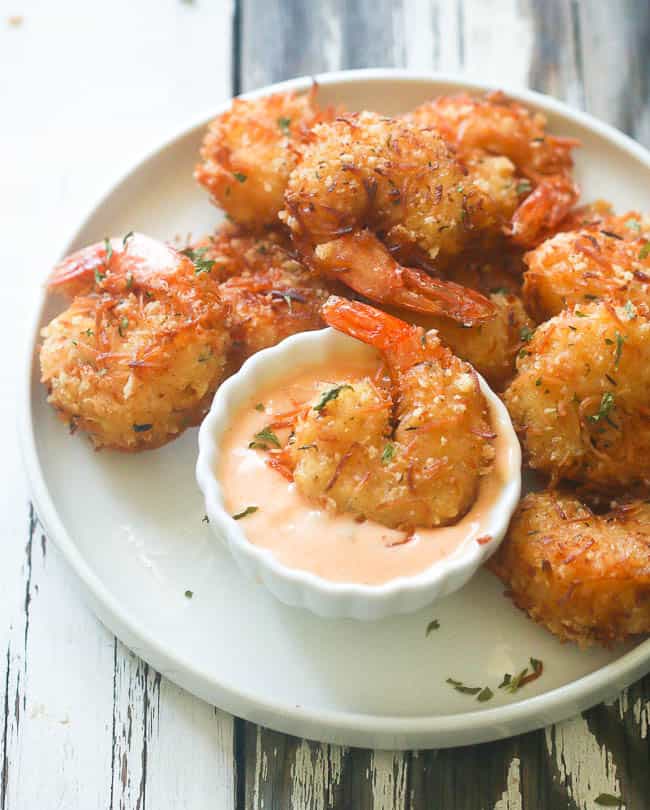 Want something that would get your taste buds excited . Sure you do.
Is it possible for you to make it with  without resorting to deep frying? Yes, you can. Transport yourself to the Caribbean with this  coconut shrimp. It requires very little time and is always a crowd pleaser. It would satisfy your craving for something light and sultry.
Here  is the fried version. The baked version is equally delicious.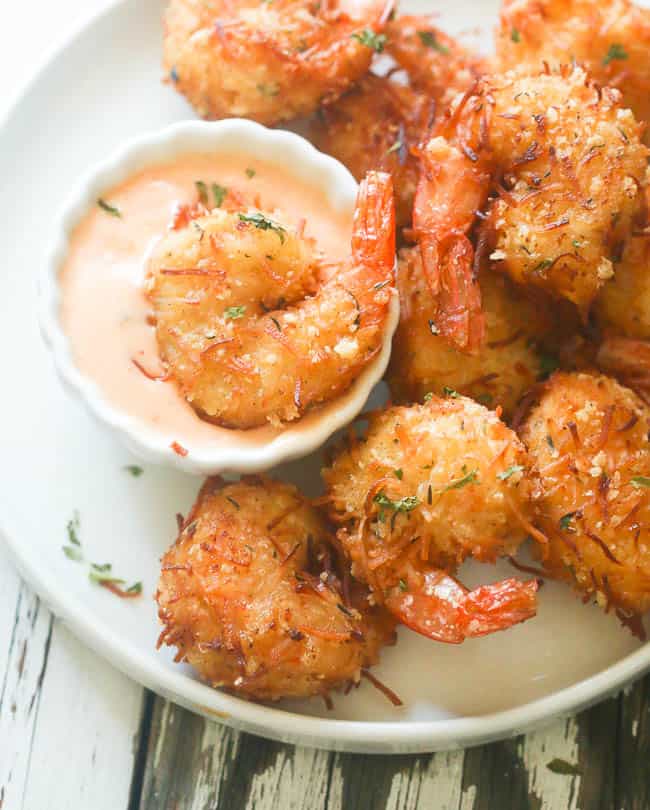 If you simply can't deal with hot oil and the un-wanted calories . Then go the baking route .
Don't let me  deter you.
I just couldn't help myself – too much stress.  (blame it on back to school prep)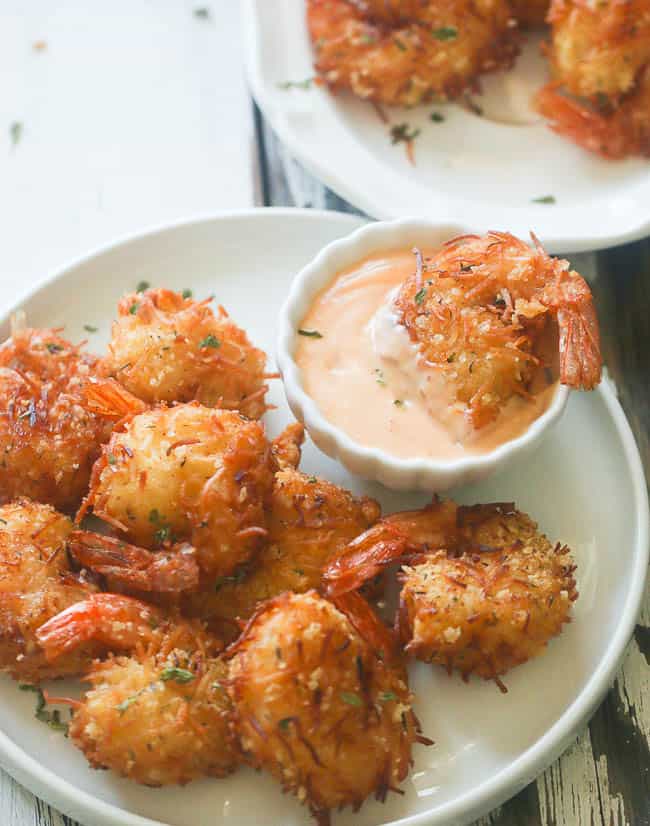 These shrimps are super crispy on the outside, sweet and tender shrimp inside. You can even bread the shrimp ahead of time and let them rest in refrigerator until ready to bake. After baking or frying you are left with a crispy coconut exterior and succulent  tender shrimp inside.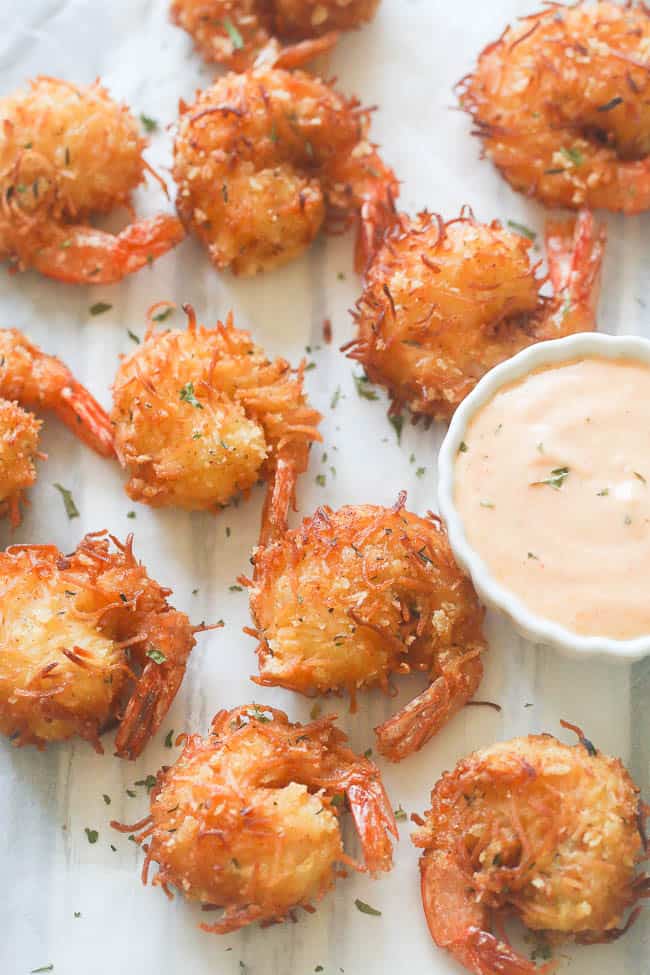 In this recipe, I used coconut flakes, garlic powder, , dried thyme, paprika, and bread crumbs. The batter is made with egg, and coconut milk. You can substitute the water, beer or milk.
To complement the shrimp , I like serving them with a sweet creamy dip  like  pineapple marmalade, Dijon mustard and mayonnaise. Or sweet chili sauce or sriracha aioli. Or this caribbean pepper sauce here  You get to decide.
Enjoy!!!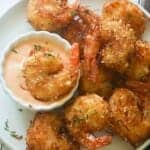 Baked Coconut Shrimp
Ingredients
½

cup

flour

1

egg

1/4

cup

Coconut milk

One pound large shrimp

16-20

½

cup

bread crumbs

1 1/2

cups

coconut flakes

see notes

3/4- 1-

teaspoon

salt

adjust to preference

1

teaspoon

paprika

1

teaspoon

garlic powder

1/2

teaspoon

dried thyme

Optional
Pineapple marmalade dip
1

cup

pineapple marmalade

2

Tablespoon

Dijon mustard

2

tablespoon

mayonnaise
Sriracha Dipping sauce
1/2

cup

mayonnaise

2/3

teaspoon

garlic powder

1/4

teaspoon

paprika

1

teaspoon

lemon juice

1-2

tablespoons

sriracha

adjust to taste
Instructions
Prepare the dip by combining ingredients together and refrigerate

Marmalade Dip: In a medium bowl, combine the marmalade, mayonnaise and Dijon mustard . Cover and refrigerate for at least several hours to allow flavors to blend. Do the same if making the sirracha sauce.

Preheat oven to 450°F. Align cookie sheet with parchment or foil paper, coat with cooking spray.

Peel and devein shrimp leaving the tails on. Butterfly the shrimp: cutting halfway through the back, stopping at the tail, so they will be able to stand tail up

Whisk the egg, coconut milk, milk or beer, and flour in a medium mixing bowl until a smooth batter is formed.

In another bowl, mix bread crumbs, coconut flakes, and spices.

Hold shrimp by tail, dip each shrimp first in batter, and then roll in seasoned coconut mixture. Place on baking sheet tail up.

Bake the shrimp until cooked through and the coating is starting to brown, 10 to 12 minutes. Serve the shrimp with dip.
Frying
If frying shrimp, heat oil to 375°. Fry shrimp, a few pieces at a time, for 2-3 minutes on each side or until no longer pink and golden brown. Drain on paper towels.
Recipe Notes
Make ahead for coconut shrimp Shrimp
When you finish breading the shrimp you can place in the fridge,  and let it stay there til you are ready to fry  about 4-6 hours.
If you want to make this days or months ahead of time then it can be done . Here's how you do it
Remove

shrimp from the fryer and bring to room temperature ,  place shrimp making cookie sheet or large plate ,make  sure they are not touching each . Place in the freezer until it freezes.

Now transfer to an airtight plastic bag or  a zip-lock bag and store for up to two months

When ready to eat or serve , pre-heated 400°F , line a cookie sheet or baking pan with parchment or foil paper cook /bake for about 18- 20 minutes  flipping once halfway through baking, until shrimp is crisp and is heated through.
Frying
If frying , place shrimp in hot oil about  375°F  fry directly  until shrimp is crisp and heated through, about 3-5 minutes.
Nutrition Facts
Baked Coconut Shrimp
Amount Per Serving
Calories 227
Calories from Fat 621
% Daily Value*
Total Fat 69g 106%
Cholesterol 74mg 25%
Sodium 2113mg 88%
Potassium 430mg 12%
Total Carbohydrates 113g 38%
Protein 11g 22%
* Percent Daily Values are based on a 2000 calorie diet.