Warning; these pineapple empanadas, topped with caramel or cinnamon sugar are a highly addictive tropical treat.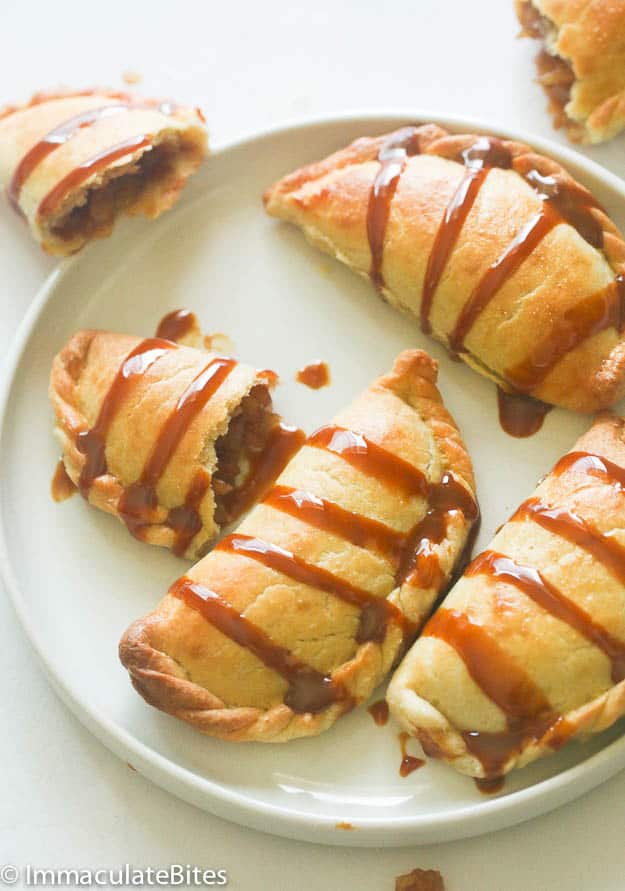 Whenever I'm at a Hispanic bakery or store, I make sure I take some home. Recently, they have been making their debut at mainstream supermarkets. You know what? I think they are out to get me! Although the ones cropping up in the supermarkets are still enjoyable, I prefer empanadas made with  cream cheese dough or those from the Latino stores. It tastes way better.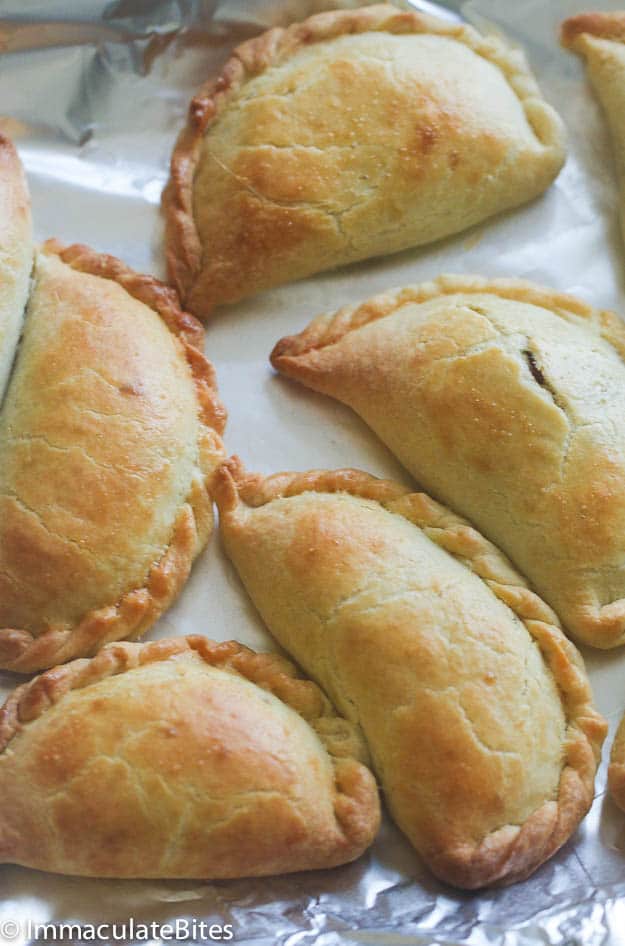 How do I know? Because I make my it my job to sample them. I love empanadas savory or sweet-chicken, meat, vegetarian I'm in. I have discovered a whole new empanada world (even ones made with plantains – which I am so making!!!!). If you are an empanada fan stay tuned. Now lets focus on this one.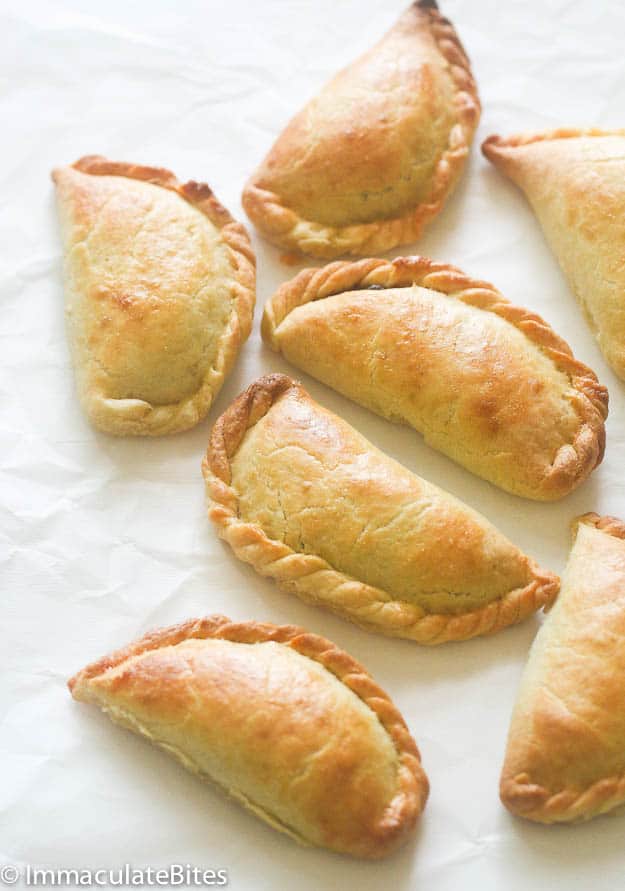 This sweet dessert is very popular in South American countries and I would say the flavors are right up there with Caribbean and African Countries and I truly believe that is why it resonates with me. Originally it is made with fresh pineapples but I am going to use canned pineapple. Don't be shy about using the fresh ones.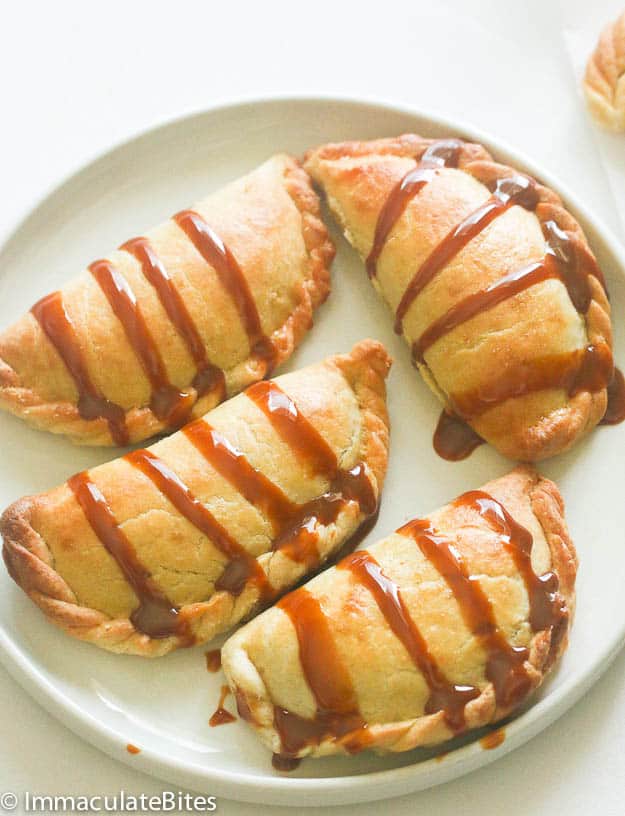 This may be eaten just as is or top it with caramel store bought or roll them in cinnamon sugar.
Isn't that cool you get to make a choice?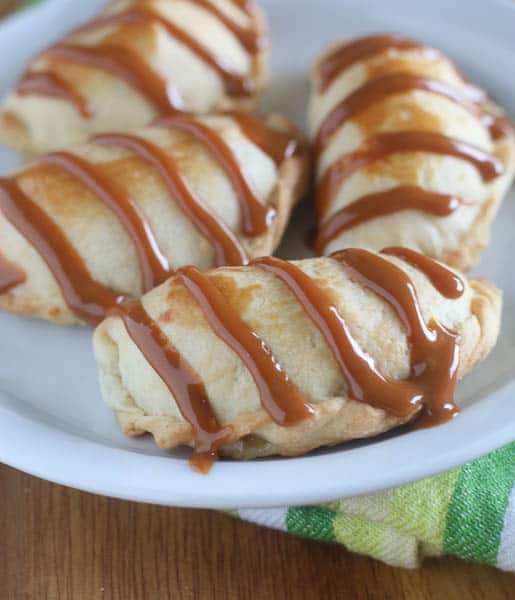 Print
Pineapple Empandas
Prep: 2 hrs
Cook: 30 mins
Total: 2 hrs 30 mins
South American
Ingredients
Dough
2 cups all purpose flour
2 tablespoon granulated sugar
½ teaspoon salt
½ teaspoon baking powder
4 1/2- ounces cold cream cheese
12 tablespoons 1 1/2 sticks; 6 ounces cold unsalted butter
1 egg
Pineapple Filling
20 ounce pineapple crushed or chunks
2 tablespoons granulated sugar
2 tablespoons brown sugar
1 teaspoon cornstarch
1 teaspoon cinnamon spice
1/2 teaspoon nutmeg
2 tablespoons butter
1/2 teaspoon lime juice.
Egg Wash
1 egg
1 tsp. milk
Combine egg and milk thoroughly .
Instructions
Place the diced butter in a Ziploc or plastic bag and freeze while you gather the other ingredients(about 20-30mins)

Combine the flour, sugar, salt, and baking powder in a food processor.

Then add cream cheese, butter and pulse just until the crumbs of dough are the size of peas. Followed by eggs. Pulse about 4-5 times until the dough comes together. Remove dough and knead 3-4 times on a floured surface

Refrigerate while you make the filling.

In a medium saucepan, add pineapple, butter, sugar, cinnamon spice, nutmeg, cornstarch, and lemon juice

Simmer on medium heat about 3-4 minutes until thickened. Set aside. Let it cool.

When ready to assemble place dough on a well floured surface roll it out.

Using a large mouth, glass, cookie cutter, bowl about 3- 4 " cut out circles by gently pressing on the dough and releasing it, Continue cutting out dough until all dough has been cut. Assembling Empanadas dough

Scoop a heaping tablespoon of filling into each circle. Fold over press gently to seal with fingers , twist edges of the empanadas

Another way of sealing is by pressing the tines of a fork along the edges of the dough.

Carefully place each empanada on a baking sheet to bake or you may freeze to use later.

Bake at 375 for 15-18 minutes until cooked through.
Nutrition Information:
Calories: 432kcal (22%)| Carbohydrates: 43g (14%)| Protein: 6g (12%)| Fat: 26g (40%)| Saturated Fat: 16g (100%)| Cholesterol: 111mg (37%)| Sodium: 242mg (11%)| Potassium: 178mg (5%)| Fiber: 1g (4%)| Sugar: 16g (18%)| Vitamin A: 925IU (19%)| Vitamin C: 33.9mg (41%)| Calcium: 57mg (6%)| Iron: 1.9mg (11%)
Nutrition Facts
Pineapple Empandas
Amount Per Serving
Calories 432 Calories from Fat 234
% Daily Value*
Fat 26g40%
Saturated Fat 16g100%
Cholesterol 111mg37%
Sodium 242mg11%
Potassium 178mg5%
Carbohydrates 43g14%
Fiber 1g4%
Sugar 16g18%
Protein 6g12%
Vitamin A 925IU19%
Vitamin C 33.9mg41%
Calcium 57mg6%
Iron 1.9mg11%
* Percent Daily Values are based on a 2000 calorie diet.