Pineapple and White Chocolate Scones-Tender, rich and moist scones studded with white chocolate and pineapple  chunks. A delightful tropical treat.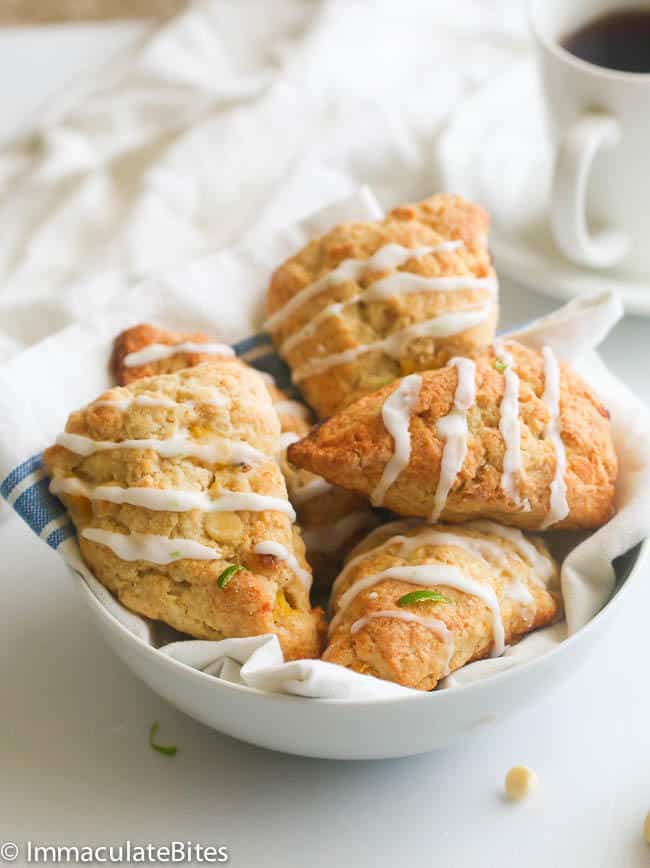 I don't know about you, but whenever I stop at Starbucks besides the Skinny Latte Mocha, my next favorite item is one of their Scones. It was always heart-breaking to find out that- they were hard, dry and not very appealing, not what I expect in a scone. The worst part about it is that they are $ 3 per scone? Yes, $ 3 a scone. I got tired of throwing my money in the trash because  I could never finish it.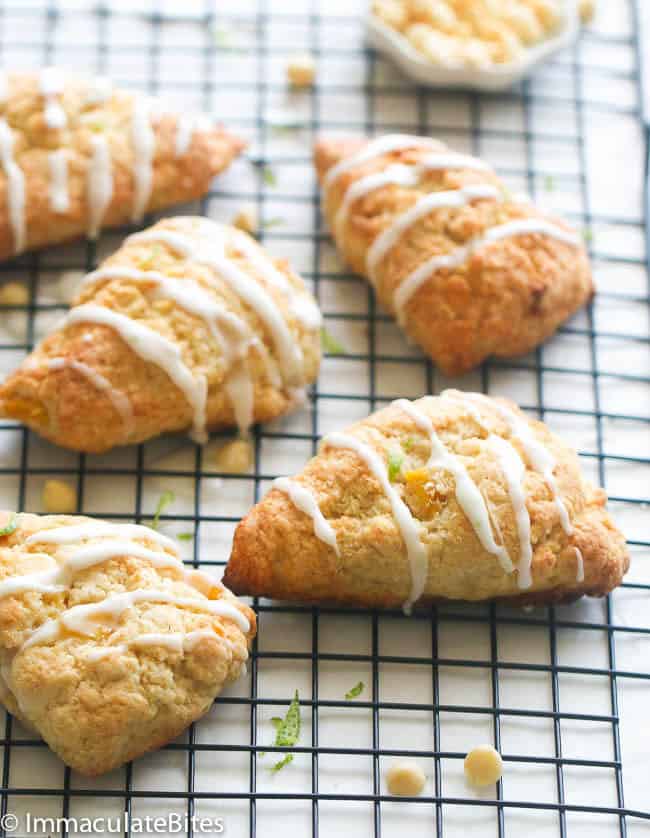 So, out of the blue, I decided to try making these at home. Oh my! They are far better than what I was throwing away my money on. Homemade scones are awesome! Buttery, Crumby, Soft, with a light sweetness. I am amazed at how easy they are to make….
I have made it using a variety of ingredients and each time it turns out great! One batch is never enough. I sometimes triple the batch and freeze it so I can have them when the craving kicks in (almost every other day) – something fresh from the oven without laboring  in the kitchen.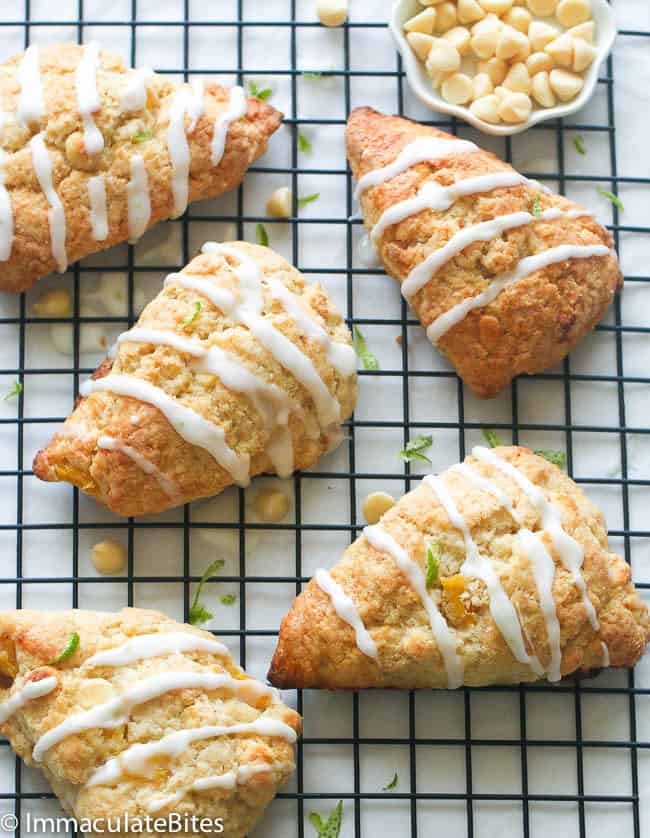 These scones are made with the combination of white chocolate and chunks of dried pineapple which adds a touch of the exotic, to the scones.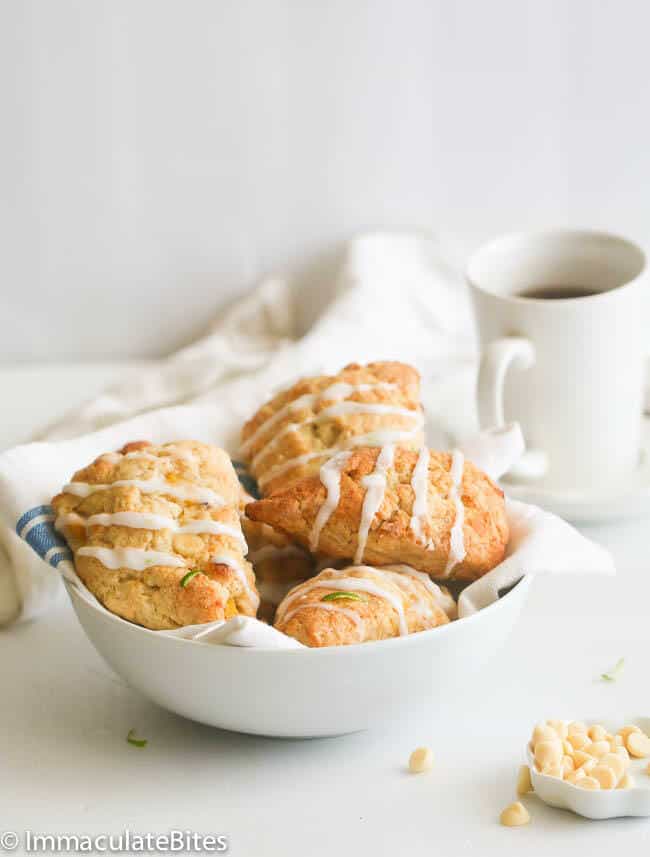 I am one of white chocolate's biggest fan, so whenever the opportunity presents itself … I make much of it. If you love scones you will not be disappointed with these results!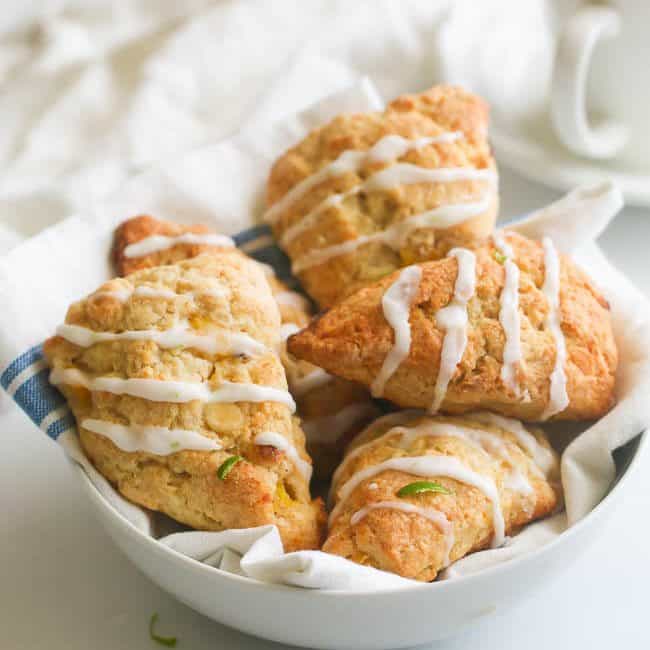 Print
Pineapple and White Chocolate Scones
Pineapple and White Chocolate Scones-Tender, rich and moist scones studded with white chocolate and pineapple chunks. A delightful tropical treat.

Prep: 20 mins
Cook: 15 mins
Total: 35 mins
American
Ingredients
2 cups (256 grams) all -purpose flour
1/3 cup (67 grams) sugar
1 1/2 teaspoon (4.5 grams) baking powder
1/4 teaspoon (1.5 grams) baking soda
1/4 teaspoon teaspoon salt
10 tablespoons (5 ounce , 150 grams) butter
1/2 cup (120 grams) buttermilk or milk
1 large egg
1/2 - 1 Tablespoon grated lime
1 teaspoon vanilla
1/3 cup dried fruit pineapple, raisins, cranberry
1/4 cup white chocolate
Instructions
Preheat oven to 425 degrees

In a medium bowl, whisk or sift together flour, sugar, baking powder, soda and salt

Work in the butter just until the mixture is unevenly crumbly; it's OK for some larger chunks of butter to remain unincorporated. Stir in the chocolate and pineapple

Whisk together eggs, vanilla, buttermilk and grated limes

Gently fold wet ingredients into dry ingredients and stir until all is moistened and holds together (like a ball)

Put dough on floured surface, and pat (gently!) with your hands only, until dough is about 1/2" thick. Fold dough over on itself about 5 times, then gently press down until about 1 inch thick

Use a large knife to slice the dough into 4 equal portions. Cut diagonally to produce 8 triangular slices of dough.

Separate wedges and place on an ungreased baking sheet. Brush with cream

Bake at 400° for 12-15 minutes or until lightly browned

Remove and serve warm
Nutrition Information:
Calories: 333kcal (17%)| Carbohydrates: 40g (13%)| Protein: 4g (8%)| Fat: 16g (25%)| Saturated Fat: 10g (63%)| Cholesterol: 60mg (20%)| Sodium: 266mg (12%)| Potassium: 148mg (4%)| Sugar: 16g (18%)| Vitamin A: 490IU (10%)| Calcium: 70mg (7%)| Iron: 1.6mg (9%)
Nutrition Facts
Pineapple and White Chocolate Scones
Amount Per Serving
Calories 333 Calories from Fat 144
% Daily Value*
Fat 16g25%
Saturated Fat 10g63%
Cholesterol 60mg20%
Sodium 266mg12%
Potassium 148mg4%
Carbohydrates 40g13%
Sugar 16g18%
Protein 4g8%
Vitamin A 490IU10%
Calcium 70mg7%
Iron 1.6mg9%
* Percent Daily Values are based on a 2000 calorie diet.