Plantains and Beans – A lightened version of plantains and beans quick and easy, with kale – no frying required , yet still quite tasty!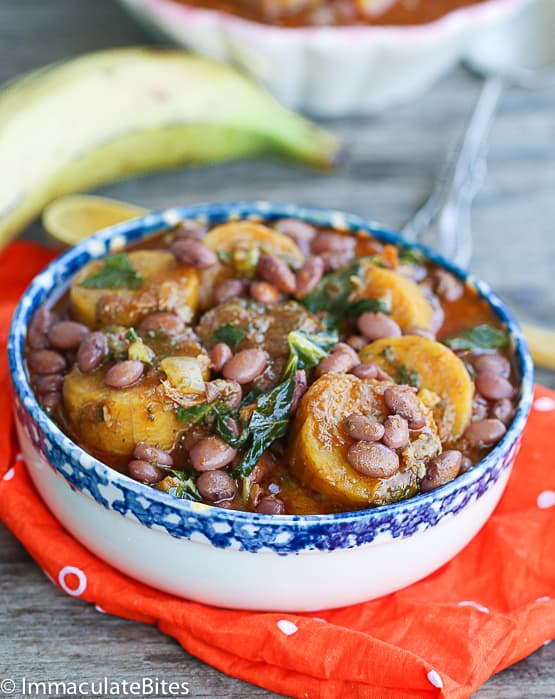 Happy Monday Everyone!!!
How was your weekend? Did you watch the super bowl? Sad to say I don't follow football, my favorite part of watching the Super Bowl is generally the commercials and after the halftime show, I am done. Head over to the table and fill up, until I am stuffed. This year was quite different I watched the last 45 minutes and got so caught up in the game that I almost lost it. I was rooting for hobby's team and got my heart broken. Now am going to have a sleepless night. Somebody needs to remind me of this next time.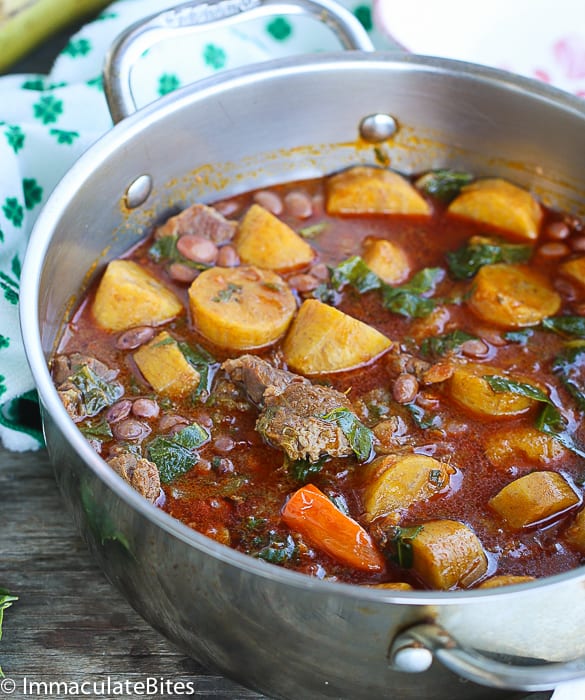 Anyways have I told you how much I heart beans? My favorite is fried plantains and beans but can't have it all the time. Here is an alternative to fried plantains and beans, a one-pot meal that is less fattening.
To obtain the reddish color here, I used paprika-It adds tons of flavor with barely any calories. You would swear I put a ton of red oil in this dish right? But I DIDN'T. Don't be put off by the looks, it only has 1/3 cup of oil.
This is a hearty, protein filled one-pot dish – an easy meal you can throw together anytime of the week.
Here are a couple of guidelines for this recipe, you can use any protein (chicken, beef, pork, smoked turkey,) or make it a vegetarian meal, you'll certainly have enough protein from the beans anyways.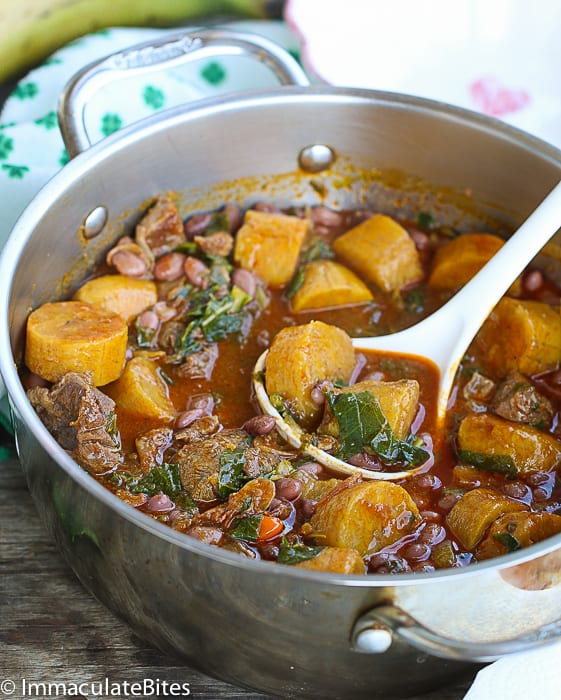 Ok, I dread boiling beans so while am at it – I cook more than enough beans needed and save the rest.
We all have hectic schedules, especially during the weekdays or even weekends. Save time when you can.
For those that the taught of boiling beans seems really foreign then just use canned beans. Be sure to rinse them thoroughly before adding them to the pot. You may throw in some greens and scotch bonnet pepper for flavor, color and vitamins.
Enjoy!!
Print
Plantains and Beans
Plantains and Beans – A lightened version of plantains and beans quick and easy, with kale – no frying required , yet still quite tasty!
Ingredients
1-2

pounds

meat chunks

beef, chicken, pork

1

medium onion chopped

4-5

pounds

slightly riper-unripe plantains

1/2

cup

Crayfish

optional

1/3

cup

of Palm Oil

Canola Oil

4

cups

boiled beans

1

Chicken Bouillon cube

2

teaspoons

smoked paprika

1

scotch bonnet pepper

habanero

1

bunch of fresh kale chopped

½ -1

Cayenne Pepper

optional

Salt and pepper to taste
Instructions
In Large –sized saucepan boil meat seasoned with salt, cayenne pepper, onions until tender depending on the meat. Make sure you about 3-4 cups or more of chicken broth to use.

Using a sharp knife cut both ends off the plantain. This will make it easy to grab the skin of the plantains. Slit a shallow line down the long seam of the plantain, peel only as deep as the peel. Remove plantain peel by pulling it back.

Cut the plantains into thick round shape.

Place the plantains into the pot of boiled meat, add the bouillon cubes, crayfish red oil and remaining onions. Add about a cup or more of water to cover the ingredients

Bring to a boil and low the cooker to medium and let it cook slowly for about 20

Finally add the cooked beans, kale and cook for an additional 10 minutes or more until tender. Adjust seasonings and thickness of soup with water, salt and pepper .

Remove fro m heat and serve warm.
Tips & Notes:
How to boil beans
1. Rinse beans and pick through and discard any foreign object.( I did not have to do this because I used the package beans,). Add beans to a large pot covering with 3-4 inches of cold water.
2. Cover and let sit overnight or 6 to 8 hours.
3. Drain the soaked beans, rinse, and place the beans in a Dutch oven or pressure cooker. Follow instructions for cooking beans in your pressure cooker. It takes roughly between 8 to 12 minutes to cook. If not using a pressure cook, cook the beans for about 30 minutes or more until tender – black beans take longer to cook.
4. Drain the cooked beans and set aside
Nutrition Information:
Calories:
555
kcal
(28%)
|
Carbohydrates:
95
g
(32%)
|
Protein:
27
g
(54%)
|
Fat:
10
g
(15%)
|
Saturated Fat:
4
g
(25%)
|
Cholesterol:
48
mg
(16%)
|
Sodium:
262
mg
(11%)
|
Potassium:
1856
mg
(53%)
|
Fiber:
12
g
(50%)
|
Sugar:
35
g
(39%)
|
Vitamin A:
3905
IU
(78%)
|
Vitamin C:
58.8
mg
(71%)
|
Calcium:
54
mg
(5%)
|
Iron:
4.6
mg
(26%)
Nutrition Facts
Plantains and Beans
Amount Per Serving
Calories 555
Calories from Fat 90
% Daily Value*
Fat 10g15%
Cholesterol 48mg16%
Sodium 262mg11%
Potassium 1856mg53%
Carbohydrates 95g32%
Protein 27g54%
Vitamin A 3905IU78%
Vitamin C 58.8mg71%
Calcium 54mg5%
Iron 4.6mg26%
* Percent Daily Values are based on a 2000 calorie diet.