Kewele – African Spicy Fried plantains
So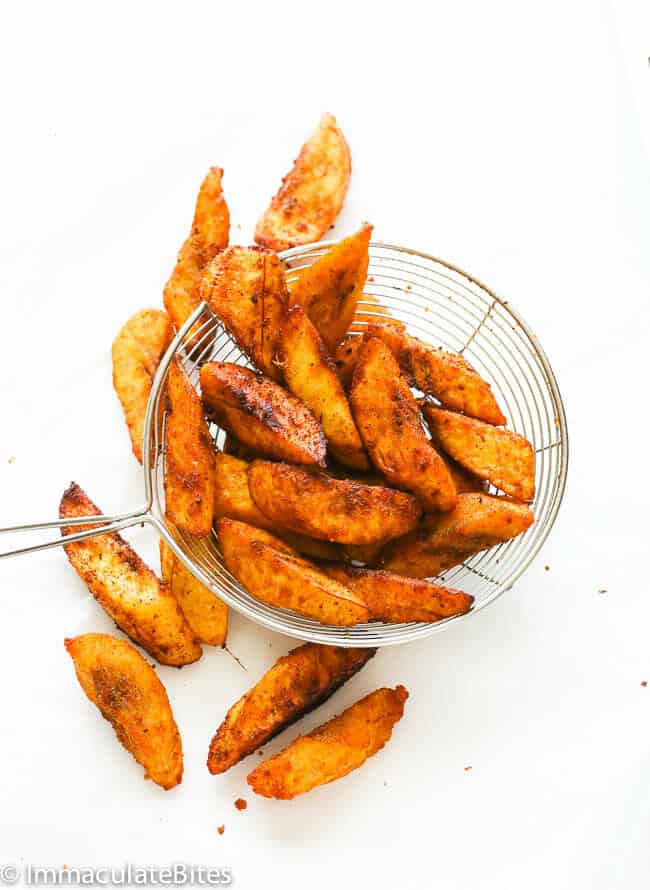 West Africa boasts a wide selection of fried plantain recipes ranging from simple plantain chips to the mouth-watering Kelewele. Every country in Africa be it Nigeria, Cameroon, Liberia or Ivory coast , has its own range of fried plantains which are sold at every street corner, and even mainstream restaurants , anytime of the day. This version goes under different aliases in Ghana is Kelewele and in Ivory Coast it is known as Aloco.To me, street food is one of the most important part of any culture.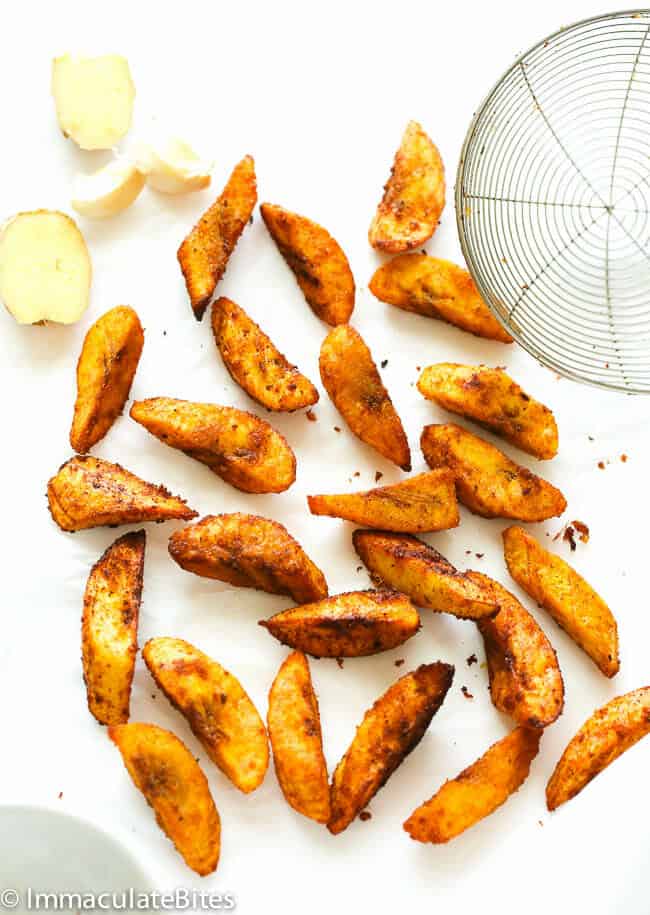 This spicy fried snack is one of those street vendor foods that is very easy to make.  Ripe plantains are cut on a diagonal mixed with various spices and deep fried in red or any oil until it's crispy on the outside.Most people use overly ripe plantains for this recipe. However, I feel it soaks up a lot of oil, so I prefer to stick with ripe but not overly ripe ones.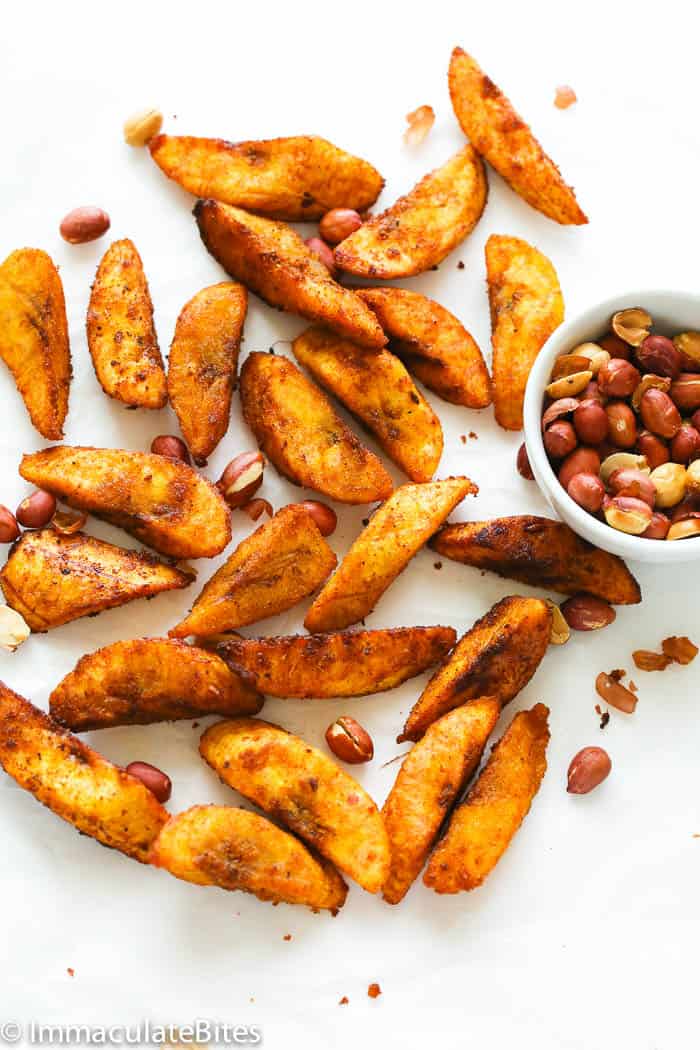 The basic ingredients  spices are ginger, hot pepper and salt . The rest is up to the individual . So if you have these 3 ingredients . You are good to go.
In  this recipe, I used onions , African pepper  and maggie cube sub (chicken bouillon) . Or leave it out completely to make it paleo friendly.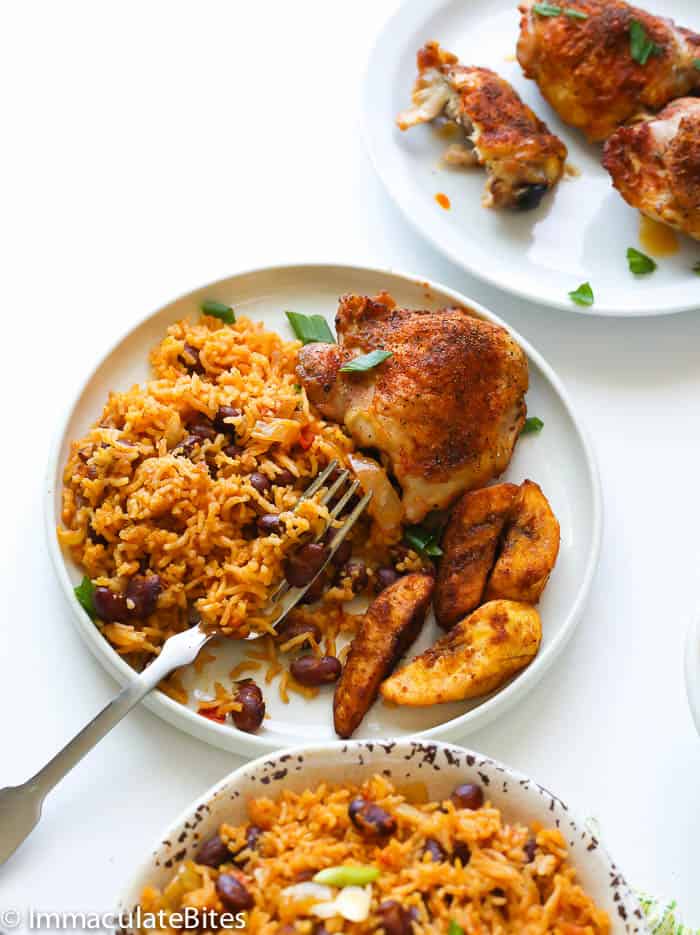 This soft, spicy, and sweet, snack   pairs well with crunchy peanuts or with any protein.
Enjoy.
Combine onions, ginger, cayenne pepper , maggie or chicken bouillon(about 1 teaspoons) and  Lemon – puree in a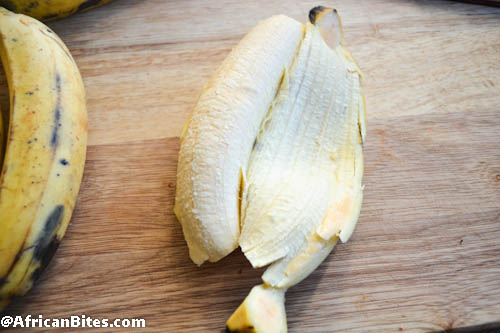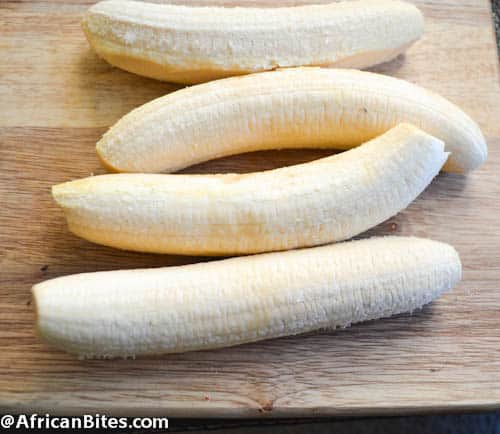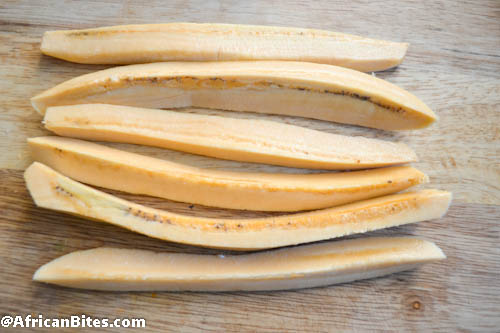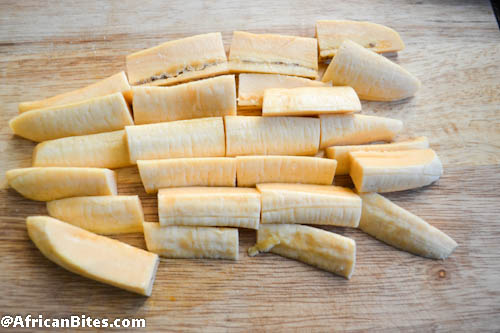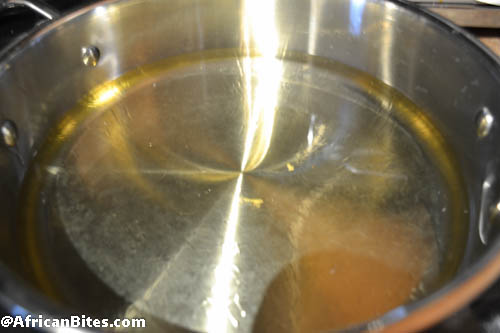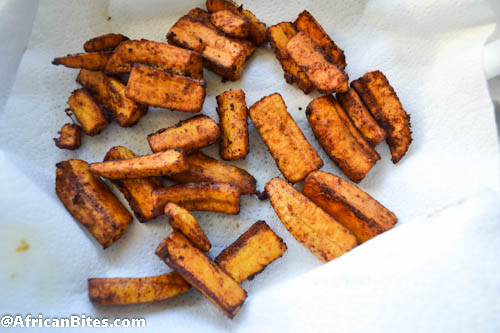 Kelewele
Ingredients
• 4-6 ripe( black spots) plantains
• ¼ of an onion cut in pieces
• 1 teaspoon spoon Cayenne or chili pepper
• ½- 1 tablespoon chopped ginger
. 1-2 garlic cloves
• 1 teaspoon lemon
.1/2 teaspoon nutmeg
• 1 teaspoon salt
. 1 teaspoon bouillon powder or small bouillon(Maggie) cube (optional)
• oil for deep frying
Instructions
Using a sharp knife cut both ends off the plantain. This will make it easy to grab the skin of the plantains. Slit a shallow line down the long seam of the plantain,
cut only as deep as the peel. Remove plantain peel by pulling it back.
Cut plantains in diagonal pieces and set aside.
Blend onions , ginger, garlic, in a blend or food processor, with just enough water to facilitate blending , then add cayenne pepper, lemon, nutmeg, salt and bouillon. Set aside
In a large bowl toss the plantain cubes and ginger spice mixture
Let it rest for about 10 to 20 minutes to absorb the flavor
Heat up a large skillet or cast iron with oil up to ½ inch- medium-high heat until hot but not smoking.
Fry the plantain cubes in batches , turning once, until golden brown, about 5 minutes. Do not overcrowd the pan( it will cause the plantains to be soggy and absorb excess oil
Using a slotted spoon, transfer the fried plantains to pan lined with paper towels.
Serve warm.