Plantain Chips – Crispy, crunchy and addictive fried or baked plantain chips paired with sweet tango mango avocado salsa for a wonderful late night snack time or as appetizers!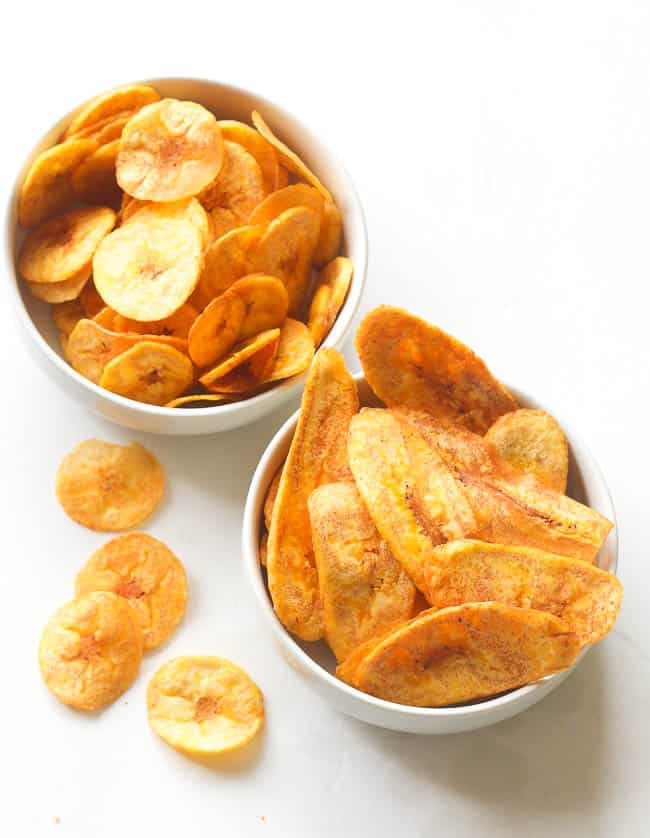 There is just something alluring about the textural blend of this mango avocado salsa and plantain chips – spicy, sweet, salty, exotic, and crunchy.
Mangos are my all time favorite tropical fruit dating back to my childhood. Paired with creamy avocado and topped with crunchy chips and it is a match made in heaven. The flavor of the salsa is light, refreshing and oh-so simple, heightened by the jalapeños and onions. It is hard to pass up something as good as this.
For the plantains, I tried to make a side by side comparison of fried and baked plantains chips – love them both. These chips have always been my comfort food – a nice alternative to tortilla chips. In West Africa, plantains are found everywhere and are used in various ways – sese plantains, kelewele, boil, and during different stages of ripeness: ripe (yellow to dark brown), medium ripe (between yellow and green) and unripe green.
Boy, was I ecstatic when it became obvious that I could get plantains in a supermarket in Los Angeles.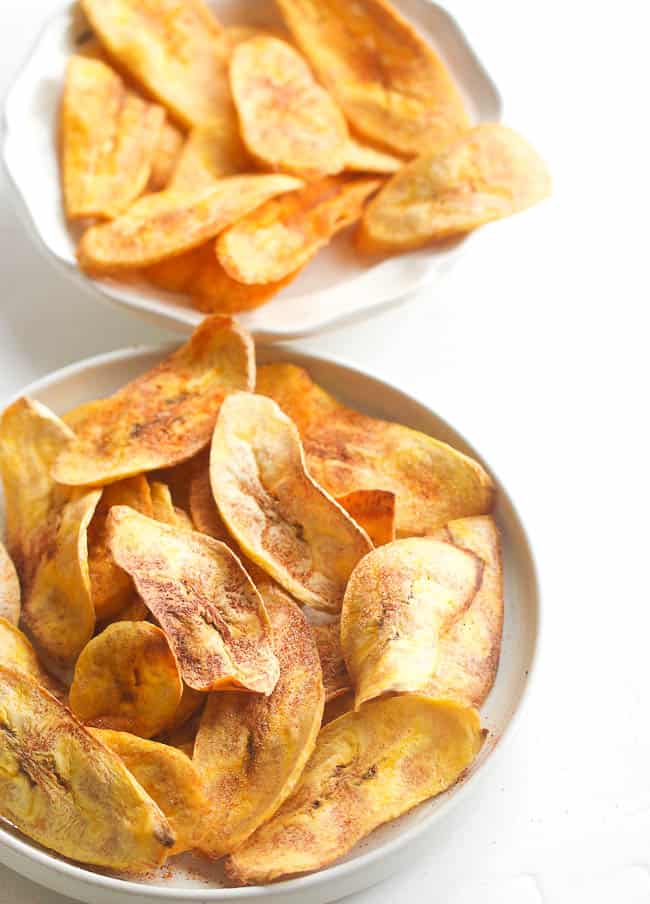 What Are Plantain Chips? 
Plantain Chips or also called as chifles, mariquitas, or chicharritas, are chips made from thinly sliced green-yellow plantains that are deep fried until crisp and golden and sprinkled with seasoning to taste. They are a popular snack not just in Africa, but also in Peru and Ecuador and other parts of the world.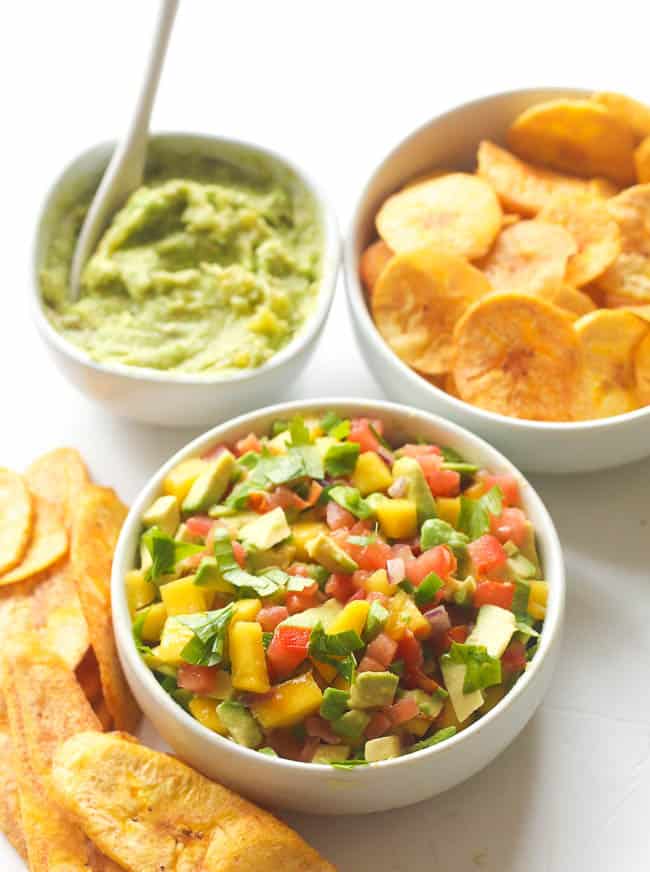 Are Plantain Chips Healthy?
The truth is plantain chips are high in fat and calories if you decide to fry them. But nevertheless, it is a lesser evil compared to all of those processed potato chips and other greasy snacks you get from the store. Somehow it contains fiber, some vitamins and minerals and less sodium compared to its popular counterpart potato chips.
How to Make Plantain Chips?
For the plantain chips, you will need to use unripe (green) plantains or slightly ripe plantains. Be careful when baking slightly ripe plantains, it might not retain its crispness. To achieve even crispness, a mandolin is ideal for cutting the plantains, as cutting with a knife can be very tedious but doable. To make your own plantain chips at home:
First, you have to peel off the plantain by cutting both of its ends and slitting a shallow line down the long seam of the plantain and removing the plantain.
Slice them thinly to your desired shape using a mandolin or sharp knife.
Season them with salt and paprika and toss together.
And either bake it for about 12-20 minutes while turning over the slices after 8 minutes OR you can heat up a skillet over medium-high heat and fry the sliced plantains until golden brown for about 5 minutes.
Tips: When baking these chips, it is best to watch them closely to prevent burning.-they cook so fast. Be sure to find the most favorable temperature and time for your oven, even heat is needed. If you prefer frying your plantain, do so in small batch at 375°F without overcrowding the pan to a crisp crunch.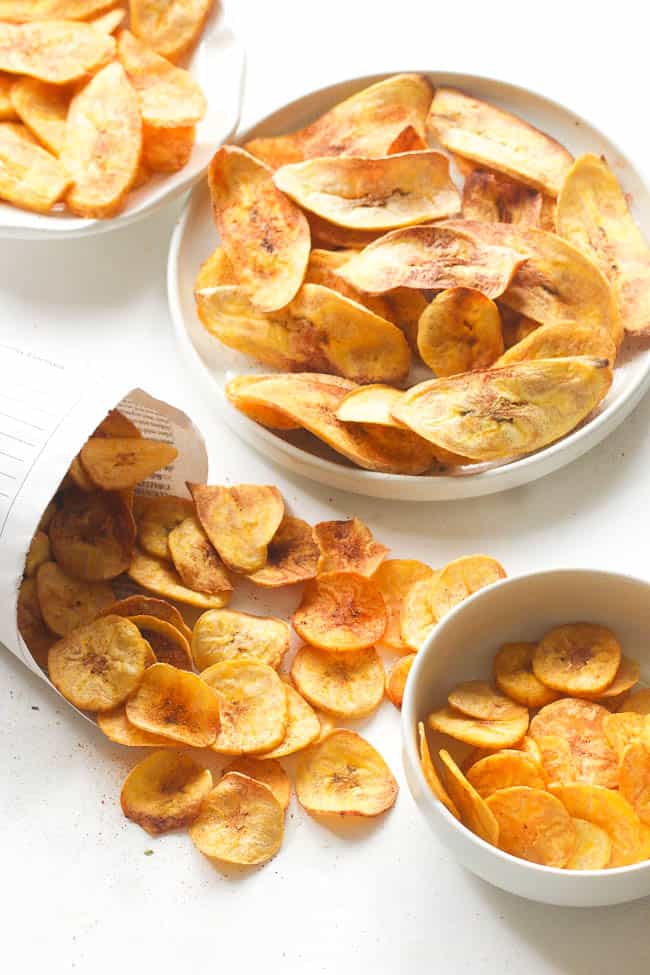 Fried VS Baked
After making both fried and baked plantains chips, I can truly say picking one way of making plantain chips depends entirely on you. The fried plantain chips are crisp all the way through. On the other hand, the baked chips are drier and also have a crisp crunch. They can get chewy if not baked well.
Taste-wise – there's only a slight difference, if you take in to consideration that with baked chips you will be able to consume twice the amount of chips.
I mixed both fried and baked chips, serve them to my son and he gobbled them up within a few minutes. Now try them and see which one you prefer!
More Plantain Recipes
So I heard you do love plantains? Well, good thing I love them dearly, too, 'cause I've got more other plantain recipes for you to try. Enjoy!
BROWSE more plantain recipes HERE!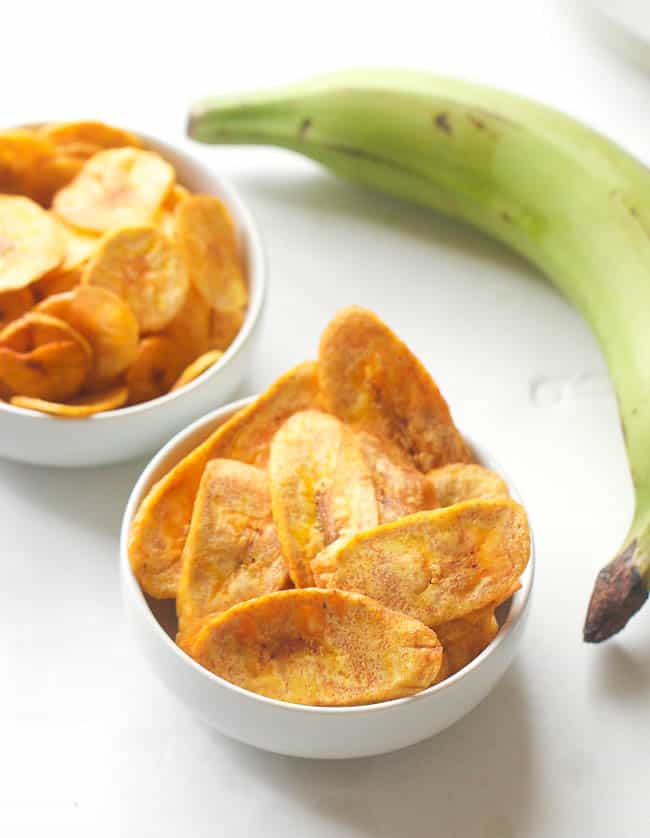 HUNGRY FOR MORE? Subscribe to my newsletter and follow me along on Facebook, Pinterest, Instagram and Youtube for all the updates. Happy eating!
Watch How To Make It
This post was first published on March 2013 and has been updated with additional info content.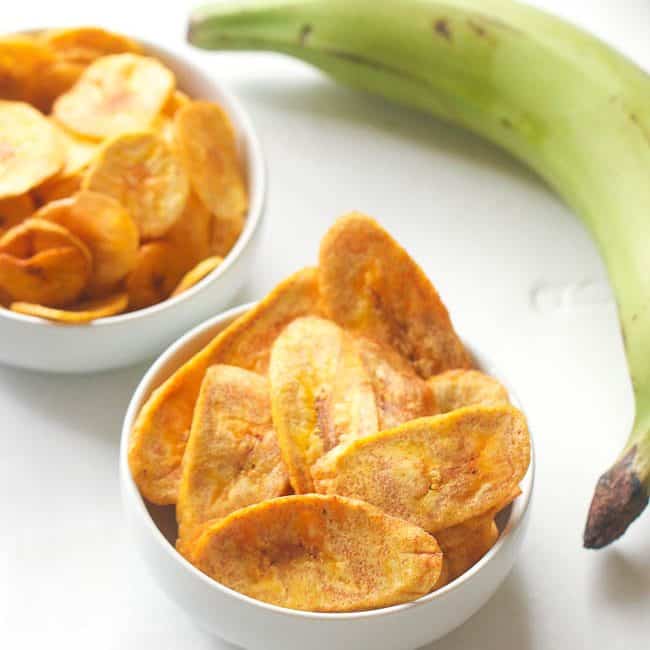 Print
Mango Avocado Salsa and Plantain Chips
Plantain Chips - crispy, crunchy and addictive fried/baked plantain chips paired with sweet tango mango avocado salsa for a wonderful late night snack time or as appetizers!
Ingredients
Plantain Chips
2

unripe green plantains

1

teaspoon

paprika

Salt and fresh ground pepper
Mango Avocado Salsa
1

large mango

, peeled and diced

¼

cup

diced red onion

1-2

medium avocado

, diced

1

tomato

, diced

½

jalepeño

, seeded and diced

2

tablespoon

fresh lime juice

1

tablespoon

olive oil

salt and fresh pepper to taste
Instructions
Plantains
Preheat the oven to 400°F. Line baking sheets with foil and coat with cooking spray.

Using a sharp knife cut both ends off the plantain. This will make it easy to grab the skin of the plantains. Slit a shallow line down the long seam of the plantain, peel only as deep as the peel. Remove plantain peel by pulling it back. If plantains is straight from the fridge, you can run it through hot water to prevent ease with peeling.

Slice the plantains thinly with the help of slicer/mandolin for consistent results.

Mix plantains, salt and paprika. Toss them together.
Baked Plantains
Place them on the baking sheets in a single layer, spray lightly over the plantains using the canola oil spray and bake, turning over slices, after 8 minutes for about 12-20 minutes or till golden brown and crunchy. Depending on your oven.

Store in a sealed container or serve with salsa.
Fried Plantains
Heat up a large skillet or cast iron with oil up to ½ inch- medium-high heat until hot but not smoking.

Fry the plantain slices in batches, turning once, until golden brown, about 5 minutes. Do not overcrowd the pan (it will make the plantains to be soggy and absorb excess oil).

Use a slotted spoon, transfer the fried plantains and drain on paper towels.

Store in a sealed container or serve with salsa.
Mango Avocado Salsa
In a medium bowl, combine the mango, jalapenos, avocado, tomatoes, onions, lime juice, olive oil, salt, and pepper.
Tips & Notes:
Please keep in mind that nutritional information is a rough estimate and can vary greatly based on products used.
Nutrition Information:
Calories:
344
kcal
(17%)
|
Carbohydrates:
56
g
(19%)
|
Protein:
3
g
(6%)
|
Fat:
15
g
(23%)
|
Saturated Fat:
2
g
(13%)
|
Sodium:
13
mg
(1%)
|
Potassium:
1144
mg
(33%)
|
Fiber:
9
g
(38%)
|
Sugar:
27
g
(30%)
|
Vitamin A:
2710
IU
(54%)
|
Vitamin C:
58.2
mg
(71%)
|
Calcium:
22
mg
(2%)
|
Iron:
1.4
mg
(8%)
Nutrition Facts
Mango Avocado Salsa and Plantain Chips
Amount Per Serving
Calories 344
Calories from Fat 135
% Daily Value*
Fat 15g23%
Sodium 13mg1%
Potassium 1144mg33%
Carbohydrates 56g19%
Protein 3g6%
Vitamin A 2710IU54%
Vitamin C 58.2mg71%
Calcium 22mg2%
Iron 1.4mg8%
* Percent Daily Values are based on a 2000 calorie diet.