Eureka! Paprika! I've learned first about it as a powder to decorate food, especially stuffed eggs. Well, it is way more than that! Because it brightens every recipe with its fruity and sweet notes of flavor. Plus, the vivid red color will surely highlight any dish that it goes in. Ride along in the spice lane (or aisle!) with me to know more about paprika.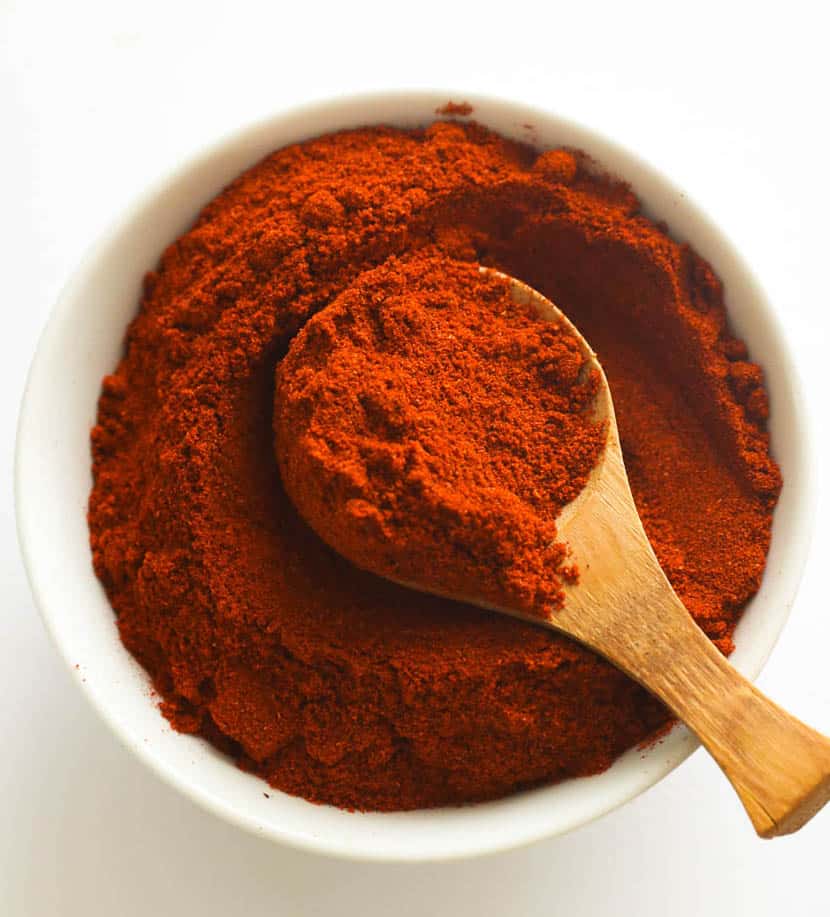 What Is Paprika?
Paprika is a ground, dry spice with a deep orange-red color with a mildly pungent flavor from the larger variety of peppers in the Capsicum Annuum family. This group of peppers includes the sweet bell pepper, a prevalent paprika source, and the spicier versions like chili peppers and cayenne.
Flavors
Paprika varies in flavor based on the types of peppers that are dried and pulverized, and it ranges from mild to spicy and from a little sweet to 100% savory.
Sweet – usually it comes from larger variants which we commonly know as "capsicums" or " bell peppers".
Savory – means flavor, from choosing the ripeness of its variety to drying and smoking in the process of making paprika.
Mild to Spicy – Its level of spiciness depends on the fresh pepper's flavorful carotenoids, which can be measured by the Scoville

heat

unit scale.
Different Kinds Of Paprika
Basic Paprika
Most common kind – This is the kind that you see in the grocery stores which also has the least assertive flavor.
Less heat – Offering a low-intensity pepper flavor, providing less heat or sweetness.
Aesthetic purpose – Its common use is to add color to the food. You can also use it in red curries and livening up chicken, eggs, potatoes, hummus, cheese sauce and rice dishes.
Hungarian Paprika
Flavor profiles – It traditionally comes in eight different flavor profiles, ranging from mild and bright red to spicy, pungent, and pale orange.
Staple spice – is a staple in Hungary's national dish, Goulash. I have an American Goulash version (still using paprika).
Other names -It is pungent and sweet and is also called "Sweet Hungarian Paprika" outside of Hungary. The most common is a bright red variety called édesnemes.
Spanish Paprika
Smoky flavor -It is often labeled as

pimentón

and commonly made with smoked peppers which give it a deeper flavor.
Heat and sweetness – the heat and sweetness levels in Spanish paprika vary based on the blend of peppers being used to make it.
Varieties – in a well-equipped grocery store are

dulce

(sweet),

agrodulce

(bittersweet), or picante (hot).
Different Uses And Application
Color

– Its use is for seasoning and to color food such as rice, stews, and soups. In the

preparation of sausages such as Spanish chorizo, mixed with meats and other spices.

Garnish

– A common use is by sprinkling it raw on food as a garnish, h

eat it in oil

to

effectively bring out its flavor

.
Healthy Skin – because it is

rich in

vitamins A, vitamins B6, and beta-carotene it's known to help maintain healthy skin.

Help reduce blood pressure

– it has high levels of potassium that can help

increase blood flow

. It can also help increase new red blood cell formation because it's also rich in copper, iron, and vitamin E.

Flavors That Go With Paprika
Here are some spices and seasonings that make a great tasting dish when combined with paprika:
Rosemary – a slightly minty, sage-like, peppery, and balsamic taste with a bitter woody aftertaste.
Black Peper – gives a sharp, pungent aroma and flavor.
Cumin – is rich and hearty, earthy and warm, with an edge of citrus.

Oregano

– has a bold flavor providing wonderful heat to a wide variety of food.

Cinnamon

– works well with desserts because of its sweet and woody fragrance.
Sazon Seasoning – is a savory tasting seasoning with ingredients such as cumin, coriander, annatto, and oregano.
Blackened Seasoning – is a mildly hot natural additive comprising paprika, oregano, parsley, cayenne pepper, and other spices.
Poultry Seasoning – an easy homemade herb-based spice blend that can make your regular chicken or turkey into exceptional meals.

Taco Seasoning

–

a mix of big-bold warm flavors made from pantry staple ingredients.

Jamaican Jerk Seasoning

–

is a blend of sweet tropical spices and one or two savory herbs coupled with a pleasing, peppery heat.
Recipes
Here are some of my best recipes; try making them using paprika: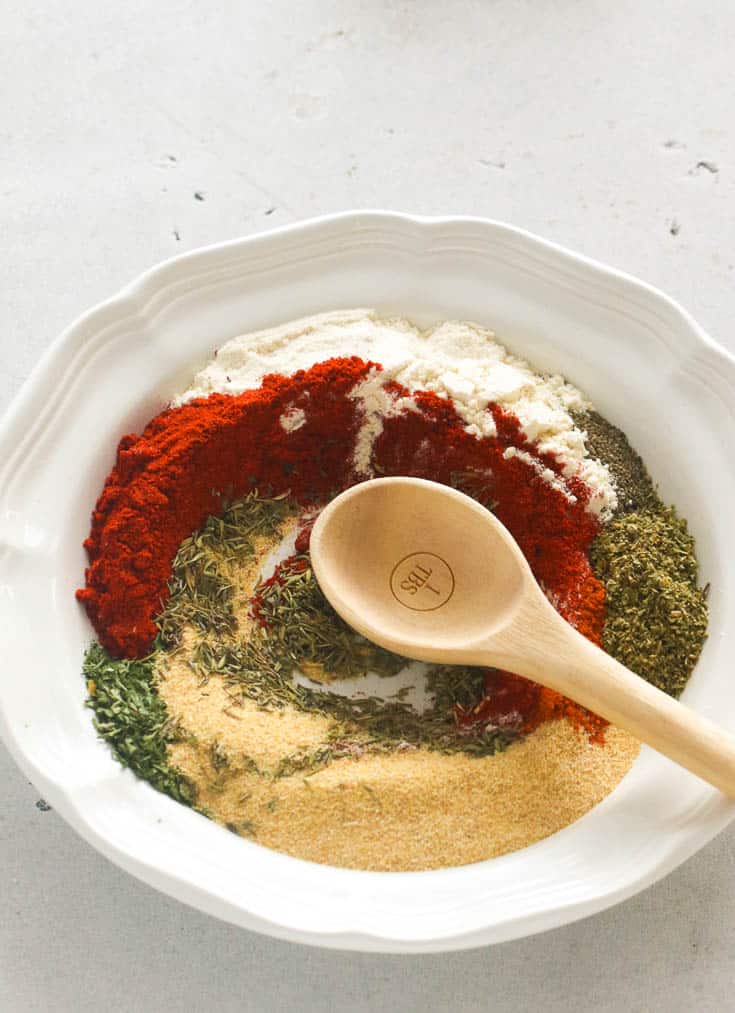 Where To Buy Paprika?
Regular paprika is available in the spice aisle of any supermarket and grocery store.
Substitutes
Indicated in the Recipe – Choosing a substitute for paprika will

depend on the type of paprika

originally called for in the recipe.
Dried Chili – The best

substitute to recreate the

spiciness of hot paprika would be another dried chili such as cayenne, aleppo pepper, red pepper flakes, red chili powder, or a dash of hot sauce.
Ground ancho pepper or chipotle if a recipe calls for the

smokiness of Spanish paprika

.
Storage
Store it in a cool, dark place in an airtight container. To extend the shelf life of paprika as much as possible, store the spice in a container that blocks out light, like a metal tin.