Piri-Piri Sauce is a blend of African bird's eye chili that is mostly grown in African countries. It is sour, a little sweet, and slightly salty- making it a really complex and versatile sauce that you can use on almost anything.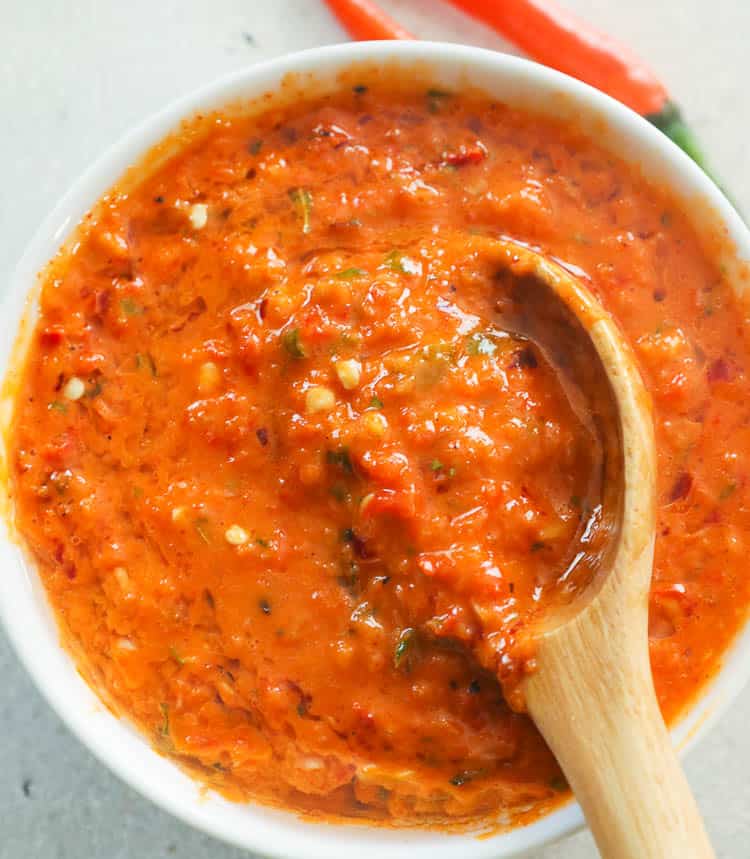 This is my version of this hot sauce, which is made with hot chili pepper that I got from one of the Asian vendors at my local farmers' market. They carry so much fresh produce (vegetables, fruits that are hard to get) – check out your vendors at the farmers market. You can purchase this pepper in North America, at Asian, Hispanic, and some Indian markets, or just use Jalapeno peppers.
Here, the chilies are blended together with fresh garlic, jalapeno pepper, red pepper, basil, onions, and oregano. It is then mixed with smoked paprika, salt, lemon, and olive oil.
It's a tangy and savory kind of hot sauce, however, if you are one of those people (lots of them in my family) that do not like acidity in your pepper sauce then you can try this African Pepper Sauce. Enjoy!
What is Piri Piri?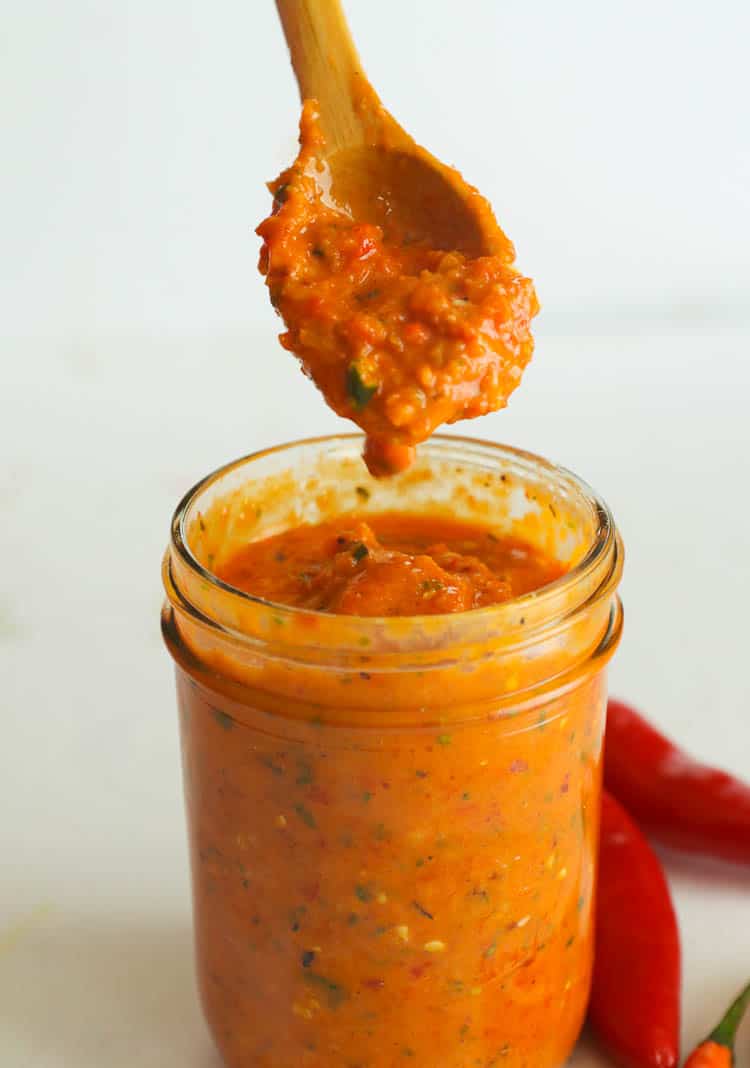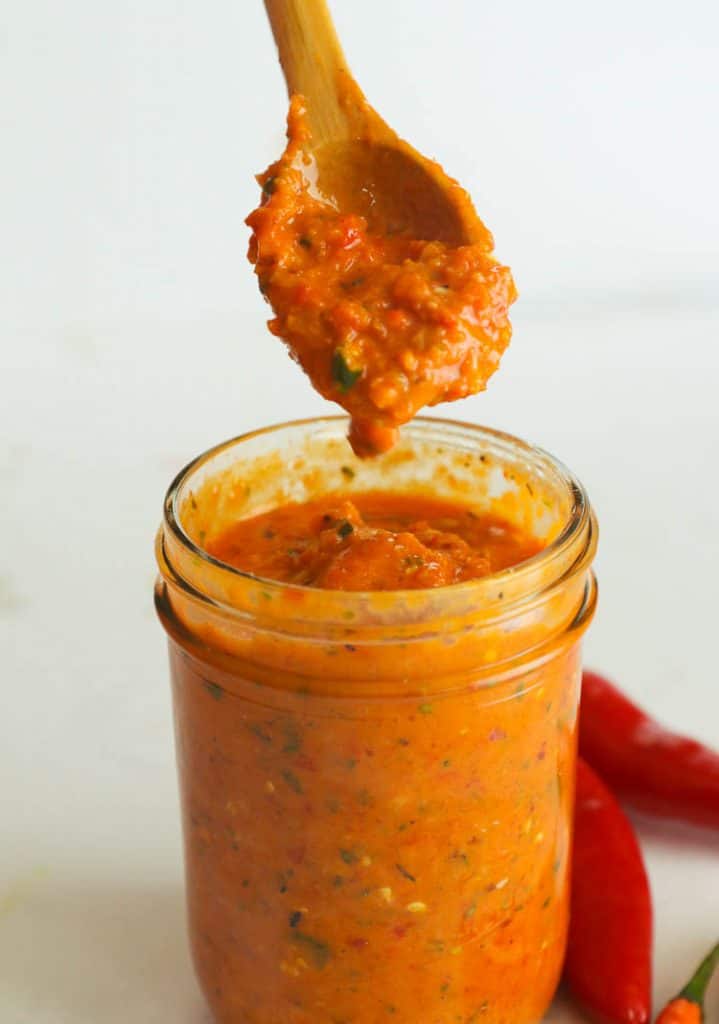 Is a Portuguese name for Pilipili which in Swahili word means "Pepper-Pepper" and is also referred to as the African Bird's Eye Chili. The classic Piri-Piri sauce recipe ingredients contain chili, garlic, oil, and acid (could be from lemon or vinegar) only. Basically, the sauce is used as a spicy condiment or marinade as a part of food preparation.
During the Portuguese Colonialism of Africa, the Portuguese settlers in South Africa made a sauce out of it and brought it with them as they went home to Europe. Although it's still debated as to where it really originated until this day. It has since become more popular because of the variety of dishes derived from using Piri-Piri.
Recipe Ingredients
Red Pepper

– it can be any pepper that can add flavor or heat to the sauce. Other chili peppers like bell peppers and ancho chiles would be fine too.

Jalapeño Peppers

– this has both the green and red colored variety which is mildly hot. You can usually find these in Mexican Cuisines, but it's also widely used in different cuisines.

Chili Peppers

– could be any pepper from the nightshade family that can include but is not limited to Cayenne, Serrano peppers, and Guajillo.
Garlic – it adds a savory and strong flavor which gives the body the taste of the spicy Piri-Piri sauce. Check out my How to Mince Garlic guide for more info about this savory ingredient.
Basil – a savory and aromatic herb which tastes good with hot and spicy foods. It also adds a subtle sweetness to the Piri-Piri Sauce.
Oregano – is also a nice addition to savory recipes like this as it gives a peppery and astringent taste that combines well with the flavors of ingredients in this recipe.
Onions – adds a pungent taste to the sauce. The pungent taste also intensifies as you cut the onions. If you want to know more then check out my guide on How To Cut Onions for more info.

Olive Oil

– gives a slightly nutty and neutral flavor. It's my go-to oil for making dressing and sauces like this one.

Paprika

– I used smoked paprika for an additional rustic detail to the sauce.
Lemon – the citrus juice helps get rid of the bitterness that comes from the chili seeds. It also gives a refreshing taste and scent to the sauce.
Salt – always been a flavor enhancer to anything that it's added to. Piri-Piri would taste bland and plain spicy if there's no salt in it.

Peppercorn

– whichever you like, white or black peppercorn will do, but make sure that it's freshly ground to get that strong but nice peppery taste.
Dark Vinegar – is made from rice that is fermented and gives a smoky taste too. You can add it in or just leave it out if you want.
Alternative Ingredients
Serrano Chili

– the heat level is mid-range but is close to the heat intensity given by the African bird's eye. 
Ginger – adds more zing and spice to the Piri-Piri sauce, it will also give an extra subtle sweet and peppery flavor.
Roasted Red Bell Peppers – What if you don't have smoked paprika? Don't worry! Simply use roasted bell peppers and you're good to go.

Apple Cider Vinegar

– use it to sub for dark vinegar. It will also give a sweet fruity acidity to the Piri-Piri Sauce. Of course, you can also use other kinds like white vinegar.

Lemon Zest

– make the most out of the lemon and use the rind as additional ingredient to give a citrus fragrant and slightly bitter taste to the sauce.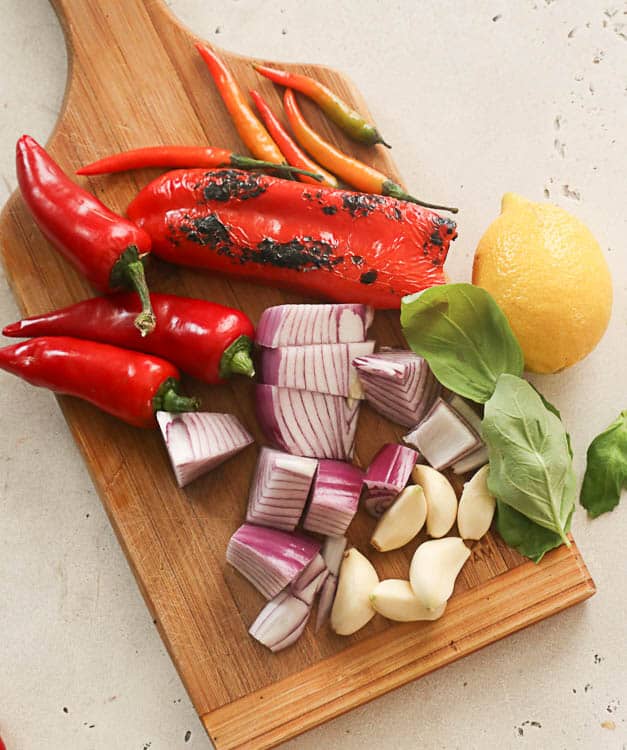 Tips and Tricks
Saute the savory ingredients like onions, garlic, and other ingredients. Sauteing them will give a caramelized flavor to the sauce.
Use other chilis. Piri-Piri sauce can get its flavor and heat level from the kind of chilis used in making it. So, if you are not so much of a heat-tolerant then you can adjust the amount and kind of chilis to make it. Scotch Bonnets, for example, will give an intense hot taste to the sauce.
Add other herbs and spices from your spice rack – this is especially common for homemade dishes, as long as you get the hot, savory, and sour taste of peri-peri sauce then you've successfully made it! Do it your way is the idea.😉
Use bottled smoked peppers – for ease of preparation, you can use bottled chilis. Simply add them with the mixture and pulse in the food processor and that's it!
Serving and Storage Instructions
Refrigerator: Transfer the sauce to an airtight container or jar and keep refrigerated for 2 weeks.
Freezer: Transfer the sauce to ice cube trays and keep it frozen for 2 months.
FAQs
How spicy is Piri-Piri?
It really depends on the chiles used to make the sauce, but the African Birds' Eye Chile used in the classic sauce recipe has 75,000 – 175000 SCU. Let's just say that its heat level can range from mild to fiery hot sauce.
Is Piri-Piri healthy?
Yes. In fact, it contains loads of vitamins A, B, C, and Niacin. That helps promote good eyesight, strengthen the immune system, lessen the risk of cognitive disorder, and many more.
Can I use dried chili peppers?
Yes, you may use dried chili peppers to make into a hot sauce, but you have to rehydrate it first. Simply soak it in hot water for 25 minutes or until it's rehydrated enough.
What To Eat Piri-Piri Sauce With?
The spicy goodness of this hot sauce pairs really well with roasts, skewers, burgers, wraps, and fried foods such as the recipes below: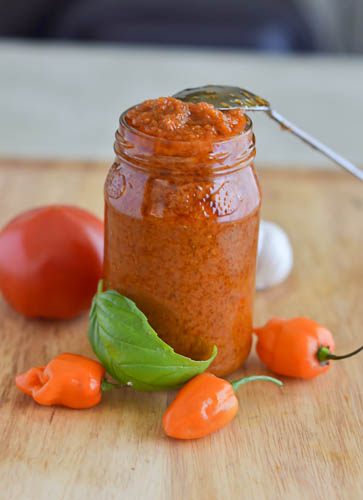 More Delicious Sauces
How To Make Piri-Piri Sauce
Grind the chilis and herbs. Blend red pepper, jalapeno pepper, chili pepper, garlic, basil, oregano, and onions in a food processor or blender.
Emulsify the sauce. Add olive oil to facilitate blending. Then mix in smoked paprika, lemon juice black or white pepper, and vinegar. Adjust for salt and seasoning. Refrigerate and use when ready.
Print
How to Make Piri- Piri Sauce
Piri-Piri Sauce is a blend of African bird's eye chili that is mostly grown in African countries. It is sour, a little sweet and slightly salty- making it a really complex and versatile sauce that you can use on almost anything.
Ingredients
½

red pepper

medium

2-3

jalapeno peppers

fresh, coarsely chopped, seeds removed

6

chili pepper

fresh, more coarsely chopped

5-6

cloves

garlic

4

basil leaves

large

1-2

tablespoon

oregano

fresh

¼

cup

onions

chopped

1-

cup

olive oil

1

tablespoon

smoked paprika

lemon juice

adjust to taste

1 ½

teaspoon

salt

to taste

1

teaspoon

ground pepper

freshly ground

¼

cup

dark vinegar

optional
Instructions
Blend red pepper, jalapeno pepper, chilli pepper, garlic, basil , oregano, and onions in a food processor or blender. Add olive oil to facilitate blending. Then mix in smoked paprika, lemon juice black or white pepper and vinegar. Adjust for salt and seasoning. Refrigerate and use when ready